Drawing inspiration from Gabrielle Chanel's favourite destinations, Perfumer Olivier Polge introduces a trio of fragrances to arouse the modern urbanite's love for travel.
Drawing inspiration from Gabrielle Chanel's favourite destinations, Perfumer Olivier Polge introduces a trio of fragrances to arouse the modern urbanite's love for travel.
"The idea was to combine Paris , the epicentre of Chanel fragrance creation, with other destinations that Gabrielle Chanel loved and create fragrances that take you on a journey," explains Perfumer Olivier Polge about his latest fragrances for the House. In the conception of this new range, Polge looked to Mademoiselle Chanel's favourite destinations. The result was the Les Eaux de Chanel collection, which consists of three scents: Paris-Deauville, in homage to the resort town on the Normandy coast, where she opened her first boutique; Paris-Biarritz, the coastal town where she spent summers frolicking with the love of her life, Boy Capel; and Paris-Venise, the enchanting city of Venice, where she grieved Capel's untimely death by discovering new cultures and reigniting her creativity. For this olfactory trio, Polge sought to encapsulate more than just the destinations but also Gabrielle Chanel's inimitable spirit and the fleeting moments and emotions that are evoked when embarking on a journey.
As Polge puts it, Les Eaux de Chanel was created as a result of him "working along the lines of atmosphere and impression". "The idea wasn't to reproduce something from Mademoiselle Chanel's time, but to express something of today by exploring three iconic Chanel destinations and working on modern notes using modern ingredients," he explains.
This sense of modernity extends beyond the scent to how it is applied as well. "The way we apply fragrance has changed, particularly with the spray. The diffusion is fuller and more generous, like a mist. That comes into play when creating a fragrance. We work on stretching out the notes. The idea is to allow for fresh and generous perfuming, like back in the day when we would splash on eau de cologne." Each of the three scents are equipped with a special pump to
dispense microdroplets of fragrance for an extended application time compared to a traditional spray. Moreover, the flacon is made of thinner, lighter-than-usual glass, making these generous 125ml bottles easier to carry along en route to a new destination.
While the concept of Les Eaux de Chanel is one that's more casual and carefree, the level of detail and luxury that is synonymous with the brand has been maintained, and "they represent the beauty and nobleness of simple things," says Polge. To him, Deauville is a seaside town, which he describes as "a breath of fresh air in the lush green countryside". As such, he developed a woody green aromatic fresh fragrance through the use of basil "to bring a green quality to the freshness of the citrus notes". Meanwhile, Biarritz's vibrance was designed to evoke "the power of the waves and the freshness of the wind". As Polge notes: "I gave this eau a lingering freshness with a lily of the valley tonal quality. It's the freshest of the three." Meanwhile, Venice, being the place "where Gabrielle Chanel developed her love of Baroque and Byzantine styles", boasts a more oriental scent profile with accords of amber, vanilla and tonka bean.
Understandably, Les Eaux de Chanel was not made with a specific gender in mind. "I would rather let people choose their fragrance and ascribe the gender they want; this notion of ambivalence seems quite natural," states Polge. This fluid new collection seeks out a new clientele, one that is likely younger and relishes the ability to be carefree and unrestrained. After all, it was built on the notion of escapism: Spritz it on and it immediately stirs and nurtures the idea of getting away from it all at a whim. Isn't the evocative power of a scent just incredible?
Clockwise from top: Mademoiselle Chanel fell in love with Baroque and Byzantine styles in Venice. Les Eaux de Chanel Paris-Biarritz Eau de Cologne, $215. Biarritz was frequented by members of French high society. The Chanel boutique in Biarritz. The idyllic charm of Deauville made it a favourite amongst Parisians in the early twentieth century. Les Eaux de Chanel ParisDeauville Eau de Cologne, $215. Mademoiselle Chanel and her aunt Adrienne in front of the Chanel boutique at Deauville. The seaside town of Deauville. Venice renewed Mademoiselle Chanel's sense of wonder and creativity. Les Eaux de Chanel Paris-Venise Eau de Cologne, $215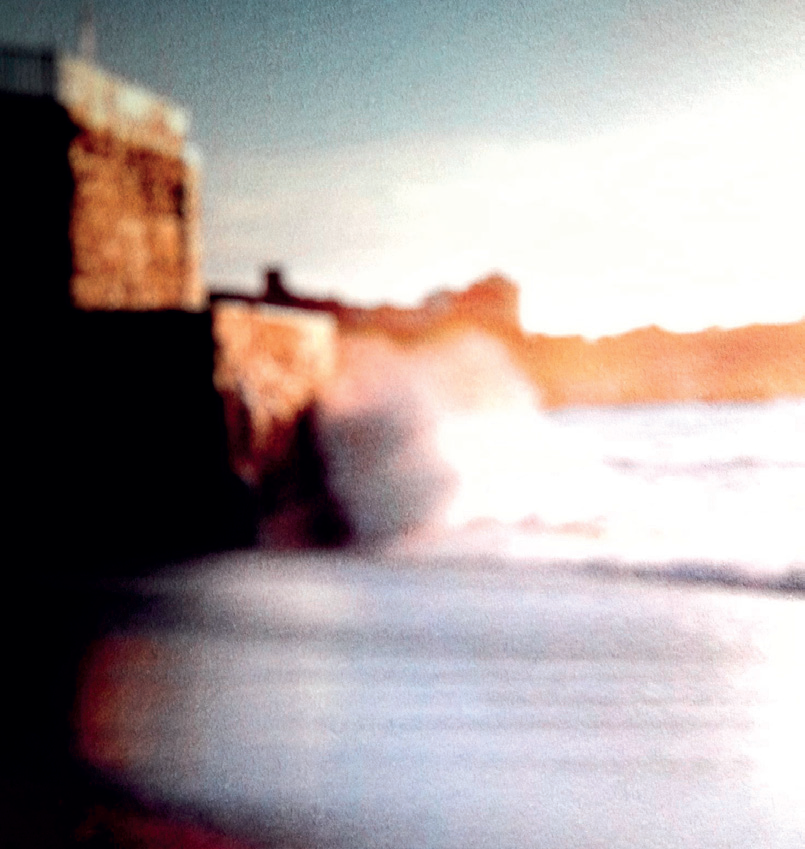 "The idea is to allow for fresh and generous perfuming, like back in the day when we would splash on eau de cologne." — Olivier Polge