Every year, The Singapore Women's Weekly shines the spotlight on 18 outstanding, high-achieving working women in the Great Women Of Our Time awards. These inspiring pioneers and game-changers are making an impact in different arenas in Singapore. In this issue, we introduce the nominees in the Arts & Media, Design & Style, and Health, Sports & Wellness categories.
Every year, The Singapore Women's Weekly shines the spotlight on 18 outstanding, high-achieving working women in the Great Women Of Our Time awards. These inspiring pioneers and game-changers are making an impact in different arenas in Singapore. In this issue, we introduce the nominees in the Arts & Media, Design & Style, and Health, Sports & Wellness categories

Sarah Tang, 28 Co-founder, Sarah and Schooling
An ardent supporter of Singapore's literary scene, Sarah has always been inclined towards the arts from a young age. When she's not designing literary books (from cover to layout to the fonts, and type of paper used), you'll find her busy supporting the local crafting community through Itchy Fingers, a series of weekend workshops featuring lessons by independent local artisans. Sarah also worked probono on Poetry.sg (a website that showcases Singaporean poets and their work), which was launched during the Singapore Writers' Festival last year.
"Chances are, you've held one of our works in your hands…
Our portfolio of clients include Epigram, Marshall Cavendish, Math Paper Press, National University of Singapore Press, Monsoon Books, and LASALLE College of the Arts. We also designed an SG50 book for Fengsan Community Club."
"Self-doubt is the worst enemy of creativity…
There's a difference between an opinion and the truth. I weigh constructive criticism for self-improvement, and block out the rest. We all have insecurities and we've had our share of naysayers, but I've learnt to have confidence in my craft and decisions."
"It's no secret that we still live in a man's world…
Instead of being frustrated about the unfairness we face in society, I try to focus on the right priorities. I enjoy what I do and play my part in building the local creative community. Change will come when you focus on the right things, because actions speak louder than words."
Putting The You Back In Beauty
Skin Inc takes your skincare to a whole new level with its range of serums that can be combined to meet your individual needs. With its effective products and one-size-fits-one skincare that taps on the latest in technology, Skin Inc empowers you to take control of your skin.
Tan Su-Lyn, 43 Co-Founder and CEO, The Ate Group
A decade ago, Su-Lyn and her husband, Aun Koh, founded integrated communications agency, The Ate Group, with just one staff member. Today, her team has grown to 20, and her company now counts Tippling Club, Jamie's Italian Singapore, and Joel Robuchon Restaurant, amongst its illustrious list of clients. This mum-of-two has also conceptualised, edited and published numerous cookbooks and restaurant guides, including Passion and Inspiration (renown local Chef Justin Leong's first cookbook), and the Lonely Planet World Food Guide to Malaysia and Singapore.
"Chubby Hubby started as a labour of love…
Through this blog, Aun and myself share our passion for cooking, travelling, eating and drinking. It lets us express our support for an industry that continues to inspire us."
"I'm a brand catalyst for Singaporean brands…
We represented Singapore's first international luxury tea brand, TWG Tea, for six years, from its inception. Building a proudly Singaporean brand of this stature is not an everyday occurrence, and it was a highly rewarding experience."
"When you need to fight for the survival of your family, you'll find a way…
I work to provide for our children, but often feel that work keeps me away from my most important job of being a mother. I'm grateful for a strong circle of women friends who encourage and inspire me; and who step in to help when I can't physically be with my kids."
Lim Shujuan, 33 Curator, National Gallery Singapore
After a $532m decade-long restoration, the National Gallery Singapore finally opened its doors to the public last November. And behind the massive transformation of Singapore's former Supreme Court and City Hall, stands a committed team of industry experts, including Shujuan, a dedicated building history curator who was on-site every two weeks during restoration works, to document and oversee the process. Shujuan was also the project editor of The Making of National Gallery Singapore, a 168-page hardcover that documents the history and transition of the two national monuments.
"Growing up, my mum was my role model…
My dad, who was the sole breadwinner, had a stroke when I was still in university. Times were hard, and my dad wasn't the easiest person to take care of, but my mother stoically took it all in her stride."
"I often walked the Gallery grounds alone…
I had to document the transformation process as I uncovered the stories behind (such as the existence of a secret passageway between the holding cells and the courtroom that was traversed only by guards and prisoners). Most people know little of the history behind these buildings because they were not accessible to the general public."
"This is the 'People's Gallery'…
I hope that visitors from near and far will come to learn more about Singapore's history through these buildings. The National Gallery Singapore is a must-visit for all art enthusiasts and history buffs."
Understand Your Skin's DNA
Did you know up to 70 percent of your skin is affected by external environmental and lifestyle factors? The weather, your diet and stress at work, affect your skin as much or more than genetics. Skin Inc's Skin Identity Quiz lets you own your own digital beauty DNA – it empowers you to learn about your skin, understand it, and take care of it. Visit www.iloveskininc.com to take the test now.
Clara Yee, 26 Independent Art Director
Clara made waves when Forbes listed her as one of 2016's 30 under 30 list of young designers defining fashion and art in Asia. It's easy to see why – the Central Saint Martins College of Art and Design graduate, was the artistic director behind Singapore Tourism Board's Singapore: Inside Out, an international multi-disciplinary showcase of Singaporean talents in the fields of design, music, literature, food, and performing arts, which travelled to Beijing, London, New York and back. Clara has also worked with Alexander McQueen, Warner Music, and the Prime Minister's Office in Singapore, her works garnering media accolades from the likes of Rolling Stones (Mexico), AppleDaily (Taiwan), and DigitalArts (UK).
"Friends refer to my stint at Alexander McQueen as my 'ghost period'…
I designed scarves for McQueen's Spring/ Summer 2010 collection. For days, I sprawled out over large metres of paper, hand-drawing intricate patterns. The hours were long, and nowhere as glamorous as the popular perception of working at a fashion house is."
"I don't deal with naysayers and challengers, I like them…
I like that they ask questions that make me blush and doubt myself because those are important. Sometimes, I feel a little sorry that they have to deal with me, because it can be troublesome to work on the edge, and you have to invest a lot more effort to attempt to defy conventions."
"I try not to let my passion be the fuel…
To me, it is delusional to be wholly driven by passion and the great big message of achieving the 'dream'. I would rather say this: I am inspired by balance, by hope for the future, by optimism."
Lim Wenhui, 34 Partner, Spark Architects
Award-winning architecture firm, Spark, has completed numerous well-known projects across Europe, Asia and the Middle East, including the rejuvenated Clarke Quay, and the iconic Shanghai International Cruise Terminal. The company has offices in Beijing, Shanghai and London, but their Singapore studio is spearheaded by Wenhui, who oversees Spark's global brand and graphic identity. Wenhui is also credited with leading the teams that won Spark's first commissions in Vietnam in 2009, and again in Australia in 2013.
"I strive to produce work that is sociallyconscious…
Our firm worked on Home Farm, a self-initiated and self-funded project which addresses the prerequisites of a social and environmentally eloquent community, by seamlessly marrying commercial vegetable farming with aged-care living. We were humbled to be awarded the Best Project in the Experimental Future Category, at the prestigious World Architectural Festival last year."
"I exhibited my mono-prints to raise funds for poverty-stricken kids…
As part of CapitaLand's Hope Foundation school projects, I once conducted an art workshop with some village kids on a hillside school in Sichuan province. I was touched by their warmth, but the primitive conditions there were appalling and hazardous. Upon returning to Singapore, we embarked on a fund-raising charity exhibition for them, and raised $15,000."
"I'm inspired by interactions with like-minded people…
Making art, and travelling to new places. One can draw inspiration from anywhere and anything as long as you keep an open mind."

Targeted, Customised Skincare
Be your own skincare chemist and blend the three serums identified by the Skin Identity quiz to create your own My Daily Dose Custom Blended Serum. There are 84 possible My Daily Dose combinations, so when your skin changes, you can easily go back to the drawing board (using the Skin Identity Test) and find a new concoction that's just right for your skin.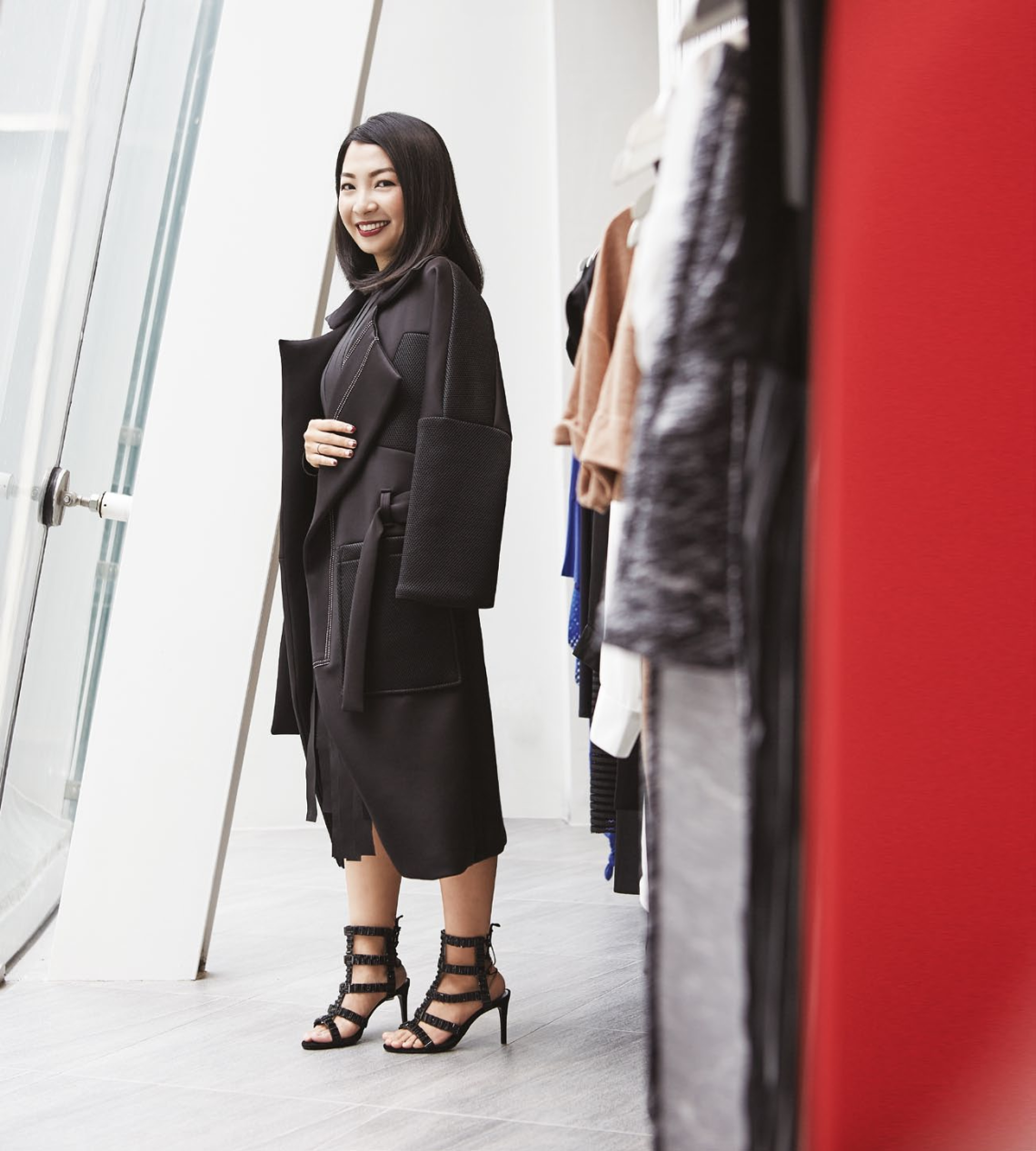 Sabrina Goh, 31 Founder and Fashion Designer, Elohim by Sabrina Goh
This LASALLE College of the Arts graduate worked for several brands before she founded her own, "ELOHIM BY SABRINAGOH" in 2009. The Singapore Young Designer Contest 2006 and 2007 Finalist has been invited to showcase at local and regional platforms, including the Audi Fashion Festival 2009 Blueprint Show, the ASEAN+3 Thai Textiles showcase in 2012, and Vogue Fashion's Night Out in 2013.
Last year, Sabrina was selected to take part in Fashion Futures, a strategic collaboration between Singapore Fashion Week and the prestigious Council of Fashion Designers in America. Through the programme, Sabrina was mentored by industry heavyweights like Diane von Furstenberg, Victoria Beckham and Thakoon. Today, this homegrown label is stocked in the US, Hong Kong, New Zealand and Korea.
"I am an introvert by nature…
But I realise that in today's world, I have to interact in order to present my vision, my focus, and what I believe in."
"Representing Singapore on a cross-cultural collaboration in Japan was amazing…
I was one of six selected designers from Southeast Asia to take part in Sakura Collection's annual fashion event... This gave me the opportunity to work with renowned Japanese master photographer, Araki Nobuyoshi, for a fabulous feature in Madame Figaro Japan."
"Fashion has become too transactional…
I aim to educate others about the stories and thoughts behind designers' creations. Like what Marco Pierre White says, 'a tree without roots is just a piece of wood'. Likewise, I believe that clothes without thought, is just a piece of cloth."
Melissa Tan, 37 Chairman, Waste Management & Recycling Association of Singapore (WMRAS); General Manager, Wah & Hua Pte Ltd
As the chairman of the WMRAS, Melissa champions the association's efforts to promote trade and commerce for the waste and recycling industry. The dynamic mum-of-three also advocates environmental responsibility as a grassroots leader in the Hong Kah North constituency.
Recognising the critical need to look beyond Singapore's shores for closer interaction with neighbouring counterparts, Melissa founded the Asia Pacific Waste and Environment Alliance (APWEA) last October, to facilitate the transfer of knowledge in waste management, raise standards, and promote cross-border cooperation amongst member associations that hail from Australia, New Zealand, China, Korea, Indonesia, Malaysia, the Philippines, and Singapore.
"I gave up my accounting career…
I used to be a tax consultant in Perth, but felt duty-bound to return and take over the reins of my dad's waste management and recycling company."
"I'm not afraid to get my hands dirty…
I was handed the leadership of Wah & Hua, but faced scepticism and objections from some senior male staff. So I got down to the ground and proved that I had what it took to lead them, and the company into the future."
"I've opened cross-border doors…
I travelled on my own expense to lobby the heads of other trade associations to form APWEA. Today, because of the close ties forged through this new regional alliance, introductions to potential business deals or invites to support each other's tradeshows or conferences, are just a phone call or text away!"
Innovation At Play
Each Skin Inc Serum features a patented encapsulation technology from Japan that wraps the pure ingredients in moisture-rich seaweed capsules. This keeps the ingredients fresh and potent, until the moment of application on your skin. So you only get what your skin truly needs, where it needs it. No scents, no parabens, no fillers. It is awesome results without the fuss!
Chrissy Goh, 49 Founder and CEO, JLC Enterprises Pte Ltd
This enterprising mum-of-three dived into e-commerce in 2003, and today, her company is a leading distributor of popular sports brands like Nike, Converse, and Adidas by Stella McCartney. More recently, Chrissy has diversified into the business of recycling. Her latest venture, The Gon Company, has developed a Domestic Crushing Machine that flattens recyclable cans and bottles. Chrissy is currently in talks with the National Environmental Agency to explore the potential of implementing her machine nationwide, and encourage better recycling habits locally.
"I'm resourceful, hardworking and grateful for whatever I have…
I was born into a poor but loving family with 18 kids. Some of my siblings were adopted by other families as my parents couldn't afford to raise us all. I had only one "Chinese New Year dress", I wore it for four years, till it was too short and too small to fit. My dad passed away when I was 15. I started working at odd jobs very early on, but I am thankful for my childhood as it has shaped who I am today."
"I believe in empowering others…
My first employees were PWDs (People With Disabilities). Till today, they are still with me. Over the years, I've employed many PWDs and ex-convicts – all my staff are treated fairly with equal opportunities."
"I've always cleared my own paths…
I've often been passed over and bullied because I'm a woman. But I try not to be disheartened. I believe in showing integrity when I do business – in the end, I know I'll have the last laugh."
Dr Sheila Vasoo, 46 Senior Consultant and Rheumatologist, Mt Elizabeth Novena Specialist Centre
Dr Sheila's passion for Reproductive Immunology began in 2004, during her subspecialty training in "Sticky Blood Syndrome", where she worked with Professor Graham Hughes at St Thomas' Hospital, London. Upon her return, she pioneered the Pregnancy Loss Program at the National University Hospital with Professor Mahesh Choolani – the first in Singapore to offer immunotherapy to women with immune-related recurrent miscarriages. In 2012, she was awarded the John Gusdon New Investigator Award at the joint American and European Society of Reproductive Immunology Annual Scientific Meeting for her work and research, and the findings were published in highly regarded medical journal, Placenta.
"The irony of life…
I was struck with thrombocytopenia, while carrying my third child. I had to undergo all the tests and therapies that I subjected my patients to – that gave me a new empathy for my patients, and their struggles with fear and the unknown."
"I liken my job to being a detective…
I work closely with couples with recurrent miscarriages and repeated implantation failure to find out the causes for the miscarriages and come up with a battle plan for the next pregnancy."
"Serendipity and life events led me here…
My own sister suffered a pregnancy loss and that really hit home. Our clinical service at NUH had just started and my sister became my patient. That experience affirmed my pursuit to help couples struggling against pregnancy failure."