Upgrade your hair care regime and look fab always with our top hair product picks of 2018, from shower to styling
Upgrade your hair care regime and look fab always with our top hair product picks of 2018, from shower to styling
SHAMPOOS
Banish impurities to show off shinier, healthier hair
Normal Hair
WIN: The cooling sensation of the Aveda Rosemary Mint Shampoo, $32 (200 ml), and its invigorating rosemary scent is like an indulgent wake-up call that gently cleanses hair and scalp.
Dry Hair
WIN: Moist Diane Botanical Refresh & Moist Shampoo, $18.90 (480 ml), has a gentle, sulphate- and paraben-free formula of premium botanical oils to hydrate hair and scalp while cleansing away dirt and sebum buildup.
Brittle Hair
WIN: Cuticle care technology in the Essential Nourishing Breakage Defense Shampoo, $10.90 (700 ml), works to fortify damaged hair and prevent the formation of split ends.
Oily Hair
WIN: Eksperience Sebum Control Balancing Hair Cleanser, $36 (250 ml), contains hydrating active ingredients like laminaria saccarina algae and hyaluronic acid to regulate sebum levels and balance your skin's pH level.
Colour Treated Hair
WIN: Percy & Reed Perfectly Perfecting Wonder Wash Shampoo, $40 (250 ml), helps prolong the life of dyed hair and protects against environmental aggressors, while its pro-vitamin B5 and sulphate-free formula deeply conditions too.
Chemically Treated Hair
WIN: Formulated with a new Amino Repair Complex, the John Frieda Frizz Ease Miraculous Recovery Repairing Shampoo, $15.90 (250 ml), helps reconstruct the lipid structure of chemically-stressed hair for smoother, more resilient tresses.
Thinning Hair
TIE: derma-Rx Trichology Purifying Shampoo, $32 (250 ml), targets hair follicle stem cells to help encourage growth while protecting the scalp from free-radical damage that can exacerbate hair loss.
TIE: Feed your hair with the all-natural Hysses Lavender Hinoki Shampoo, $25.90 (220 ml), which combines a powerful blend of botanical lavender and hinoki extracts that work to strengthen and relax the scalp.
Anti-Dandruff
WIN: Vichy Dercos Micro Peel Anti-Dandruff Scrub Shampoo, $36 (200 ml), gently exfoliates your scalp, effectively lifting and eliminating pesky flakes while soothing itchiness and controlling sebum.
Fine/Limp Hair
WIN: Give flat or fine hair a boost with Ouai Volume Shampoo, $42 (300 ml), which weightlessly hydrates and lifts strands thanks to its unique volumeboosting formula.
Dry, Sensitive Scalp
WIN: Infused with soothing Chinese peony extracts, Klorane Shampoo with Peony, $18.90 (400 ml), is gentle on irritated scalps with a natural and refreshingly light, floral scent.
Oily Scalp
WIN: Shiseido Professional The Hair Care Fuente Forte Purifying Shampoo, $36 (250 ml), effectively rids a clogged scalp of sticky sebum and impurities and leaves a cooling, clean sensation after washing.
Anti-Ageing
SPLURGE: Free of parabens and sulphates, Follizin The Cleanser, $42 (300), is a breakthrough formula containing rose oil that boosts your hair's elasticity and gently cleanses while maintaining moisture balance in both scalp and hair.
SAVE: Davines NaturalTech Renewing Shampoo, $29.50 (250 ml), is packed with antioxidant-rich spinach extracts and maqui berry to renew, preserve and protect your hair and scalp.
CONDITIONERS
Nourishing formulas to protect and fortify your hair
Normal Hair
WIN: Rejuvenate and moisturise your hair with Crabtree & Evelyn La Source Revitalising Seaweed Conditioner, $30 (250 ml), a lightweight formula infused with a protective blend of green seaweed and blue kale extracts.
Dry Hair
WIN: Tsubaki Extra Moist Conditioner, $16.90 (500 ml), deeply nourishes parched strands with hyaluronic acid and Tsubaki Koji S, while a boost of camellia oil adds gloss and shine as well as keeps frizz in check.
Oily Hair
WIN: The silicone-free Moist Diane Extra Fresh & Hydrate Treatment, $16.90 (500 ml), helps repair hair cuticles and contains 48 refreshing herbs to eliminate hair sebum odour and maintain lasting freshness in hair.
Colour Treated hair
WIN: The rosemary-infused L'Oréal Paris EverPure Moisture Conditioner, $15.90 (250 ml), contains no sulphates or parabens and helps replenish lost moisture to dry, damaged tresses while ensuring that colour is not stripped off.
Chemically Treated Hair
WIN: L'Oréal Professionnel Smartbond Conditioner, $36 (250 ml), is specially formulated to protect hair from harsh bleaching or perming chemicals, healing hair fibres and leaving your hair feeling soft and silky.
Thinning Hair
WIN: derma-Rx Trichology Nourishing Conditioner, $32 (250 ml), penetrates deep into hair shafts to deliver nutrients, helping to build hair resilience and volume from within.
Fine/Limp Hair
WIN: Orbis Natural Repair Conditioner (Volumising), $23 (420 ml), pumps up lifeless-looking hair without weighing strands down while protecting each strand with essential moisture from inside out.
Dry, Sensitive Scalp
WIN: Formulated with 12 natural plant oil extracts like jojoba and sweet almond, Mucota Little Forest 04 Moisturising Botanical Treatment, $56 (200 ml), gently yet deeply restores moisture in your hair and scalp.
Oily Scalp
WIN: Elence Tea Tree Scalp Hair Pack, $50 (240 g), contains nutritive organic thyme and tea tree extracts to deeply cleanse, improve blood circulation and encourage healthy hair growth.
Anti-Ageing
WIN: Davines NaturalTech Renewing Conditioning Treatment, $36 (250 ml), stimulates hair follicles and provides nourishment to hair fibres, thus helping to preserve your hair's longevity.
LEAVE-IN TREATMENTS
Feed your hair with an extra dose of nourishment and protection
Normal Hair
WIN: Eksperience Hydro Nutritive No-Rinse Kera-Restructuring Spray, $38 (190 ml), contains hydrating ingredients sourced from marine spring water in France to lock in moisture in your hair.
Dry hair
SPLURGE: Shiseido Professional The Hair Care Airy Flow Refiner, $42 (125 ml), softens rough hair and protects delicate strands from heat, humidity and UV rays, leaving them feeling silky-smooth.
SAVE: Yves Rocher Repair Sleeping Care, $22 (150 ml), combines jojoba oil with a botanical peptides complex to boost each hair fibre, protecting your tresses overnight without leaving behind a greasy residue.
Brittle Hair
WIN: Enriched with ceramide and wheat proteins, Keune Care Vital Nutrition Porosity Filler, $35 (25 ml), works to fortify, protect and revitalise fragile strands from a cellular level, and helps to prevent further breakage.
Colour Treated Hair
WIN: Formulated with caviar, keratin and collagen, the weightless Be Color Nitrogenated Keratin, $60 (150 ml), revitalises and restores body and moisture to dehydrated hair.
Chemically Treated Hair
WIN: The intensely nourishing Kevin.Murphy Leave-In.Repair, $50 (200 ml), helps restore and strengthen damaged hair, while offering heat protection of up to 93 C.
Thinning Hair
WIN: DrGL Solution Hair (Anti- Hairloss), $158 (100 ml), harnesses cutting-edge peptides and potent growth factors to treat hair from root to tip and help stimulate regrowth without leaving a sticky residue.
Anti-Dandruff
WIN: Nip your pesky problem in the bud with Kérastase Specifique Cure Anti-Pelliculaire, $60 (12 ampoules x 6 ml), a potent formula of antioxidant active ingredients and anti-dandruff molecules to purify your scalp.
Fine/Limp Hair
WIN: Kérastase Densifique Cure Femme, $320 (30 ampoules x 6 ml), is an advanced, nutritive formula which works in tandem with your hair's life cycle to improve hair density and thickness at the follicle.
Dry, Sensitive Scalp
WIN: The alcohol-free Follizin Essential Scalp Toner, $48 (120 ml), is packed with hydrating and antiinflammatory properties to balance hydrolipid levels and soothe the scalp.
Oily Scalp
WIN: Elence Tea Tree Scalp Essence, $69 (120 ml), contains organic thyme extract to nourish hair while gently calming inflamed or irritated skin, so your scalp feels lighter and less greasy.
Anti-Ageing
TIE: Gently massage the DrGL Solution Hair (Anti-Aging), $288 (100 ml), directly onto your scalp. Its advanced, non-greasy formula claims to delay whites and nourish the scalp without feeling heavy.
TIE: Kérastase Specifique Cure Anti- Chute (Aminexil), $320 (42 ampoules x 6 ml), contains aminexil, an ingredient clinically proven to reduce hair loss, energising hair follicles and helping hair regain volume and bounce.
MASKS
For hair that needs more intense hydration and repair
Dry Hair
WIN: Rich in all-natural ingredients like shea butter and avocado, the luxurious Rossano Ferretti Intenso Softening & Smoothing Hair Mask, $96 (250 ml), hydrates dry and unruly hair, leaving it shinier and a lot easier to manage.
Brittle Hair
WIN: H'AIR Ultimate Hair Mask, $98 (100 ml), also known as Wonder One Step Hair Mask is a pre-wash mask that helps fragile hair become more manageable prior to shampooing to prevent additional breakage.
Colour Treated Hair
WIN: For a quick fix, Goldwell Dualsenses Color Extra Rich 60-Second Treatment, $34 (200 ml), is an innovative formula that helps to enhance colour brilliance and enrich coarse strands in just one minute.
Fine/Limp Hair
WIN: Tokio IE Inkarami Head Spa Treatment, $58 (200 ml), nourishes scalp and hair, working to boost hair elasticity and repair damaged ends with three types of essential keratin.
Dry, Sensitive Scalp
WIN: The nourishing Kérastase Specifique Masque Hydra-Apaisant, $69 (200 ml), helps alleviate scalp discomfort, energise hair follicles and fortify hair strands from root to tip.
COLOUR BOOSTING TREATMENT
Give dyed hair a new lease of life
Colour Treated Hair
WIN: Available in three variants (ash, pink and brown), Liese Hair Colour Supplement, $17.90 (170 g), helps to lock in hair colour for longer and prevent your new dye job from turning an unsightly brassy, yellow shade.
PRE-WASH TREATMENTS
Give your mane additional protection before shampooing
Normal Hair
WIN: Free from harmful additives, PHS Hairscience ADV Elixir, $199 (100 ml), exfoliates scalp to loosen oil and dirt buildup and prepares it to better absorb nutrients when you shampoo. Colour Treated Hair WIN: Phyto Phytomillesime Color Locker Pre-Shampoo, $65 (100 ml), has a gel-in-oil texture and acts as a protective shield for hair, preventing colour from fading during washes.
Chemically Treated Hair
WIN: Svenson Hair Booster Nutrition Pack, $55 (150 ml), is packed with essential nutrients and hair-fortifying active ingredients to rejuvenate damaged tresses from root to end.
Thinning Hair
WIN: Rene Furterer Complexe 5 Regenerating Plant Extract, $80.60 (50 ml), contains a powerful blend of orange and lavender essential oils to stimulate your scalp for optimum penetration of active ingredients.
Dry, Sensitive Scalp
WIN: Find relief in the Rene Furterer Astera Fresh Soothing Fluid, $80.60 (50 ml), which contains cooling mint and eucalyptus essential oils to provide an instant cooling sensation on itchy and irritated scalps.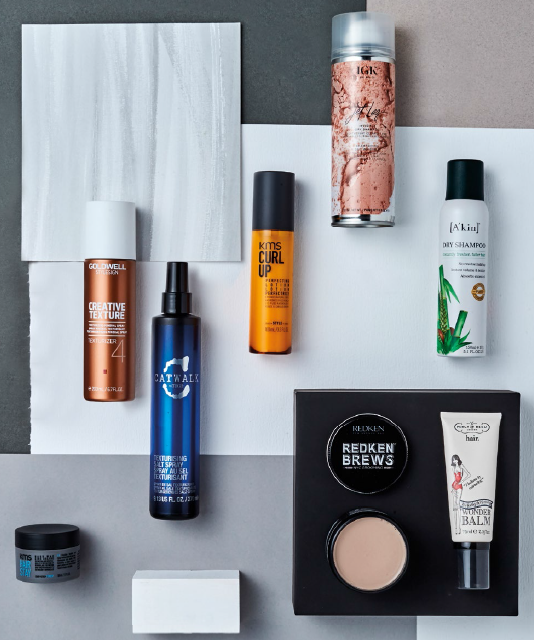 STYLING PRODUCTS
Maintain gorgeous tresses all day with these styling must-haves
Hair Spray
WIN: Create casual and effortless "it" girl waves with the easy-touse Goldwell StyleSign Texturizer (Texturizing Mineral Spray), $34 (200 ml), which contains a UV filter to prevent premature colour fade.
Pomade
WIN: Build gritty, roughed-up texture that lasts longer with Redken Brews Clay Pomade, $32 (100 ml), which works to give fine hair added hold, volume and oomph.
Wax
WIN: KMS Hairstay Hard Wax, $34 (50 ml), is pliable with a strong holding power that keeps hair in place and leaves behind a natural and matte, non-greasy finish.
Dry Shampoo
SAVE: Extend your wash and help your hair look and feel fresh longer with A'kin Dry Shampoo, $14.90 (150 ml), which adds volume and texture without leaving a white residue. SPLURGE: The lightweight IGK Jet Lag Invisible Dry Shampoo, $45 (260 ml), is formulated with finely milled volcanic ash that soaks up dirt and oil in the scalp, keeping hair refreshed and styled in-between blowouts.
Heat Protectant
WIN: Coating hair ends with Rossano Ferretti Prodigio Regenerating Potion, $87 (50 ml), before blowdrying helps protect strands from heat damage, while its nourishing formula boosts your hair's softness and shine.
Styling Cream
WIN: Work the smooth KMS Curl Up Perfecting Lotion, $40 (100 ml), through towel-dried hair to enhance and define your curls while controlling frizziness. Refresh curls simply by scrunching your hair when necessary.
Sea Salt Spray
WIN: Gently spritz your hair from root to tip with the texturising Tigi Catwalk Session Series Salt Spray, $36 (270 ml), which works to give your hair more volume and definition, while taming frizz and fighting off humidity.
Curl/Wave Enhancer
WIN: Shiseido Professional Stage Works Fluffy Curl Mist, $31 (150 ml), distributes evenly across hair to maintain curls for a longer time and protects hair ends from heat damage during curling and blow-drying.
Hair Volumiser
WIN: Goldwell StyleSign Naturally Full (Blow-dry & Finish Bodifying Spray), $38 (200 ml), works well on both toweldried and dry hair, giving additional body and fullness to your tresses.
Hair Primer
WIN: Percy & Reed Perfectly Perfecting Wonder Balm, $40 (75 ml), provides protection from humidity and eases the hair styling process, giving you more control over hair sections and keeping hair smooth and shiny.
STYLING TOOLS
With these pro tools, you can achieve a salon finish in your own home
Clockwise from top:
Hair Curler
WIN: Philips StyleCare Prestige Auto Curler (BHB 876/00), $199, comes with a longer barrel to style more hair at once, and its smart curling system helps to create longer lasting results at a more controlled temperature setting to protect your hair better.
Comb
WIN: Lady Jayne Detangler Comb, $4.30, is an easy-to-use, lightweight comb with wide teeth to glide through wet and dry hair with less snagging.
Multi-Use Styler
WIN: Create waves, curls or sleek hair to suit your mood with the ghd Gold Styler, $295, a very user-friendly tool that heats up quickly and maintains a safe temperature level.
Electronic Hair Brush
WIN: Tescom TIB10 BK-Ion Styling Brush, $69, smoothes hair as soft sonic vibration gently massages the scalp to encourage microcirculation.
Hair Dryer
WIN: The revolutionary Dyson Supersonic, $599, has intelligent heat control, is quieter than most and comes with different magnetic attachments for your various hairdrying needs.
Hair Brush
WIN: The innovative WetBrush Flex Dry, $15.90, glides through both wet and dry hair with minimal tugging, thanks to its super flexible bristles that are also heat-resistant.
Flat Iron
WIN: Create perfectly smooth hair easily with the ghd Platinum Styler that has a wishbone hinge for better control, while smart plate sensors ensure that your hair doesn't overheat.
SUPPLEMENTS
Achieve fabulous hair from the inside out
Thinning Hair
WIN: Viviscal Professional Hair Nutritional Supplement, $120 (60 tablets), contains vital ingredients like a proprietary marine protein complex, vitamins and amino acids to nourish and strengthen hair from within.
SERUMS
Fortify scalp and hair with these extra-protective formulas
Normal Hair
WIN: Botaneco Garden Organic Argan & Virgin Olive Oil Smooth & Shiny Hair Serum, $7.90 (95 ml), is high in Omega 6 and 9 which are essential in keeping hair follicles strong and maintaining its moisture balance.
Colour Treated Hair
WIN: Coat your strands with Hysses Rose Geranium Hair Serum (Argan+), $28.90 (65 ml), which is packed with argan and other luxurious oils to naturally strengthen, nourish and repair hair damaged from bleaching or colouring.
Chemically Treated Hair
WIN: Rossano Ferretti Vita Rejuvenating Serum, $87 (50 ml), has a powerful, protective formula that helps damaged and chemically-treated hair regain softness, vitality and strength.
Thinning Hair
WIN: Phyto Phytologist 15 Absolute Anti-Hairloss Treatment, $285 (15 vials x 3.5 ml), is an intensive treatment filled with active ingredients that work to stimulate hair growth from a cellular level.
Anti-Dandruff
WIN: Combat dandruff on dry scalps and prevent its reccurrence with La Biosthetique Methode Pellicules Anti-Pelliculaire Lotion Epicelan Equilibrant, $44 (100 ml), which helps restore scalp balance and soothe irritation and redness.
Dry, Sensitive Scalp
WIN: Ultra-lightweight and non-sticky, Vichy Dercos Ultra-Soothing Serum, $36 (60 ml), provides lasting relief to distressed scalps caused by colour treatments or daily external aggressors.
Anti-Ageing
WIN: Shiseido Professional The Hair Care Future Sublime Total Scalp Care Serum, $56 (125 ml), is formulated to improve both hair and scalp's resilience and elasticity for fuller, more vibrant hair.
HAIR OILS
Top multi-taskers for shiny, frizz-free hair without the grease
Normal Hair
WIN: Ouai Hair Oil, $42 (45 ml), is packed with nutritive natural oils like borage and baobab to protect hair from sun damage while helping to smoothen frizz and give your tresses a glossy finish.
Dry Hair
WIN: Applying just a few drops of L'Occitane En Provence Repairing Oil, $46 (100 ml), to the ends of your hair before blow-drying helps protect them from heat while supplying extra nourishment to parched strands.
Brittle Hair
WIN: Vernon Francois Overnight Repair Treatment Oils, $55 (4 vials x 4.7 ml), contain a lightweight, hydrating blend of meadowfoam and jojoba oils to lock in moisture and tame unruly frizz.
Dry, Sensitive Scalp
WIN: Made with organic superfood virgin coconut oil and lavender essential oil, koqo VCO+Lavender EO, $25 (100 ml), is ultra-gentle on even the most sensitive scalps and works to prevent split ends and moisturise dry hair.
TEXT: TAN GIN YEE & ELIZABETH LIEW / PHOTOS: FRENCHESCAR LIM