Some might think that fashion exists in its own bubble, but no thing could befur ther from the truth. From a preoccupation with a growing region of big spenders, to abridging of the gap between work and play, the latest fashion trends are a reflection of the times in which we live.
Some might think that fashion exists in its own bubble, but no thing could befur ther from the truth. From a preoccupation with a growing region of big spenders, to abridging of the gap between work and play, the latest fashion trends are a reflection of the times in which we live.
EASTERN  PROMISES
Chinese luxury consumption may be down right now, but there is no doubt that Asia is still on designers' minds. How else to explain the sheer proliferation of cranes, pagodas and chinoiserie landscapes emblazoned on everything from suits to shorts on the Spring/Summer 2016 runway? Our guess is that at least some of these styles were designed to appeal to Chinese shoppers, but not all – unless there is an East Asian audience for bamboo-embellished red satin shirts that we don't know about. Since being named Gucci's creative director last January, Alessandro Michele has been lauded for bringing edgy new life to the brand. One of his latest moves: introducing the "tian" (Chinese for "heaven") print, inspired by Chinese landscapes depicted on 18th-century tapestries. This season, the print decorates a full suit – great for those who don't mind looking like a walking coromandel screen – and also adds arty allure to Gucci's monogrammed accessories (a much more user-friendly take). Also taking cues from the past, Dolce & Gabbana's dragon- and pagoda-heavy looks were not rooted in reality, but in a bygone collective imagination. The brand's inspiration was the Chinese Palace in the Sicilian city of Palermo, an edifice of Orientalism built in 1799 for King Ferdinand III. "This wasn't about China, but China in Sicily," explained Domenico Dolce. The East – as imagined by the West – yet rises.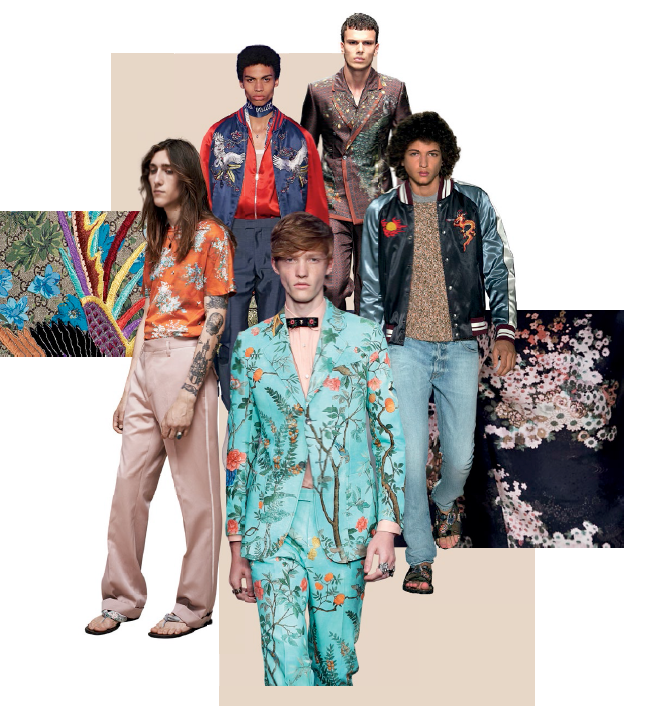 BLUE  PERIOD
Colour specialist Pantone named two hues as its colours of the year: Rose Quartz, a light pink, and Serenity, a sky blue. A perfectly complementary pair, although the spring/summer runways amply proved that sky blue – and a bevy of other light or bright blues – works beautifully with many other colours as well. At Berluti, blue was a key shade in a collection that was also replete with greens, reds and yellows. At Hermes, menswear head Veronique Nichanian used electric blue separates to enliven sombre shades of grey and khaki. Other designers, however, chose to show how the colour works well on its own: Light and dark blues were used to create sporty, tone-on-tone looks at Givenchy. For fashion-forward folks finding all this too tame, Gucci has the answer (it should be clear by now that the brand is the go-to for those looking to make a statement this season): a sparkling top in blue lurex – paired with a red collar, no less.
MADE FOR MOVEMENT
Over the past few years, we've seen the growth of casual wear at many menswear brands that once specialised only in formal tailoring. And as the athleisure – a term referring to clothes that look suited both for the office and the gym – trend continues to grow like muscles on steroids, designers are bridging the gap between what we wear to work and away from it. Off-duty pieces have been getting smartened up for some time, and this season is no exception. Bomber jackets are cut closer to the body and rendered in dressy materials like silk. Tailored trousers are gathered at the hems with elastic cuffs. Sneakers are now dressy affairs made from cow leather, or even exotic skins. Even sandals are having a major moment as part of this new formal/casual mash-up. But we draw the line at pairing them with socks, a look encouraged by several brands for spring. There's only so much comfort one can take.
TURN UP THE VOLUME
Last month, it was announced that Stefano Pilati was leaving Ermenegildo Zegna, but there is no doubt that the celebrated designer had a good three-year run at the brand. For his Ermenegildo Zegna Couture collection for spring, he impressed us with his subtle take on fashion's gender-blurring moment. Instead of taking obviously feminine styles and adapting them to menswear, he borrowed from the fluidity and transparency of women's clothing to create fluid, comfy styles. Particularly notable were the trousers – wider, looser, slightly sheer (don't worry, they were lined). He wasn't the only designer feeling the need to give men more breathing – or rather, sitting, space – this season. Giorgio Armani, for instance, put his models in their comfort zones with silky trousers that billowed with an easy grace, whether said trousers were straight-cut, banded at the ankles or cropped at the calves. However you approach the look, remember: Balance is key, so wider trousers should be balanced with a closer-fitting or structured top. The ensemble should say relaxed, not "I lost a ton of weight and haven't had time to buy new clothes".
WITHIN  THE LINES
In fashion, as in physics, every action leads to an equal and opposite reaction. Which explains why, amid the current taste for all things easy and comfortable, we're also seeing the rise of the pinstripe – the suit pattern associated with power bankers of the '80s. For ever-dapper designer Tom Ford, the time is ripe for a return to the pinstripe in its smartest form, updated for the times, of course. A key look for his spring collection is a black three-piece pinstripe suit, complete with a watch chain designed to fit an Apple watch. But for those who prefer to distance themselves, sartorially speaking, from Reagan-era wolves of Wall Street, this season offers several variations of the vertical stripe. At Salvatore Ferragamo, a cropped jacket and slightly tapered, pleated trousers give workaday blue and grey stripes a much-needed style upgrade. Stripes also work well alone: Dunhill's pinstripe trousers look perfectly fetching even without a tailcoat and top hat, a runway look that paid homage to the brand's quintessential Britishness. Some things, however, are harder to dress down: The glittering striped suit conceived by Givenchy creative director Riccardo Tisci fits right in that category.