Going beyond the K-pop style, these five South Korean designers are creating sleek, everyday pieces for the modern woman.
"Besides ready-towear, Le 17 Septembre also offers shoes and bags that were first introduced in SS '18."
There's a common misconception that K-pop is the driving factor behind the "South Korean" look. In reality, the essence of K-style goes beyond music influence. Instead, it's really about sleek, sophisticated clothes, championed by contemporary South Korean designers. To understand this, one just has to look at the dress code of the Parks in Parasite (2019), Bong Joonho's hit film and the first Asian movie to win Best Picture in the 92-year history of the Academy Awards.
And this is exactly what these five fashion creatives are offering: a myriad of easy, elegant apparel and accessories for the modern, working woman. Here's what you should know about their brands.
Cottonblend jacket, US$289.27 (S$404.65) and matching pants, US$211.37 (S$295.60), Net-a-porter 
"Price range: US$114.30 (S$159.87) for a viscose sleeveless top to US$726.32 (S$1,015.87) for a woolblend coat on Net-a-porter"
"unisex/ sleek/ minimal"

LE 17 SEPTEMBRE
WHAT: Le 17 Septembre, founded by Grace Shin, 37, in 2013. The Seoulbased ready-to-wear label is named after her birthday, as she believes that birthdays bring happiness to people – which is also her design philosophy.
WHY: Other minimalist brands might play with textures to compensate for the lack of details, but Shin's core ethos is simplicity – her designs are really clean and simple. And they are easy to carry off and almost genderless, but never boring.
She also draws on her heritage. "As a Korean designer, the lines and colours in our traditional clothes (such as the hanbok) are very inspirational. I try to incorporate them in my designs," she says.
Koo's heavily inspired by everything from the '70s, which can be seen from the structure and silhouette of her leather bags.
"timeless/classic/quality"
GU_DE
WHAT: Gu_de, the bag label founded by Ji Hye Koo, 40, in 2016. Based in Seoul, she has more than 15 years of experience in designing accessories at K-brands such as Kuho and Lebeige.
WHY: Heavily inspired by the '70s, Koo's eather bags are known or their timeless designs and top-notch quality. Lyn Slater, the social media sensation who's in her 60s and known for her fashion blog Accidental Icon, has been seen carrying her bags. "I love the '70s boxy and compact silhouette. I've translated it by putting vintage hardware, unique shapes, crocpatterned leather and oversized chain straps into my designs for a look that's classic yet witty, cool and not boring," says Koo.
Price range: US$570.36 (S$797.42) to US$877.07 (S$1,226.44) for leather shoulder bags on Net-aporter 
Leather shoulder bag, US$877.07 (S$1,226.44), Net-a-porter 
You can never go wrong with a black bag – it's perfect for work and the weekends.
"practical/sculptural/textural"
STUDIO
WHAT: 1064 Studio, founded by Sodam No. An alumni of South Korea's Hanyang University (where she studied metal design), the 29-yearold launched her label in 2015 as a fashionforward brand that provides conceptual yet wearable jewellery.
WHY: Her pieces are minimal yet never boring, thanks to their textural and sculptural details. And they're wallet-friendly – her gold-plated jewellery can go below $200. Celebs love her too: Jennie and Rose from K-pop girl group Blackpink have been seen wearing her earrings.
Her designs draw from the intricate details and silhouettes of objects in her home country. She says: "There are many antique relics, such as the white porcelain 'moon jar' from the Joseon dynasty – it has a clean, simple shape and represents a very Korean aesthetic. I am very inspired by this." 
Gold-plated metal necklace, US$121.03 (S$169.13), Net-a-porter 
Price range: US$104.09 (S$145.47) for a set of two goldplated metal rings to US$610.84 (S$853.69) for a goldplated metal necklace on Net-a-porter 
No says her brand was named after the melting point of gold (1064 deg C).
Her SS '20 collection, Curvilinear Archives, features sculptural influences translated to an irregular chain necklace.
"forward/contemporary/cool"
REJINA PYO
WHAT: Rejina Pyo, the eponymous label launched in 2014 by the Korean-born Londonbased designer, 38.
WHY: She's known for her haute couture designs at pret-aporter prices. Her collections comprise oversized readyto-wear in cheery colours, sculpturalheeled shoes and Instagrammable bags. Oh, and she's loved and championed by fashion insiders, from Leandra Medine of Man Repeller to uber-chic stylist Kate Foley.
For her SS '20 collection, Pyo was inspired by American poet and visual artist Etel Adnan to create a vibrant colour palette. This is also the season where Pyo debuts her unisex collection.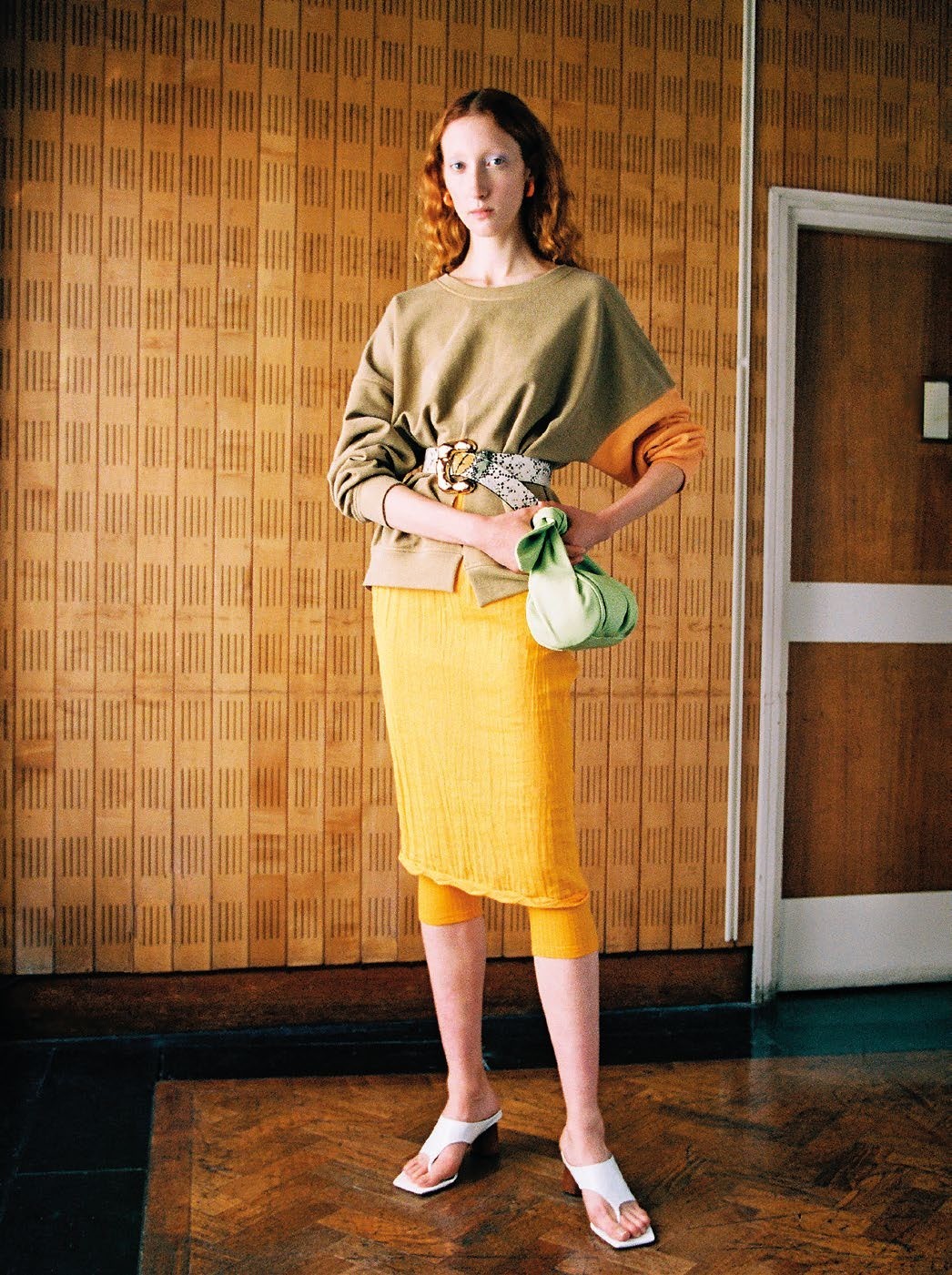 Pyo's SS '20 collection references the vibrant hues and textures of American artist Etel Adnan's abstract landscape works.
Price range: US$166.03 (S$232.05) for a jersey-blend sleeveless top to US$781.66 (S$1,092.48) for a satin twill midi dress on Net-aporter 
Leather shoulder bag, US$624.16 (S$872.38), Net-a-porter 
bold/voluminous/fun
MINJU KIM
WHAT: Minju Kim, the eponymous brand by 32-year-old designer, who founded her label in Seoul in 2014.
WHY: She's hot property now after being freshly crowned as the winner of Netflix's design competition series, Next in Fashion (2020). Alexa Chung even wore her design to the Netflix and Neta-porter x Next In Fashion launch event.
Known for delivering statement-meetsgirlie numbers that play on volume, Kim launched her debut collection on Net-aporter in February this year as part of the winning prize.
Kim's SS '20 debut on Net-a-porter showcases her bouffant dresses and tops with a feminine twist.
Satin maxi dress, US$735.88 (S$1,028.64), Net-a-porter 
Price range: US$167.94 (S$234.58) for a jersey turtleneck top to US$1,069.32 (S$1,493.63) for a silktwill mini dress on Net-aporter 
TEXT SEAN THAM PHOTOS COURTESY OF NET-A-PORTER