Curators Naomi Wang (left) and Jackie Yoong tell us what it means to curate the Asian Civilisations Museum's first fashion and textiles, and jewellery galleries, which open their doors next year.
Mention museums and the imagery that invariably comes to mind are that of imposing spaces filled with regal artwork from paintings to sculptures or ceramics. And that's simply because an academic bias of certain material mediums exists, says Jackie Yoong, curator at Asian Civilisations Museum (ACM). But the 35-year-old is hoping to help change that perspective. In early 2020, ACM will be opening two permanent galleries: one on fashion and textiles, helmed by Jackie; and the other on jewellery, by Naomi Wang, 30. 
Occupying the third floor of ACM, both galleries will explore Asian histories, cultures and identities. The fashion and textiles wing will kick off with an exhibition on Chinese dress from the late Qing dynasty to the end of the Cultural Revolution, while the jewellery one will begin with exquisite pieces from South-east Asia, with an emphasis on the Indonesian archipelago. 
The theme of Chinese dress is in line with the museum's ongoing season of Chinese Art that runs till mid 2020. Rotations in the fashion and textiles gallery will rely on these broad themes, which are refreshed yearly. The jewellery gallery exhibition, on the other hand, is slated to be permanent, with rotations conducted on a more opportunistic basis. 
The duo have been working in parallel towards the launch, but they share common goals for the two new permanent galleries. Not only do they hope to attract a younger audience to the museum, including students and enthusiasts of the respective fields, they also want to reveal the amalgamation and interactions of various Asian cultures through the objects they curate. "Nationalism is an artificially constructed idea. Physical borders exist only because they are imposed," says Naomi. "South-east Asia is actually very connected, and more similar than dissimilar."
Here, we speak to the two women and find out how their passions have brought them where they are today, and what it means to be a museum curator. 
A LOVE FOR FASHION
Dispelling the myth that exhibitions are a one-man show for curators, Jackie Yoong says it takes an entire village – and mad coordination skills – to get everything together: Apart from conservators, designers and fabricators, there are also departments like exhibition management, which are dedicated to taking care of logistics. Then there's the time. Take the Chinese dress exhibition that kicks off the fashion and textiles wing, for instance – an exhibition of this scale takes close to two years to put together.
Another key aspect is identifying, developing and maintaining relationships with designers and collectors. To Jackie, the Chinese dress exhibition is not just a presentation of fabrics, but also a mirror of Chris Hall, the leading Hong-Kong-based collector whose private collection makes up the bulk of the show.
"As a curator, I find it fascinating that I am usually not interested in just the objects, but also the kind of people related to it," she says. "What we are looking at is the taste of one man/collector, one with a very good eye and very good networks. These are the kinds of stories that museums also collect."
Jackie had always harboured a keen interest in history, but it was during her undergraduate days (reading history at the National University of Singapore) that she fell in love with the ACM during a field trip to the museum. "I remember thinking, oh… it would be nice if I could work here one day," she recalls.
Fast forward a little over a decade, and she's now curator at the ACM. Jackie says it took about five years of working there before she realised that her interest was in fashion. It was then, in 2014, that she decided to take a sabbatical to pursue a Master's degree in History of Art at the School of Oriental and African Studies in London. 
After her return in 2015, she worked on various exhibitions, the most recent being Guo Pei: Chinese Art and Couture (2019), before starting work on setting up the new fashion and textiles wing.
The job comes with its own challenges. Basic conservation principles require all surfaces of the fabric to be supported by the mannequin in order to preserve its integrity. And that presents a dilemma when Jackie has to present a garment in its historically accurate loose-fitting form. As such, she has to work closely with conservators to find creative ways of padding up mannequins in order to maintain a natural look. 
There is no doubt that the new galleries bode well for the Singapore art scene. For Jackie, it is particularly heartening that "people are starting to see the relevance of presenting and appreciating dress as part of human society and culture".
"Museums are more than just a depository of beautiful objects," she adds. "If successfully done, the storytelling behind it and the curation really bring objects to life, and help people understand the past through objects that were made."  
JACKIE'S MUST-SEE PICKS AT THE ACM 
PAINTED CHINESE SILK GOWN FOR THE EUROPEAN MARKET (Robe a la Francaise)
Europe, textile from China, 1770s, painted silk
"The global story in this rare gown speaks to me. It reflects how Europe coveted and acquired luxurious Chinese export textiles to be tailored into fashionable Western silhouettes. Here, the exquisitely painted flowers are quite British in taste, such as roses, carnations and lilac."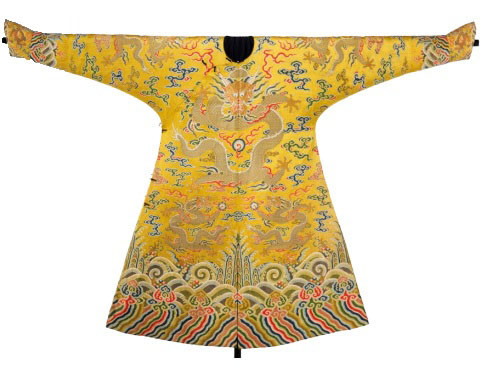 DRAGON ROBE
China, early 18th century (Qing dynasty), brocaded silk satin and gold-wrapped threads
"I love stories and in Qing dress, every detail has to be meaningful. In codified dressing like this robe, one can tell the status of the wearer from the decoration. The emperor is represented by the bright yellow colour and nine dragons, rising above and controlling the universe, indicated by the swirling clouds, and waves and mountains at the hem." 
IDENTITY THROUGH JEWELLERY
"I think the best kind of art is the kind that you go home and think about," says Naomi Wang.
And that's one of the things Naomi hopes to achieve with ACM's new jewellery gallery. "I want people to walk away from the exhibition looking at our region differently, and recognising the privilege it is to live in SEA as it boasts a rich cultural resource literally at our fingertips," she explains. 
Working with a large collection of Indonesian jewellery gifted by Hong-Kong based serial collector Edmond Chin, Naomi endeavoured to expand and complete the story. "That's always my starting point as a curator – I always look at what we have first, and then I try to fill the gaps from there," she says. 
She begins by first looking to collectors who are based in Singapore, and sounding them out on the possibility of loaning items. She also contacts specific institutions around the world that possess the star items missing in her collection – though rejection is something that she often has to deal with, as collectors and institutions rarely agree to a long-term loan. 
While working with the visually striking objects offers a certain joy, the challenge of working with jewellery presents itself in the sheer number. Naomi is currently dealing with over 250 objects of various sizes, ranging from 0.5cm for a pair of earrings to 2m for a horse amulet.
And they come in a spectrum of materials. While objects made of stable materials like gold are easy to care for, less stable ones, like a grass headdress, pose more challenges as they are "literally crumbling". 
And just like that, the fantasy image of curators sitting comfortably in a room full of beautiful objects disappears. "Come to any of our desks," Naomi laughs. "We spend a lot of time researching and writing, and it's really hard data, like going to the library, spending all your time in the archives, finding any sliver of information that can give you a clue as to how to approach an object. Because sometimes an object is so ambiguous that the only clue to understand it is to find out who owned it, who made it, and at what point it was bought or sold."
While jewellery is commonly associated with vanity and adornment, Naomi hopes to reveal the practicalities of jewellery through stories of mobility, identity and class.
"There is no better way to see how human beings venerate the body – or what the relationship is between a human and his own physical body – than to see the manifestations that come in jewellery and fashion," she says.  
NAOMI'S MUST-SEE PICKS AT THE ACM 
HEADDRESS
West Sumatra, Solok, late 19th or early 20th century, gold and copper
"This is one of my favourite pieces because it comes from the Minangkabau people in West Sumatra. A matrilineal society of devout Muslims, they are one of the world's most unique cultures. All property, including land and valuable possessions like jewellery, are passed down the female line. It's a woman's world, where females enjoy very powerful and privileged positions in society." 
FINGERNAIL GUARD AND RING
Java, probably Batavia, late 19th or early 20th century, gold and diamonds
"I love how jewellery informs you about its owner. This fingernail guard, for instance, shows different cultural influences (it was a popular accessory in the Qing court). Interestingly, this guard was cast in solid gold, and its weight distinguishes it from Chinese examples, which are typically made of light filigree. The weight of this guard suggests it was worn only for show, like when having one's portrait taken." 
HAIR & MAKEUP AUDREY WEE, USING NARS PHOTOS OF EXHIBITS ASIAN CIVILISATIONS MUSEUM