After being crowned the winners of Project M 2019, what's next for Claudia Lim and Ernest Siow? For now, it seems, anything is possible for them.
BUGIS JUNCTION X BUGIS+ SPECIAL
ON  CLAUDIA
Long vest, $59, iora. Matching set of vest and pants, $89, ZENZI. Dress, $69, Sans & Sans.
ON  ERNEST
Jacket, $129, H:CONNECT. Striped shirt, $49, Alcoholiday. Oxford pants, $49.99, Cotton On.
ON  CLAUDIA
Multicoloured cropped top, $34.90, and skirt, $41.90, MDS. Straw hat, $16.95, TEMT. Sandals, $89.90, Pedro. Tights, stylist's own.
ON  ERNEST
PUMA x HAN KJØBENHAVN striped jacket, $219. Cayenne sweater, $159, and striped pants, $199, Puma. Sunglasses, $29, KIMOJ. Cross-body bag, $19.90, Yishion.
ON  CLAUDIA
Tank top, $17.90, and striped pants, $39.90, Playdress. Mogen striped shirt, $45, The Editor's Market.
For 23-year-old Ernest, it was a case of now or never. "Modelling was something I had always yearned to do, but there was never a right time or place to start – until Project M came along."
Despite their initially uncertain start, Claudia and Ernest immediately dove into the rigorous competition – from casting all the way to the final – and eventually found their groove. Striking looks aside, the self-professed dark horses impressed the judges with their work ethic and quiet determination. Ernest recalls: "Addie Low (founder of NOW Model Management and one of the judges) calls me 'the quiet one' because I would always be in the corner of the room practising my runway walk."
Having had no prior experience in modelling, Claudia knew she was at a disadvantage during the competition. "Compared with the other contestants, I had the most to improve on. But I saw that as an opportunity to make strides and become the best version of myself." And that they both did.
"SINCE THE COMPETITION, MY LIFE HAS CHANGED IN WAYS I DIDN'T EXPECT."
– CLAUDIA LIM 
THE JOURNEY AHEAD
Project M was an "intense and eye-opening" experience. Another term Claudia would use to describe her journey to becoming this year's champion? Life-changing. For years, she had focused all her attention on her first passion: architecture (she recently graduated from the National University of Singapore with a Masters in Architecture). "But winning the competition has opened my eyes to new opportunities."
In the last four months, the leggy beauty (standing at 1.77m tall) has signed on to NOW Model Management and booked modelling gigs for Bugis Junction and Bugis+, Nuyou, and Swedish womenswear label SABINA SÖDERBERG (just to name a few). So where does Claudia see herself in five or 10 years? For now, she has no definite answer. "I'm an improvisator by nature! So at any moment, I probably have 10 schemes up my sleeve." One of the aforementioned schemes is to combine her love for art and fashion. "I see a lot of similarities in both disciplines," she notes. "I hope to someday start my own practice and do modelling concurrently."
Ernest, on the other hand, has it all worked out. His objective is clear: to model full-time. At the moment, he is pursuing a Bachelor's in Banking and Finance at the Singapore Institute of Management (University of London), but his ultimate goal is to work with international luxury brands and eventually make it to a Fashion Week. "In five years' time, I plan to be living my dreams and living life to the fullest."
Whatever life may have in store for Claudia and Ernest, it's clear that the sky's the limit.
ON  CLAUDIA
Striped dress, $69, Lucia. Jessa top-stitch jacket (worn around waist), $49, The Editor's Market. Sunglasses, $168, Glimpse. Belt, $7.90, Yishion.
ON  ERNEST
Bomber jacket, $32.90, Hi Style. Jacket, $129, and T-shirt, $49, H:CONNECT. Cross-body, $89.90, Pedro.
ON  ERNEST
Sweatshirt hoodie, $29.90, Hi Style. Top, $45, and sweat shorts, $49, Alcoholiday. Sunglasses, $168, Glimpse. PUMA x HAN KJØBENHAVN backpack, $249, Puma.
ON  ERNEST
Bomber jacket, $469, HARDY HARDY. Toppi yukata, $128, Akihabara. Floral shirt, $29.99, and jogger pants, $39.99, Cotton On. Sunglasses, $29, KIMOJ.
"HOW DO I WANT TO BE REMEMBERED? FROM ZERO TO HERO."
– ERNEST SIOW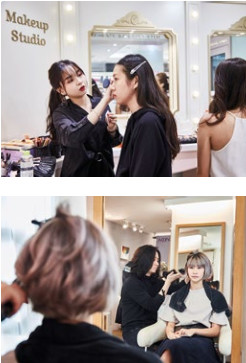 Right and below right: The finalists were treated to a full makeover, thanks to partners Etude House and Jeric Salon.
Left: Other prizes up for grabs during Project M 2019 were those for Mr and Miss Popularity (voted by the public) and the coveted Media Choice Award.
Left: A look at Project M 2019's Top Six finalists, including winners Claudia Lim (third from far left) and Ernest Siow (fourth from far left).
A LOOK BACK
Project M 2019 kicked off on a high note with a whopping 1,300 sign-ups from model hopefuls around Singapore.
After much deliberation, the judges selected their Top 20 finalists. For the next six weeks, these finalists underwent rigorous training under the tutelage of industry experts Addie Low from NOW Model Management and fashion show producer Daniel Boey, on how to walk and pose like pros.
No modelling competition would be complete without makeovers! Luckily, the Top 20 were in the capable hands of veteran hairstylist Jeric See and his team at Jeric Salon. Their transformations complete, the finalists' skills were then put to the test with a photo shoot challenge – two gruelling days in front of the cameras and bright lights.
It all came down to the final stages. After the thrilling semi-finals at Bugis+ and grand final at Bugis Junction, Project M 2019's winners were officially crowned. Ernest Siow and Claudia Lim walked away with $1,000 worth of CapitaVouchers, NOW Model Management modelling contracts and more.
Keen to sign up for Project M 2020? Stay tuned!
Photography Veronica Tay, assisted by Melvin Leong Fashion Styling Jerome Awasthi, assisted by Eugene Gideon Hair Ash Loi Makeup Lolent Lee