THE FIRST SEASON OF THE NEW DECADE SAW A LEGION OF DESIGNERS ADDRESSING THE ISSUE OF SUSTAINABILITY AND LONGEVITY—WHETHER BY RETHINKING METHODS AND MATERIALS, IMBUING PIECES WITH MEANING AND PRECIOUSNESS TO BE CHERISHED FOREVER, OR STRIPPING BACK THE SUPERFLUOUS TO CRAFT DESIGNS THAT WILL STAND THE TEST OF TIME.
GUCCI
This season, Alessandro Michele had sex on his mind. In comparison to his usual everything-but-the-kitchen-sink aesthetic, spring/summer 2020 was considerably stripped back. In fact, the wispy lingerie slips and diaphanous chiffon dresses, skintight knits with plunging necklines and slashed leather skirts had a whiff of Tom Ford's Gucci about them. If those weren't sufficiently sexed-up, he even sent some models out with BDSM whips and bags that proclaimed "Gucci Orgamisque". Building on the past couple of seasons, tailoring remained a strong suit; this season's bore an alluring '70s flavour— shrunken on top and kick-flared below. Michele also scaled back on print to focus on colour, often used in off-kilter but delicious pairings.
BOTTEGA VENETA
For his sophomore outing, Daniel Lee doubled down on the building blocks he laid in his debut season. The message was artful minimalism filtered through a '90s-tinged lens, resulting in a sensuous, stripped-back sensuality that came through the strongest in pieces such as the little black dresses that clung to the body, and the sliced and twisted ribbed knits. Lee employed a lighter hand with the House's bread-and-butter leathers, cutting them paper-thin for knee-length shorts and sporty anoraks. While last season yielded the sold-out Pouch and Padded Cassette bags, this season, fans will be falling for the supersized intrecciato hobos.
MIU MIU
After Prada's polished simplicity, Miuccia Prada had something more lo-fi in mind for Miu Miu. The collection had a homespun DIY quality in its raw, humble textures, which brought to mind the feeling of household textiles transformed into clothes. Canvas, muslin and linen were Mrs Prada's preferred medium, but the message—the clothes themselves—exuded a certain kind of glamour specific to the post-World War II era. There were tailored skirtsuits that evoked the '40s, and the flared skirts and sweaters of the '50s. Those sweaters were shrugged off the shoulders for a screen-siren sex appeal—a vibe intensified by the bouffant updos. Prints had a naivete and optimism about them; flowers big and small were done in a hand-drawn effect, accentuated with spots and splatters.
PRADA
After last season's floral-andFrankenstein-strewn show, Miuccia Prada decided that her major concept for this season would be simplicity— her contribution to a world that increasingly needs less disposability and more timeless, carefully considered investments. It was a testament to Prada's immense talent that a collection devoid of flash and excess is no less compelling for it. To arrive at her vision of timelessness, she amalgamated the signatures of different times gone by— the sharp tailoring had a whiff of the '40s; the cloche hats and waistless dresses with Deco flourishes were reminiscent of the '20s; the sleek, fuss-free skirt-and-sweater combos evoked the '90s.
DIOR
Inspired by Monsieur Dior's love for gardening, Maria Grazia Chiuri transformed her spring/summer 2020 show space into a literal garden with more than 100 species of trees from all over the world—of which every single one would be replanted after the show throughout Paris. In this setting came the chicest gardeners you've ever seen. On their heads were raw-edged straw hats; on their feet, chunky boots and ropy espadrilles. The textures were warm and rich, with an emphasis on raffia and other natural materials. The pieces themselves were summertime fresh—plenty of playsuits and shorts, girlish A-line dresses, boyish boxy jackets, and perforated dresses. The key styling piece was a shirt in soft cornflower blue, to layer under everything for a touch of French sophistication.
ALEXANDER MCQUEEN
This season's collection started with a research trip to Northern Ireland, where Sarah Burton and her team fell in love with the beauty of linen—one of the world's oldest fabrics. They also discovered the ancient technique of beetling, whereby linen is covered in starch and beaten until its texture takes on the sheen of leather. It is obsessive techniques like this that forms the crux of the new collection, bringing to life pieces that are equal parts ethereal and powerful. There were suits spliced, slashed and hybridised— some spilling forth trails of lace. As for the dresses, they swirled by in leather and lace, exploded in tufts of hand-cut silk, or were lovingly put together from old fabrics found in the ateliers.
MONCLER GENIUS
How many ways can a puffer be reinvented? The Moncler Genius project has proved that the possibilities are endless when the right creative visions are empowered. By enlisting a diverse range of design talents, the brand's core product is now a high-fashion statement in addition to being a cold-weather staple. Pierpaolo Piccioli brought a couture sensibility with his glorious volumes and colours. Simone Rocha injected a tough femininity while Craig Green engineered conceptual, structural feats. There were fun, fabulous prints courtesy of rising London star Richard Quinn and a sleek, streetwear edge introduced by Matthew Williams of Alyx.  The one to watch out for? Jonathan Anderson, who revived his JW Anderson archives in Moncler's padded volumes.
LOUIS VUITTON
Futurism has long been an obsession for Nicolas Ghesquière, but this season, he tempered it with a healthy dose of historicism. Specifically, he looked back to the Belle Époque era, turning out plenty of puffed-up shoulders and statement collars. The overall vibe, though, hewed closer to the '60s and '70s; the former came through in short A-line silhouettes paired with boots while the latter was evoked in terrific trousers cut long and lean, and the use of psychedelic prints and retro wallpaper graphics. Despite the vintage leanings, Ghesquière's understanding of cut and mastery in weaving together disparate references planted things firmly in the now. Accessories had a similar retro-futurist bent, with '80s influences given a contemporary update.
CHANEL
In her first ready-to-wear show since taking the helm—her previous outings were for haute couture and cruise—Virginie Viard tackled the Chanel codes in the light-hearted, contemporary manner she has quickly established as a signature. The tweed twinsets were still there, now cut into youthful shorts suits and playsuits. Equally youth-oriented were the array of mini skirts— flirtatiously flounced or poufed out into bubble shapes, all worn with easy low heels and flats. Breton stripes paired with blue jeans hammered home the Parisienne chic that is a Viard speciality, while her evening propositions of pared-back columns of black and white evoked the spirit of Coco herself.
TOMMY HILFIGER
After making a splash in the capital of fashion last season, Zendaya returned to home turf for round two of her TommyNow venture. Set outside the Apollo Theater in Harlem—an epicentre of 20th -century American black artistry—the show was a celebration of black history and its inimitable style. Emphasis was placed on suiting, cut in the long, louche lines of the '70s and rendered in rich materials such as velvet, leather and snake-printed skins. There were also groovy jumpsuits and Studio 54-ready dresses. Models from a huge range of ages and shapes danced and shimmied down the runway, and with full bands a-swinging and singers a-crooning, it was one of New York's most uplifting spectacles.
CELINE
Last season, Hedi Slimane shocked and delighted the industry with his about-turn into bourgeois chic territory. This season, he continued on the same '70s trajectory, but loosened up a little. Classic blue denim entered the picture, in the form of boot-cut jeans, flared culottes, and knee-length skirts either ruffled or patchworked. These were paired with Slimane standards such as smart blazers, pussybow blouses and furry toppers. There was a bohemian side to the bourgeoisie too, with the addition of lurex and paisley peasant dresses, scarves wrapped around the heads, and flower-power embroideries.
BALENCIAGA
Demna Gvasalia called his latest collection an exploration of power, and he expressed it through the forms and uniforms in which power manifests. The show opened with corporate uniforms—dark boxy suits sporting a riff on the distinctive MasterCard logo. What followed was a play on archetypes: There were the C-suite execs, then their security and their assistants; there were gallerists and art-world types, slackers and hackers, one-percenters and ladies who lunch. The shapes grew more exaggerated, progressing into linebacker-wide shoulders on both billowy dresses and structured coats, as well as puffers so poofy, they almost concealed the models' heads. It culminated in a series of massive crinolined gowns right out of a fashion fairy tale.
FENDI
In her first season as sole creative director, Silvia Venturini Fendi dialled back on the theatrics and visual puns to introduce a new ease. There was a refreshing modernity in her cropped boxy jackets, paper bag-waist shorts, quilted mini skirts, fluid shirt dresses (even when cut in suede), and wrap coats that took their cue from bathrobes. A play on transparency lent the whole affair a summertime lightness, as did the earthy palette of warm chocolates, camels and caramels. Even so, the artisanship was as present as ever—most evident in the beaded Baguettes and the translucent overlays of sequins.
MICHAEL KORS COLLECTION
The latest Michael Kors collection was a journey through time, a greatest-hits compilation of American fashion of sorts. The overarching vibe was '40s-inflected glamour, evident in the high, cinched waists and sharp, precise shoulders. Skirts were prim and knee-length, with ladylike pleats or ruffles and worn with sandal-and-sock combos. The presence of gingham and polka-dot prints intensified the nostalgia. From there, Kors segued to the '80s with ruffled mini dresses and punk undertones, while the '90s cropped up as sleek trenches and neat tanks worn with mannish trousers. In keeping with the American spirit, the palette was mostly red, white and blue, accented with cheery lemon and cherry prints.
BURBERRY
This season, in addition to the House's classic khaki gabardine, Riccardo Tisci worked predominantly with cool grey jersey, fashioning both tailored and slinky pieces out of it for men and women. In his quest to elevate the Burberry codes, some of those suits even came with pinstripes picked out in minute crystals. Tisci's reworking of the trench coat this time around included versions trimmed in crystals, extended to the floor and panelled with silk scarves. In a nod to founder Thomas Burberry, he also riffed on the Victorian era, which resulted in leg-of-mutton sleeves, decorative collars and swathes of white lace. Through it all, Tisci kept things modern with streetwear— sporty, oversized and graphic, but also with a much dressier sensibility this season.
TORY BURCH
Tory Burch has always been the champion of an all-American kind of polished ease, but this season, she also injected an English sensibility into her collection. Her point of entry was the beloved Princess Diana, whose iconic style Burch distilled into an '80s-centric silhouette of gently blown-up shoulders and pussybow blouses, sprinkled throughout with English garden florals and sweet pastels. The Princess's love for a statement suit was also reflected— standouts included a white tux with contrasting black lapels, and a black suit with embroidered lapels and cuffs, worn with a simple silk camisole. Burch's signature ease shined the strongest in Natalia Vodianova's look: a handkerchief dress worn with sneakers.
SAINT LAURENT
The Saint Laurent brand has always been associated with a certain kind of hedonism. Think of Yves and his coterie of muses such as Betty Catroux and Loulou de la Falaise. These days, it's the likes of Kaia Gerber, Mica Argañaraz and Zoe Kravitz that orbit around Anthony Vaccarello and this season, he dressed them in very short shorts worn with tailored jackets, shirts unbuttoned down to there, and glossy high boots. Vaccarello also riffed on Saint Laurent's Russian-inspired collections from the '70s in the form of peasant dresses and embroidered headwraps. His now-signature finale spectacular was another homage to Yves—the iconic Le Smoking tuxedo, reinterpreted in almost 40 ways and shown on supers like Stella Tennant and Naomi Campbell.
TOD'S
No one does effortless elegance like the Italians. This season, the brand's creative team—in their last effort before Walter Chiapponi's debut— riffed on time-tested classics. Dependable staples were made fresh again through subtle styling twists and impressive craftsmanship—think leather jackets worn with bermuda shorts, crisp shirts paired with buttery leather skirts, snakeskin car coats, laser-cut leather shifts and tank dresses with a pleated leather panel. On the accessories front, the brand championed structure without the stiffness. The most desirable were the shrunken little pouches, carried in trios wrapped around the wrist— highly on trend without sacrificing practicality.
SALVATORE FERRAGAMO
Tacked on Paul Andrew's mood board were childhood summertime scenes in Italy—all golden light and languid days. He translated this into a collection that was light in spirit and construction, and fresh in palette. Silhouettes alternated between flowing, oversized shapes and compact, lightweight pieces such as clingy ribbed knits and roomy tanks worn with bubble skirts, hot shorts and swimwear. His summer suiting was a highlight, with jackets cut sharp but generously, and worn with leather shorts or baggy trousers cinched at the waist; or turned into semi-sheer blazer dresses.
COACH
Stuart Vevers has left his romantic vision of the American prairie behind, opting instead for a grittier outlook, which in turn made for a more relatable and attractive proposition. His starting point this season was the electric energy in New York City in the '80s. The opening look said it all; gone was the sweeping prairie dress or shaggy shearling coat, in its place a red leather trench, belted tightly at the waist. What followed was a city-ready wardrobe of leather skirts and trousers, parkas, scarf-neck blouses, primarycoloured shirt dresses, and tank tops splashed with the work of Pop Art illustrator Richard Bernstein.
RALPH LAUREN COLLECTION
Timelessness is a vital component of the Ralph Lauren universe—be it the dependable American prep of his Polo line or the glittering sophistication of Ralph Lauren Collection, which often harks back to the Golden Age of Hollywood and the high-society heyday of swans like Babe Paley and C. Z. Guest. For his latest collection, Lauren erected Ralph's Club, a glitzy Art Deco joint, and put on a 37-look study on tuxedo dressing and its feminine counterpart, the show-stopping red-carpet gown. Le Smoking was shown in endless iterations—sometimes played straight, other times deconstructed into slinky screen-siren statements. Standouts included Gigi Hadid's handsome houndstooth-topped sequinned number and Adut Akech's inky velvet look trimmed with canary-yellow fur.
LORO PIANA
The brand may be most well known for winter dressing and its outerwear, but its propositions for spring and summer were equally compelling. Softness and weightlessness were the key Loro Piana concepts for the season, achieved using the House's bread-and-butter cashmere and baby cashmere, but also with silks, linens and jacquard cottons. These were cut into fluid suits, unlined trench coats, shirt dresses, pinafores, caftans and safari jackets—pieces that were clean and flowing in silhouette, often tied at the waist or sleeves to accentuate the feminine figure. The palette was drawn from nature, ranging from pale sunrise shades to tones such as sand, honey, cocoa and ivory.
LOEWE
The esoteric references of Jonathan Anderson often span vast expanses of geography, culture and time. This season, he drew from the wellspring of history, as befits a 174-year-old house. "Poetic" and "patrician" were the words that came to mind for Loewe spring/summer 2020. Panniers, bishop sleeves and ruff collars evoked the royals of a Spain long gone—the kind immortalised in the works of Goya and Velázquez. Despite the historical references, these were clothes resolutely of the moment—all the period stuffiness and costume trappings knocked out in favour of an emphasis on handwork and craft. The result was intricate, delicate dresses in the elongated line that has become a Loewe signature, and a series of standout capes, cloaks and coats.
DOLCE&GABBANA
Jungle fever popped up on a few other runways this season, but no one else took to the theme as wholeheartedly as Domenico Dolce and Stefano Gabbana. The designers opened with safari suiting, and true to brand DNA, made it sexy with tiger and leopard prints, and by cutting it to expose plenty of skin. They followed up with verdant foliage prints inserted with images of giraffes, zebras and cockatoos, before moving on to motifs of tropical fruits and flowers. These were all elevated with wit and whimsy, and intensive craftsmanship—most alluringly used on a series of raffia looks that came woven, crocheted, fringed or embellished.
MOSCHINO
Jeremy Scott is the kind of designer who, once inspired, will mine that inspiration to the nth degree. Last season was a commentary on consumerism via game-show culture. This season, Scott went high-brow with an homage to Picasso. The artist's signature Cubist style lent the collection its dazzling use of pattern and whimsical, surreal shapes. Scott even sent out literal interpretations of his paintings—both the harlequin and the mandolin player were represented. The flatness of Picasso's works also led Scott to play with two-dimensionality, with the highlight (and most viral moment) being a model transformed into both an artwork and its frame.
KATE SPADE NEW YORK
Inspired by the unexpected green spaces one finds even in bustling metropolises like New York City, Nicola Glass centred her spring/summer 2020 collection around the idea of a city safari; a little bit of escapism and optimism even when surrounded by the chaos of modern, urban living. The theme lent itself to literal interpretations such as the utilitarian shirt dresses, trench coats, safari jackets and khaki tailoring whilst more extrapolated takes led to elements such as botanical prints, crochet knits, cheery graphics and pleasing pastels. In a brilliant stroke, Glass also orchestrated one of New York's most inspired castings, showing her clothes on women of all sizes and ages, and from all walks of life.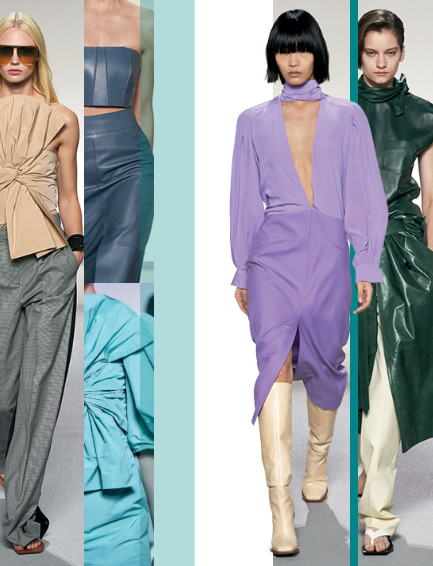 GIVENCHY
After a few seasons spent exploring the couture heritage and Parisian splendour of a storied house like Givenchy, Clare Waight Keller decided to pare things back for spring/ summer 2020, make it a little more personal. She drew from her time spent in New York in the '90s, under the tutelage of Calvin Klein, the monarch of minimalism. This resulted in a collection that was more austere than usual, built on the foundation of bra tops, sleek suits, severe skirts and masculine tailoring. She countered these with distinctly Parisienne elements, namely romantic blouses, dramatic volumes, and a couture approach to embroideries and floral appliqué.
HERMÈS
As with a few other designers this season, Nadège VanheeCybulski turned to house heritage to move the story forward. For her, it was the saddle-making artistry of Hermès that informed the collection's apron silhouettes (lifted from the garb of the House's craftspeople) and harness details. She employed these elements in a highly sophisticated wardrobe of tunics, trench coats, shift dresses, roomy trousers, fitted tanks and safari jackets. Bare skin peeking out from open sides and backs lent a light, sensual touch to a leather-heavy collection. Nineties minimalism has also been trending elsewhere this season, but no one else has managed to make it look so rich and tactile.
 
VALENTINO
This season, Pierpaolo Piccioli focused on elevating the ordinary to extraordinary heights. His starting point was the humble white cotton shirt, to which he gave the haute couture treatment. The results ran the gamut from poet blouses to floor-length dresses, all beautifully ruffled, pleated, feathered or flounced. After the all-white opening section, Piccioli dived into dazzling colour and print, with the latter inspired by Henri Rousseau's lush jungle paintings. He also borrowed from the vocabulary he has established for Valentino's haute couture, taking his signature voluminous silhouettes and rendering them in ultra-lightweight silk, georgette and organza.
CHLOÉ
In her almost-three-year tenure, Natacha Ramsay-Levi has injected a tomboyish cool into a house previously known for its overt femininity. This season, she softened up the message; the Chloé woman was still ladylike, but with a contemporary edge that placed her in the now. Ramsay-Levi's sharp, precise way with tailoring remained, but was now tempered with softer layers such as tie-neck blouses, silk shirts and delicate bra tops. The palette was similarly toned-down and '70s in flavour, alternating between warm, earthy tones and dusty, faded pastels.
MAX MARA
This season, Ian Griffiths found himself drawn to the women of James Bond as well as Jodie Comer's assassin in Killing Eve. That archetype of female spies and heroines led him to a militaristic, utilitarian aesthetic, one defined by sharply tailored lines and accentuated by details such as cargo pockets. The repetition of the shirt-and-tie pairings and three-piece suits exuded a masculine strictness, but the bermuda shorts and icy pastels gave a softer counterbalance to the collection. Those cool hues stood out in pleasing contrast to the collection's mainly neutral tones of camel, slate, black, white and khaki.
LONGCHAMP
While last season had a '70s-meets'80s vibe, this time around, Sophie Delafontaine clashed the '70s with the '90s—the free-spirited breeziness tempered with a minimalist sleekness. In the former camp were striped knits and sheer blouses; in the latter, black nylon and leather cut into pared-back shapes. These were worn with either micro shorts or maxi skirts—all paired with sock boots and lace-up flats for a note of modern mobility. Delafontaine also gave sportiness a luxe, feminine spin—cutting track tops like blouses, rendering polo shirt dresses in suede and adding handkerchief hems to tennis dresses. The gradient pastels were a highlight moment—reminiscent of Judy Chicago's explosions of coloured smoke.
VERSACE
Let's start at the end. Donatella Versace won fashion month when she brought Jennifer Lopez out to close the show in a reiteration of the plunging palm-print dress she wore to the Grammys nearly 20 years earlier. Back then, the Internet doesn't break, but the moment did trigger a major tech breakthrough: the creation of the Google Images search service. But before the finale to end all finales, there was a glorious parade of that iconic jungle print—rejigged in both slinky and sharp forms as well as in new hothouse colours; all printed, beaded or fringed. The designer injected a welcome counterpoint to the tropical exuberance with strict tailoring and femme-fatale dresses in severe black.
PHOTOGRAPHY: SHOWBIT; COURTESY OF THE BRANDS