Today's Gen Z beauty audience seek realness, that inside-out glow and an honest opinion when it comes to making a purchase. See how these model personalities trawl the net and use social media to tell us what beauty really is to them.
Today's Gen Z beauty audience seek realness, that inside-out glow and an honest opinion when it comes to making a purchase. See how these model personalities trawl the net and use social media to tell us what beauty really is to them.
The 17-year-old expressed her love for her Instagram fam looking like a real life heart-face emoji
CHEYENNE CHESNEY
Chinese-German campaign favourite and not-so-basic meme-loving girl next door
My shopping trick is…
To follow influencers and makeup artists who have a similar skin type, tone or makeup style as me. This allows me to visualise how a product will look on me before I add it to the cart.
One of my top skin concerns is…
Blue light damage. As someone who always has her face glued to her phone or computer, I recently learned about the potential damage blue light from electronic devices has on skin and have been incorporating skin healing and shielding products to target that.
Chesney's modelling portfolio spans beauty, lifestyle and fashion campaigns
I'm currently obsessed with...
Two makeup trends: Korean style gradient lips, which are so simple and easy to apply to create the effect of a soft bloom of colour. And "My Skin But Better", which is to wear products that enhance and accentuate your face and features instead of concealing. Instead of foundation, I opt for Dr. Jart.+Cicapair Tiger Grass Color correcting treatment that neutralises my skin tone, refines texture and protects with SPF30.
Social media has…
Created an environment of excitement and immediacy. And its capacity for sharing, coupled with the accessibility of information allows Gen Z to not only be inspired by creativity in makeup looks shared online and cross-reference product reviews, but also to purchase those products almost instantly.
From top: Brow Wiz in Chocolate, Anastasia Beverly Hills ; Virgin Marula Luxury Facial Oil, Drunk Elephant ; Crema Nera Extrema, Giorgio Armani Beauty ; Her candid beauty opinions have earned her quite a following ; Dior Addict Stellar Shine in 579 Diorismic and 863 Sparkle, Dior ; V7 Pink Toning, Dr.Jart+; Whipped Body Butter, Indie Lee; Cicapair Tiger Grass Color Correcting Treatment, Dr.Jart+
My go-to platform is YouTube where I can see a product 'in action', the way it wears and how it looks...
My most recent purchases are…
Dr. Jart+ V9 Pink Toning, Tarte's Tartesist Pro Remix, CoCo & Eve Super Nourishing Coconut & Fig Hair Masque, and Giorgio Armani Beauty's Crema Nera Extrema.
When I want to get to know a product…
My go-to platform for reviews is YouTube, simply because it allows me to see the product "in action" with its application process, the way it wears and how it looks while also learning about it from experienced beauty gurus.
From left: Super Nourishing Coconut & Fig Hair Masque, Coco & Eve ; Tarteist Pro Remix Amazonian Clay Palette, Tarte
Hair and body care are…
Just as important as skincare. Taking care of my hair and body with masks and scrubs is therapeutic, helping to relieve stress and increase my confidence. 
My guilty pleasure is…
Watching insane makeover challenges on YouTube. It's fascinating watching these creators attempt such crazy looks and making something so beautiful out of it.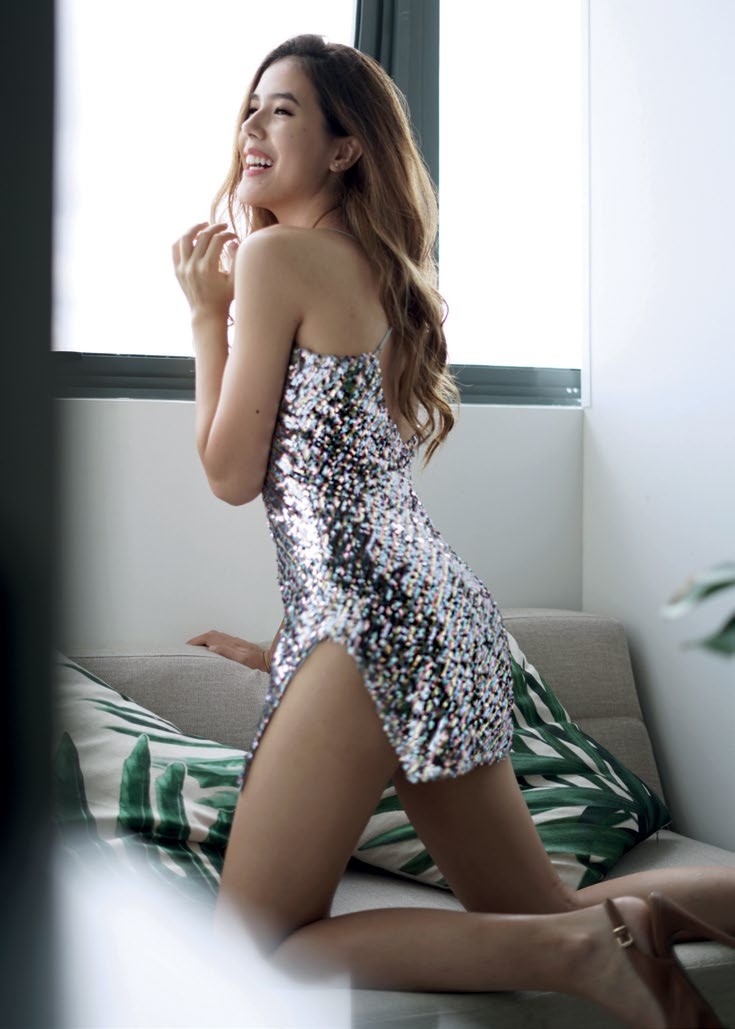 Her simple, fuss-free routines make way for full glamour every once in a while
ANNIKA SAGER 
German-Chinese model and spin instructor who has won multi-media awards
I keep healthy by...
Adding spirulina powder to my breakfast, because I read about the vitamin-rich and antioxidant benefits of this blue-green algae superfood. And of course, spin classes, which I've turned into a job.
Beauty shopping to me is…
Really a "when I need it, I get it" situation. Despite the hype, I tend to buy products I already like and use on a daily basis. But if there's a deal, trust that I'm on it!
Sager soaking in the best of nature
A luxurious splurge to me…
Is an experience—like a getaway. I recently escaped to Bali to rest, relax and be spoilt with massages to help me unwind after a long few months packed with work and travel.
Social media and beauty…
Go hand in hand, and has certainly made Gen Z acutely aware and informed about what's in or out, fast. People rely on platforms to share and post about everything—I myself use Instagram to gush over a product that I think is worth recommending to my friends.
The 19-year-old is possibly the cutest spin instructor in town
If I wanted to find out more about a product…
In general, I would go to Instagram and friends first, then Youtube for makeup, because I find that's the most effective way of getting to know a product since you can see its colour and texture. For skincare, I'd still rather go to the store because everyone's skin type is different.
The right diet, adequate sleep, good hygiene and exercise make up the perfect beauty life hack.
Clockwise from top: Nudies Matte All Over Face Color Blush in Sunset Strip ; Sager in Bali ; Silk sleep mask, Silk ; Spirulina supplements and powder
Makeup is…
Three steps for me: Concealer, eyebrows and lipstick (mainly balm though). But I don't wear makeup often—I wear it only if I'm going somewhere fancy or when I'm out on modelling jobs. I teach Spin, so I don't wear makeup during class—no one should. Ladies, let your skin breathe.
Clockwise from top: Scalp & Body Scrub, Ouai ; Orglamic Pink Cactus Mask, Starskin ; Teint Idole Ultra Wear Concealer in 220 Buff, Lancôme ; Gentle Facial Cleansing Milk, Aesop
One beauty ritual I love is…
Masking. I use a hair mask every other day, and I love a face mask whenever I have the time. Thankfully I don't have sensitive skin so I'm free to try anything that catches my eye, depending on what I think is suitable for my skin that day. I'm also a sucker for cute packaging and easy application.
My beauty secrets are…
That there aren't any. The right diet, adequate sleep, good hygiene and exercise make up the perfect (and obvious!) beauty life hack.
The 22-year-old model in Milan
NICOLE LIEW
Singaporean rising runway face and jetsetter who walked London Fashion Week 2019
The looks I love are…
Sleek brows, dewy skin and flushed cheeks. I like to keep things clean and natural with just a touch of colour. 
Social media has…
Certainly fuelled my beauty obsession. I'm always curious about new beauty trends, especially the Korean ones or those straight off the runway, like Pat McGrath's haute couture 2018 feathery eyelash look. Gen Z has definitely become a more demanding group because of it. 
I subscribe to trends that go beyond the face, like the cruelty-free movement and being eco-friendly.
Liew walking for Marta Jakubowski at London Fashion Week 2019
The trends I subscribe to…
Go beyond the face. I think the cruelty-free movement should be magnified, with eco-friendliness and inclusivity being the most important trends to me today. Fenty Beauty changed the game with their diverse array of makeup tones resulting in a wider audience, and more brands should strive to do that too.
Serving face from Instagram to fashion week
My beauty regime is…
All about moisturising. I have dry skin, so I invest in hydrating and moisture-locking products, including sunblock, which is a daily essential. And more photo shoots just mean more post-production face masks! This also extends to the rest of my body—I use lotion with UVA and UVB protection in the day and brightening moisturisers at night, and once a week, I do a thorough body scrub. As for hair, I do a hair mask weekly, avoid heat styling as much as I can and trim the ends every three months.
Clockwise from top left: Rouge Coco Flash in 52 Casual, Chanel ; Hydra-Essentiel Moisture Replenishing Lip Balm, Clarins ; Bloomstay Vitalizing Serum, Sulwhasoo ; Killawatt Freestyle Highlighter Duo in Mohunny, Fenty Beauty
Being beautiful to me is...
Being comfortable in your own skin. As cliché as it sounds, it's not the easiest thing to do—trust me. I come from an industry that zooms in on flaws as part of the job, and I can tell you that no amount of makeup will make one beautiful or confident if you don't genuinely work on feeling it from within.
Clockwise from top: LANEIGE Cheek Glow in Rose Pink 3, Laneige ; Perversion Waterproof Mascara, Urban Decay ; D-Bronzi Anti-Pollution Sunshine Serum, Drunk Elephant
My top beauty tips are…
Sunblock, sunblock, sunblock, and if you can only take one make product with you, make it a lipstick—I dad and blend it on my lips and cheeks for an easy 2-in-1 rosy flush.
Google golden goddess goals and this 18-year-old should turn up
IMAN FANDI 
South African-Malay multi-media artiste, fitspo and everyone's gorgeous-goofy girl crush
Beauty rules to live by…
Never forget to moisturise, eat healthy, don't be afraid to add a pop of colour to your makeup look, and exercise as often as you can…all whilst listening to your body to know when you need a break to recover, because less is more.
Fandi in her natural element—looking fit, and in front of the camera
When I shop…
I tend to be a lot more adventurous with makeup, but keep it simple and familiar when it comes to skincare. Fragrances are my one splurge.
In terms of brand identity…
Eco-friendliness and anti-animal cruelty are major because I am vegan. That said, businesses and buyers as a whole should really be more aware and conscious of what they use or consume.
Fandi thinks beauty is about being comfortable with yourself
Social media and beauty…
Make you want to come out of your comfort zone, to be unafraid of trying new looks and constantly look forward to the next big thing. I find makeup artists like James Charles the more influential of the digital lot, they really have a say in shaping the future of the beauty industry. 
My go-to makeup is…
Glowy and natural, with pops of shimmer—think glittery lids, highlighted cheeks and glossy lips. Mostly one of three but sometimes all of the above! I love Benefit's Hoola Bronzer, cult favourite Maybelline mascara and Fenty Beauty's Gloss Bomb.
From left: Private eyeshadow in Body Double, Tom Ford ; Crybaby Anti-Frizz Smoothing Serum, IGK ; Gloss Bomb, Fenty Beauty ; Naked 3 Palette, Urban Decay
Beauty to me is…
Seeing people do the things they love, and being comfortable in their own skin. I feel most beautiful when I'm dancing like no one is watching in my room in the middle of the night, or right after a heart-racing sweat session at the gym—which is why I go at least three times a week. Do what you love!
I think we're different in the sense that we are a lot more open and aware about health in all forms.
From top: Cheek-Hugging Bronzer Brush, Fenty Beauty ; Hoola Bronzer in Caramel, Benefit ; Coconut Crush Scrub, Kopari
I think Gen Z is…
A lot more informed, because we're just faced with an overload of information 24/7. In the realm of fitness and wellness, I think we're different in the sense that we are a lot more open and aware about health in all forms, from psychological to physical, and invest more time and effort in working on that than previous generations of youth.
Orgasm Liquid Highlighter, NARS
I never leave the house without…
Lip balm! I have countless tubes and just grab my lip balm holder and whatever is in it and go. Yes, I have a holder and it's my statement accessory. I'm currently obsessed with… Training sessions with dumb bells, battling ropes and burpees—there I said it!
PHOTOGRAPHY: SHOWBIT; INSTAGRAM ; 123RF