RUNWAY TO REALWAY.
"Strappy heeled sandals lend a feminine touch to an otherwise tough ensemble "
VESTED INTEREST
The next time you reach for a blazer, try its sleeveless cousin, the vest, for a cooler change. Lighter and with the same smart vibe of a jacket, it works well for the office in classic pinstripes and cool wools, balanced with brass buttons for a new take on Wall Street. Add street cred with leather motorcycle vests or oversize denim waistcoats for weekends or a night out in town. Layer a boxy vest over a feminine lace top and shorts for a fresh contrast, or wear a well-tailored cropped waistcoat as a top and pair with matching trousers for a sexy take on menswear.
Top, Proenza Schouler
 Sunglasses, Mulberry 
Vest, JOSEPH 
A black vest with subtle details is worth the investment 
Bag, Burberry 
Not sure about vests? Try a jacket with contrasting sleeves for that cheeky illusion 
Pair a cropped vest with thigh-high leather boots for maximum impact
Trousers, $1,500, Coach
Earrings, Saint Laurent by Anthony Vaccarello 
Vest, Gucci 
Vest, Balmain
Go hands-free with a chic cross-body bag that doubles as an accessory 
Pump, $1,370, Bottega Veneta 
"Vibrant red and earth tones make for an unassuming yet powerful colour"
SHORT STORIES
Add some chic to your step with a cool alternative to the pencil skirt. A pair of shorts in a straight or slim-cut silhouette cuts an edge in leather or crisp cotton. Dress it up with a blazer and heels for polished bravado, Brooch, Cartier Coat, Weekend Max Mara or go nonchalant by teaming it with a cropped top, a cross-body bag and sneakers. Look to Bottega Veneta and Valentino for runway inspiration on how to rock a classic shorts suit.
Coat, Weekend Max Mara 
Twirl your bag strap around your wrist for a relaxed vibe 

Bag, Saint Laurent by Anthony Vaccarello 
A crisp white shirt and dark add-ons instantly sharpen a soft look 
Brooch, Cartier 
Shirt, Bimba Y Lola 
Pouch, Mulberry 
Blown-up details add drama to a classic look 
Watch, Dior 
Pump, Aquazzura 
Shorts, about $581, Dion Lee at Net-a-Porter 
Turn heads in a bold, printed top accented with pearl drop earrings
Shorts, Bottega Veneta
"Elevate your cosy knit with glitzy, polished extras"
NO PLACE LIKE HOME
From crochets and knits to intricate weaves and macramé—fashion gets crafty this season. These home‑spun wonders offer a folksy approach to fashion, and add a certain naivety to tailored pieces. Put a modern spin by teaming yours with a tailored wardrobe classic, or turn up the heat by baring some skin beneath breathable knits. For a unique play of dimensions, go bold and clash knits with patterned separates.
Jacket, Balmain
Necklace, $9,100 Bottega Veneta 
Sandal, Gucci 
Get crafty and spruce up your artisanal top with edgy details for a modern twist
Dress, JW Anderson 
Hat, about $916, Missoni Mare at Farfetch 
Show off your baby bump in an intricate crochet dress that hugs every curve 
Dress, about $697, Dodo Bar Or at MatchesFashion.com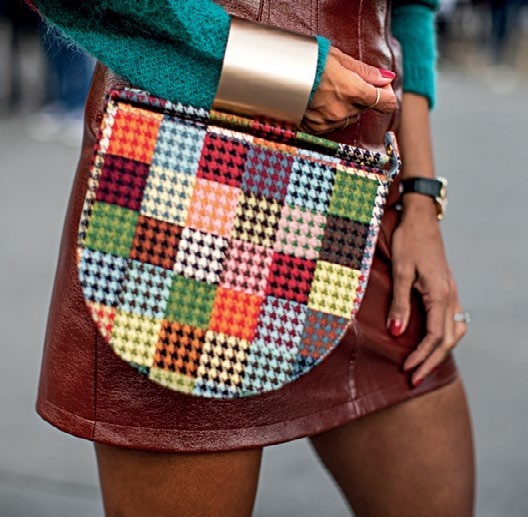 Ease into the trend with a structured bag in a print of the same vein
Bag, $4,250, Loewe
Opt for an oversize version in a bubblegum hue for a fun and chic take 
Soft ruffles add romance and innocence to the look
Sunglasses, Prada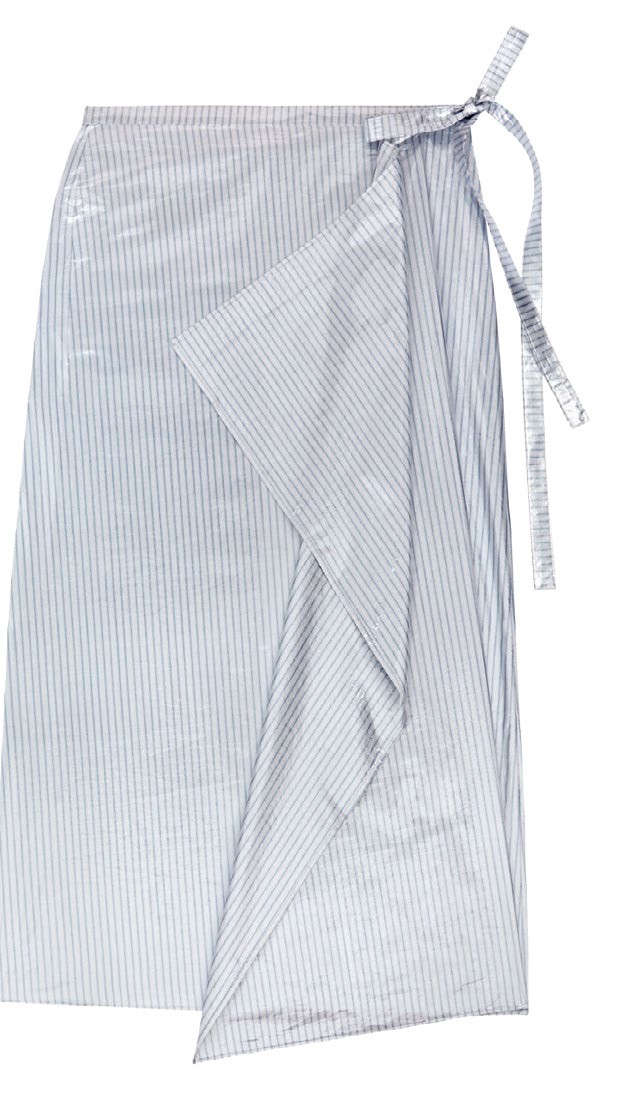 Skirt, $190, COS 
"Create the illusion of an hourglass figure with a crinoline-esque belt"
IT'S A CINCH
Time to get totally and utterly waisted. Once the domain of Madonna and an undergarment for women in the 19th century, the corset is now worn proudly on the outside, as an accessory cinched at the waist, over crisp button-downs or billowy frocks. Show off your best assets and that feminine, figure-hugging separate by wearing it solo, topped off with a structured blazer and wide-legged trousers. It's a welcome respite from years of athleisure and celebrates womanhood in the most delicious, seductive way.
Jacket, Balmain 
Ring, Piaget 
Dark lips and facial accessories add character to a sexy ensemble 
Create your own unique look with layering 
Boot, Fendi 
Break up a monochromatic look with a corset belt 
Trousers, Weekend Max Mara 
Belt, Alexander McQueen 
A blazer will take you from boardroom to bar with effortless ease
Corset, Dolce&Gabbana 
Bag, Loro Piana 
Top, about $828, Matty Bovan at MatchesFashion.com 
An artfully printed floral top is basic enough to be worn as a neutral separate. Top, Loewe
HOW TO WEAR COORDINATED LOOKS
Twinsies! Wear one outfit two ways by working in different accessories and colourways. It's so cool, your partner or BFF might just steal your look 
Brighten up your day with vividly hued shorts—clashing prints optional. Shorts, about $488, La DoubleJ at Farfetch 
Edge up a feminine skirt with a white tee and leather jacket. Skirt, about $901, Horror Vacui at MatchesFashion.com 
Go from garden party to street chic by swapping your strappy sandals for chunky sneakers. Dress, about $972, Gül Hürgel at MatchesFashion.com 
Pair a classic checked top with matching trousers or let the print stand out by teaming with bottoms in a solid hue. Top, about $429, By Malene Birger at Net-a-Porter 
Team this gingham minidress with thigh-high patent boots for an ultra-chic look. Dress, about $232, GANNI at MatchesFashion.com 
ACCESSORISE WITH
Cap, Salvatore Ferragamo
Sunglasses, Givenchy
Sandal, Bottega Veneta
Bag, Loro Piana
Edited by Gracia Phang
BY GRACIA PHANG. PHOTOGRAPHY: SHOWBIT