What you need, what you want, and what really works.
"72nd Cannes Film Festival, 2019"
MIRROR, MIRROR ON THE WALL...
..who's the most fab of them all? These celebs prove that age really is just a number
"Miss World 1994"
AISHWARYA RAI BACHCHAN, 46
The Bollywood stunner exudes the same effortless charm and beauty she did some 20 years ago, when she won the Miss World crown in 1994.
Lines, be gone: Smooth and plump your way to younger-looking skin with targeted skincare that focuses on the delicate areas around the eyes and mouth, which are more prone to sagging as the skin is thinner.
Wrinkle Lift Serum, $190, Kanebo
The Fashion Awards, 2019 
"Haute Couture Week, 1999–2000"
NAOMI CAMPBELL, 49
Although the British supermodel still rules the runways, she only landed her first beauty campaign at 48.
Shields up: Always wear sunscreen and reapply every two hours—UV rays cause photoageing, resulting in freckles, dryness, wrinkles and more. Worried that reapplication will mess up your makeup? Not with clever innovations such as finishing sprays or setting powders with SPF, which are just the thing for touch-ups.
Instant Mineral SPF45 Sunscreen, $57, Peter Thomas Roth
42nd Annual Grammy Awards, 2000 
Milan Fashion Week SS20 
"Glow Tonic, $24, Pixi"
JENNIFER LOPEZ, 50
J.Lo showed she's still got it when she sashayed down the runway at Versace's spring 2020 show, looking practically indistinguishable from her "Jenny from the block" days in a reimagined version of the barely there gown she wore to the 2000 Grammys.
Clear as crystal: Take a page from Lopez's skincare playbook and include a glycolic acid product in your routine. A chemical exfoliant, glycolic acid helps rid surface dead skin cells to prevent the tell-tale lacklustre skin associated with age, and is much gentler on the skin compared to physical scrubs, which can cause micro tears.
57 th Cannes Film Festival, 2004 
Capture Totale Super Potent Serum, $184, Dior
"Tiffany & Co. "Vision & Virtuosity" exhibition, 2019"
GONG LI, 53
The queen of Chinese cinema, who is making her return to the global scene as villain Xian Lang in Disney's 2020 live-action remake of Mulan, looks like she hardly aged a day since we saw her in her last big-screen hit in 2004. We want whatever she's having.
Prevention is better than cure: Incorporate anti-ageing products into your skincare routine as early as your mid-20s—once you hit 25, the skin's natural production of collagen and elastin slows down, and the first signs of ageing make their dreaded appearance. And don't forget the neck, one of the first body parts to reveal one's age, no thanks to the thinner skin there.
E! People's Choice Awards, 2019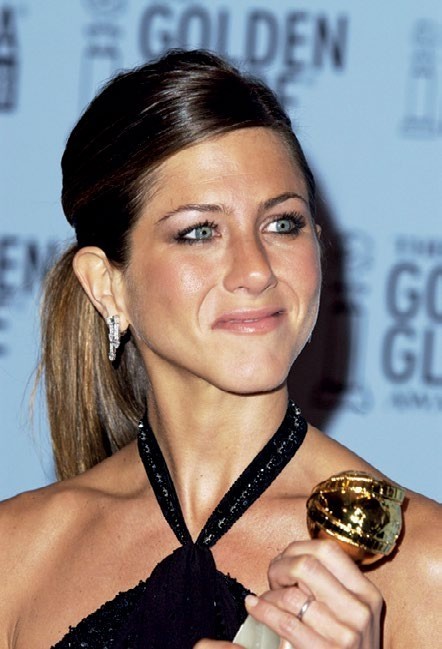 "60nd Golden Globe Awards, 2003"
JENNIFER ANISTON, 50
The Friends alum has had paparazzo reporting on her style for as long as she has been famous, and after her famed tresses, it's her skin we're obsessed with, particularly how she's effortlessly glowy 24/7.
Potion of youth: Water, sleep and sunscreen are Aniston's top three anti-ageing tips. With our hectic lifestyles though, we usually hit only one out of the three. To compensate, throw in an intensive anti-ageing product aimed at boosting the skin's resilience against external aggressors such as urban pollution, as well as stress and a lack of sleep.
Advanced Night Repair Intensive Recovery Ampoules, $200, Estée Lauder 
TWO OF A KIND
The best things come in pairs, like these his-and-hers fragrance duos that channel romance
WHEN OPPOSITES ATTRACT
He's a rebel with a cause, she's a darling with a heart of gold. The olfactory representation of this dichotomy is the Bad Boy+Good Girl duo by Carolina Herrera, where a multi-faceted cologne blending energising Italian green bergamot with the depth of tonka bean, is paired with a reinvented Good Girl buoyed by a heart of jasmine sambac with nuances of white florals.
From left: Bad Boy EDT, $112 for 50ml; Good Girl Glorious Gold EDP, $197 for 80ml, Carolina Herrera
NEW ROMANTICS
Wearing your heart on your sleeve takes on new meaning as Tiffany & Co. makes its first foray into the dual fragrance category. Created as a tribute to emotional connections and the many ways modern love is defined and expressed, the new scents are unique yet complementary halves of each other, tied together by a common woody note of blue sequoia.
From left: Tiffany & Love For Him EDT, $125 for 50ml; For Her EDP, $180 for 50ml, Tiffany & Co.
FOR ECCENTRIC LOVERS
If your idea of amour leans towards the unexpected or off-beat, the Valentine's Day edition of Gucci's signature Guilty fragrance is a love note that spells (and smells of) unconventionality and authenticity. Think a surprising, sensual blend where tangy, fruity accords meet warm musks for the ladies, and enigmatic woods are crossed with vivid, aromatic spices for the gents.
From left: Guilty Love Edition Pour Homme EDP, $119 for 50ml; Pour Femme EDP, $158 for 50ml, Gucci Beauty
"Cleansing Gel, $29.90, Placentor Végétal"
THE NEW GREEN CLEAN
The mark of a good cleanser is that fresh sensation you get post-wash, without feeling like your skin is too tight or dry. Which is exactly what you get with Placentor Végétal's Cleansing Gel, a soap-free cleanser with a mild formula that gets rid of impurities and excess sebum without stripping skin of its natural oils. Infused with lavender and rosemary essential oils, it also has anti-inflammatory and astringent benefits, thanks to a vitamin A complex containing iris and zinc, which are great at minimising the look of pores and calming those acne breakouts.
"ICE Ceramide Moisturizing Cream, $95,
SUNDAY RILEY" ICE, ICE BABY
SUNDAY RILEY rolls out an innovative moisturiser to revive even the driest of skins. Packed with ceramides, vitamin F, pomegranate sterols, and coconut and beetroot extracts, the rich yet lightweight ICE Ceramide Moisturizing Cream works by continually pulling moisture into the skin while sealing it in, and helps to strengthen the moisture barrier against environmental stressors. The result? A complexion that's glowing, baby-smooth and deeply hydrated. Talk about a sweet skincare treat!
"Versace"
ETERNAL MUSE
Work these neutrals for a softly sun-kissed look that flatters at every age
1. See-Quins Glam Glitter Liquid Eye Shadow in 86 Copperazzi, $38, Marc Jacobs Beauty
2. Just A Hint, $38, Velour Lashes
3. Bronzing Powder in Paradise Found, $75, NARS
4. Rich Kid coconut oil gel, $45, IGK
5. Parure Gold Mist, $67, Guerlain
6. Liquid Magic concealer, $42, Natasha Moor
7. Timetreasure Honorstige Cream, $1,050, Sulwhasoo
8. Snap Shadows Mix & Match Eyeshadow Palette in 1 True Neutrals, $39, Fenty Beauty
9. Artclass by Rodin Shading, $16.30, Too Cool For School
10. LE LIFT Créme Yeux, $140, Chanel
BY ANGELYN KWEK. PHOTOGRAPHY: GETTY IMAGES