A safari dress in bottle-green leather encapsulates both the sophistication and escapism Glass wanted to convey
WHO: NICOLA GLASS
WHAT: THE GUARDIAN
WHERE: KATE SPADE NEW YORK
One of the most striking things about the spring/summer 2020 show was the incredibly diverse cast. Was that decision made very early on in the process?
It was. Even when we were casting last season's show, we thought about it, but we did it too late, so we didn't have all the right sizes. This year, we planned it from the very beginning. Kate Spade as a brand has always portrayed many types of women—different ages, sizes, walks of life—but this is the first time we did it in a fashion show setting. To me, when you do a casting like this, it brings the clothes closer to real life—a broader reflection of the women of the world. We wanted this true feeling of individuality, so we really looked at each woman and thought about who she is, where she's going and why she's wearing that outfit. We wanted you to feel that you were sitting on a park bench watching real women going about their lives. We even thought about the plants they carried. For example, there's a woman out and about on a Saturday morning, buying a potted plant. One woman is on her way home from work and she has grabbed a bouquet from the bodega. Karen Elson is on her way to a dinner party and she has picked some flowers and put them in a jam jar as a gift for the hostess.
So the individuality of real women was the starting point of the collection?
It was one starting point. The other was the idea of a city safari. I was thinking of how you can find green spaces within the city—in New York, you have these amazing community gardens that are unexpected, and they give you a chance to free your mind, be in nature right in the middle of the city. That inspired not just the location and the plants, but also the prints and colours for the collection. And some of the details were safari inspired, mixed with some very feminine elements.
A lot of designers are rethinking how they show their collections.
Why does the runway format feel right for you? When I joined, the brand was doing presentations that were, frankly, very social-media friendly, but I didn't like the presentation format because it's a woman standing on a podium, holding a pose for two hours—it's hard for her to smile and be joyful, and you don't see the clothes moving. I really wanted that movement, so you can see the new silhouettes of the collection. But it's something we'll continue to evaluate. A show lasts 10 minutes, but if you look at the costs, not just economically but environmentally... it's something you have to think about. With this show, we staged it in a garden; we didn't create a big set, the models walked on existing paths, we used some of the benches that were already there, and the rental of the space went to the preservation of the garden.
What other changes have you implemented at Kate Spade apart from the move to the runway?
I feel like nothing's been left unturned. It wasn't so much of me coming in and turning the brand upside down; it was more that I came in, saw the brand was strong and well-liked, but how do I take it into a new era? Part of that was building on existing elements—the use of colour, the use of print. I took iconic elements of the hardware and used them not just on the bags, but also on jewellery or as a print. Some elements, such as the spade, are now used in the new stores and in the packaging. The label on the clothing has been changed. So everything has been touched in some way.
Kate Spade was known for a certain kind of girlishness, levity and even novelty before you joined. You've brought a sense of polish. How do you balance your vision with what people know the brand for?
If I look back to the very beginning of the brand, I think Kate and Andy Spade also played with novelty, but it came from a sense of wit and humour in the photography. Like the Tim Walker campaigns, where there would be something a little off. I think in recent years, the novelty has become a little too literal or too obvious. There are some customers who love that and collect the bags that look like a cake or a piñata, but there are others who would be scared away. It was definitely a challenge to balance that. We are a brand that is light-hearted, but I think it's important that when we do those novelty pieces, there has to be an element of craftsmanship or surprise. I've started weaving in novelty, but in a more subtle way. For example, some of the models in the show were wearing these rings; from a distance, you might think it's just a beautiful stone, but up close, you realise it's like a little insect. And it still has the language of the hardware from our other pieces. The novelty needs to be well crafted, a little more sophisticated.
Apart from the wit you mentioned Kate and Andy Spade brought, what are the other values at the heart of the brand?
Earlier, we were talking about diversity, and I think it's very inspiring what Kate Spade did—starting this handbag brand from scratch 25 years ago. It was very accessible in terms of price, so many women could carry it—it didn't matter your age, your size. She reached a broad range of women and I think she also encouraged people to have fun with fashion, to not take it so seriously—that there aren't really any rules.
What do you strive for when you design?
Ultimately, I want women to feel confident and joyful. I think the Kate Spade woman is someone who loves fashion, but she has a really busy life. She probably doesn't want to have to think too much about what she'll be wearing for the day, what bag she's going to carry. You want to help make her life a little easier by having pieces that are very versatile. So even on our website, we show her different ways she could style the same dress, or have a bag that can take her to work or to the beach. It's about giving her solutions.
Reflecting the city safari theme, the collection blended smart tailoring with breezy summery dresses 
Three designers, three different playbooks. Jeffrey Yan speaks to the women rewriting the fashion narrative for this decade 
WHO: ANGELA MISSONI
WHAT: THE MATRIARCH
WHERE: MISSONI
You've been creative director of Missoni for more than two decades. How has the industry and the brand changed in this time?
In the past century, you could easily draw a silhouette for every decade, from the 1910s to the 1990s. Then the 2000s arrived and you don't have a silhouette anymore. The word "luxury" started to be substituted for the word "fashion". Even the word "designer" changed to "creative director". Big names became bigger. The world of accessories expanded. But Missoni is probably the only brand that exists by only selling clothes. All the rest of the big brands use clothes to sell bags and shoes, but we don't have accessories. Right now, we're planning to move into those categories, but it's incredible that we're still here only from selling clothes.
One of the first things you did as creative director was to launch M Missoni. Why was that important to you?
We were always a very special brand, very artisanal— with a name that is bigger than the product range. It was important to have a diffusion line to achieve a different volume of business.
In recent years, a lot of brands have consolidated their diffusion lines. Do you see Missoni doing the same?
One-and-a-half years ago, we took the M Missoni licence back. There were thoughts about maybe making it all one line, but we decided that M Missoni will be a sister line, not a second line. It becomes part of the Missoni proposition, like here at the Marina Bay Sands store, where you find both side by side. Margherita, my daughter, oversees it. It's a different take and a different part of the collection, so I can continue doing what I do; not high fashion per se, but more tailoring, more upscale. The main Missoni line is all produced in Italy. With M, it can be produced outside of Italy as long as it's socially responsible, but it's important that the main line is produced in Italy to maintain that quality and the tradition.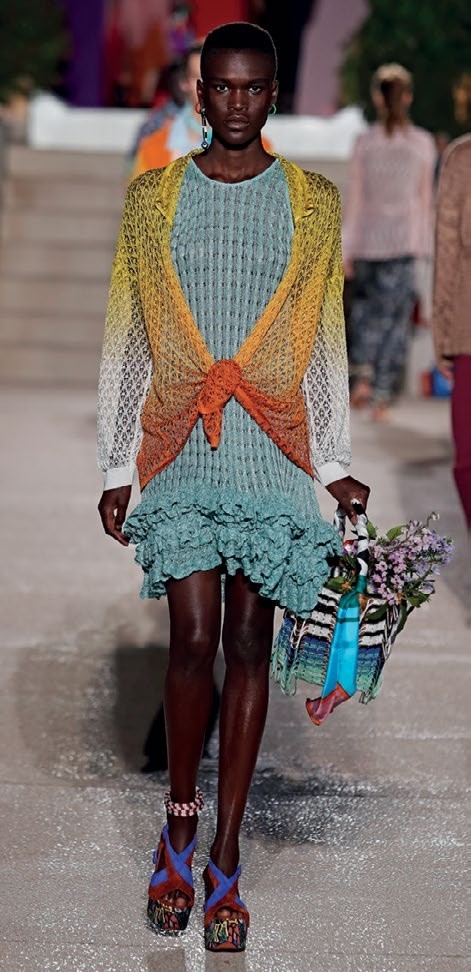 Apart from the production and price points, is it also a different spirit for the two lines?
M is fresher, so that's where you'll find sweatshirts and things like that. For myself, maybe as a way to keep Missoni fresh, I never go to the archives. I have everything in my mind. When I work on a new project, I click on something I remember— and I remember every detail I've seen since I was four or five—and I ask the archive to send it to me because it might be relevant, but never the reverse. For Margherita, she decided that since we have a huge archive of over 65 years, she wanted to revive parts of our history and that becomes a way to tell the story of Missoni to a new generation.
You sold a minority stake in the company last year. What was the reasoning behind that?
Being the second generation running the business, and having a third generation that is so involved—there are four of them working for the company—I felt I had to leave the company as healthy as possible. And this was a path we needed to take because we need to expand, and we needed an investor for that. We're not in China at all, but in 2020, we're going to open four stores there. We'll open in Bangkok. We relocated in New York. We'll be opening in Miami. We need to go into leather goods. And we need to bring the talent that we need into the company.
WHO: GABRIELA HEARST
WHAT: THE DISRUPTOR
WHERE: GABRIELA HEARST
What's your creative process like?
I usually start with something that catches my curiosity and makes me want to learn about it. I'll start studying this subject—sometimes it's a woman, sometimes it's several, sometimes it's a movement. I start researching and then I sketch. So it's both a process of research and the subconscious. Things just come up when I sketch, like the geode dress (from spring/summer 2020). My team and I will look at all the sketches and we decide which ones make sense with the story. Six months later, we put on a show for nine minutes and the day after, we start again.
And you feel the runway format is the right one for showcasing your clothes?
Yes, the way we're doing it. We're not a big company, and it's the only time we're creating and collecting content. That content is for our website. We don't do huge campaigns, so that's how we're able to showcase. And we don't do that many things, just two shows a year.
The spring/summer 2020 show was the first carbon-neutral fashion show; tell us more about that.
I wanted to do something that was important, which was talking about how we can change what we do. We're not a big company, but we still employ 40 people and it's a business. How can we do it with less impact to the environment? We had two values when we started: a long-term view and sustainability. And if we're not sustainable, we're not going to be able to have a long-term view. With this show, we measured our carbon footprint of the event, and were able to offset it by working with EcoAct. It's not a one-time thing; we'll be doing it for every show. We also didn't have any plastic at the show, and the hair was all done without electricity and blow-dryers.
What was the story behind the collection?
It was about courage. We had different representations of courage. On the mood board, there was Athena, the goddess of war but also the goddess of craftsmanship. We had Maria Sibylla Merian, an entomologist and one of the first to illustrate metamorphosis. This was a woman in the 1600s going alone to South America to paint insects—that took a lot of courage. We had Josephine Baker, but as the French resistance fighter and spy. Then we had the Kurdish women fighting today in northern Syria.
Why does the idea of courage resonate with you at this particular moment?
Because it takes daily courage, and extraordinary courage, to do and say certain things in the world that we live in today. I would like to have these examples because I don't feel as courageous as them, but it makes me want to be.
Coming back to sustainability, what do you think are some of the things the industry can implement to move towards that?
I think a lot of people are scared to move towards this because they think they have to be perfect from the get-go. It doesn't have to be. Just start with something. Let's say you're a big company with 20,000 employees; just tell them no more plastic water bottles. Just that alone is already very impactful. It's something that has to start because we need to do this.
Kaleidoscopic prints and a relaxed bohemian spirit nodded to the '70s of Jane Birkin and Serge Gainsbourg