TO PARAPHRASE GEORGE ORWELL, IF THERE'S HOPE FOR THE FUTURE, IT PROBABLY LIES WITH THE NEXT GENERATION.
TO PARAPHRASE GEORGE ORWELL, IF THERE'S HOPE FOR THE FUTURE, IT PROBABLY LIES WITH THE NEXT GENERATION. CYNICS MAY DISMISS THIS AS THE ROSY IDEALISM OF YOUTH BUT, HEY, THAT CAN INVIGORATE THE IMAGINATION LIKE NOTHING ELSE – DOES GRETA THUNBERG RING A BELL? KENG YANG SHUEN SPOTLIGHTS SEVEN UP-AND-COMING SINGAPORE STUDENTS FROM DIFFERENT ARTISTIC DISCIPLINES WHOSE WORKS MAKE US DREAM ONCE MORE.
JAYA KHIDIR
24, photographer, ba in fashion media and industries, lasalle College of the arts
Who or what inspires and informs your work?
"In my formative years in polytechnic (he studied film), I looked up to many filmmakers and artists such as Yasmin Ahmad, Jean-Michel Basquiat, David Lynch, Yasujiro Ozu, Johannes Vermeer, Jean-Luc Godard, Stanley Kubrick and many more. The manner in which they present their work inspired me a lot and learning "the why" gives a lot of insight as to how they, coupled with their own perspectives, arrived at a certain aesthetic and narrative. In that sense, there is some form of classicism in the way that they present their work, with the emphasis on form, simplicity, proportion, clarity of message, restrained emotion, as well as explicit appeal to the intellect, that informs my own work. I feel that the works of the late Yasmin Ahmad in particular, have shaped my identity as a creative as of recent years, because of how she manages to intersect social issues such as race, religion, economic inequality and sexuality in her works. To tackle multiple issues in a single medium is a feat in itself."
Favourite work to date:
"A hypothetical fashion brand named Sopan (modest in the Malay language) that my classmates – Wahidah Sofia, Jane Chong, Nafhah Noor Tijany – and I worked on. I think it is my favourite work because of the themes that hit close to home and how they intersect with one another. The visual language of the work is an intersection of modesty, queerness and ethnic tradition – these are three issues minority communities face, as to how they should present themselves through dress and fashion, especially here in Singapore." 
Above: Mesh trapeze bag. Metal earrings, necklace and rings (worn throughout). Left: Mesh mules. Far left: Mesh shoulder bag and strappy geometric heels.  All bags, shoes, sunglasses and jewellery, Charles & Keith. All clothes, Tan's own Khidir was the lensman behind this image – Triptych – Between Denim, Primary Colours and 1950s Parisian Couture – for a school project. (Opposite) Sopan (Malay for modest), a hypothetical fashion brand, is his favourite work as it represents an intersection of modesty, queerness and ethnic traditions – some issues minority communities in Singapore face with regard to their relationship with fashion and attire.
BENITA LEONG
21, photographer, ba in History and Political Science, University of toronto
What would you like people to know about your work?
"I'm currently working on a long-term visual project called Pax North Americana which explores the continent's disproportional influence on the rest of the world and the apparent ambivalence to that fact by its natives. It's also a look at post-culture shock where there's a sense of humour and initial unease that the environment and culture isn't what we expected it to be as an immigrant. Real life here ironically feels like a parody of the media it supposedly represents – as though stuck in a constant feedback loop. My work thus feels artificially rendered and selfreferential involving my friends and suburbia as subjects. It's also a mischievous spoof of counterculture media's representation of the continent and obsession with images of what youth looks like – such as those you see in i-D or Dazed magazine that (typically) feature young white lithe girls in underwear lying in their bedrooms. There's a constant production of the image of culture here that I find fascinating."
What would you say are common themes in your works?
"The feeling of belonging, and familiarity found in artificial surroundings. I'm obsessed with kitsch and overproduction (so much so that) I always feel like my photographs seem more like anime storyboards."
What is the biggest challenge facing your field?
"The extent that images are now tied up with corporatism, not the fault of photographers since corporate jobs and advertising sometimes seem like the only ways to survive and earn a living. Even editorials which give more freedom to create pay less or don't pay at all compared to a fast fashion store's lookbook. Survivability is a concern in every industry but the importance of imagery in shaping culture to our own regulation of mental health always makes me feel like there's an ethical responsibility in the production of images that cannot be given up to the free market." 
Describing her aesthetic as "a dream sequence that almost steps into uncanny valley territory", Leong's work is inspired by a constant volley of sources, though she says one has to understand existing sociopolitical issues before embarking on new work. Other creatives she cites as inspirations include feted American photographer Nan Goldin and closer to home, rising artist and lensman Christopher Sim, who shot her profile photo for this story.
Xun is known for show-stopping sculptural pieces – "I thoroughly enjoy a good showpiece; if it isn't gag-worthy, I don't bother," he says. On this page: Empty Vessels, inspired by accents found in Chinese porcelain ware, explores the value of the decorative/ornamental in a digital age and of garments becoming objects and vice versa. (Opposite) The Ultimate Face Off was inspired by artist Michael Grater's work, Paper Faces, and explores the notion of modesty and its relation to religious uniforms.
SAMUEL XUN
25, fashion designer, Ba in Fashion Design and Textiles, lasalle College of the arts
Who or what inspires and informs your work?
"I try to cast a wide net with inspiration, I don't particularly fixate on an art movement or style. However, I guess a turning point in finding my design aesthetic was looking at the works of (American sculptor and artist) Robert Morris and his felt sculpture series. I was drawn to his creative ethos of process art, in which the artist loosens control over his work. I try to incorporate that line of thought throughout my design process."
What would you say are common themes in your works?
"A recurring trope that occurs in my works is satire. I revel in the idea that my pieces mesh creative sensibility with outright ridiculousness. At the risk of sounding passe, my designs also try to negate the gender aspect of dressing as I feel that's representative of how I view the world."
What is the biggest challenge facing your field?
"Opportunity. I notice a lot of young creatives that 'escape' across the globe trying to make it elsewhere but mostly end up back in Singapore. Having worked overseas in China as a result of a lack of opportunity locally, I realised the ball will always be in my court and if we don't collectively do something, we'll all starve. I'm incessantly frustrated with the way things are. The influx of fast fashion labels in Singapore has taught us one thing – there is money to be made. I'm also constantly appalled at how creative and non-creative agencies exploit creative talent. It's 2020, payment in experience, meal allowances, brand prestige just don't cut it any more."
Bike, a photograph from Ong's Tabula Rasa (which means starting from a clean slate) series, encompasses personal memories and stories. It references Singapore's penchant for interminable progress – but also posits that progress might hold different meanings for its citizens.
IVAN ONG
26, artist, Ba in Fine arts, Lasalle College of the arts
Who or what inspires and informs your work?
"I would say whatever catches my eye and I am especially conscious of the world that I live in. If you are talking about photographers, they are Nguan and Chen Wei. Their photography has this layer of imagination yet it always speaks about the reality of the society that they live in. I also think what inspires me are everyday scenes. My daily commute and the things I see are very important. I feel that when I am alone, I am more sensitive to what's around me."
What would you like people to know about your work?
"I think for me, I am just another person that tells another side of the Singapore story/ narrative. Just like a simmering stew, what I touch on in this series is really about Singapore's idea of development. What progression really means to Singapore. Progression in our nation is always good news but on the flip side, this progression can look like a slow decay/erasure in our own lives. And it's very obvious because in Singapore, we move so fast, so we feel like the everyday things always get neglected in our lives until we stop and take a look at what's around us."
Favourite work to date:
"I think Block 555 because it's a nod to my everyday life and a revelation that I have been living in my estate for over 20 years, yet know nothing about it or my nation. It also reminds me of how I started and brings me back to how photography has been a stressreliever and therapeutic for me."
A joint school project he co-art directed, To Build A Home, paid homage to the design sensibilities of Bauhaus, the influential early 20th-century art and design movement. (Opposite) Another school project, Flux, is meant to be a mirror and mock the upper crust of society using traditional "signifiers" such as money clips and opera glasses.
GAGANDEEP SINGH SIDHU
25, art director and stylist, Ba (hons) Fashion Media and industries, Lasalle College of the arts
Who or what inspires and informs your work?
"I generally go back to certain people as sources of inspiration. Namely, designers like John Galliano and Alexander McQueen and image makers like Nick Knight, who plays a lot with technology, and Tim Walker with his surreal approach to themes. I'm currently exploring menswear quite a bit and younger designers like Craig Green and Alejandro Gomez Palomo of Palomo Spain allow me to take chances on finding different ways to create campaign visuals as well as pushing the boundary that menswear used to be assigned to."
What would you say are common themes in your works?
"Wherever the brief takes me. I've explored themes surrounding prostitution in Singapore, the idea of transmigration, a shoot for National University of Singapore's latest pageant, imagining the possible queer relationships during the Elizabethan era and most recently, creating a fictional brand that mocked the rich while presenting an accessories collection derived from sanitation in Singapore in the 1960s."
What is the biggest challenge facing your field?
"The rate that content is seeded out currently has almost made the work that goes into it frivolous. In response to the short attention span of the current younger generation, brands like Marine Serre, a brand focusing on clothes of the future, have allowed consumers a peek into the process of how clothes are regenerated in their factories and presented on the runway."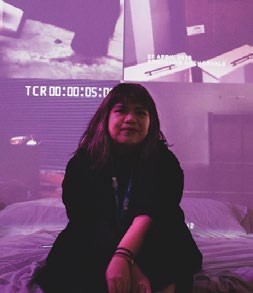 CLARA LIM
25, moving image artist and designer, BFa in Visual communication, NTU School of art, Design and media
How would you describe your signature aesthetic?
"Since 2016, I've been sticking to the hue of Purple (#DF00FF) out of pure aesthetic and the fact that it is my favourite colour. It has grown into a more subtle act of isolating from the noisy Instagram feed. Influencers seem to have adopted a more sephia, faded look and I wanted to move away from that. Subconsciously, this act seeps into my work as well."
What materials, mediums and techniques are typically used in your works?
"I relate greatly to Vaporwave culture and it is deliberately anti-copyright and satirical of capitalism. I tend to look for creative commons and remix work rather than creating them. It is very controversial and most creatives who don't understand it will conclude that you are just lazy. However I truly cannot comprehend that we are all sitting on our own image archive of 40,000 photos on our iCloud and go through dozens of 1TB hard drives. All this is noise and digital pollution. If recontextualised and reappropriated with consent, this digital archive is a gold mine and where I go to for source material. As for physical installation, I tend to look for upcycling and crowdsourced communities for furniture."
What would you say are common themes in your works?
"Social commentary on consumerism and capitalism."
What is the biggest challenge facing your field?
"I hate to use the gender card, but most days it is really a gender thing. Every time I set up my installation or do my sound check, at age 25, I face getting mansplained by older male veterans. I usually just try to be nice out of respect, and learn from some of their mansplaining because most times, your video card can be quite a b***h when it doesn't work with your projectors. The moving image artist and commercial VJ scene is largely maledominated, and you tend to see their names circulating at every other event. I am very grateful to be taught by a woman, and empowered by fellow woke male allies so far!" 
We're Good is a mixed media installation that served as Lim's commentary on mass consumerism. Utilising furniture and household appliances (including a microwave that's older than Lim herself) that had been found and "decades of furniture commercials", it comments on the social and environmental repercussions of a society overtly conditioned to throwing things away – all outfitted in her favourite shade of purple.
Yeo's submission last December for Central Saint Martins' annual White Show (where first-year BA students create a look out of white fabric) was inspired by the relationship between bordello (Spanish for brothel) girls and their clients, through the lens of Venus and the Virgin Mary. (Opposite) An earlier work referencing the rise of new superbacteria that are resistant to even the most powerful of antibiotics.
BRYAN YEO
25, knitwear designer, Ba (Hons) Fashion: Fashion Design with Knitwear, Central Saint Martins
What materials, mediums and techniques are typically used in your works?
"Typically, I use both organic and synthetic yarns as they are the fundamentals of traditional knitting or weaving. However, I do enjoy exploring with unconventional materials like wood, metal and plastic. Experimenting with found or unwanted objects, repurposing them into almost yarn-like filaments or embellishments, using them to either add on or weave into a knit, and changing the properties of the knit itself. In terms of techniques, I explore and try a variety, then create tiny samples without a instruction manual, playing around with the qualities of the material and developing them into samples. Going through a process of elimination informs me what I can or cannot do."
Your favourite work/achievement to date:
"My favourite achievement to date is the White Show project (an annual show where first-year BA Fashion students create a look with white fabric) which is synonymous with Central Saint Martins. It was pretty intense creating a garment that was under so much scrutiny by my tutors over two weeks (last year) with plenty of textile samples and garment toiles. In addition, my design was showcased at two different shows, one for the general student body of CSM (Central Saint Martins) and the other at the 2019 British Fashion Awards (attended by the likes of Rihanna), which was an experience on a level that I never thought I would be part of."
What drew you to your chosen field in the first place?
"I developed an interest in textiles when I was doing a module back in Temasek Poly. Unfortunately, I was taught very basic methods of working with textiles and wanted to explore textures upon graduation. The main reason for this interest was the fact that I felt that memories and nostalgia can all be brought back via the act of touch. Essentially, the object becomes a storage space of cognitive memories and expressions. Which personally, in this modern, technology-heavy age, we as humans tend to lose." 
PROFILE PHOTO WEE KHIM