FASHION PR, WRITING, MODELLING – BOHAN QIU HAS TRIED HIS HAND AT ALL OF THEM.
FASHION PR, WRITING, MODELLING – BOHAN QIU HAS TRIED HIS HAND AT ALL OF THEM. IN A WAY, THE SHENZHEN-BORN 26-YEAR-OLD EXEMPLIFIES THE CONTEMPORARY FASHION MULTI-HYPHENATE WITH HIS LATEST TURN BEING THE ENTREPRENEUR BEHIND BOH PROJECT, A PR AND DIGITAL CONTENT AGENCY BASED IN SHANGHAI. FOUNDED LAST YEAR, THE COMPANY IS ALREADY STAKING A CLAIM IN THE CHINESE FASHION SCENE, COUNTING CLIENTS THAT RANGE FROM GIANTS (CALVIN KLEIN, SELFRIDGES) TO EMERGING NAMES. AMONG THE LATTER IS THE FASHION AND ART PRESENTATION PLATFORM XCOMMONS, WHICH MADE GLOBAL HEADLINES IN MARCH FOR PRODUCING A VIRTUAL REALITY PRESENTATION FOR THE CHINESE LABELS XU ZHI, ANDREA JIAPEI LI AND RODERIC WONG, AND GARNERING OVER 4.8 MILLION VISITS WITHIN THE FIRST DAY. SO WHO BETTER TO SPEAK TO FOR INSIGHTS INTO THE FASCINATING, FAST-MOVING AND GROWING CHINESE FASHION INDUSTRY? BY KENG YANG SHUEN.
Bohan Qiu is a familiar face in fashion circles, having been a PR (with Mr Porter), freelance writer, model and now the founder behind Boh Project, a rising
Shanghai-based digital content agency that believes in taking a interdisciplinary, collaborative approach to PR.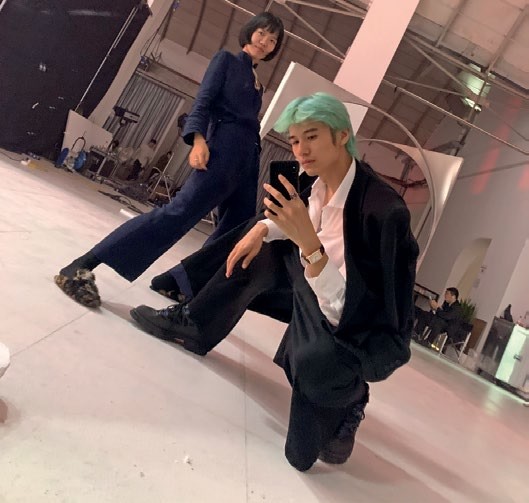 WHAT'S THE STORY BEHIND DECIDING TO START YOUR OWN COMPANY, AND IN THE PR/CONTENT CREATION ARENA SPECIFICALLY?
"I have always been interested in many different spheres in the industry, be it writing, branding, PR or producing content. And I've always wanted to combine many of the elements together on one single platform. I remember when I was in PR, I would often receive materials that I thought wouldn't resonate in our local markets as much as they would in the West. In the industry today I believe good content and good PR needs to go hand in hand. That's why I wanted to start this agency that allows us to communicate the brand's message in a meaningful and impactful way, but also participate in the creation process as one of the collaborators. I believe (that this is the best way in which) we can create truly powerful messages that resonate everywhere."
YOU'VE LIVED IN MANY COUNTRIES AND STUDIED JOURNALISM AND POLITICS INSTEAD OF FASHION. WOULD YOU SAY THAT'S PLAYED A KEY ROLE IN YOUR TRAJECTORY IN FASHION?
"Maybe! I was born in Shenzhen, which is a very new city – very open to new ideas without having a lot of historical baggage. I have been interested in politics, fashion, art and even food, so I was never satisfied with just doing one thing. When I founded the agency I wanted to keep it open and not confine it to a single category. Many of us from the new generation of fashion workers are all talented in multiple ways and don't want to be labelled as only one thing. I wanted to create a community with like-minded people who are interdisciplinary and open-minded. Only through that can we nurture new ideas and new forms of fashion."
WHY CHOOSE SHANGHAI AS THE BASE FOR BOH PROJECT?
"I think Shanghai has always been on my mind. It's an exciting city that is growing incredibly fast. In the past 10 years, not only has the Chinese market become the world's most significant, but its creative industry has also blossomed and grown into a highly skilled one. The city has grown into one of the world's most important hubs for fashion now and it is also a place where I continue to feel inspired and have a sense of belonging. It always feels like we are all part of this game, trying to make it better and better."
SHANGHAI IS OFTEN PRAISED AS THE CULTURAL CAPITAL OF THE EAST. DO YOU AGREE?
"I definitely think so. Compared to Beijing or Hong Kong, Shanghai definitely has its charms and allure. It's an international city while at the same time being very Chinese. It's a really good place for anyone to start out or to mature. Brands, creatives of different industries and artists all gather here, and it feels like every single person has a chance to thrive in the city, no matter who they are and what they do."
WHAT NEW INNOVATIONS IN THE CHINESE FASHION AND CULTURAL LANDSCAPE HAVE CAUGHT YOUR EYE LATELY?
"When the pandemic hit, Chinese designers were the first to react and had to rethink how we produce, communicate, show and sell fashion. With a full range of technological tools such as virtual reality technology, mobile payments, mature e-commerce system and logistics links, China had been able to reposition and react faster."
WHAT ARE SOME OF THE MOST COMMON MISCONCEPTIONS ABOUT THE CHINESE FASHION LANDSCAPE THAT YOU OFTEN ENCOUNTER?
"I think a lot of people still think that we are simply copying the West. With a new generation having studied abroad or having been exposed to information and knowledge from around the world, we have been able to incorporate what we have learnt to innovate something that is more true to ourselves. You can definitely see that from the new generation of Chinese designers, photographers, stylists, artists and so on."
HOW DO YOU SEE BOH PROJECT DIFFERENTIATING ITSELF FROM WHAT IS PROBABLY ALREADY A VERY CROWDED MARKET?
"To be honest while I was creating Boh Project, I realised there was a big niche market here in Asia for agencies who can work with younger and more contemporary brands that want to do things differently. Also I believe PR, content and commerce need to go hand in hand, instead of them being very separate departments. And that's when I saw the opportunity and then decided to try my own ways, to form a new type of agency that can bring different perspectives to the industry."
WHAT HAVE BEEN SOME OF YOUR MOST MEMORABLE PROJECTS SO FAR?
"Most recently we provided the creative direction and management for the latest Calvin Klein campaign shoot, which included six big shoots across Shanghai and Seoul, working with a wonderful team across China, Hong Kong and South Korea. It was tiring yet definitely rewarding seeing the campaign everywhere in Asia. This year in March, we also worked with XCommons, a Shanghai-based fashion and art presentation organisation, and presented the world's first virtual fashion week titled 'Parallel Reality'. That was quite a monumental moment as the pandemic was just starting to hit the world hard and we managed to participate in a project that has definitely become a historic moment."
WHAT ARE SOME EMERGING ASIAN DESIGNERS YOU HAVE YOUR EYE ON?
"Didu and Windowsen are definitely ones to watch as recent graduates from the Royal Academy of Fine Arts Antwerp with their avant-garde and experimental designs and a dark spirit. Yueqi Qi and Samuel Gui Yang are also very interesting in terms of how they are using their fresh eyes to reimagine and reinterpret traditional Chinese dress codes and cultural symbols. Rui is also one I love for using her unique knitting technique to create a brand new form of clothing that is complete in form and full of wonderful messages within her designs." 
Various examples of Qiu's work, including an Asia-wide campaign for Calvin Klein's F/W 2020 collection as well as a project with XCommons, a Shanghai-based fashion and art platform that produced the world's reportedly first virtual fashion week earlier this year at the height of the pandemic in China.