For reigning Saint Laurent creative director Anthony Vaccarello, the brand's signature tuxedo is a sacred obsession – and rightly so. Keng Yang Shuen reports on the iconicism and enduring relevance of Le Smoking.
Under Anthony Vaccarello, the Le Smoking tuxedo has been a mainstay every season with the Summer 2020 collection featuring no fewer than 20 looks that pay tribute to the suit the brand's founder debuted in 1966. Among them: a classic slim-cut rendition with all-over sequins (this page) and a jacket/pussy-bow blouse/bermuda shorts combination (opposite) that recalls a look from 1968. 
Hallmarks of a Le Smoking tuxedo jacket no matter the style: clean, sharp shoulders defined by manually cut shoulder pads; lapels or a shawl collar in silk; a vent down the back for ease of movement; and – inside – a hand-stitched chain and silk label. Here, a classic Le Smoking jacket embroidered with sequins and paired with mini shorts and a mousseline crepe shirt from the Summer 2020 collection. 
It's most apparent in his Spring/Summer 2020 showcase: a dramatic, strobe-lit affair bookended by a sharp, satin-lapelled jacket paired with mini shorts for the opening number and a dazzling stream of all-black suits in various permutations to close. The tally: 25 of the 87 looks that went down the runway referenced the tuxedo the brand's founder introduced 54 years ago. Explained Anthony Vaccarello, the man behind this grand display: "I really want to pay homage to Le Smoking and to say, 'Okay, that's the house of the tuxedo. If you need one, you have to come to Saint Laurent because otherwise you get a fake tuxedo'."
To say that Vaccarello is obsessed with the distinctive tailored suit might come across as superfluous. As creative director of Saint Laurent, it is his job to respect, revive and reinvent the brand's beloved signatures. Since his Spring/Summer 2017 debut, he has faithfully spotlighted at least a handful of reinterpretations of Le Smoking in every collection. The palpable fervour with which he does so and speaks of the look however hints that he's motivated as much by reverence as he is by responsibility.
Few would dispute that one of the late Yves Saint Laurent's most indelible contributions to fashion is Le Smoking: a jacket-and-pants set originally the purview of menswear and adapted by the French designer to complement the female form. Revealed in his Haute Couture Fall/Winter 1966 collection, it came at a time when it was frowned upon for women to wear trousers in public. Such rebellion didn't catch on with couture customers (the website of the Musee Yves Saint Laurent Paris reveals that the 1966 collection only saw one order for the tux). The Rive Gauche – or ready-to-wear – versions however were regarded as a symbol of emancipation among younger clients who snapped them up.
"I wanted women to have the same basic wardrobe as a man," said Monsieur Saint Laurent in an 1977 interview. "Blazer, trousers and suit – they're so functional. I believed women wanted this and was right." (Couture snub notwithstanding, he had immediately made Le Smoking a mainstay in every collection up till his retirement in 2002.)
Decades on and that sense of empowerment and liberation that comes with this androgynous design persists. From Bianca Jagger who wore an all-white version to marry Mick in 1971 to Cate Blanchett who matched a classic, single-breasted tuxedo jacket with a ballgown skirt and flats to walk the red carpet of the Zurich Film Festival last year, Le Smoking is most often associated with strong, individualistic women. The jacket's shoulder pads are cut manually to retain their strong, mannish shape that lends an air of confidence while a single vent runs down the back to maintain its proportions and ease of movement.
That there seems to be an infinite number of ways to rework it further attests to its modernity. Take the aforementioned closing looks from Spring/Summer 2020, which extend into what the brand dubs its Summer 2020 collection. A classic, cigarette-slim rendition gets a darkly glamorous twist with all-over sequins and a see-through blouse. There are variations with a rock-star edge thanks to extra-wide peak lapels while '80s-tinged jumpsuit adaptations transform Le Smoking into a smart one-piece.
To understand its endurance, one simply needs to turn to Yves Saint Laurent's philosophy when he was designing it: "For a woman, Le Smoking is an indispensable garment with which she finds continually in fashion because it is about style, not fashion. Fashion comes and goes, but style is forever."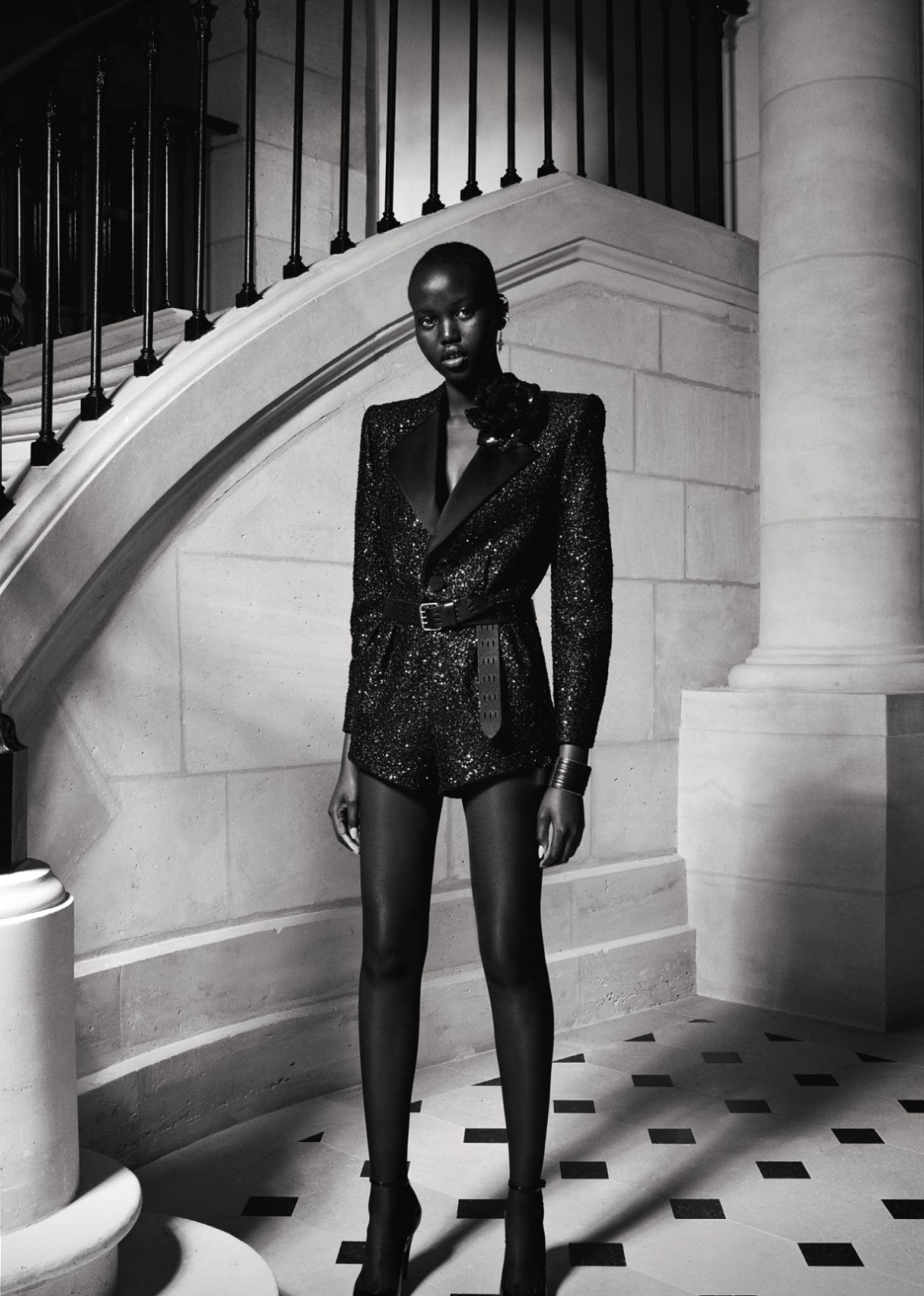 Part of Le Smoking's iconic status comes with its constant reinvention that includes playsuits (this page) and jumpsuits (opposite) all without losing its signature mannish shoulders and air of androgyny and confidence. 
Photos Courtesy of Saint Laurent