A year since his debut as artistic director of Schiaparelli, Daniel Roseberry gives Zaneta Cheng the exclusive on how he's keeping the irreverently inventive couture house – founded by fashion's most famous Elsa 93 years ago – magical and modern.
Marking his first year as artistic director of Schiaparelli this month, Daniel Roseberry has breathed new life into the legendary couture house by being respectful, but not retrospective of the brand's codes and signatures.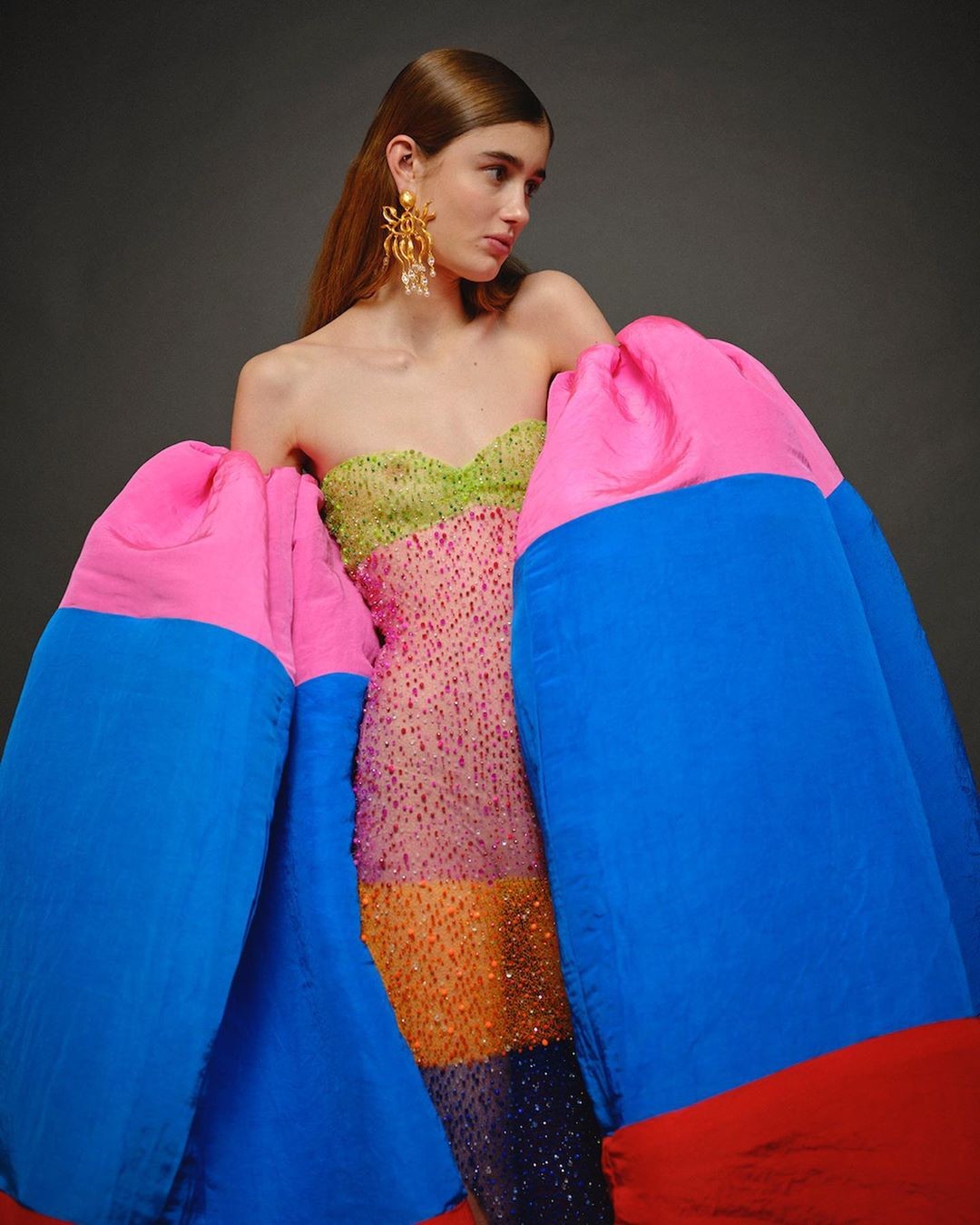 Roseberry highlights the duality of Elsa Schiaparelli – go-getting designer in her studio and hostess of Paris' most incredible Surrealist parties at home – in the brand's S/S '20 couture collection. On one end: dramatic gowns with exuberant volume and broad, almost sporty multi-coloured stripes (this page), on the other: sophisticated tailoring with artful, ornate embellishments (opposite) 
Legacy is a complicated issue at the 93-year-old French couture house where its wildly irreverent and revered founder created symbols so iconic (lobsters, lips, even telephone cords), it has been difficult for subsequent designers to reframe. "I felt that the house was doing an amazing job honouring her legacy, but hadn't yet let go of the nostalgia," says Schiaparelli artistic director Daniel Roseberry of Elsa Schiaparelli.
"There was nobody to interrupt the brand's legacy the way Karl Lagerfeld did for Chanel in the '80s, for example, so the brand has been frozen in time. For me, I'm looking at how I can pay respect without remaining in the past."
It might seem like an ironic statement given that the French couture house recently released a mini documentary – available for viewing on its website and Instagram account – charting Roseberry's journey since coming on board a year ago. The film's title however underscores the 34-year-old's reverential-without-being-retrospective approach to running the maison: The Next Chapter. It's a fitting way to encapsulate what Roseberry – one of the youngest and the first American to helm an established French couture house – has done during his tenure so far.
His F/W '20 ready-to-wear collection unveiled in March married couture details and signature motifs such as the padlock and eye with smart, minimalistic tailoring, proving that a historical couture house can make modern clothes for every day. His S/S '20 haute couture collection showcased two months before contrasted an elevated take on similarly chic suits (think jackets with sculptural cloud-like collars or festooned with embroidery) with playful, ornately embellished dresses as suited for an island cocktail party as they are for the red carpet. His inspirations included the work and play sides of Elsa Schiaparelli – feisty studio head and hostess of the most incredible Surrealist parties – and Sports Illustrated from the '80s.
This month, he's supposed to present his third couture collection for the brand. While there was no official word at press time on plans following the Covid-induced cancellation of F/W '20 Couture Fashion Week, any showcase of his is likely to possess that same artful commingling of past, present and future. 
"I find myself retreating into a fantasy land and wanting to embrace the fantasy of a time that now feels lost," he says of the impact the pandemic and lockdown has had on him. "I think that push and pull between dreaming and living feels more real now than ever and I don't know if there could be a more interesting time to be a designer than right now. The power of imagination; a world we can create for ourselves – maybe that's our greatest power?"
The Texas native knows a thing or two about – in his own words – "making a dream attainable". Prior to Schiaparelli, he had spent 11 years at Thom Browne, master of balancing the eccentrically conceptual with the commercial; the last five of which as design director of both its men's and women's collections.
His confidence in tinkering with the couture label's house codes and introducing his own stems perhaps from the fact that he's not all that dissimilar from the colourful designer referred to lovingly as "Schiap". For one, not unlike how she surrounded herself with the likes of May Ray, Cocteau and Dali, he was raised by a family of artists. (Since his arrival, the brand's Place Vendome atelier has seen much of its furniture that belonged to its founder replaced with modernist pieces by Jacques Adnet, Jean Royere and Jean-Michel Frank.)
If he seems reluctant to be sentimental, Schiap – as he points out – had established her witty, outrageous brand of glamour as a response to the times. "She was creating surrealist objects, garments and collaborations during wartime when everything was falling apart. There was a retreat to the imagination... where there was this idea of displacement and putting things where they don't belong."
Simply put, Schiaparelli was never quite about looking back so why should one when tasked to keep its legacy going?. "Now people are thinking about clothes in a different way. They have to be surrounded by experience and couture is itself a kind of out-of-body experience," says Roseberry of the purpose of couture today. "With how disposable and manufactured everything is out there now, I'm clinging to the power and value of the imagination, and the fantasy and innocence of a dream world." 
Drawing inspiration from the likes of '80s pop culture, Roseberry introduces a flirty sense of glamour distinctive of that era to the Schiaparelli aesthetic. Besides its brash ultramarine hue, this sculptural number with Surrealist-inspired rhinestone embellishments, for example, features an asymmetrical, thigh-revealing hemline typical of cocktail gowns from that decade.