Platform 1094, Kumoya Cafe, Hello Kitty Orchid Garden Cafe, Soup Spoon Union X Cartoon
Do your kids like Superman, Hello Kitty, Harry Potter or The Powerpuff Girls? Take them to these delightful themed cafes where their favourite characters come to life.
PLATFORM 1094
Potterheads will love this magical Harry Potter-themed cafe, which has remained relatively low-key since opening in 2016.
Walk in and be bewitched by its cosy interior, with its warm brick walls and wooden floors and ceilings. It promises an immersive experience – transform into your favourite wizard using the free robes, scarfs and hats, and add accessories and props, such as wands, broomsticks and glasses.
The cafe offers a selection of Singaporean-Western fusion dishes with a magical twist. Order the Half BBQ chicken ($18++) and watch it being flambeed at your table. Other must-tries: Pesto mayo pork ribs ($22++) and the delicious truffle fries ($12++).
Save space in your tummy for its handcrafted artisan desserts, such a The Goal's Seeker ($15++), an edible version of Harry's golden snitch, and Sweet Treats of the Wizardry World ($12++), a delicious book of spells.
Its best-selling beverage is the electric blue flaming Goblet of Fire ($15++), which has made its rounds on social media. You'll be spellbound as this alcoholic drink is prepared before your eyes.
Of course, there are also plenty of nonalcoholic options for your little ones. Mrs Lich's Butterscotch Ale ($10++) tastes just as good as it sounds in the books.
Or get the refreshing Fragaria Extract ($8++), a guilt-free smoothie made from strawberries, beetroots, oranges and bananas.
There's ample public parking at the back of the restaurant and it's within walking distance of Boon Keng MRT station.
WHERE 1094 Serangoon Road
TEXT FELICIA WONG, ELISA CHIA & THE STRAITS TIMES PHOTOS (PLATFORM 1094, MIFFY & DC SUPERHEROES CAFE) FELICIA WONG
KUMOYA CAFE
Kumoya is no stranger to the world of character cafes. First, it was home to Cinnamoroll from May 2017. The Sanrio character is a white dog with a tail that resembles a cinnamon roll and which can fly using its ears.
Since then, it has welcomed Miffy the beloved rabbit created by Dutch artist Dick Bruna and Care Bears from the TV animated series.
"Customers have short attention spans, so you either constantly revamp the menu or the space," the cafe's operations manager Joseph Koh said in an interview with The New Paper.
With each character, Kumoya's interior and menu get a transformation. Take its latest collaboration with Tokidoki by Italian artist Simone Legno.
Fans will feel like they've stepped into the magical world of Tokidoki, surrounded by the brand's well-loved characters, including Unicorno, Donutella and Cactus Friends. Feel free to cuddle up to the adorable plushies on the bench seats, too.
You can also buy merchandises such as watches, baseball caps and cafeexclusive plush toys.
If you're a foodie, you are likely to know and love the works of food blogger and bento artist Shirley Wong, popularly known as Little Miss Bento.
Kumoya has been working with her to curate and style the menus for all its pop-up character cafes. Shirley is also involved with designing the menus for the Gudetama Cafe.
Until the end of June, you can enjoy appetisers, mains, desserts and drinks styled after the quirky Tokidoko characters.
The Unicorno Cotton Candy drink ($17.90++, pictured right) is definitely the most Instagrammable menu item. Get your camera ready and snap away once it's served, before that fluffy cotton candy melts. Then take your time to sip the passion fruit and strawberry Calpis with butterfly pea tea.
Your little ones will enjoy the Sandy and Polpettina Full-of-Life Chicken Katsu Burger ($23.90++, bottom right). Sweet teriyaki sauce is drizzled over the crispy chicken katsu that's served with cheese and sandwich in green burger buns.
By now, you would have realised that cute doesn't come cheap, so stretch your dollar by ordering menu items that come with free merchandise. For instance, when you order the Unicorno Rainbow Magic Parfait ($23.90++), which is Hokkaido soft serve ice cream in a wafer bowl, you take home a Peperino or Marea keychain plush toy worth $9.90.
Because of its size, the cafe imposes a minimum spend of $10 per person and may limit your dining time to 90 minutes.
Follow Kumoya's Facebook page for its next transformation.
WHERE: 8 Jalan Klapa
HELLO KITTY ORCHID GARDEN CAFE
Did you know that this is the world's first Hello Kitty cafe that is open 24/7? Refiecting a Garden City theme, the interior is decorated with orchids across the ceiling and pillars.
No matter day or night, weary travellers can fuel up and feel rejuvenated at this relaxing oasis.
Fans of this Sanrio character always take wefies with its 3D life-sized figurines. Here, Hello Kitty sports a red and white striped bow, echoing the colours of the Singapore flag.
Before you leave, you will surely be tempted to buy a memento from the retail corner, where merchandise exclusive to Singapore is available.
ABR Holdings, which also manages Swensen's restaurant chain in Singapore, Malaysia, Brunei and China, is behind this 84-seat halal-certified cafe.
You can expect an Instagram-worthy menu of Western and Asian dishes, served on beautiful wooden boards, ceramic and glassware – specially selected to complement the garden theme.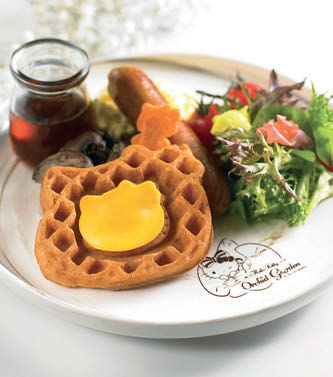 Popular mains include the all-day Big Breakfast Surprise ($18.50++, pictured left), which features cheddar cheese-topped Kitty-shaped waffies with scrambled eggs, smoked duck slices and sauteed shiitake mushrooms; and Cowabunga! Wagyu ($24++), which has slow-cooked beef rendang jazzed up with pineapple rempah and served with a kittyshaped mound of rice.
Don't miss its special bi-monthly menu, which features Singapore-inspired and cheekily-named items.
In May and June, get into the Hari Raya mood by ordering an Abang Daniel's beef burger ($21.50++, pictured bottom right) and Mak Chick's Caesar salad ($17.90++). Then wash it down with a Rasa Sayang Chendol drink ($12.90++, pictured top right).
But note that a limited menu is offered between midnight and 7am daily.
WHERE Changi Airport Terminal 3, #01-22 Arrival Hall
SOUP SPOON UNION X CARTOON
If your son likes Ben 10 but your daughter is a fan of The Powerpuff Girls, take them both to this 93-seat cafe. Opened in November 2017, it offers drinks and desserts, as well as a kids' menu inspired by Cartoon Network's animated TV series.
Managed by The Soup Spoon – also one of the partners behind the Gudetama Cafe – it also features characters from Adventure Time and We Bare Bears.
The kids' menu, for diners aged 10 and under, offer a selection of four items, including Finn & Jake's creamy mushroom pasta (pictured left), featuring the characters from Adventure Time and Ben 10 chicken karaage with rice and mushroom sauce. These are at $9.90++ each, and come with strawberry or bubblegum soda.
Mums and dads can choose soup, salads, burger and grill from The Soup Spoon Union menu, also available at the same restaurant.
End on a sweet note with the Grizzly milkshake ($14.90++, pictured bottom left), blended with Nutella and vanilla ice cream and named after the character from We Bare Bears. If you want to show your love for The Powerpuff Girls, go for the Bubbles cheesecake ($14.90++), served with a yellow macaron, berries and candy floss.
WHERE #B1-12 Waterway Point Mall