Learn which type of oil best suit the different cooking styles.
Learn which type of oil best suit the different cooking styles.
■ EXTRA VIRGIN OLIVE OIL
Perfect for most cooking and oven baking. also ideal for dressing or drizzling.
■ CANOLA OIL
Its mild flavour and high smoke point mean it can be used for cooking and asian cuisines.
■ FLAXSEED OIL
Its rich omega-3s are ruined by heat, so instead use this in sauces, dips or salad dressings.
■ SESAME OIL
Perfect for asian and indian dishes. use untoasted in cooking and toasted in marinades.
■ COCONUT OIL
This is a great substitute for butter in baking, or when cooking curries or stir-fries.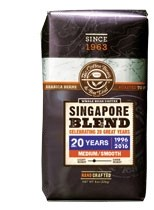 20 In celebration of The coffee Bean & Tea Leaves 20th anniversary in Singapore, they will be launching the limited edition Singapore Blend Tea and Singapore Blend coffee just for our country.
56 The number of The coffee Bean & Tea Leaf stores in Singapore currently. Plus they also have two Beanstro stores which serve up delish bistro food and drinks.
$4.20 The cost of a regular cup of Singapore Blend Tea – a refreshing green tea with essence of orchid and fruits, or a regular cup of Singapore Blend coffee – a medium bodied roast featuring an almond aroma, hints of apricot and a creamy finish. Also available at $14.90 per tin of 20 pyramid tea bags, and $13.90 per pack of 8oz coffee.
Knife-care 101
1. KEEP THEM SHARP
Invest in a sharpening rod and carefully run the blade of your knife along it once a week.
2. WASH THEM WELL
Wipe with soapy water and dry them straight away. Avoid dishwashers as they can dull the blade and loosen the handle.
3. AVOID HARSH SURFACES
Go for wood or plastic chopping boards rather than glass.
NIGELL A TEA
"I have about 12 cups a day," says nigella Lawson of her tea obsession. "I'll have two mugs before i've even woken up properly. I don't regard myself as being fully in the world until i've had two mugs."
The perfect knife
Maximum sharpness, superior forging anh long-lasting durability make for the perfect cut. Well balanced with precise center of gravity so that the hand doesn't tire during cutting, and handles that fit into your hand as if they are made to measure - now, that's the perfect knife.