Lee Eng Su is more than the food nerd who wants to elevate quality local food one dish at a time – he wants to change the business approach altogether.
He could not be at his father's side in his final hours. That was just two days after Lee Eng Su opened The Coconut Club. The crowds were pouring in, and nobody else knew how to cook the rice for nasi lemak. It was a painful decision, and one that he reminds himself of two and a half years later. "If that was what I gave up, there has to be meaning in me doing this," says Lee quietly.
Today, The Coconut Club has earned Bib Gourmand status in the 2018 Michelin Guide Singapore. But even before that, it got the endorsement of Singapore Prime Minister Lee Hsien Loong, who hosted Philippine President Rodrigo Duterte there for a meal in December 2016, just a month after it opened. While he fully appreciates the recognition, fame and glory is not what Lee is after.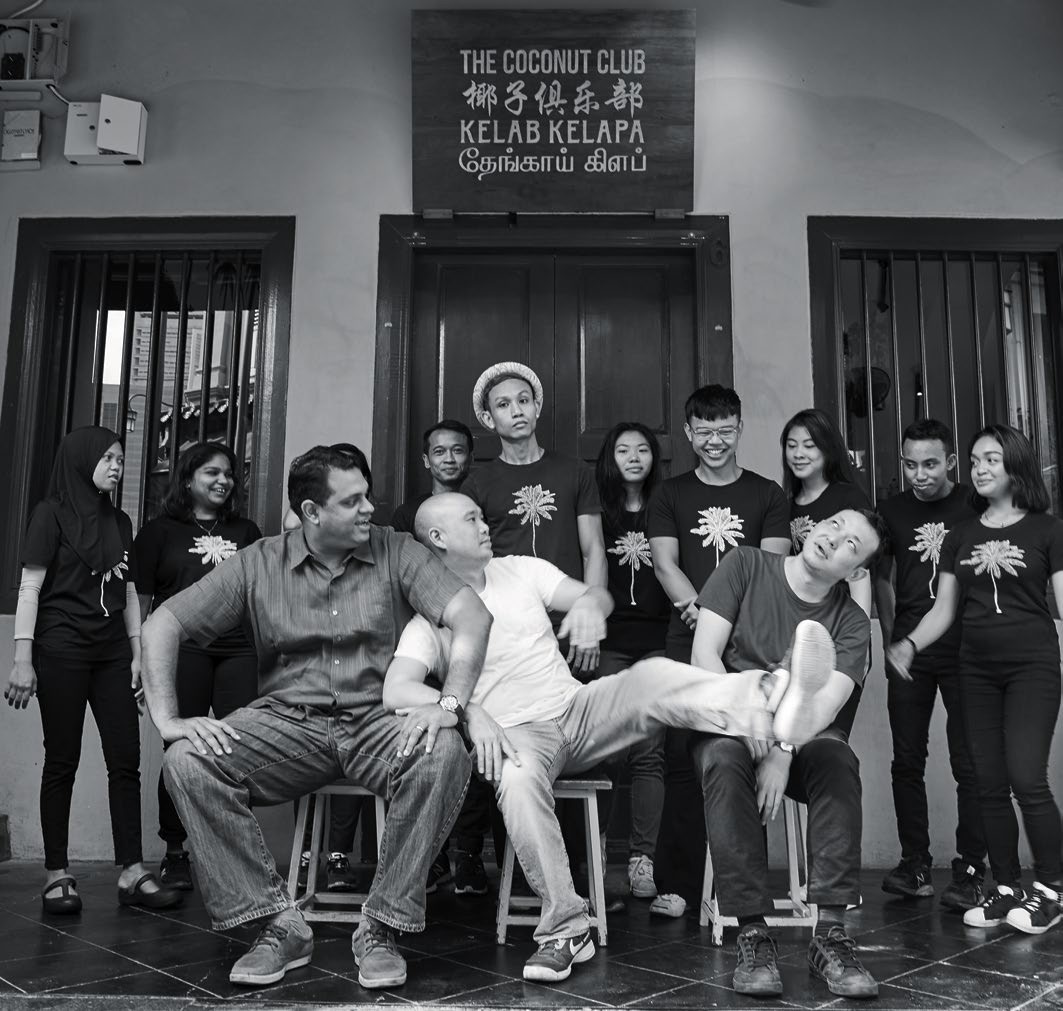 WORTH THE WAIT
Diners are willing to queue for The Coconut Club's tasty nasi lemak, which was perfected after 2 years of experimentation. (opposite page) Lee Eng Su, with his partners Lee Chan Wai and Kamal Samuel.
KINDNESS MOVEMENT, ON A PLATE
For the usually-gregarious 40-year-old, the purpose of The Coconut Club goes beyond serving the ultimate nasi lemak. Certainly, he is a cooking enthusiast. As someone who grew up helping his paternal grandmother drizzle rum over chocolate cakes, and a son to a Cantonese woman with the ability to recreate just about any dish on tasting, Lee always had a keen interest in food – and started cooking in earnest during his university days in America. For his now-renowned nasi lemak, he spent close to two years researching and sourcing the best ingredients possible, and perfecting the recipe for every component, from the sambal ikan bilis to side dishes of otah – all because he was inspired after attending a nasi lemak convention in Kuala Lumpur. But, while the starting point for the restaurant might have been the desire to improve local food, Lee's mission has become bigger than that.
For all the effort he puts into perfecting the food, he puts even more into perfecting the team. While most F&B operations attribute about 30 per cent of their overheads to human resources, he dedicates 45 per cent to labour cost alone. His full-time staff enjoy a minimum wage of $2,000 – almost twice of what other restaurants pay, even for those with no experience. "The wages we pay, which starts at what we define as a living wage, is higher than what cooks at some fine-dining restaurants get," says Lee. And those with the aptitude and right attitude to take on bigger responsibilities might even see their pay grow by some 50 per cent within 18 months.
The wage, he says, allows more Singaporeans to explore lasting careers in the F&B sector. In fact, one of his staff  who was ready to sign on with the army chose to stay on instead, after seeing that he could earn a decent living with the company. But Lee emphasises that pay, which might address some hiring and staff retention issues, is only an expression of something more fundamental. "There is so much lip service in the F&B industry. Everybody is going on about how they love hawkers – but complain when they increase the price of the food by 50 cents. If you respect hawkers so much, you would pay them what is fair."
"Everybody is going on about how they love hawkers – but complain when they increase the price of the food by 50 cents."
THE COCONUT CLUB'S LEE ENG SU (LEFT) 
"Our idea is to treat our staff with love and respect – so that they can, in turn, treat our customers the same way."
LEE ENG SU
Lee certainly walks the talk. He might be the boss, but he is also the guy who sweats it out in the kitchen with the team in his signature T-shirt-shortsand-slippers get-up. Tour his newly set up central kitchen space – where he has also created a coconut processing facility to produce fresh coconut milk for B2B clients – and you will find him addressing just about every colleague by name. He slaps them on the back like a brother when he tastes an R&D product that he likes, and enthusiastically shares the efforts his staff  took to get the item right. There is a clear sense of camaraderie. At the restaurant, he also plays the role of chief psychologist. "First thing each day, we talk about how we feel about certain situations and how to communicate our feelings. We also talk about empathy and how to feel for others – even for customers who seem to want to ruin your day."
He explains: "Our idea is to treat our staff with love and respect – so that they can, in turn, treat our customers the same way." His staff are empowered to off er personalised service as they see fit, too. So, rather than a stool, they might pull out a chair with back support for a pregnant customer. If a guy with his arm in a cast is struggling with the chicken thigh, they will get him a new piece, deboned and cut into pieces. "If you look at the reviews for Coconut Club online, you will find that they are very heartfelt and our customers often thank staff  by name. It is just basic courtesy, really," says Lee.
And so, we finally get to the biggest mission of Lee's little enterprise: to build kindness through kindness. "Obviously, every culture has its own problems. And having lived abroad, where it is very common to see people stepping in to help on the trains and on the streets, the lack of common courtesy in Singapore is glaring," he says. "It is not to say that Singaporeans are bad people – they are just so stressed out that they flip at the smallest thing. We hope that people can relax at our restaurant and, through being at the receiving end of our staff 's kindness, also become kinder people."
MAKING DOLLARS AND SENSE
His ambition goes beyond building a better Singapore society. "Over time, you see things more clearly and realise that things are very unfair within the industry. You realise that we are able to eat cheaply because ingredients are produced cheaply – somebody is making the money, but it certainly isn't those who are working the hardest. You cannot talk about being nice to people and be okay with this. It is hard to reconcile with it, but we are trying to make the right choices, so we are trying to move even further up the food chain and eventually own coconut plantations so that we can directly improve the quality of life of the workers."
But Lee is more than an idealist who happens to like food. The principle of kindness and respect helps him retain staff  and brings repeat customers. "What is giving $10 worth of food away if the customer is going to come back 10 more times to eat a plate of $12.90 nasi lemak? If you look at the big picture and think long term, doing things this way actually makes economic sense," says Lee.
In a market where nasi lemak can be bought for chump change, he has shown the industry that it is possible to sell high-quality, hand-crafted local food at a premium. Perhaps, then, he can also show the industry a whole new way – and a kinder one – to think about business.
And he certainly has to think dollars and cents too. According to Lee, who previously worked as a private chef and operated a South-east Asian restaurant in Israel for a year (because he wanted the challenge of opening a restaurant in the toughest, most unfamiliar environment possible), The Coconut Club will likely be his last big F&B venture. "If this fails, the next time you find me cooking will probably be at a hawker centre, selling $5 nasi lemak!" he says with a guffaw.
He is now in the midst of moving The Coconut Club to bigger premises on the same street, and launching a new economy rice concept specialising in Peranakan dishes in the old address. In his words, they are scared "sh*tless".
"Most chefs play with other people's money first and invest their own money later, when the business has proven itself. There is a bit of a buffer. We put in our own money from the get-go." Much is at stake. "If the Peranakan concept works, then maybe we can do a horfun restaurant, or other single-dish concepts. In the long term, I think we will be okay if, say, we fail with three concepts but succeed with five. However, right now, it is just about turning lights on one at a time in a very dark room – and you never know when a monster might drop down in front of you."
Clearly, running the restaurant is a source of both pleasure and anguish, and many, many things keep him awake at night – from finding nails in a batch of ikan bilis to unexpected staff  departures. "I have never experienced more stress in my life, ever." But he persists. "You have to believe that you are doing the right thing. I think about my nieces and what kind of environment they will be living in when they grow up." Once again, family has emerged as source of motivation – and it is also family that has made him who he is. "One of my cousins said you shouldn't tell your children to be good, you should show them. That certainly was the case with my father. Both he and my mother were always nice to others and doing kind things, and they derived great happiness from it. I think I got this (desire to spread kindness) from him," says Lee.
"And to have impact, we have to stay in business." So, while Lee says that The Coconut Club is more than a profi t-making enterprise ("We could have just created more nasi lemak restaurants, but we don't have time for that – that is just business"), he forges on with his passion, one plate of kindness at a time.
CHANGES AFOOT
The Coconut Club will move to bigger premises up Ann Siang Hill, with a Peranakan restaurant opening in its current location.
PERANAKAN PASSION
The Coconut Club's Peranakan sister restaurant is slated to be launched on  May 1. It used to be that, to enjoy a spread of Peranakan dishes, one would have to either be part of a party invited to a tok panjang (Malay for "long table of food"), or round up enough people to form a party of one's own and head to a restaurant. Come May 1, that will change with the launch of Lee Eng Su's new concept.
Helmed by veteran Peranakan chef Ben Teo, the restaurant will serve a plethora of Peranakan food available in single portions.
"The idea is to make the cuisine accessible to the masses, like how Chinese-style economy rice is. Most Peranakan restaurants are expensive, and you can only try more dishes if you visit with a large group of people. But we will be presenting about 12 to 18 dishes, so that you can pick what you like – you can have a Peranakan meal by yourself," says Lee.