How the Covid-19 pandemic has rewritten the recipes for success of Asian restaurateurs.
Covid-19 has pushed the global F&B business into crisis mode. Many restaurants have closed their doors permanently. Of those that remain, restaurateurs have had to change their approach to the new social distancing landscape fast.
Many have rushed to get their businesses online, tailoring menus to be more takeaway- and delivery-friendly. Chefs are even boosting their brands through online recipes and cooking demos, while innovative personalities are bringing the eating out experience into homes.
Singapore's Emmanuel Stroobant launched Virtual Saint Pierre – a private Zoom party with delivered fine dining bento boxes and a live online appearance from the chef.
In Bangkok, Fruitfull – a new platform about food by the creators of Wonderfruit – launched its first series called Lockdown that delivered interactive dinner parties to guests through live streams with music and in-person meals on April 24. First up was the seven-course progressive Thai menu by Duangporn 'Bo' Songvisava and Dylan Jones of the infamous Bo.lan.
To participate, diners made a reservation online. Once they received their meals, they joined a private live streaming program matched with their delivered feast. The series concluded on 22 May with a Korean-Thai feast overseen by Asia's Best Female Chef in 2020 – Cho Hee-sook of Hangsikgonggan in Seoul – and presented by David Thompson's protege Prin Polsuk of Bangkok's beloved Samrub Thai.
CREATING DIY MEAL KITS AND COCKTAILS IN A BAG TO GO
"Innovation, creativity – these are no longer a luxury. They're a necessity," says Cynthia Chua, the entrepreneurial brains behind the Spa Esprit Group, which owns and operates several Singapore brands, including Tiong Bahru Bakery and Open Farm Community (OFC).
The group's sales have dropped by 20 to 90 per cent across its various outlets. At the time of writing, some are open for takeaway and delivery while others do not see these sales covering operating costs. Argentine bistro boCHINche, for example, is temporarily closed as per circuit breaker regulations since its CBD location means takeaway orders would be minimal.
Open Farm Community, on the other hand, has become more than a restaurant doing takeaway and delivery in Covid-19 times. Chua has transformed it into a grocery store as well, selling DIY meal kits, condiments, cocktails in a bag and fresh produce. "You have to be able to adapt, read your trends, look at data and ask, 'Do people want that?'" she says.
Yvonne Kam, founder of Yung's Bistro, the younger sister to Hong Kong's much-loved Cantonese classic, Yung Kee, agrees and adds that restaurateurs need to be fast and flexible. As soon as the pandemic hit, Yung's Bistro joined a delivery service and created special dishes that travel well.
"Be practical and offer food people want, like comfort food," Kam says. "During a crisis, people are not in the mood to eat fancy food as there is not much to celebrate. And, no matter what you serve, the delivery option is a necessity. Even without Covid-19, it is a good stream for operators. But right now, it's a lifeline for everyone."
LINKING RESTAURANT PLAYLISTS TO QR CODES
With such a radical shift in how restaurants are doing business and social distancing likely to go on for months to come, many think the pandemic will permanently alter the dining scene.
"We're looking at every new revenue stream we have right now and wondering, 'Is this something we can do long term?'" says Michael Goodman who founded Singapore's The Dandy Collection with Rohit Roopchand.
The group, which is behind Neon Pigeon (a mod izakaya), Fat Prince (an Istanbul-inspired cafe and kebabery) and Summerlong (a cafe and bar with a beach vibe and Mediterranean nosh) has included a QR code with every delivery that links to a playlist from each restaurant, aiming to bring a touch of the social dining atmosphere to diners at home.
The Dandy Collection is also developing frozen meals for customers to reheat at home. "The pandemic has taught us that we can't get fixated on a particular way of doing things as the environment is constantly changing and requiring us to change with it," says Roopchand.
STREAMLINING BUSINESSES AND SUPPORTING EACH OTHER
Chef Siu Hin-chi of two-Michelin-starred Cantonese hotspot Ying Jee Club in Hong Kong has also had to adapt. He reports a drop of around 30 per cent for dinner bookings and says the possibility of a reduction in the number of international and mainland Chinese tourists over the next few years would have a significant impact on business.
"This would lead us to shift our marketing and promotion strategies to the local crowd and expats who appreciate fine Cantonese cuisine," says Siu, who has already selected suitable items for a takeaway menu and streamlined the dine-in menu and provided a discount without compromising food quality. "To retain our high standard, our ingredients and cooking methods remain the same."
Making food more affordable and travel-friendly is a fraught experience for many chefs, especially those on the fine-dining end of the spectrum with its sophisticated, intricate dishes. Most worry that they will be forced into making tough decisions on sacrificing quality.
"High-quality food comes at a price, so it's a very difficult situation. Our margins are so small," says Maxime Gilbert of two-Michelinstarred Ecriture in Hong Kong. "I hope customers understand this."
Gilbert, who closed his restaurant temporarily, has reopened it, thanks in part to Hong Kong's successful management of the virus. Now, he uses only French produce and lists suppliers on the first page of Ecriture's menu. "This allows me to support my producers from France who are suffering so much now."
He is not the only chef using his position to support the network of suppliers involved in the restaurant business. Hisato Hamada of Tokyo's WagyuMafia, known for his trademark US$185 (S$262) chateaubriand steak sandwich, has, surprisingly, just opened a branch of YakinikuMafia in Hong Kong.
"It's a crazy time to kick off a new restaurant but our farmers and producers count on us and in these challenging times," states the YakinikuMafia website, where one can also order prime cuts of beef from the WagyuMafia Butcher Service.
The pandemic has resulted in a positively supportive shift in the F&B industry's mindset. In Hong Kong, the  United We Dine project unites media and F&B professionals to support dining out with promotions and prizes. In Singapore, DineInMovement.com brings together select restaurant groups and independents on one delivery order platform, giving greater visibility to all.
"Essentially, we're all trying to share our fans so that a rising tide raises all ships," says Goodman. Roopchand agrees: "Taking care of others and banding together as an industry has been a big learning curve from the pandemic."
Other lessons include keeping operating capital in the bank, working lean and being cautious about expanding too quickly. "Make your business more streamlined. Resources are finite," says Chua. "I have five new ideas in mind but now is absolutely not the right time to add new brands."
Siu thinks Covid-19 will discourage potential restaurateurs from starting new ventures in Hong Kong and point them towards cities with less risk and lower rents instead. He hopes that, in due course, the restaurant scene will become "as vivid as it used to be".
Even if post-pandemic diners are reluctant to spend as before, some remain optimistic. "Wherever there are challenges, there are potential new avenues to explore. I'll keep my eyes fixed on the horizon and hope for the best while also trying to create a new best if the old one is gone. The food scene won't go away forever, even if it changes," says Goodman.
01 OPEN FARM COMMUNITY The interior of the restaurant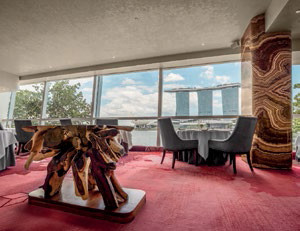 02 SAINT PIERRE The stunning view that diners are treated to
Local Pekin Duck Rillette by OFC.
"MAKE YOUR BUSINESS MORE STREAMLINED. I HAVE FIVE NEW IDEAS BUT NOW IS ABSOLUTELY NOT THE TIME TO ADD NEW BRANDS."
CYNTHIA CHUA OF SPA ESPRIT GROUP GIVING WORDS OF CAUTION FOR F&B OPERATORS DURING THIS PERIOD
01 SOLITUDE
Restaurants in HK are slowly opening 
02 BETTER TIMES
Rohit Roopchand (second from left) and Michael Goodman (far right) of The Dandy Collection 
03 YUNG'S BISTRO
The interior of the famous HK restaurant
Yung's Bistro Lotus Root Cakes