Quayside Isle @ Sentosa Cove is not to be missed! Enjoy the gorgeous view of the marina at it's unique dining concepts such as Museo, Gin Khao Bistro, Greenwood Fish Market or Two Chefs Bar.
The gorgeous view of the marina at Quayside Isle @ Sentosa Cove, paired with its unique dining concepts, will add an exclusive touch to any special get-together you won't find elsewhere.
What do we love about Quayside Isle @ Sentosa Cove? It has a fantastic gone-on-holiday vibe – no matter how many times you visit. With the gorgeous water views, clear expanse of sky and those beautiful yachts at the marina, it doesn't feel as if you're still in Singapore. All this without actually travelling – or travelling far from home. 
It's also a dining destination that's been specially curated for different and varied occasions, whether it's a celebratory lunch with colleagues, a romantic night out with your better half, a festive get-together with your BFFs, or a weekend out with family and kids where all you want to do is chill and relax.  
Sail over to Quayside Isle to enjoy the five Christmas menus and treats featured here, or satisfy your craving over a diverse spread of international cuisines, from fine restaurants to casual cafes, with your loved ones. There's Mediterranean (Big Fat Mama; Miska Cafe), Indian (Earl of Hindh), local hawker fare (Let's Eat!), Greek (Mykonos on the Bay), Spanish (Sabio by the Sea, Tapas Bar & Grill), Italian (SolePomodoro Trattoria Pizzeria), and casual cafes (Greater Lot by Cedele; Joe & the Juice; Schmear). 
FULL WORKS 
With its cosy, intimate ambience, Museo (#01-22) is one of the most romantic spots to dine at – the cushioned floor seats let you enjoy an unparalleled view of the yachts at the marina. This year, four- and five-course set menus ($95 and $105 respectively) are available from Dec 18-25. The dishes follow Museo's concept of novel and varied flavours – served in its signature glass jars, of course. Start with the Avocado and Feta Salad with Avruga caviar and creamy herb dressing, then go for the Soft-shell Chilli Crab served with sweet and savoury tomato-chilli sauce. End with a chocolate ball dessert, which boasts frozen pistachio nougat and butterscotch sauce.  
CHRISTMAS REWARDS! 
On weekends from Dec 1-31, receive a $10 Quayside Isle dining voucher* when you spend $100. Also, share the most festive and fun photos you've taken at Santa's sleigh with the hashtag #QuaysideIsle to win dining vouchers.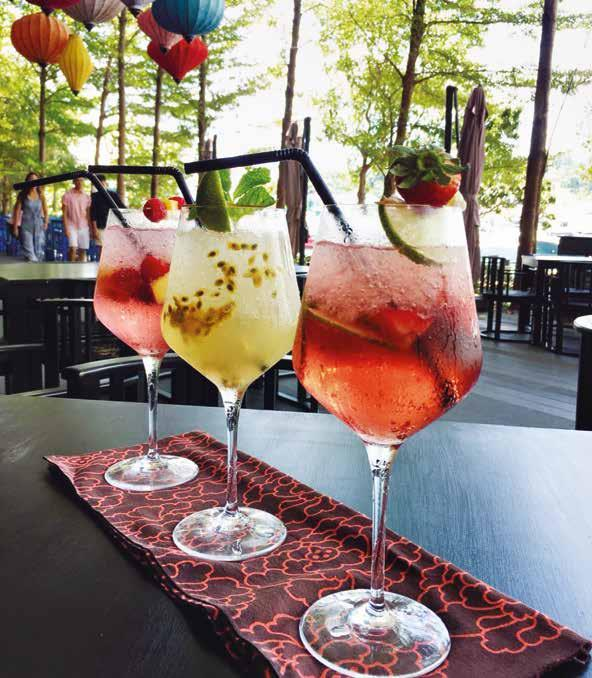 ASIAN TWIST 
Instead of the usual hams, roasts and traditional Christmas food, why not choose Asian cuisine? Thai restaurant Gin Khao Bistro (#01-12) has a steamboat set for four at $99.80++, and a selection of Christmas ciders with flavours like mango, raspberry, passion fruit and strawberry lime. Alternatively, Blue Lotus Chinese Eating House (#01-13) is serving up a whole slow-roasted Spanish suckling pig at the special price of $198++ (UP $238++). How's that for a celebratory meal? 
SEAFOOD FEAST 
Seafood lovers can rejoice at the sheer variety at Greenwood Fish Market (#01-04/05), which has a super-fresh sea-to-table philosophy. Try the two-tier Cold Platter, with its impressive spread of seafood, enough for two to four diners. It includes steamed Boston lobster, marinated yellow fin tuna, freshly shucked oysters, mussels and clams from New Zealand, tiger prawns, and smoked salmon cured in-house using applewood logs. If you are hosting a party, you can order whole Scottish-farmed Atlantic salmon, poached or smoked. 
FESTIVE TIPPLE 
To wind down after hours, head to Two Chefs Bar (#01-11). Its Mexican and Italian food is sure to hit the spot and be a perfect complement to its curated selection of wines, speciality cocktails, craft beers and premium liquors. Just for the festive season, it's offering a Prosecco special at $49 a bottle. Top that up to more than $100, and you also enjoy a complimentary tiramisu. 
FESTIVE FUN  
It's merrymaking at the marina! Quayside Isle offers festive fun this season. Bring home wonderful memories and happy moments atop Santa's Sleigh. Climb aboard the Christmas Choo Choo train for a ride. Or have the kids bounce to their hearts' content in Christmas-themed bouncy inflatables. Chill out while enjoying live performances every weekend.  
GETTING TO QUAYSIDE ISLE @ SENTOSA COVE 
Getting here to dine is easy and affordable. 
Driving: Weekday car admission to Sentosa is $2, from 12-2pm, and after 5pm. Complimentary weekday lunchtime parking (excluding public holidays) is available if you enter by 12pm and exit before 2.30pm.
Shuttle bus service: Take the Sentosa Express train from VivoCity to Beach Station Bus Interchange and board the complimentary Sentosa Bus B to W Singapore – Sentosa Cove. Or take the Sentosa Cove shuttle bus, at $2 a ride, from VivoCity or Harbourfront bus interchange to Sentosa Cove Village drop-off point. 
31 Ocean Way, Sentosa Cove, Singapore 098375. http://www.quaysideisle.com