CEO OF DANISH KITCHENWARE AND APPLIANCE BRAND BODUM.
CEO OF DANISH KITCHENWARE AND APPLIANCE BRAND BODUM.
Stylish, simplistic and functional are terms synonymous with products from Bodum, a 74-year-old kitchenware and appliance brand from Denmark. Wellknown to consumers here are its range of coffee press and tableware like the iconic double-wall glasses. Following these successes, Bodum recently launched its range of kitchen appliances as well. CEO Jorgen Bodum, who grew up in this family-run business, talks about its formula to success.
What makes Bodum unique?
Our products are designed to be as environmentally friendly and easy to use as possible. We specialise in very simple, minimalistic designs and focus on function instead. It's about simple forms, and making sure the product's function is key.
How have advancements in kitchen appliances changed the way people are using them?
Similar to the world of fashion, there are trends in the kitchen appliance market, too. For example, slow-cooking is getting very popular lately — people no longer think about cooking up dinner feasts, but rather, they increasingly appreciate small ceremonies like teaand coffee-making. It's now a lifestyle, and people see the relevance of Bodum products in their home.
Tell us about some of the iconic products Bodum has launched.
Some of the hot favourites launched in 2017 are our electric water kettles and Epebo vacuum coffee maker.
The latter is efficient in making really good coffee.
We also launched a new line of products made of cork, including trays and cup sleeves. Cork is one of the most environmentally friendly materials; 60 per cent of cork is produced in Portugal where our factories are situated.
What is one Bodum product that you use daily in your home?
It's definitely the Epebo vacuum coffee maker. I use it everyday along with our double-wall glasses. Part of the reason is because it brings back a sense of nostalgia for me, because the former was one of the first products my father designed. It's fun to see how the same design has been reinterpreted in the latest version of the appliance. Plus, it makes a fantastic cup of coffee!
I like to use our double-wall glasses, too. I invented them in response to a problem I realised while at a cafe. I noticed that people were having trouble picking up heavy glasses filled with hot beverages. They had to put a napkin around cups, and with the double-wall glass resolves this everyday issue stylishly.
What is one Bodum product every homeowner should own?
It depends on your preferences. If you like coffee, invest in either the Epebo vacuum coffee maker or a French press. If you're a tea connoisseur, we make very good teapots, too.
The Assam teapot, for example, was designed for the British Tea Council approximately 30 years ago, where you can stop the brewing process without removing the tea filter.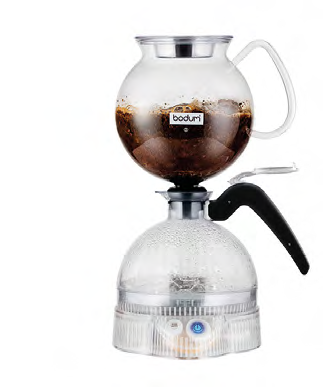 See the full interview in our exclusive video. See page 18.
BELOW
The transparent container of the double wall water kettle offers a minimalist look, and makes it easier for users to control water level.
TOP LEFT
Jorgen Bodum has been working for his family business for over four decades.
BELOW, RIGHT
The Epebo vacuum coffee maker has a funnel made of borosilicate glass so you can see the brewing process from start to end.
BODUM APPLIANCES ARE A VAILABLE AT 
MAJOR ELECTRICAL STORES INCLUDING 
ROBINSONS, COURTS MEG ASTORE, 
TANGS, AND WWW.BODUM.COM.