ASIAN FOOD'S FINE-DINING RENAISSANCE HAS REINVIGORATED THE TOP END OF SINGAPORE'S CULINARY LANDSCAPE. DISCOVER THE EXCITING CHANGES UNDERWAY.
ASIAN FOOD'S FINE-DINING RENAISSANCE HAS REINVIGORATED THE TOP END OF SINGAPORE'S CULINARY LANDSCAPE. DISCOVER THE EXCITING CHANGES UNDERWAY.
While it has often been thought of as street food, or something you consume at home, Asian cuisine is now at the forefront of Singapore's fine-dining scene. 
Increasingly, restaurants in Singapore are offering discerning consumers more nuanced ways of enjoying Asian cuisine. They're providing a finely varied selection of ingredients and a whole new level of sophistication in their presentation.
These chefs have crushed the notion that the food they cook must adhere unwaveringly to tradition. Instead, expect textures, flavours and looks that elicit gasps when the dishes arrive at the table.
This new vanguard is working to ensure that its ascent is more than a fad. For as palates become more developed and refined, the food and beverage industry naturally follows suit, thus elevating Asian cuisine to the pinnacle of the dining experience.
At Indigo Blue Kitchen, traditional Peranakan dishes are fine-tuned for modern tastes by a passionate team of young local chefs, with Chong Jun Xiang helming the kitchen.
Snow-aged Niigata Wagyu, $89, Noka. 
He explains: "The expectations of today's diners are different. The amount we pay for food has increased, and the focus is now on the ingredients. We want to offer better-quality ingredients to justify the prices, and because diners expect that level of refinement."
Into Indigo's Bakwan Kepiting Soup goes 1kg of premium mud crab – which makes 20 balls hand-rolled with prawn, minced pork and crunchy julienned bamboo shoots. 
Bakwan kepiting is traditionally a delicately flavoured chicken and pork broth, and crab meat isn't commonly used for it. So this rendition tastes far more robust, with the crustacean shells giving it a briny flavour.
"People think the ingredients in Asian dishes are simple and cheap, but it's not true. We painstakingly source the best," he tells Her World.
To get the best fishballs for the rich curry dish Otak-otak Jantan, Indigo Blue Kitchen's owner, Desmond Lim, buys them from his favourite stall at Tiong Bahru Market. The dish also has finely cut turmeric leaves and beancurd stuffed with fish paste.
"The fishballs are firm and bouncy, and the superior quality makes all the difference," he emphasises.
WE WANT TO OFFER BETTER-QUALITY INGREDIENTS TO JUSTIFY THE PRICES, AND BECAUSE DINERS EXPECT THAT LEVEL OF REFINEMENT. 
Ayam Buah Keluak, $19.90, and Babi Assam, $18.90, Godmama. 
PRESENTATION MATTERS
Apart from the food having to taste great, the art of presentation is also essential in fine cooking, say chefs.
"Eating is no longer just about the flavours but also how it looks, how it's presented. A storytelling element is part of the whole dining experience," says Chef Chong Jun Xiang. "The attention is on the details on the plate."
At Indigo Blue Kitchen, classic Peranakan favourites are given a pretty makeover. 
For instance, Apom, a fermented rice puff, is usually eaten plain. But here, diners can expect a visually appetising treat: a colourful medley of petite and rounder rice puffs served with three kinds of sauces – jackfruit, banana and D24 durian. 
Chef Seki Takuma of modern Japanese eatery Noka concedes: "These days, people are particular about everything on the dish, even the garnish. Everything has to work together." 
One dish that looks as good as it tastes is the Snow-aged Niigata Wagyu Steak, which is presented like a mixed-media collage. The charcoal-grilled sirloin is showered with fragrant garlic chips and accompanied by a spectacular mosaic of Edible Garden City's Okinawa spinach, herbs and daikon radish. 
The verdict: The meat is ever so tender, and is enhanced by the zesty yuzu ponzo sauce that accompanies it.
Chef Chong Jun Xiang of Indigo Blue Kitchen.
At another Peranakan restaurant, Godmama, head chef Fredric Goh presents heirloom recipes with subtle twists – he replaces traditional popiah rice skin crepe with a handmade wrap of soft egg skin for the All-star Egg Skin Popiah. 
It's a winner: The firm, chewy egg-skin crepe wraps around moist, sweet, cut-by-hand vegetables. A sprinkling of crispy shallots enhances the flavours. 
The eatery's weekend brunch menu features another interesting dish: Buah Keluak Bolognese Pasta.
"Buah Keluak is an acquired taste," Fredric explains. "I'm trying to do something special for younger consumers by reintroducing classic dishes so as to get them to appreciate the cuisine."
As for traditional Teochew food, once a perennial favourite among the older generation, it's fast disappearing from the local food scene. So, executive chef Chan Ka Cheong of Zui Yu Xuan Teochew Cuisine is taking a fine-ingredient approach to it.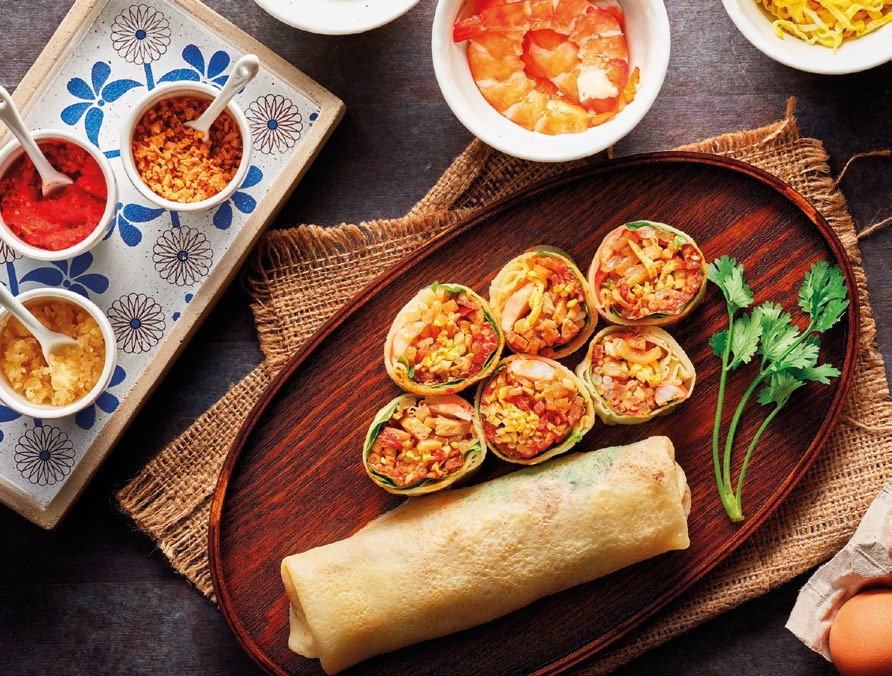 Nonya Popiah, $18, Indigo Blue Kitchen.
He selects premium crabs sourced from Singapore and Australia that have creamy roe and sweet, moist flesh, for the restaurant's most popular Cold Crab dish. 
While many eateries serve this dish with black vinegar and ginger, Chef Ka Cheong's version comes with a piquant kumquat plum dipping sauce to enhance the natural flavours of the crab. 
He adds: "We also need to educate and groom our younger generation of chefs to ensure that the art of the cuisine is passed on." 
Pig Trotter Terrine, for example, is a time-honoured Teochew delicacy. At this restaurant, preparing it is a meticulous exercise. The trotters, belly, skin, bones, fat and ingredients are slow-cooked in soup stock for eight hours until the mixture forms a mouth-watering jelly. The terrine, with its chewy yet tender texture, melts in the mouth.
The verdict: surprisingly light, with a slightly acidic taste that lingers without any overpowering meatiness. It is accompanied by a tangy homemade chilli sauce.
GODMAMA
#04-07 FUNAN MALL 
WHAT ELSE IS GOOD: Nasi Ulam (steamed rice) is tossed with a variety of herbs and ingredients, including grago (baby krill), giving it colour and a robust favour. 
NOKA
#07-38 FUNAN MALL 
WHAT ELSE IS GOOD: Refreshing Tomato Salad is a starter dish of ox heart organic tomatoes and rooftop herbs with yuzu pepper vinaigrette.
ZUI YU XUAN TEOCHEW CUISINE
FAR EAST SQUARE, 130/131 AMOY STREET
WHAT ELSE IS GOOD: Local Lobster Wok Baked with Fermented Bean and Garlic Teochew Style features Australian lobster tails coated in butter, fermented bean and garlic. The lobster meat is tender, and each bite is flavourful. 
INDIGO BLUE KITCHEN
#03-09/10/11 SHAW CENTRE 
WHAT ELSE IS GOOD: Satay Babi Lemak comprises premium pork stir-fried in candlenut-spiced coconut cream sauce with kaffir lime leaves. And the Chicken Satay uses a Japanese-izakaya skewering technique. 
PHOTOS FRENCHESCAR LIM & VEE CHIN
LIGHTNING SHAN