One is a skilled kaiseki chef whose entire menu focuses on Japanese wagyu. Another is reinventing Chinese desserts. Then there are the young talents creating unique renditions of modern Korean cuisine. All have carved out a niche in Singapore's crowded dining scene.
One is a skilled kaiseki chef whose entire menu focuses on Japanese wagyu. Another is reinventing Chinese desserts. Then there are the young talents creating unique renditions of modern Korean cuisine. All have carved out a niche in Singapore's crowded dining scene.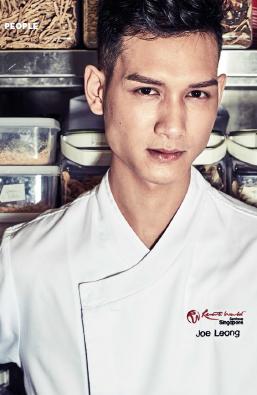 HOME-GROWN INNOVATOR: JOE LEONG OF FOREST
TEXT AMY VAN PHOTOGRAPHY FRENCHESCAR LIM ART DIRECTION SHAN
Joe Leong, 25, has culinary pedigree. He's the son of renowned chef Sam Leong and his wife Forest, of the eponymous restaurant at Resorts World Sentosa (RWS). His late grandfather was a famous Cantonese chef in Malaysia, and his grandmother ran a chicken rice stall. So it's not surprising that Joe chose to continue the family tradition.
After training in various Western pastry kitchens for the last seven years, Joe joined his parents at Forest in January this year as junior sous chef. This is his first foray into the professional Chinese kitchen. His signature style: applying Western pastry techniques to classic Chinese desserts while staying close to the original Chinese and Asian flavours.
At 15, Joe told his parents that he was keen to follow in their footsteps. "My father never wanted me to enter the kitchen as he knows that it's a very tough industry. But my interest and passion eventually won my parents over."
At 16, Joe started as a trainee under award-winning chef and Her World Young Woman Achiever 2011/12 Janice Wong, who had then just launched 2am: Dessert Bar. "I actually learnt in an unorthodox way. I learnt a lot of new and advanced molecular techniques. Although it was tough, it fuelled my interest."
Four years later, he joined RWS' central pastry kitchen. This gave him a foundation in classic techniques, which he gleaned from award-wining executive pastry chef Kenny Kong. A stint at Laurent Bernard Chocolatier introduced him to the art of chocolate making – chocolate is an ingredient he loves. In 2016, he joined Tippling Club. "I worked mostly in the hot kitchen, where I learnt various modern techniques from the chefs," shares Joe.
At Forest, Joe takes inspiration from his childhood to create new desserts. "I think of the Chinese desserts that my family enjoys, such as black sesame soup or egg tarts. I then break them down into individual components before recreating the dish using modern techniques, but with the same traditional ingredients," he says.
Chinese egg tarts are often served warm, but Joe's Reconstructed Egg Tart is presented cold, with salted egg custard between two layers of puff pastry. It is balanced with sweetened whipped cream. "I want it to look elegant and taste nostalgic," he adds. For his black sesame dessert, Joe adds various textures to the dish to create different sensations for the palate. He's also reinvented mango pomelo sago – the pomelo is frozen, giving the dish a different kind of punch, and served with deep-fried sago cracker.
And what has it been like working with his father? "There is always that level of pressure where I am compared to my father. But my dad always tells me to stay humble and be respectful in and out of the kitchen. And most importantly, not to have a big ego as a young cook."
Joe's Textures of Black Sesame: a warm black sesame lava cake placed atop black sesame paste. It is topped with a quenelle of black sesame ice cream, some black sesame crumble, and Malibu jelly for a kick.
MODERN KOREAN CHAMPIONS: SUN KIM AND LOUIS HAN OF KIMME
Korean chef-owner Sun Kim created a buzz when he introduced Singapore to modern Korean cuisine – first with Meta in 2015, and more recently with the casual bistro Kimme.
"I've finally found my point of view," says the 34-year-old, who trained under acclaimed chef Tetsuya Wakuda at Tetsuya's in Sydney and Waku Ghin, Marina Bay Sands, as well as in French and Italian kitchens. "These days, I don't define my cuisine as just modern Korean or modern French. It's about my roots – Korean flavours that I grew up eating, and also about my previous training in different kitchens." Following Meta's success (it received a Michelin star in 2017), Sun launched the more casual Korean bistro Kimme in January this year. "I wanted to serve simple food – such as a piece of fi sh, pasta or Korean pancakes." Kimme is headed by Meta's former sous chef, Seok Hyun Han Louis, 28. "I wanted to showcase my roots. And Louis, being Korean, understands the flavours I'm looking for," says Sun. Prior to arriving in Singapore, Louis had also worked in French and Italian kitchens in Seoul and Abu Dhabi.
Kimme has a laidback vibe, with a large communal table on the ground floor, and a bar offering premium Korean drinks and post-work cocktails on the upper level. Diners have been raving about Kimme's specialities, including Australian wagyu tartare seasoned with soya, garlic, mirin and mustard, and topped with quail egg. "It's a classic French dish seasoned with Korean flavours," adds Sun.
Sun, who's married to a Singaporean, is now adding South-east Asian and Chinese flavours to his creations – take, for instance, his dish of prawns with spicy XO sauce. "I love XO sauce. I learnt how to make this condiment from one of my chefs, who's Cantonese."
There's good synergy between the two Korean talents when they create dishes. Both Sun and Louis love Korean-style sashimi, typically eaten with gochujang sauce, shiso, chilli and garlic. In fact, Kimme's bestselling kampachi dish was conceived when the chefs were eating leftover sashimi for their staff meal. "We decided to create something simple and presentable – so we paired Japanese yellowtail sashimi with gochujang sauce, pomelo and green chilli," says Sun.
Louis' newest creation for Kimme consists of braised pork ribs marinated with Korean pear, apple, soya and garlic (which Sun thinks is "mindblowing"). "The meat is slow-cooked for three hours and served with pickled red cabbage, broccolini and toasted multigrain for crunch," shares Louis.
Both chefs enjoy eating Korean-style sashimi. Their version for Kimme comprises thinly sliced kampachi jazzed up with gochujang sauce, pomelo pulp and green chilli.
Argentinian prawns with New Zealand mussels served with gochujang and house-made XO sauce, spring onions, Jerusalem artichoke and garlic crumble. Below: Kimme's unique version of beef tartare.
THE SPECIALIST: HIROHASHI NOBUAKI OF USHIDOKI WAGYU KAISEKI
Executive chef Hirohashi Nobuaki goes one up by setting himself the challenge of breaking the mould of classic Japanese kaiseki – an elaborate and artfully crafted meal featuring a succession of courses inspired by seasonal produce. He offers one-ingredient centric kaiseki meals at the elegant Ushidoki Wagyu Kaiseki. You'll get wagyu (or some form of it) for every course, prepared using different methods.
Nobuaki, 45, trained in the kaiseki kitchen at a young age. From his childhood helping out his father in his sushi restaurant in Osaka, to working part-time with a kaiseki master when he was at university, the chef has learnt to respect and understand seasonality. Over the decades, he's also honed his artistic craftsmanship and presentation skills.
The two-year-old Ushidoki is the first and only restaurant in Singapore to offer purely exclusive Ozaki beef. The chef reserves a whole cow each month from Muneharu Ozaki, a farmer in Japan's Miyazaki prefecture.
"For our menu, I use different parts of the wagyu. Depending on the texture and flavour of the beef cuts, I decide whether to braise, mince, blanch, grill, or make it into a sauce."
Nobuaki still learns new things when working with wagyu. "I like to use miso, shoyu, and fermented foods, as they bring out the flavour of the beef." A popular dish of his unexpectedly pairs miso-marinated oyster with raw beef, lightly torched.
The chef always tries to craft new items with the seasonal ingredients he sources from Japan. For his hassun platter, you get vegetables and seafood cooked in beef consomme. Likewise, the last savoury course of cold somen is served in beef consomme, made with collagenrich oxtail stock jelly. For dessert, he churns imported Hokkaido milk into ice cream, and tops it with burrata cheese and gula melaka, or with fruit and aged balsamic vinegar.
Having worked in Singapore for nine years, Nobuaki also tries to weave local elements into his creations – like with his Ozaki beef jerky or "beef bak kwa". His new menu was inspired by Chinese-style pork knuckle in black vinegar. "I use wagyu beef rib instead and cook it with black vinegar." This dish offers a familiar taste to diners here.
Seasonal spring hassun platter (an"expression of the season"): Snow crab with canola sprouts brightened with miso vinaigrette; spring vegetables with abalone, cooked in beef consomme; hamaguri (hardshell clam) with angelica bud topped with consomme jelly.
Iidako (baby octopus) served with broad beans.
Uni (sea urchin) is paired with subtly bitter hana wasabi leaves which bloom in spring.