In a self-quarantined world, Michelle Tchea discovers that vintage sardines are a hit with gourmets and collectors – and have quite a cult following.
It is after 8pm in Barcelona – the perfect time for tapas and vermouth. Perched on barstools in their taberna or neighbourhood watering hole, two friends are staring intently at the tapa before them. The cold-pressed olive oil coating the sardines in the metal tin glistens under the pendant lights, creating a golden hue as if sent from the heavens.
Of course, this is not your average tin of small fish. These are vintage sardines, considered pijo – Spanish slang for posh – and priced at a little over 200 euros (S$310). Just like fine wine or cheese aged for 15 years, they represent immense value and pleasure for gourmands. Even a Michelin star chef knows to resist the urge to embellish the tin's contents for fear of ruining a truly artisanal product turned precious commodity.
THE LUXURY OF TINNED DELICACIES
Eating in a lockdown has taught us that there are simpler ways to enjoy gourmet foods. Think gastronomic treasures of the canned kind.
Cast your inhibitions aside for a moment because the gourmet hierarchy is not as bleak and absolute as we think. European countries and even Japan celebrate artisanal ingredients locked tightly into a humble metal tin with a key or peel-back lid. Why, one of the world's most sumptuous indulgences – caviar – is transported in a tin. Now, imagine a delicately grilled Atlantic pilchard served in a rich tomato confit so juicy and luscious, it melts in your mouth. Welcome to the exciting world of gourmet canned sardines.
HISTORY IN THE CANNING
Just like most canned foods in their beginnings, the very hallmarks and unique selling points of canned sardines – convenience and portability – tarnished their image and drove them down the economic and social ladder. They were perceived as food only eaten in emergencies and during civil unrest and drowned by the mantra: why eat canned food when you can eat fresh?
Well, they are downright tasty and good for you. Cardiologists in Spain have advised patients to consume at least three servings of canned sardines a week for optimal health. Just one can is chock-full of protein, omega-3s fatty acids, vitamins A, B12, E, D and K, copper, zinc, magnesium phosphorus, selenium and calcium levels much higher than those found in fresh fish for bone strength.
These tiny fish are washed, prepared either by steam-cooking or deep-frying and dried before being canned. Most manufacturers pack them in olive oil.
Through experimentation and applying his experience as a former confectioner, vintner, chef, brewer and pickle maker, Parisian Nicholas Appert invented the modern foodcanning process when he concluded  that the best method of preservation was to heat food to the boiling point of water and then seal it in airtight glass jars.
Looking for a way to efficiently feed its starving army and navy while Napoleon Bonaparte set out to conquer Europe, the revolutionary French government offered 12,000 francs to anyone who could devise a way of doing just that in 1795. Appert took up the challenge and, a decade or so later, the principles of his solution were tested successfully by the French navy, which found that everything from meat to vegetables and even milk could be preserved at sea by using his method.
The Frenchman used the money he was awarded in 1810 – the same year Peter Durand, a British merchant, received the first patent for the idea of preserving food using tin cans – to open the world's first cannery, only to see it destroyed in 1814 as Napoleon's empire fell to pieces.
Although the practice of canning fish officially began in 1824 in Nantes, France, it moved to Portugal in the 1850s because the quantity and quality were far superior, thanks to the long Mediterranean coastline where the most important fish, with the best quality and the best flavour, are sardines, and historical fishing practices.
In the 19th century, there were more than 400 canneries; now there are only about a dozen left in Portugal. At its height, over 50 million cans were being produced in the country alone. And the buzz was warranted and genuine; even Tiffany & Co. started selling sterling silver four-prong sardine forks.
Fast-forward to today, the tinned sardine – which Nuno Rocha, sales director of Conservas Pinhais jokingly calls "the third marvel of the country, after soccer and sunlight" – has evolved into a highly sought-after product and a fashionable superfood – healthy, artisanal and sustainable, as well as supporting climate change with relatively new European fishing laws in place to maintain the health and longevity of the ocean.
In fact, an artisanal can of sardines is manually prepared, reducing emissions-free from pollutionemitting machinery and providing an excellent alternative to overfished bluefin tuna and questionable farm-raised salmon.
Tinned sardines, by nature, keep for years, so what exactly is happening with these vintage sardines? If they're packed in olive oil, their various flavours and aromatic compounds mix and mellow with one another, becoming tastier as time goes by.
Vintage sardines are prized for their even mellower flavour. After years of being turned in the tin, it is more subtle and nuanced, with a soft, plump texture from the tiny bones in the fish breaking down over time. Fans of this delicacy enjoy the aged sardines on toast or crackers – or even simply on the end of a fork.
FILLETED FRESH, NEVER FROZEN
The Pinhal family has been in the cannery business for more than 100 years and remains the sole manufacturer producing products by hand in Portugal, with more than 40 steps involved. At Conservas Pinhais today, a little over 100 employees operate as one "family" under third-generation owner Antonio Pinhal. Workers (mostly women) await fresh fish caught off the coast of Matosinhos in Northern Portugal before the canning process begins. The sardines from the Atlantic Ocean are hand-cut, cleaned and filleted fresh – never frozen – and then grilled, salted or marinated before being hand-packed into tiny cans.
This labour-intensive process might incur high costs but the Pinhals prides themselves on traditions and unrivalled quality.
"We cook our sardines in a century-old oven and use only the best high-quality fish, caught fresh. We do not cook our sardines inside the can, like other industrial productions," says Pinhal. This key differentiator allows the fat and moisture to stay in the can for a far superior flavour profile.
Adriano Ribeiro and his partners have a different mission. They founded Jose Gourmet in 2008 to not only rebuild the country's seafood industry but to give it the same reputation it has on local soil abroad. "If you come to Lisboa without knowing anything from our history, you will not realise that we are the country of cans," says Ribeiro who created the brand while living in Macao and longing for Portugal's ultimate comfort food – sardines, of course.
Using slightly upmarket packaging and bespoke designs, Jose Gourmet is recognised by affluent gourmets who appreciate a good can of seafood. "We believed that with our design and packaging, matching the quality of the finest fish would be the best for us and Portugal. Tradition is great and we appreciate it, but we are also rigorous with our quality and selection (of the best), bringing another point of view to the market."
Across the border, in neighbouring Spain, canned foods are a highly prized luxury item, particularly during la hora del vermut, or the vermouth hour before eating to "wake up" your appetite for a good tapa.
Conservas, Spanish for conserved foods, can be found in supermarkets, restaurants and tabernas. However, unlike other nations, their repertoire is not limited to sardines; it also delicately canned cockles, mussels, razor clams and roe.
Micky Irisarri opened Conservas Nudista in the Chamberi neighbourhood of Madrid in 2016. Always fascinated with canned foods and sharing his father's love of shellfish, Irisarri remembers spending his pocket money on canned sardines, mussels and cockles as a young boy while friends bought candy. He now travels around Spain searching for new artisanal canners and serves them "nudista" – as is and unadulterated to highlight the preserve.
"Our philosophy is to find the great product made by small factories and to add value to how good canned food is. Everything is region-specific. Our sardines and seafood come from Galicia, and anchovies come from Santona. We love what they do and they like what we do with their products."
Javier Bonet, chef-owner of Sala de Despiece in Chamberi applauds this food trend that unfailingly induces a sense of pleasure. "Canned food," says Bonet, "is nostalgic for me. I remember family appetisers, summers eating cockles and fighting with my brothers to drink the broth left in the can. The quality cannot be compared; the cooking and treatment are artisanal. Sometimes, it is better to have a great preserve than poorly cooked fish.
"There are cans from Portugal, which reach astronomical prices and I can understand that – it is the power of preservation, best done in Portugal. What once was an affordable product is definitely now gourmet. Small productions and high-quality ingredients attribute to the costs."
A MODERN APPROACH
Spain and Portugal's obsession with canned foods reaches a whole new level with vintage sardine collectors. Much like wine collectors, enthusiasts source tins of sardines not as a means of stockpiling, but to age them.
As for the "Best before" date tinned sardines typically carry, this is not a safety expiration date, but the manufacturer's estimate of how long the sardines will remain at peak quality – provided the tins are properly stored and undamaged.
When it comes to the quality, whether five or 15 years old, hardcore enthusiasts have found that time seems to improve the flavour as osmosis occurs between the fish and oil for a richer, unique taste and denser textured fish.
The only vice is you have to physicall rotate your investments every few months to ensure the precious gems are completely bathed in their rich liquid.
Canned Fish
Conservas, which loosely translates to preserved in Portugese, is a delicacy in Portugal.
"A cult has built up around these canned fish. The special qualities of the best brands, the correct year and maturity period within the tin constitute a kind of gastronomical religion."
JOSE CARLOS CAPEL WHILE WRITING IN THE SPANISH JOURNAL GOURMETOUR 
01 Conservas Nudista, a Madrid tapas place specialising in tinned food.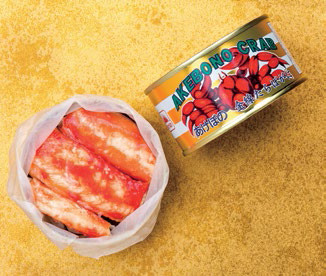 02 Maruha-Nichiro Crab in a Can, from Japan.
03 A dish made in part by tinned food.
04 A small selection of what's being served at Conservas Nudista.
OTHER THAN FISH...
CANNED GLORY
Vegetables, pulses and meat in tins are also proving to be a treat for gourmets and countless regular people, here and abroad.
In Germany, spargel, the beautiful springtime white asparagus is preserved in both cans and jars. Often referred to as white gold, the sun-deprived legume maintains its beauty when conserved and enjoyed straight out of a can.
France's canard de confit, which originated in Gascony, is both patriotic and revered by gastronomes wanting a delicately poached duck at the pop of a can.
Over in Japan, a thriving canned food industry exists despite the citizens' obsession with raw fish. Iwashi (sardines), sanma (Pacific saury) and saba (mackerel) come in cans that cater gracefully to common households in Japan. Of course, prices can make your knees buckle when you're talking about, say, king crab legs – deshelled, tightly packed in a salty brine and topped with a golden leaf – or melt-in-your-mouth Matsusaka beef served in its own broth with soya sauce and ginger.
01 Cheesecake in a tin.
02 Puerros, or leek, served from a can.
03 Pickled mussels, which the Spanish call mejillon en escabeche
01 Tinned food is such a delicacy that even the packaging is an art form.
02 A hearty tapas meal comprising different types of seafood that have been tinned.