The Singapore fashion community has been innovating ways to cope with the coronavirus crisis.
Before the coronavirus pandemic, fashion designer Lisa Von Tang, creative director of her eponymous luxury streetwear label, used to host freewheeling art jamming house parties.
"My husband and I would invite friends over, stir up the sangria, bake cinnamon rolls and put on vintage Carlos Santana records. Friends would set up their canvases and we'd create the space for each to express themselves through paint," says Von Tang.
For the past few months, social gatherings have been on hold to reduce the transmission of Covid-19. Still, Von Tang felt strongly that art could be a balm in times of difficulty. "A colleague and I wanted to encourage people to get creative and feel good about themselves – instead of just draining their energy on Netflix," says the Canadian-born, Singapore-based fashion designer. So, they began to brainstorm for ways to encourage people to indulge in creative pursuits at home.
In April, the brand launched Hope is Contagious, a design initiative that encouraged individuals to create original artwork and enter it in the brand's T-shirt For Hope Contest, which closed on May 30. They could also buy a T-shirt for Hope with their original artwork printed on it. The price included a US$25 (S$35.50) donation to the World Health Organisation's Covid-19 Solidarity Response Fund.
The contest's judges – including artist Dawn Ng, filmmaker Shruti Ganguly and Talenia Phua Gajardo, founder of art website The Artling – will pick five winners this month.
"I love the idea of encouraging people to leave their analytical brain… and get into their artistic flow," says Von Tang.
MAKE OR BREAK
This art competition is just one of the novel ways Singapore's fashion industry is pivoting to shore up business during the pandemic. "The Textile and Fashion Federation (Taff) believes brands need to continuously innovate by looking into technology – including textile technology – and sustainability as there are opportunities in other areas, such as the healthcare sector, which they may not have considered before," says Semun Ho, CEO of Taff, a non-profit trade association.
Indeed, from making luxury face masks for the sartorially inclined to launching innovative fundraising efforts for communities affected by Covid-19, designers are showcasing their creative and entrepreneurial mettle by coming up with unique ways to stay in business. For many, the survival of their brands will depend on whether they succeed in these efforts or not.
At a glance, the numbers are certainly worrying. As Singapore grapples with the economic fallout from the crisis and consumers avoid discretionary spending, the retail industry has been particularly hard hit. According to the Singapore Department of Statistics, retail sales dropped 13.3 per cent in March compared with the same period last year. Apparel and footwear sales saw a drop of 41.6 per cent.
From an estimated worth of $7 billion two years ago, Taff reckons that the value of the local fashion industry, inclusive of the supply chain, from manufacturing to retail, has dropped by at least half during this period – if not more.
At the time of writing, bespoke menswear tailor Kevin Seah observes: "Everything is at a standstill as we are not allowed to be in the atelier because of the circuit breaker. Some of our fabric suppliers overseas are also in lockdown mode, hence there's not much we can do."
MIGRATING ONLINE
In response to closures of brick-and-mortar premises, some brands have doubled efforts to digitally transform their businesses, often going the extra mile to make the experience unique for customers.
To complement its e-commerce site, womenswear brand Reckless Ericka has launched a Whatsapp Business line, where customers can chat directly with the team to receive styling tips, browse the catalogue and even make purchases.
To mirror the experience of shopping in its physical stores, fashion and lifestyle label In Good Company has worked swiftly to list products by other homegrown brands such as Fossa Chocolate, Books Actually, Mmerci Encore and The Gentle Label on its e-store. "This gives them another avenue of retail, access to our well-established fulfilment logistics as well as an opportunity to reach out to our customer base. It is our way of supporting the community," say Sven Tan and Kane Tan, co-founders of In Good Company, in an e-mail statement. So far, two of the brand's F&B partners, Birds of Paradise and Plain Vanilla, have also launched e-stores.
However, for most designers, online sales are just a stopgap measure as shoppers for fashion often prefer visiting physical stores. Both Reckless Ericka and In Good Company are currently earning about 25 to 30 per cent of their regular revenue from e-commerce. "If our brick-and-mortar stockists remain closed till the end of the year, we may not be able to sustain this business model," says Afton Chen, Reckless Ericka's designer-owner.
Seah, whose business involves meeting customers in person for intricate measurements and consultations, has seen his sales drop to practically zero since his atelier's closure due to the virus. Still, he's not giving up without a fight. Besides working on a new collection inspired by life after this situation, Seah is revamping his online store by working on collaborations with other lifestyle brands to create exclusive new products.
He has also created #KevinShares, an ongoing social media series, featuring artists and designers who inspire him. Previous posts include his musings on Italian photographer Paolo Roversi, de Gournay wallpaper and Japanese singer-songwriter Yamashita Tatsuro. "I've even had a couple of overseas clients calling me to tell me they enjoy my posts," he says.
INDUSTRY ASSISTANCE
Taff is also stepping up efforts to offer practical programmes to help keep businesses afloat. Besides moving its key programme The Bridge Fashion Incubator online, it has incorporated Covid-19-related guidance in its various webinars and incubator modules. From pragmatic advice such as revising business models to organising online networking sessions, the aim is to assist brand founders in coping with the effects of the pandemic.
The organisation also has a Masks 4 SG initiative to help address the shortfall in fabric masks in the country. Its website provides information on recommended materials, best practices and a step-by-step pattern guide to making masks at home.
Exhortations to adapt to the changing environment have not gone unheeded. Many local brands, including Lisa Von Tang, menswear tailor CYC and African-inspired label Olive Ankara have worked swiftly to include fashionable masks in their product line-up. For Von Tang, her premium masks have been a lifeline, with the brand's e-commerce site earning a 3 per cent increase in sales compared to the previous year. But she cautions that relying on this is not sustainable for the business as its Singapore-based tailors are usually hired for high-priced bespoke creations.
GIVING BACK
Even though the industry is struggling, many brands are finding ways to help those in need. For example, those selling masks have committed to donating a portion of proceeds to needy communities. Luxury swimwear brand K.Blu, on the other hand, is partnering SAMH (Singapore Association for Mental Health) to hold wellness workshops for teenagers and young adults.
Others are rising above personal setbacks by giving back in other unique ways. Priscilla Shunmugam, the founder of womenswear label Ong Shunmugam, had to close her London boutique in March – before it even opened. Nevertheless, she felt moved to help Singapore's migrant worker community by holding a fundraising campaign via the sale of the brand's tableware collection. A total of $30,000, including a contribution of $10,924 from Ong Shunmugam, was raised for HealthServe, which serves migrant workers.
In a separate fundraiser for HealthServe, In Good Company started A Little Community of Good with five other brands, including Books Actually, Mud Rock Ceramics and Petit Pain. The collective pledged to match public donations dollar for dollar, with a cap of $30,000. In less than a week, the team achieved its fundraising goal of $60,000.
"Even though everyone's sales have been affected during these months, we felt it was important to share what we could," say Sven Tan and Kane Tan. "All of us have, to some degree, benefitted from the work done by our migrant community. We know we are in a position of privilege and the fact that we can continue our business online – no matter how trying, come what may – is gratifying."
01 BRIGHTER DAYS AGAIN
A casual-chic look by Lisa Von tang.
02 STRONG MESSAGE
You can buy Reckless ericka products via the brand's new Whatsapp Business line.
03 MODERN MIX
One of the latest styles by In Good Company.
04 ART FELT LISA VON
Tang's Hope is Contagious campaign.
Taff's Masks 4 SG initiative.
1 GREEN IS STILL IN
Sustainability will be more crucial than ever in a post-Covid-19 world.
On the whole, luxury brands, while still concerned for their bottom line, seem to be performing better on the green front. Sustainability remains a priority for Burberry, as evidenced by its latest campaign, ReBurberry Edit, that was unveiled on Earth Day this April 22. The collection features 26 pieces of clothing and accessories made from green materials such as recycled nylon and bio-based plastic. Prada already has a sustainabilityled ReNylon project in place. Last year, it dropped a capsule line of bags produced with Econyl, regenerated nylon crafted from fishing nets, textiles and other plastic waste collected and recycled from the oceans.
Brands are also experimenting with digital fashion shows in their bid to reduce carbon emissions produced by travel during fashion shows. Ermenegildo Zegna, which celebrates its 110th anniversary this year, used a new format to present the brand's spring/summer 2021 menswear next month. Christened a "phygital", it is a portmanteau of physical and digital. "I have always wanted to use alternative formats to communicate my creative process... It gives me great energy and freedom of thought," said artistic director Alessandro Sartori.
2 GOOD MOTIF
For many luxury leather goods makers, patterned canvas – rather than just leather – makes up a good part of their product range. Under its creative director Kris Van Assche, 125-year-old luxury label Berluti has introduced its first patterned canvas, Signature.
At the centre of the pattern is a motif created by Van Assche. It combines the house's new logo that's based on a carving of the brand's name on the shoe tree of the first pair of shoes made by founder Alessandro Berluti and the fluid strokes of the Scritto calligraphic motif. Printed over black and in shades of grey inspired by the Parisian cityscape, Signature is complemented by leather details and studs. Find it across a range of leather bags, from briefcases to totes.
3 VIRTUALLY VLTN
Since you or your digital avatar can never be too well dressed, more designers have been taking the virtual route. In 2019, for instance, Louis Vuitton created outfits for characters of the popular video game League of Legends.
Also, thanks to the recent global lockdowns, the Nintendo social-simulation video game Animal Crossing: New Horizons has gone viral and is a hit with players seeking a stress-free diversion by populating their desert islands. The difference now: they can do so in style. Brands such as Valentino (pictured) and Marc Jacobs have partnered with Instagram account Animal Crossing Fashion Archive to create looks users can put on their avatars. Game on.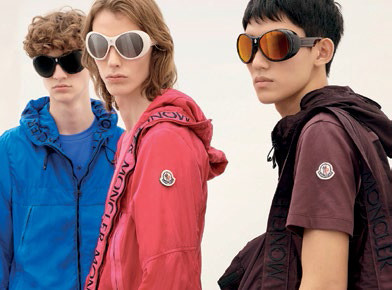 4 BEYOND THE PUFFER
Just in case you've forgotten that lifestyle and skiwear brand Moncler is perfectly capable of making clothing beyond padded nylon jackets, it's launched the Back to the Origins collection for Spring/Summer 2020. Inspired by the world of hiking, it includes lightweight, garment-dyed nylon hiking jackets with mountain-ready bungee ties and extra-large pockets, jersey shorts and all-weather trousers. The palette comprises lots of solid, bold colours to give wearers a mental boost, whether you're out on a trail or slouched on your sofa fighting cabin fever.