A sports massage may not be a blissful experience, but it's an effective treatment that will heal old injuries and prevent new ones.
Sports massages get a bad rap and we can understand why. When you attach the word massage to any form of therapy, the immediate association is: "relaxing", "blissful", "sleep-inducing" – sports massages are anything but that.
Often confused with deep tissue massage (DTM), a generic term for a manual massage treatment to reduce areas of tension over the entire body, sports massage therapists move more deeply into the muscles than a classic massage.
"DTM promotes blood flow and circulation, and is great for general identification of muscle weaknesses," says Lynsey Keyes, UFIT's head of marketing and a trained sports massage therapist. "Sports massage is actually a type of deep tissue massage that is targeted at helping recovery after sports or preventing sports injuries. It can be used as regular maintenance in between activity, or simply when necessary to promote recovery."
According to Lynsey, the level of expertise involved in sports massages "require an in-depth knowledge of the anatomy and physiology of the body", an element that differentiates it from general massages – why athletes and sportsmen differ to sports massage as their modality of choice.
"Athletes may benefit more from a sports massage (than foam rolling or using a sauna) as it decreases fatigue, reduces chance of injuries and can improve sports performance by increasing muscular flexibility and range of motion," shares Lynsey. "Your therapist is trained to assess the body for weakness or restriction, and work on a bespoke plan that's right for you and your particular sporting requirements."
In our quest to come up with this trusty guide to sports massages in Singapore, we put our weary, worked-out bodies up for kneading at these five spots – and lived to tell the tale. We mean, review. 
---
PHYSIOACTIVE
Treatment Sports Massage
Best for Sportspeople and regular exercisers looking to speed up muscle recovery and optimise their training
Review Before the massage, my therapist Jia Zhi spent a few minutes chatting with me to find out about my current condition and the areas I wanted her to work on. We decided to focus on my upper back, shoulders, neck and triceps, which were pretty achy from a high-intensity strength training workout I did the day before. With a few gentle prods, she could tell which areas were tight and required attention. Her massage strokes were on point and delivered just enough pressure to release the knots without causing sharp pain. She made sure that my pain level was manageable throughout, and that the right areas were targeted, by constantly asking for my feedback. The session was overall stress-free and beginner-friendly, but could be more comfortable if the hard clinic bed was replaced with a softer one with cushions or pillows to support my face in prone position. After lying face down and slightly reclined for half an hour, I got up with nasal blockage and soreness in my forehead, cheeks and chin.
Note to self: Ask for props next time.
Where Five PhysioActive clinics in Orchard, Raffles, East Coast, Jurong and Novena
Price $70 for 30 minutes; $90 for 45 minutes; $110 for 60 minutes
More info www.physioactive.sg
- Estelle 
CORE COLLECTIVE
Treatment Sports Massage
Best for Anyone experiencing difficulty in movement, and who is looking to improve sports performance
Review Being a sports massage virgin, I wasn't prepared for the intense pain throughout the treatment, though my therapist Jeff, a buff fitness trainer who specialises in strength and conditioning, said he was "going easy" on me. This was similar to a deep tissue massage, except that he zoomed in on typically tight areas (back, hips, glutes, hamstrings and IT bands) and worked them hard. He used different parts of his hands – thumbs, knuckles, forearms and elbows – to vary the strokes and pressure. Throughout the session, I truly felt like a slab of rigid meat getting tenderised. I consider my pain threshold to be high, but found myself tearing up a few times during the massage, and wondering if that level of discomfort was normal. By the end of it, my whole body was sore and tingly. Jeff assured me that was to be expected, and that the soreness might last for a few days, which it did. He also advised me to up my water intake, as that would help flush out the toxins released from the massage. A few days later, I noticed a deep bruise along the side of my thigh, the most sensitive spot during the massage. On the bright side, I noticed an improved range of movement right after. I could squat more deeply and do alternating low side lunges without hearing my hip joints click. My shoulders and upper back felt like a heavy load had been lifted. I became more aware of my standing and sitting posture, so I guess all that agony was worth it.
Note You may be asked to remove your top and bra during the massage, so request for a female therapist if you're uncomfortable with a male therapist.
Where Core Collective, 79 Anson Road, Level 21
Price $130 for 90 minutes
More info corecollective.sg
- Estelle 
BMJ PHYSIOTHERAPY CLINIC 
Treatment Deep Release Therapy
Best for Competitive sportspeople and active folks who are not getting desired results from sports massages
Review This isn't your typical sports massage, but rather, a combination of sports massage techniques with shockwave therapy (more on that later). Pre-treatment, principal physiotherapist Vanessa spent a good 15 minutes chatting with me to find out about my lifestyle habits, physical activity level, areas of concern including past injuries, and range of motion in my troubled areas. We spent the next 30 minutes working on my left upper back, which felt unusually tight after a suspension training workout two days before. Vanessa started off with firm but gentle strokes along my back, and also incorporated acupressure techniques to release the tension. The massage was systematic and feedback-driven. She would ask me to move my arm to evaluate the efficacy of the massage. With every subsequent round, my range of movement improved. She then moved on to shockwave therapy, which involves using a probe to deliver shockwaves up to 3cm into the skin to increase blood flow in the affected area. This stimulates cell regeneration and healing, and also works to reduce pain. The intensity of the vibration is adjusted to suit the individual's comfort level. As it was my first time undergoing this therapy, Vanessa kept the setting at a manageable level – slightly uncomfortable but not painful. She explained that it's best to keep the pain score around five out of 10 throughout the session, to prevent my muscles from tensing up. After the shockwave therapy, Vanessa tested my range of movement by asking me to do the same set of arm exercises. The side she worked on definitely felt more mobile. The trade-off? The area was sore and tender for the next two days.
Where BMJ@Parkway (#06-03 Parkway Center) and BMJ@Kovan (#03-101 Kovan City)
Price $120 for 45 minutes
More info bmjtherapy.com
- Estelle 
SPORTS SOLUTIONS
Treatment Sports Massage
Best for Athletes and anyone looking to unlock stubborn knots and soothe old injuries.
Review Rule number one: Never judge your therapist by his or her size. Don't be fooled by Shani's petite frame because her fingers are more than adept to locate and release stubborn knots. I arrived limping from an old hip injury flare-up, hence we focused on the problematic area, as well as my shoulders and neck, which were "rock hard", according to Shani. Using firm, targeted pressure, she worked methodically around my hip area, patiently releasing the stuck areas around my glutes and buttocks to increase my range of movement. She checked in regularly to ensure the applied pressure was focused but not so intense as to cause me to grit my teeth. She also took time to explain how sports massages involve the systematic manipulation of soft tissues to heal or prevent sports-inflicted injuries. She added that if I was sore (which I was) the next day, it wouldn't be a bad thing. Moving onto my upper body, her strokes became gentler as she focused on the neck and shoulder areas, instantly causing them to soften and relax. I left feeling a little lightheaded (in this instance, not a bad thing), walking more smoothly and with a noticeable absence of radiating pain from my hip.
Where Sports Solutions, 43 Jalan Merah Saga, #01-70
Price $120 for 60 minutes; $180 for 90 minutes
More info www.sportsolutions.com.sg
- Charlene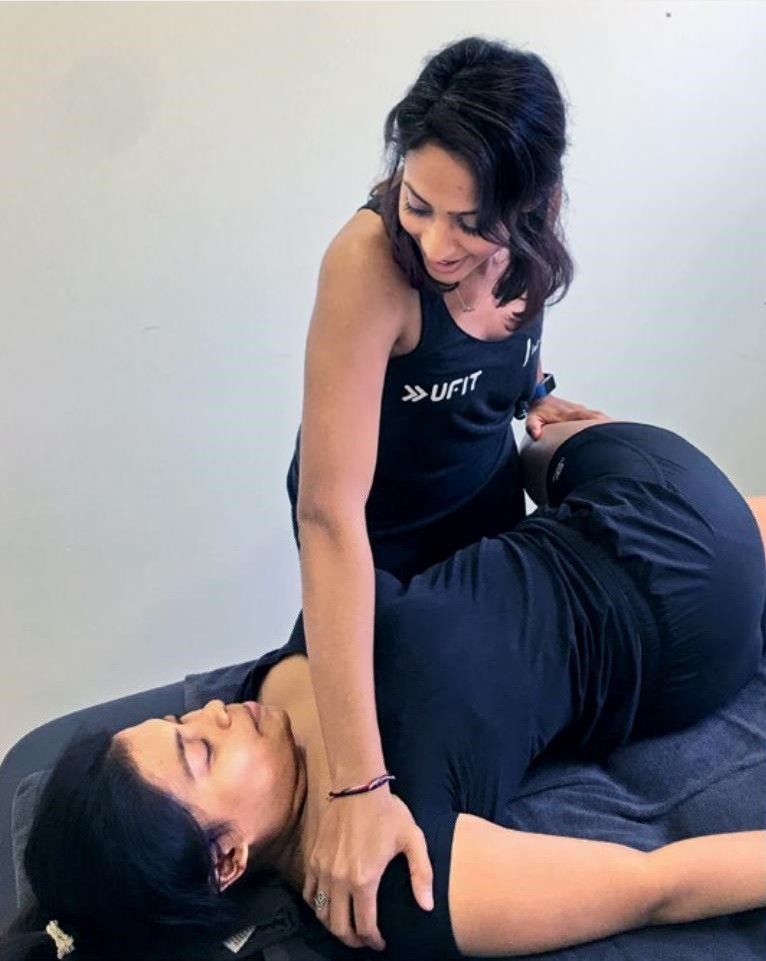 UFIT
Treatment Sports Massage
Best for Active individuals who work out regularly and want to experience less down time between competitions or training sessions
Review One big benefit of getting a sports massage is that it's usually dispensed by someone who is active and can understand firsthand the muscle aches and pains you experience. Another is that they're more trained in knowledge of the anatomy and physiology of the body, which means your massage will be targeted and less of a by-rote exercise. At UFIT, my therapist Cassie – herself an avid long-distance runner – was quick to cotton on to my issues: lower back pain plus tight hips and glutes. She immediately addressed them with a mixture of rolling, kneading and elbow movements. Far from a passive massage, she guided me to breathe in and out to help relax the muscles and aid her ability to work deeper on the extra painful spots. Interestingly, she unearthed a few other areas I didn't even know were sore: my right hip which corresponded with some former tightness, and my pectoral area where I'd been inflicting some stress on from carrying around a heavy bag. She also took the time to address an easily missed part of the body, the ankle, which was surprisingly wobbly from long periods of walking in unsupported footwear. I left feeling a little sore but with a lot less tightness, and fell asleep very easily that night.
Where UFIT Clinic Orchard (#06-11 Orchard Central), UFIT Clinic One-North (#01-37 Fusionopolis Place, Galaxis) and UFIT Clinic Raffles Quay (6 Raffles Quay, #14-02)
Price $150 for 60 minutes; $1,400 for 10 sessions
More info www.ufit.com.sg
- Charlene 
---
SPORTS MASSAGE SMARTS
Different from an aromatherapy or even a deep tissue massage, sports massages differ not just in technique but in delivery as well. Here's what to expect. 
Clothing: If you're not comfortable being in your underwear, bring along a pair of loose shorts and T-shirt, and try to avoid wearing a crossback bra which will impinge the therapist's movement.
What to expect: Unlike an aromatherapy massage where the goal is to relax, a sports massage is more geared towards healing old injuries or preventing the onset of one. It's best to be aware of the sports you do, frequency, areas where you feel tightness or pain, as well as former injuries. The more information you can supply your therapist, the better he/she will work at relaxing those tense muscles.
The pain factor: It is a common misconception that sports massages always hurt. However, this is not necessarily true. If there is too much pain, your muscles will tense up to fight against the pressure, causing the massage to be counterproductive. A good therapist will know only to work the pressure to your comfort level. Always feedback to your therapist if you find the pressure too much, or if you're feeling intense pain.
When to go: Many opt for a sports massage either pre- or post-race, to prepare the body for a sporting event or relieve post-workout muscle soreness. As a guide, schedule a sports massage two or three days before a race so you have sufficient time to recover from the soreness, and one or two days after a race – so you wouldn't be overly sore.
Props: Sports massage props are simple, usually consisting of towels, pillows and baby or avocado oil.
Post-massage: To prolong the effects of the massage, try self-massage techniques at home using foam rollers and trigger balls – ask your physiotherapist or sports massage therapist to teach you if you aren't sure. Stretch frequently to maintain flexibility and keep your muscles lengthened. Taking hot showers or baths also helps to improve blood flow and relax tight muscles. 
OTHER MASSAGE PLACES TO CHECK OUT
Here are more sports massage options to knead you out of your aches and get you back on the road to recovery.
IFC Physiotherapy & Sports Massage
This clinic offers other modalities such as myofascial release, dry needling and trigger point release as well as physiotherapy services.
Where: 39 Hongkong Street, #06-01
More info: ifcpt.com
Core Concepts
Specialising in musculoskeletal conditions, Core Concepts offers sports massages as one of their services to treat back and neck pain, as well as other injured or sore parts of the body.
Where: Five clinics in Raffles Place, Velocity, Parkway Parade, Harbourfront Centre and Biopolis
More info: www.coreconcepts.com.sg
Sports Relief Therapy
Head to this sports clinic if you've got a frozen shoulder or pulled a hamstring. They specialise in a myriad of conditions, ranging from stiff neck to tennis elbow to Achilles tendinitis.
Where: #15-11 Royal Square at Novena
More info: Call 6338-4838 or email sportsrelief.68@gmail.com 
TEXT CHARLENE FANG AND ESTELLE LOW