This year's Great Women Of Our Time award recipients are an audacious bunch and the world is better off because of their work. Join us as we celebrate the achievements of these true game-changers.
This year's Great Women Of Our Time award recipients are an audacious bunch and the world is better off because of their work. Join us as we celebrate the achievements of these true game-changers.
SCIENCE & TECHNOLOGY
Dr Andie Ang, 34, research scientist, Wildlife Reserves Singapore Conservation Fund & president, Jane Goodall Institute (Singapore) 
Dr Andie Ang hopes to pioneer the protection of the Raffles' Banded Langur monkey in Singapore. She is, after all, also the president of the Jane Goodall Institute in Singapore, a non-profit organisation that encourages the understanding and conservation of great apes. "Primatology isn't glamorous, it isn't something that people want to do or talk about, so it's really heartening that the awards recognise environmental conservation as a field that deserves attention," says Dr Andie, adding that she wanted to dedicate the award to Subaraj Rajathurai, a veteran wildlife consultant who passed away in October 2019.
FINANCE & COMMERCE
Val Yap, 31, founder & CEO, PolicyPal
When the Monetary Authority of Singapore (MAS) gives you a helping hand, you can be sure that you're on the right track. That's what Val Yap thought when her start-up, PolicyPal, became the first graduate of the MAS's FinTech Sandbox, which allows financial institutions and start-ups to experiment with promising financial products or services in a supportive environment. "We've obviously struck a nerve because PolicyPal has 16 carriers and 50,000 users, and manages insurance premiums worth up to $70 million to date," explains Val, adding that she appreciates the recognition she's gotten from the awards. "It means a lot to me and my team because it reflects that the product is relevant to consumers," she shares. "We hope it can continue to add value to everyone's life." 
Bright Eyes 
Formulated with probiotic fractions, the refreshing Lancôme Advanced Génifique Light Pearl Eye and Lash Concentrate works to leave the eye contours firmer and more radiant-looking. It comes with a flexible massage applicator that lets you knead over this delicate skin area. A trio-lash complex strengthens lash growth. 
SPORTS, HEALTH & WELLNESS [TIE] 
Gillian Tee, 37, co-founder & CEO, Homage
"We're just trying to be a bridge in Singapore's healthcare system," says Gillian when asked why she started Homage, a home care start-up that connects professional caregivers with seniors who need assistance. The three-year-old company now hosts over 1,000 local caregivers on its online platforms, and works with 20 partners, including hospitals and nursing homes. "I'm grateful and honoured about receiving this accolade but that's not why I do what I do," says Gillian. "More than just picking up an award, I'm happy that I got to meet so many women who inspire me with their stories. To have a support network like the Great Women alumni in place is so important in Singapore."
Nurshahidah Roslie, 32, professional boxer
Strong, independent, and woman are words that get us excited here at The Weekly, and Nurshahidah Roslie ticks all those boxes. Nicknamed "The Sniper" because of her precision in the ring, the boxer had to climb hurdles to get to where she is. "I was overweight as a teenager but I was physically fit and strong. It was only really when I discovered boxing that I really understood what my body could do," explains the world's 24th-ranked women's super bantamweight boxer. "I wouldn't be as successful as I have, if it wasn't for the belief of my family, my friends, and my manager – so I'd like to dedicate my award to them." Looking ahead, the boxer wants to take a stab at Mixed Martial Arts but stresses that "it's just a vision at the moment".
DESIGN & STYLE 
Vivien Leong, in her 40s, consultant, Ipli Architects 
Vivien Leong was the project lead for the team that completed the striking design of Nanyang Technological University's Learning Hub, which is affectionately known as "The Hive". "It's one of Singapore's most iconic buildings and I'm proud to be a part of it," says Vivien. "Architecture is often a thankless job. People don't often remember the architect behind a building but rather the building itself so to be recognised for my contribution is humbling." She also stood out because she is an advocate for narrowing the gender imbalance in the design industry. "I was once told that men are better architects than women and that enraged me," she recalls. "Architecture is not about gender. It is about creating solutions and anyone can do that."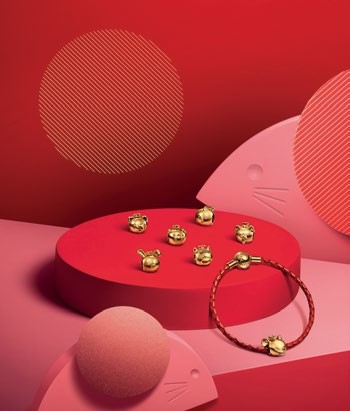 Lucky Charm
Make prosperity your arm candy. Usher in the New Year in style and personalise your jewellery with Pandora's new collection of 12 Chinese Zodiac charms, $99 each; and leather bracelet with shine clasps, $99.
ARTS & MEDIA
Tan Kheng Hua, 56, actress-producer 
A respected figure in the film industry, Tan Kheng Hua was singled out by the judges as an actress whose contribution to the world of arts, stage and film cannot be dismissed. No stranger to receiving accolades after accolades in the course of her career, Kheng Hua was nevertheless overjoyed at the recognition her latest gong has bestowed upon her. "I am so thankful for being chosen the winner in the Arts and Media category for the Great Women Of Our Time awards by The Singapore Women's Weekly," said the actress. "We are all winners, every day we do what we love and do the best we can. I will always do my part for the arts in Singapore no matter where I am in the world." That world has opened up by leaps and bounds for the mother-of-one since starring in 2018's breakout hit, Crazy Rich Asians. She is signed by no less than four talent agencies including the Los Angeles-based GVA Talent Agency and Singapore-based Fly Entertainment. "Unfortunately, I wasn't around to pick up my award but I'm so grateful for the love shown to me and the prize goodies from Lancome and Pandora too," says the thespian. 
PUBLIC SERVICE & EDUCATION 
Adeline Thong, 40, co-founder, The Last Resort 
Parenting can be incredibly challenging but what if the children weren't your own, and you had no obligations or responsibilities towards them? This was the position Adeline Thong found herself in more than 10 years ago when she first decided to start fostering youths who had nowhere to go. She felt compelled to do so because she wanted to make a difference in the lives of others. "The youths I've taken in often wonder whether anyone notices the precarious situations that they find themselves in and whether their cries for help are being heard. And I, along with my husband, want them to know that we do," says Adeline. "I find great comfort in knowing that because of this award recognition, their precious lives are not unseen and forgotten by society. Thank you for acknowledging the need that every one of us can share our love and care with those in need."
Glow Getter 
Created to improve the skin's barrier and its natural healing ability, Lancôme's Advanced Génifique Youth Activating Serum is a must-have first step to every beauty routine. The reformulated anti-ageing serum, backed with microbiome science, is enriched with a complex of seven prebiotics and probiotics to deliver essential nutrients to the skin and boost overall skin health. In just 7 days, skin looks youthfully radiant and smoother. After only one bottle, skin recovers faster and major signs of ageing are improved.
SUBSIDIARY AWARDS
LANCÔME VISIONARY AWARD
Janine Teo, 37, founder & CEO, Solve Education! 
Globally, there are 263 million children who do not attend school, according to a 2016 Unesco study. Janine believes this number should be as close to zero as possible and that all children should have the right to an education, regardless of who they are, where they live or how much money their families have. "I'm particularly passionate about leveraging technology to solve social problems because we need to be able to equip the youth with skills to change their economic situation," explains the non-profit founder. Janine also believes there's still a long way to go. "As long as there's a child out of school, my mission will be about closing the global education gap."
PANDORA SPIRITED WOMAN AWARD
Dr Claudine Pang, 38, medical director, Asia Retina Eye Surgery Centre
"Surprised is the first word that comes to mind," says Dr Claudine Pang when asked how she feels about nabbing a win at the Great Women Of Our Time 2019 Awards Presentation and Cocktail Night. "But I'm happy and grateful to be part of this amazing group of women. I see this award as a form of affirmation for the hard work I've put in so far and it will spur me on more to find ways to do more for the eye health sector in Singapore." The good doctor, who developed Singapore's first, and currently, only eye care mobile app, aims to ride the wave that her win provides. She hopes it will help her to bring subsidised medical care to underprivileged communities who lack basic eye health knowledge.
MOST INSPIRING WOMAN AWARD
Karen Chan, 45, executive director, Asian Film Archive 
The Most Inspiring Woman award is voted on by The Weekly's readers and they saw something special in Karen Chan who has been in the driver's seat at the Asian Film Archive for the past 14 years. While movies may document Singapore's history, it is due to the tireless work of those like Karen who keep this slice of our heritage alive for modern audiences to appreciate. "Old films weren't built to last, unfortunately, and it is my job to restore them, digitise them and promote them for posterity, as well as for education and enjoyment," explains Karen. "I'm thankful for any opportunity for exposure for the Asian Film Archive, and this award has given me just that."
Colour Crush
Inspired by the colours of the rainbow, Pandora's My True Colours collection includes 24 modern-yet-delicate rings and dangles that are the perfect complement to any outfit and personality. Reveal your best self without saying a word. Pandora's My True Colours collection starts from $89.
PHOTOS: VEE CHIN & TAN WEI TE
ART DIRECTION: IVY CHOONG & XU MEIYAN
STYLING: AARON KOK
STYLING ASSISTANTS: JULIET SUEN & AN LYN CHEE
HAIR: JASON WONG/SALON NU, GREGO & ASH LOI/SONDER SALON
MAKEUP: KEITH BRYANT LEE, HONGLING LIM, RINA SIM, WEE MING & JYUE HUEY (FOR SHANN SOK)
LOCATION: 89NR, THE WORKING CAPITOL, BOTANICO AT THE GARAGE & THE SUMMERHOUSE