Sculpt any muscle you want (yes, really!) at these Shape-tested group exercise classes from Amore Fitness to Yoga Movement.
Sculpt any muscle you want (yes, really!) at these Shape-tested group exercise classes. 
For most of us, cardio is the most straightforward type of exercise to blast calories and get a good sweat. But if you want a toned body, simply doing lots of cardio and reducing your calorie intake will not cut it. Strength training exercises are crucial when it boils down to melting away the flab – think shapely shoulders, defined abs and sculpted limbs. 
Having said that, toning up may be challenging when there are so many things to consider. The muscle groups you're targeting, the number of repetitions or the weight you should be carrying are simply the tip of the iceberg. 
Unlike cardio, body-toning exercises usually require more technique and equipment, making them tricky to do on your own. That's why the Shape team went around the island to suss out the most legit group exercise classes that will firm you up. 
These classes are specially tailored to help you score taut muscles you'll be proud to flaunt. Most importantly, they will improve your overall strength and metabolism by leaps and bounds – provided you keep to a regular routine over time. From low-intensity barre to high-intensity boxing-HIIT, these exciting workouts will make you look forward to hitting the gym, week after week. 
AMORE FITNESS - ENERGY SCULPT 
Eight gyms islandwide 
This adrenaline-pumping class will definitely make your muscles burn. Start the class with coordination- based aerobic exercises. Then, proceed to bodyweight exercises involving lunges and squats before using dumbbells to heat things up. The class ends with a solid 20-minute core workout. Whether it's your arms, core, thighs or butt you want to shape up, this class has got you covered. 
ANTHEM - ANTHEM 45
#04-00 Grand Building 
Lights out, music up! For those who love moving to the beat, you will enjoy spin classes at Anthem where each class is tailored to a specific playlist to set the pace. The Anthem 45 class combines high-resistance cycling, weights and bodyweight routines for full-body toning. You will feel the bulk of the burn in your thighs and calves as you dial up the resistance. Track your progress by looking at real-time performance data on-screen, and even the estimated number of calories burnt – great incentive to keep those legs moving.  
BOOM SINGAPORE - BOOM CIRCUIT TRAINING 
#B1-00 TPI Building 
This class incorporates many strength components that are usually missing in a typical HIIT class. You no longer have to choose between cardio and strength training because this one offers a good mix. The eight stations featuring exercises like burpees, boxing and strength training using free weights will elevate your heart rate. The class size is capped at eight to ensure a personalised touch. 
BOX OFFICE - KNOCKOUT 
#03-01 35 North Canal Road 
The class at Box Office involves 10 three-minute rounds of exercises to help you firm up – fast. The moves are split between floor exercises and boxing sequences. We felt like total badasses punching the aqua training bags under neon lights, along to an electrifying playlist. The cosy vibes and friendly instructors will make you feel right at home instantly. 
BREATHE PILATES - REFORMER & TOWER 1
#11-02 6 Raffles Quay, #09-33 Novena Medical Centre, #13-02 Parkway Centre, #01-04 Galaxis and #05-07 Camden Medical Centre 
This is one class you definitely cannot slack off at. With a maximum capacity of five, you will get plenty of attention from the instructor who makes sure you're doing the moves properly. Unlike mat pilates, reformer pilates adds resistance to the workout. This encourages the growth of lean muscles without the bulk. The extensive stretching as well as core and lower body exercises will help you loosen stiff muscles and tone up. 
FITNESS FIRST - BODYPUMP 
20 gyms islandwide 
Need a little push to do weight training? This barbell workout is for you. Bodypump uses light to moderate weights plus high repetitions to strengthen your entire body. With upbeat music and high energy from the instructor, this class will psych you to go further and deeper. 
COMO SHAMBHALA - CORE BARRE 
#06-01/02 Delfi Orchard 
If you think you will only be working your core in this class, you are mistaken. Core Barre at Como Shambhala incorporates yoga, pilates and ballet movements to make sure you are engaging all body parts from your head to neck, and right down to your toes. Don't be fooled by the small and seemingly effortless pulses and motions – you will find your muscles quivering. The class makes use of light weights, resistance bands and mini exercise balls for strengthening and conditioning. With a variation of upper body exercises, barre and floor work, it doesn't get dull. 
JAL YOGA - POWER YOGA 
#01-03A 991 Alexandra Road 
This class strikes a fine balance between strengthening and relaxation. The workout is low-impact, but don't underestimate it. Your body will be fully stretched and strengthened through a series of invigorating yoga poses. If you're lucky, your instructor will use aromatherapy by dabbing essential oil on your forehead during savasana for ultimate relaxation. Post-workout, chill out at the spacious and inviting lounge. 
PURE YOGA - HATHA 1 
Level 4, Chevron House, Level 18, Ngee Ann City Tower A, #06-02 Asia Square Tower 2 and #01-501 Suntec City Mall North Atrium
Your workout doesn't have to be at a crazy- high intensity for you to build muscle. The Hatha 1 class at Pure Yoga is slow-paced but it will stretch every muscle fibre in your back, hips and hamstrings. Stretching is important as it elongates your muscles (for that nice, lean look) and increases your body's range of motion. It also reduces tension in your muscles to increase their efficiency, allowing you to achieve more during your workouts. The class comprises a range of standing and sitting poses such as lunges, twists and core strengtheners. Experienced yogis may wish to go for Hatha 2 or 3 for more challenge. 
PURE FITNESS - ABS BUTT AND THIGHS 
Level 8, Ngee Ann City Podium Block, Level 6, Asia Square Tower 1 and Level 4, Ocean Financial Centre 
This class zeroes in on what it says it is – abs, butt and thighs. While some classes are great when they are small, this is one class that works well in a big group of over 20 people. You can decide on the number of reps for each exercise, but with everyone around you working so hard, you will be motivated to keep pushing yourself to the limits. Beginners shouldn't have to worry, as the instructor will walk around the class to check your form. 
FREEDOM YOGA - CRUNCH TIME 
#12-01 Heng Da Building and 25E Lorong Liput 
Fire up your big muscles. This class involves a lot of balancing work that targets your core, glutes and legs. It also incorporates novelties like doing the warrior pose with one leg on a blanket to up the challenge. You will feel right at home with their loft-style studio furnished with comfy sofas. Bonus: Catch the sunrise or sunset from the studio if you go for an early morning or evening class. 
TRIPLEFIT - TRX GRAVITY
#02-63 Millenia Walk 
Take your fitness goals to new heights with this gravity-defying workout. It will especially appeal to those who are not fans of lifting heavy weights. TRX Gravity is a suspension-training class that uses suspension straps, gravity and bodyweight as resistance to sculpt your muscles. Even if you are new to this, you'll have no problem following the moves as the trainer provides clear demos and goes around to check on everyone. Whether it's power pulls, chest presses or squat jumps, your form will be corrected, in order to get the most out of your workout.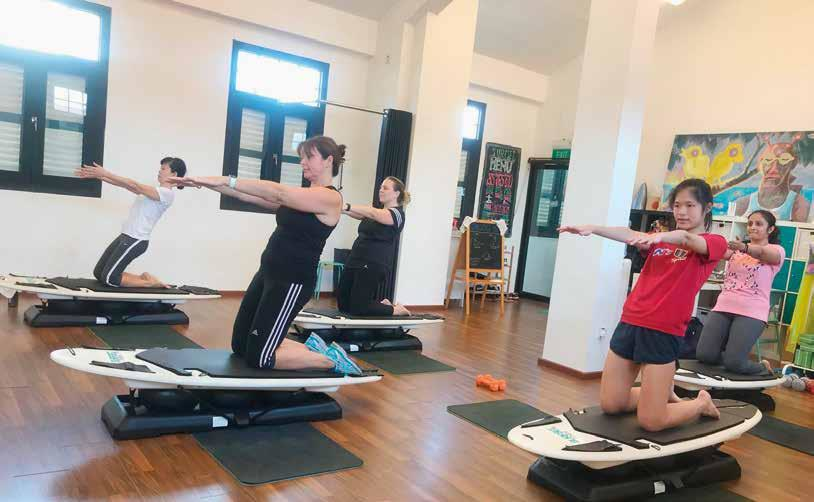 SURFSET - SURFSET CORE 
Level 3, 454B Joo Chiat Road 
We may not be blessed with convenient seas to surf, but you can surely take the experience indoors. The workouts at Surfset mimic the movements of surfing by using an unstable surfboard supported by resistance bands. Don't despair if you find yourself wobbling uncontrollably on your first try. Deviating from stationary workouts, this workout forces you to engage your core muscles to the max. When you're doing planks and squats on a shaky board, there's no room for distraction. Despite the challenge, the small class size along with fun-loving instructors provided a light-hearted atmosphere. First-timers have to attend the introductory Surfset Balance class before signing up for the other classes. 
TRUE YOGA - YOGALATES 
Level 4, Pacific Plaza 
The mix of yoga and pilates makes this class engaging and challenging at the same time. Despite its slow pace and low intensity, you will find yourself perspiring quickly as you dive into exercises that involve strength and balance. Yoga blocks are used in balancing moves, while towels are used to assist in stretching exercises. The class ends with core exercises that focus on form rather than speed – painful but worthwhile. 
TRUE FITNESS - GRIT STRENGTH 
Eight fitness centres islandwide 
Using barbells and weight plates, expect to do a range of high-intensity exercises such as squats and lunges to push your muscles to the limit. Short and sweet, this 30-minute workout is perfect to squeeze into your lunch break, giving you a much-needed energy boost to get through the rest of the day. 
VIRGIN ACTIVE - POWER PLATE STRENGTH 
Level 6, Tower 2, One Raffles Place, #06-01 Tanjong Pagar Centre, Level 2, The Heart of Marina One, #03-05 Raffles Holland V, and Level 1, Duo Galleria
Shake your flab away and carve lean muscles with Power Plate technology. Power Plate is a machine that uses vibrations to stimulate your muscles to contract, so you can activate several muscle groups at once. At Virgin Active, this class incorporates free weights and strengthening exercises to sculpt you in the most effective way possible. The class size is capped at eight to ensure you get ample guidance and attention throughout. 
YOGA LAB - CORE 
Level 2, 10 North Canal Road, #03-01 135 East Coast Road, 60B Duxton Road and Level 2, 27 Boon Tat Street
Make use of your own body weight to strengthen and condition your major muscles in this class. Core- strengthening poses like planks and side planks will make you activate those abdominal muscles fully. You will also get to challenge yourself with balancing exercises like warrior poses and chair pose with heels lifted off the ground – great for your back and thigh muscles. This 60-minute class will leave your whole body aching the next day. 
YOGA MOVEMENT - POWER FLOW 
31A & 33A New Bridge Road and 237A & B East Coast Road 
This is not your typical slow-paced yoga class. Power Flow at Yoga Movement is meant to make you sweat it out through a series of powerful and fast-flowing sequences. With no breaks in between, you will learn to transit between poses efficiently. The instructor does an excellent job giving cues so you'll be able to keep up. Starting off with simple breathing exercises, you will progress to more challenging moves that involve balancing on one leg. You'll feel sore in your thighs, hamstrings and arms afterwards. Guaranteed. 
YOGA+ - YOGASTHENICS 
28A Pagoda Street and 36B Arab Street
This class will tone your arms, back, shoulders and core – without you realising it. As its name suggests, Yogasthenics is a hybrid workout that combines the techniques of callisthenics and yoga. Through practising handstands and headstands, you will learn to unlock strength in your upper body during the 60-minute class. Though physically demanding, it will be worth every ounce of sweat when you successfully execute a tricky inversion.