After modern Australian restaurant Whitegrass opened at Chijmes in 2016, the fine-dining circle waxed lyrical.
Award of Excellence
WHITEGRASS 
#01-26/27 Chijmes, S(187996) T 6837-0402
After modern Australian restaurant Whitegrass opened at Chijmes in 2016, the fine-dining circle waxed lyrical about the stellar food produced by chef-owner Sam Aisbett who used to work with Sydney's venerable Peter Gilmore (Quay) and Tetsuya Wakuda (Tetsuya's). The media also gushed about his inventiveness and flair for fusing produce both local and farther afield (mostly Japan and Australia) in interesting ways.
So when we went to this elegant restaurant for the first time, we had rather high expectations, and we weren't let down. Aisbett thinks outside of the box (and far beyond) for his creations. He cleverly uses ingredients in the most unexpected but successful ways. He focuses on clean yet distinct flavours, interplayed with different textures.
For instance, his dessert of shredded milk with honey. He first dries milk into thin layers, and shreds the sheets of milk by hand. The edible confetti is then showered over a plate of Hokkaido milk jelly, milk ice cream and honey from Thailand.
Much thought has been put into the presentation of the amuse-bouche of mini salted water crab from Japan coated in XO sauce and salted egg, alongside delicate "egg tarts" topped with glistening caviar and "egg white caviar". This sets the tone for the rest of the meal. Aisbett's starter of roasted and pickled white vereduna beetroot with hamachi fish – thinly sliced, layered and shaped into a rose, and placed atop a bed of land caviar or tombori seeds – is exceptional in taste and texture. To flavour the fish, he laces it with organic soya mirin dressing that's smoked, along with toasted nori oil.
Most would think a salad of young veggies (think peas or French beans) is unexciting. But Aisbett's version is anything but banal. He weaves in smoked eel, pistachios, toasted oat crisp and soft white Chinese fungus for textural contrast.
The piece de resistance, however, is the roasted iberico pork jowl neatly wrapped in black Chinese moss and pan-fried till crisp. This rectangular parcel is teamed with ribbons of scallop "silk", soft white turnip cream, and delicate silken tofu, as well as given an umami boost with a sublime pork and seaweed broth. There seems to be a lot of things happening on this plate, but everything is beautifully cohesive.
We also revelled in the Australian pasture-fed Black Angus beef partnering well-thought-out accompaniments like buah keluak puree, fried pumpernickel, fiddlehead fern and monk's beard ( a type of green shoot).
The personable Aisbett regularly comes out to serve diners and have a chat with them. His service staff too are unstuffy, affable and knowledgeable. All this adds to a truly memorable dining experience.
Award of Excellence
AKIRA BACK SINGAPORE
Level B1M, JW Marriott Singapore South Beach, S(189763) T 6818-1914
With its coveted address (the luxe JW Marriott Hotel Singapore South Beach), designer furnishings (by Philippe Starck) and award-winning chef (professional snowboarder-turned-celebrity chef Akira Back), Akira Back checks all the boxes for the prospect of a fabulous night out.
Back, who was born in South Korea and raised in Aspen, Colorado, in the US, specialises in Japanese cuisine and runs the successful Yellowtail Japanese Restaurant & Lounge at the Bellagio Resort & Casino in Las Vegas, among others. Akira Back Singapore opened in December 2016.
Service is wonderful: The gracious staff are ever cheerful and do their very best to address any question. They are also articulate when making recommendations, which makes the ordering process informative and, dare we say, really pleasant.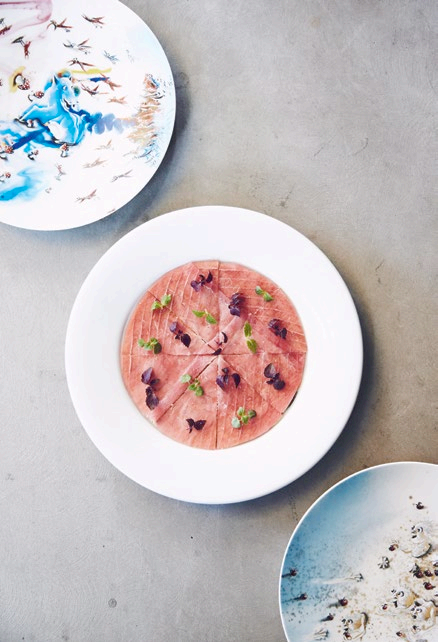 Food here, described as Japanese cuisine with Korean accents, is fun, largely delectable, and good for sharing. The signature tuna pizza, a crispy tortilla disc spread with a layer of umami aioli, topped with thinly sliced raw tuna, micro shiso, and drizzled with truffle oil, is moreish. The grilled Alaskan king crab, slathered with a spicy, creamy "dynamite sauce" and topped with pickled shimeji mushrooms, is delicious. You can hardly taste the natural sweetness of crab, but that is not a deal breaker. The "Tajima" short ribs, painstakingly braised for 48 hours, is fork tender and dressed with a robust jus that takes the dish from pleasing to stunning.
Overall, most of the flavour and ingredient combinations that we sampled make sense. The menu also showcases other unconventional flavour pairings of fatty tuna belly with kochujang (Korean chilli paste) and oscietra caviar, as well as anago (saltwater eel) tempura, unagi (freshwater eel) and foie gras sushi roll matched with ponzu mayonnaise. These may read like an unlikely culinary adventure, but who knows where it will take you. Loosen up, have some sake (the chef has his own private label), and enjoy the ride.
Award of Excellence
BASILICO
Level 2 Regent Singapore, S(249715) T 6725-3232
Basilico is one of those places that you'd return to again and again for its consistently executed Italian offerings. Its well-curated antipasti and dessert buffet spreads are replenished promptly throughout the meal. And, if that's not enough, you have the option of adding a main course such as angus beef tenderloin or roasted cod fish to your meal.
Take it up a notch with Sunday brunch, which offers free flow prosecco or champagne, a seafood bar, grill station, and a cheese room featuring 40 regional Italian farm cheeses. Taking centre stage is the circular counter laden with wholesome salads, grilled vegetables, burrata and mozzarella cheeses, and plump Italian tomatoes, alongside Alaskan king crabs, Boston lobsters, king scallops, prawns and mussels. There is also an extensive spread of cold cuts including pancetta, mortadella, salami, bresaola, and prosciutto di parma with rock melon, alongside an assortment of dips and olives. For your carb fix, tuck into pizzas and breads such as warm and puffy black truffle foccacia, and four-cheese pizzas.
Pace yourself for hot foods such as boldly flavoured roasted chicken cacciatore, octopus stew, braised lamb shanks, just-carved roasted wagyu beef rump with truffle mustard, and amarone wine-braised crispy roasted pork belly. Basilico's Italian chefs also turn out some of the most delicious pastas in town, including linguine with pork ragout, wagyu beef lasagna, fagottini with gorgonzola cream sauce, and perfectly made risotto redolent of aromatic truffle.
Desserts are always a treat here. Whole cakes like torta al pistacchio, and the intensely chocolatey torta al cioccolato Amedei, vie with chilled vanilla panna cotta, sorbets and gelatos for attention.
Service staff is generally attentive, except when the place is crowded (that's when effort is needed to get their attention). Tables are however cleared rather promptly, and bubbly topped up whenever the glasses are empty.
Award of Excellence
BRACI
Level 5 and 6, 52 Boat Quay, S(048941) T 6866 -1933
Located on the fifth level of a Boat Quay heritage shophouse, away from the hustle and bustle of the ground level, the 20-seater Braci (meaning embers in Italian) is perfect for an intimate dinner.
Renowned restaurateur Beppe De Vito heads the open kitchen here. In his culinary playground, modern Italian fare with a taste of Puglia (where De Vito hails from) is the order of day.
On most nights, you will find him either in the dining room, personally explaining the intricacies of his menu, or working the charcoal-burning Josper oven and Japanese shichirin grill behind the sleek grey marble kitchen island. De Vito's often quirky combination of ingredients works well, such as the abalone and sweet corn with smoked egg, or the pork cheek with blueberry sauce and sweet borettane onions. His dishes have a certain charm without being overly dramatic.
Traditional Puglian bread that's air-flown from Italy is warmed over the grill till lightly charred and served with olive oil from De Vito's family olive grove in Puglia. The starter of light and creamy foie gras semifreddo with kumquats and fig vincotto is delicious. Pasta dishes are a must-try: the fettucine with slivers of smoked razor clams in a Vermouth sauce is a hot favourite. But De Vito may surprise you with something special (it was a delectable uni and oscietra caviar pasta during our visit), if you are having his omakase-styled degustation menus.
Service is warm and attentive without being intrusive. Wines are mainly Italian, with a selection of organic and biodynamic wines (think: exquisite reds from Tenuta Di Valgiano) and wine pairings can easily be arranged. You may also like to have pre- or post-dinner drinks at the 30-seater rooftop bar, and admire the stunning view of the CBD and Marina Bay with a well-crafted cocktail in hand.
Award of Excellence
BUONA TERRA
29 Scotts Road, S(228224) Tel: 6733-0209
Although Buona Terra is housed in a black- and-white bungalow next to a main road at a busy traffic junction, once we step into the intimate space of the restaurant, we are cocooned in a timeless pod. The place is small, yet we never feel that our table is too close to the neighbouring one.
Chef Denis Lucchi's menu is straightforward. There are five choices each under sections such as Dal Mare and Dalla Terra (from the sea and land, respectively), La Pasta and I Dolci (desserts). Depending on your appetite, you can select a four-, five- or six-course meal.
The three selections we made from Dal Mare – marinated Sicilian red prawns with oscietra caviar and prickly pear soup, seared octopus in basil pesto, and seared tilefish – all showed the finesse and restraint of the kitchen in allowing the ingredients to sing on the plate. The standout pasta was the homemade truffle tagliolini with girolle mushroom, and 36-month parmesan sauce – we enjoyed every earthy, fragrant bite.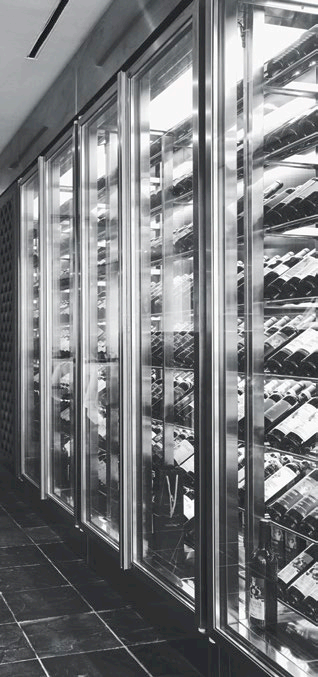 Fans of seared duck liver would find Lucchi's version with poached peach, amaretti crumble and vin santo ice cream rich and sweet, with the crumble providing textural interest and the ice cream refreshing. The charcoal-grilled Iberico Secreto pork from the pata negra (black foot) breed was succulent and rich-flavoured, while the accompaniment of trombetta zucchini, an Italian variety, complemented the nuttiness in the pork.
Among the desserts, the Sigaro Esotico caught our eye – yes, "exotic cigar". Looking very realistic, the cocoa wafer in cigar shape was filled with white chocolate passion fruit mousse, resting in a bed of mango sauce and coconut "ash". Service throughout dinner by the waitstaff (Melissa) was attentive, with a very high level of engagement and initiative. It would not be an exaggeration to say she bumped up the experience by a couple of notches.
Award of Excellence
CASSIA
Capella Singapore, Sentosa Island, S(098297) T 6591-5045
We love buzzy, noisy, heaving Chinese restaurants as much as the next person but, sometimes, just sometimes, we want to dine at an elegant Chinese restaurant, where we don't have to raise our voices above the hubbub to have a conversation, nor wince at the sight and sound of children running amok. And it's even more precious when it's a graceful, leisurely Sunday lunch that we're after.
On weekends, Cassia offers the Weekend Dim Sum Experience, which comprises a choice of six out of 12 dim sum options, double-boiled soup, a roast platter, a rice or noodle, as well as dessert. Looking around, this seems a popular option with many.
Those going for the a la carte option will be able to choose their dim sum from a larger selection. A trilogy roast platter is a must and our choice of roast duck, char siew and roast pork turns out to be succulent. Our order of the underrated wok-fried XO carrot cake with Chinese sausage is soft and tasty, with textural contrast provided by fresh bean sprouts.
A great soup always raises the tone of lunch and the double-boiled thick chicken broth with fish maw, scallops and flower mushroom is soulful and packed with generous ingredients – stomach-warming till the last drop. Another signature not to be missed is the wok-fried Japanese wagyu beef with black pepper sauce – tender, well seasoned and delicately presented. We couldn't pass up on the Bi Feng Tang prawns either – big, fresh prawns that are deep-fried till golden, then stir-fried with a garlic-chilli mix; the prawns have been cleverly slit so the meat is accessible but the head and tail are still intact.
For a fitting close to what has been a truly delectable lunch in blissful surrounds, the double-boiled Tianjin pear infused with tangerine peel is light, aromatic and refreshing. Cassia has definitely delivered on a finely executed lunch, with service to match.
Award of Excellence
CHEEK BY JOWL
21 Boon Tat Street, S(069620) T 6221-1911
From the outside, Cheek by Jowl is barely distinguishable from its neighbours, set as it is along a shophouse block of offices, bars, and Korean and Japanese eateries. Push through the black-framed door, angled at 90 degrees to Boon Tat Street, and it's instantly boho-chic Sydney – exposed plasterwork, a rust-brown banquette that stretches along the length of the narrow dining room to the open kitchen.
Even with some obvious synchrony issues – mainly concerning the withdrawn service, and a drinks list that lacks any non-alcoholic cocktails – there is plenty to admire about the restaurant's Australian vibe. Its Sri Lankan-born chef, Rishi Naleendra, came up in the kitchens of Melbourne's Taxi Dining Room and Sydney's Tetsuya's, and made his name in Singapore at Oxwell & Co, and Maca.
At the latter, his flashes of imagination and Instagram-worthy plating caught the attention of restaurateur Loh Lik Peng who promptly poached him for Cheek by Jowl, where he now has the perfect stage on which to show off his remarkably intuitive modern Australian menu. His noteworthy creations include earthy salt-baked beetroot, with ribbons of pickled beetroot and raisins, and a shower of puffed wild rice nuzzling a nugget of soft goat's cheese, and crisp-skinned barramundi topped with foamy prawn bisque and prawn floss. There's also his latest cured mackerel crusted with the crumbs of roasted mackerel bones, and livened up with pickled onion, daikon and dill oil.
Naleendra's small desserts menu is dazzling in its inventiveness. His dessert featuring local flavours of laksa leaf ice cream, coconut, pomelo pearls and green chilli reduction is impressive, as is his newest creation, an unexpected combination of plums macerated in Sichuan pepper-infused caramel. The tangy red fruit is served with coconut sorbet and meringue scattered with smoky burnt coconut husk powder.
Award of Excellence
CHERRY GARDEN
Level 5 Mandarin Oriental Singapore, S(039797) T 6885-3500
We understand the challenge of business lunches: you need speed; you need consistent, familiar flavours that won't be a shock to any party's palate; and you have nary time for flipping through those dauntingly expansive menus. So, few business diners at Cantonese restaurants stray far from the formulaic trinity of a barbecued meat platter, double-boiled soups and wasabi prawns. While popular classics are competently executed at Cherry Garden, a little bit of adventurous ordering brings delicious rewards.
Take the unlikely dim sum item of escargot dumpling: bite-sized parcels of pastry each encasing a meaty, perfectly seasoned nugget. The delicate brittleness of the flaky pastry contrasts wonderfully with the succulence of the escargot, making this addictive item a showcase of technical sophistication and ingenuity. A handful of rustic dishes also impressed, thanks to precise execution and the use of high-quality ingredients, such as the kurobuta pork rice in a warm superior broth. The dish has comforting qualities of home-cooked soul food. Yet the rich umami flavour in the almost-milky broth and the natural sweetness of the slivers of premium pork elevate it from the usual muifan (rice in gravy), making it a luxurious treat.
What leaves an impression is the finesse of the service. Special requests are readily accommodated, such as an order of a quarter of a roast duck, when the menu only offers it as half and whole birds. And, when we asked to try the kurobuta rice dish after a long and large meal, our server took the initiative to make it a special order of a mini portion, which divided out perfectly for two. The genuine hospitality crowns the dining experience at Cherry Garden, and makes it a restaurant we'll be eager to return to. Setting-wise, the restaurant offers a serene and elegant oriental setting, which is suitable for business lunches or special family dinners.
Award of Excellence
CORNER HOUSE
Singapore Botanic Gardens, E J H Corner House, S(259569) T 6469-1000
Three years on, and whatever doubts people might have had about chef Jason Tan and the Corner House taking over this charming black-and-white former residence of E J H Corner – he was assistant director (1929 - 1945) of Singapore Botanic Gardens, a Unesco World Heritage Site – have been swept away by the many well-deserved accolades he's received.
The Corner House is a special treat, and not just for special occasions. It's for whenever a step back from the world is needed, into a slower, more gracious time when every bite and every sip can be savoured.
Tan has described his food at Corner House as Gastro-Botanica – contemporary cuisine in which he places equal emphasis on meat as well as vegetables and plants. With changing seasonal menus – there is no a la carte options – Tan is constantly pushing the culinary envelope.
On our last visit, although prettily presented dishes such as the Maine lobster with riso (a Northern Italian spiral pasta made from white flour), sautéed squid and smoked leeks and the pan-seared to perfection Japanese A4 Toriyama beef were delicious – they were part of the five-course Menu Degustation – it was the five-course Menu Botanica that blew our mind.
Menu Botanica is a vegetarian set featuring two of Tan's standout signature dishes. The first is his variations on a theme of Cevennes onion, otherwise called Interpretation of My Favourite Vegetable. Essentially, Tan has created four dishes out of this bulb: baked and hollowed-out to contain onion puree, 62-degree sous-vide egg, onion confit and black truffle; Parmesan-topped mini onion tart; lightly salted onion chips; and onion tea (essentially onion-infused tea poured over onion confit and cream). Creative? Check. Delicious? Check.
The second is My Favourite Childhood Memory, simply described on the menu as "peanut butter, pandan kaya and toasted bread". It turned out to be chilled pandan kaya cream with coconut-flavoured peanut butter crisps. The oh-so-familiar taste just reminds us it's been a while since we've had our favourite breakfast. Time to remedy that tomorrow.