From breakthrough skincare formulas to groundbreaking makeup textures, beauty innovation has pushed forth speedily—especially in these times of pandemic, when self-love and self-care are so essential.
From breakthrough skincare formulas to groundbreaking makeup textures, beauty innovation has pushed forth speedily—especially in these times of pandemic, when self-love and self-care are so essential. With our faces now constantly seen in countless Zoom meetings, finding the perfect skincare and makeup to work the screens is ever more important. Meet the 2020 Beauty Awards winners—your face, body and skin will thank you (and so will your on-screen audience).
Good skin starts with thorough cleansing. Choose a cleanser that removes impurities without leaving skin feeling taut
SKINCARE
Refine, hydrate, clarify and strengthen—here, a shortlist of the cleansers, toners, moisturisers, sunscreens and multi-tasking elixirs that can help you achieve your best skin ever.
CLEANSERS
1. BEST CLEANSER FOR ACNE-PRONE SKIN
Balance Daily Cleansing Gel, $59, Porcelain
Be on your way to clearer skin with this antibacterial gel cleanser, which has both alpha- and beta-hydroxy acids as well as coconut extract to help clear clogged pores, resurface skin and tackle the acne-causing bacteria P.acnes. Working in tandem to soothe inflammation and irritation are extracts of camomile, cucumber, aloe vera and bladderwrack, which also promotes healing.
2. BEST CLEANSER FOR DRY SKIN
Molecular Silk Amino Hydrating Cleanser, $62, Allies of Skin 
Formulated to be compatible with the skin's natural pH level, this gel cleanser comes supercharged with antioxidants, phospholipids and hydrators such as silk amino acids, hyaluronic acid, and safflower and moringa oils to condition and moisturise skin as it cleanses.
3. BEST CLEANSER FOR NORMAL SKIN
Cleansing Foam; Deep Clean, Deep Moist, $30, Huxley
Keep skin moist and clean with this creamy foam cleanser fortified with prickly pear seed oil, which has moisturising, antioxidant and anti-inflammatory properties; calming blue lotus extract; tangerine extract to improve both tone and texture; and blue agave and moringa extracts, known for their anti-ageing and moisturising benefits.
4. BEST CLEANSER FOR OILY SKIN
Clarifying Mineral Enzyme Cleanser, $100, Kerstin Florian
Rebalance skin with this detoxifying gel wash that not just works on regulating sebum production, but also refines texture and improves overall tone, thanks to fruit enzymes that gently exfoliate, nourishing kelp extract, and a mineral complex that counters inflammation while boosting clarity and suppleness.
5. BEST CLEANSER FOR SENSITIVE SKIN
Freeplus Mild Soap A, $27, Kanebo
Free of irritants such as parabens, alcohol and fragrances, this cream cleanser has a hypoallergenic formula enriched with six Oriental herbs that work on strengthening the skin barrier while retaining moisture. Foaming easily, it provides a friction-free cleanse, gently ridding skin of dirt, excess oil and surface dead skin cells to leave it supple, silky and purified.
6. BEST CLEANSING MILK
Soothing Cleansing Milk, $48, V10 Plus
Give skin a gentle, deep cleanse without drying it out with a blend of olive fruit and corn oils, which are also high in vitamin E, an antioxidant that fights free-radical damage to prevent premature skin ageing. Artichoke leaf extract and retinol further combat photoageing (caused by prolonged sun exposure) to help you maintain your youthful looks.
7. BEST CLEANSING OIL
Ultime8 Sublime Beauty Cleansing Oil, $165, Shu Uemura
Infused with eight mourishing oils, this goes beyond melting away stubborn makeup, dirt and other impurities to soften and smoothen skin while supporting skin hydration and minimising the look of pores.
8. BEST CLEANSING WATER
Sensibio H2O, $41.90, Bioderma
A global cult favourite, this cleansing water uses micelles (basically tiny balls of oil) to sweep away grime and makeup with little to no skin friction, thereby maintaining skin barrier integrity and keeping irritation to a minimum. Formulated with highly purified water, it leaves skin feeling instantly comforted and refreshed.
9. BEST NATURAL CLEANSER
I Woke up Like This Rice Oil Foam Cleanser, $86, Ksisters
This gentle, pH-balanced cleanser is formulated with natural skin-loving ingredients such as rice bran oil, rice extracts and rice ferments to cleanse skin while preserving its hydrolipid balance, helping to maintain hydration, and improve overall tone and texture.
EXFOLIATORS
10. BEST BRIGHTENING EXFOLIATOR
Alpha Beta Universal Daily Peel, $135, Dr Dennis Gross
Glowing skin is but a grasp away with this two-step peel, which has five alpha- and beta-hydroxy acids to slough away surface dead skin cells, refine pores and smooth skin; anti-ageing retinol to not only accelerate skin cell renewal, but also stimulate collagen and elastin production; antioxidant-rich green tea extract to counter damage from free radicals that can cause dullness; and soothing camomile to lighten pigmentation and even out overall tone.
11. BEST GENTLE EXFOLIATOR
Lumiwhite Exfoliating Scrub, $78, ést.lab
Running contrary to the myth that gentle equates to weak, this scrub removes accumulated dead skin and dirt, and de-clogs pores without ever feeling harsh or dry on skin, thanks to a double dose of jojoba beads—an extremely mild yet effective exfoliant. Vitamin C, niacinamide, fucogel and panthenol work in tandem to help minimise the look of enlarged pores, brighten skin and keep it moist.
12. BEST NATURAL EXFOLIATOR
Nature in a Jar Gentle Warming Exfoliator with Jojoba, $51, Philosophy
Chock-full of some of the best nature has to offer, this exfoliator has a self-warming formula infused with extracts from desert plants such as agave, jojoba and prickly pear, known for their ability to help restore moisture to skin and boost its natural ability to defend itself. Post-wash reveals smoother, more radiant skin with less-obvious pores.
13. BEST PURIFYING EXFOLIATOR
Gongjinhyang Purifying Mask, $66, The History of Whoo
If it's good enough for an empress, it's good enough for us. Formulated with an imperial blend of six Oriental herbs that balances skin and improves circulation, this mask-and-scrub combo clears pores of dirt, excess oil, dead skin cells and fine particulate matter for a brighter, more clarified complexion.
14. BEST SKIN-REFINING EXFOLIATOR
Rescue Peel Pads, $130 for a tub of 60 pads, EVE LOM
Bothered by enlarged pores? These handy biodegradable pads infused with alpha- and beta-hydroxy acids as well as polyhydroxy acids give pores a deep cleanse, clearing them of the gunk that makes them look engorged, while refining skin texture. The pads also slough away the build-up of surface debris that causes dullness.
TONERS
15. BEST ANTI-AGEING TONER
Skin Caviar Essence-In-Lotion, $430, La Prairie
Harnessing the benefits of caviar, this pre-serum is infused with caviar water obtained via a unique distillation process designed to retain its skinloving properties. Thanks to its antioxidant, moisturising, nourishing and retexturising properties, skin appears smoother, suppler and generally younger over time. Immediately post-application, skin feels plumper and well hydrated.
16. BEST BRIGHTENING TONER 
SUBLIMAGE La Lotion Lumière Exfoliante, $184, Chanel
Taking a two-prong approach to brightening, this lotion tackles surface dullness with gently exfoliating alpha-hydroxy acids, while the antioxidant-rich vanilla planifolia and white birch waters work from within to reportedly prevent and heal damage, improve hydration and boost overall radiance.
17. BEST FACIAL MIST
Grape Water, $32, Caudalie
Hit refresh with a spritz of this all-natural mist made from 100 percent grape water extracted from organic grapes. Rich in antioxidants, it moisturises and reduces skin sensitivity, instantly restoring comfort —a godsend on hot days.
18. BEST HYDRATING TONER
Bonabella 28Days Return Booster, $37, Ksisters
With a formula that is 85 percent vanilla planifolia fruit extract—anantioxidant that soothes dryness while gently exfoliating skin—you can be sure this gives skin a major moisture boost. It doesn't feel heavy or sticky on skin and, when applied using the Korean 7 Skin Method (whereby you press on seven layers of toner), promises to get you that famous "glass skin".
19. BEST OIL-CONTROL TONER
Clarifying Probiotic Mineral Tonic, $85, Kerstin Florian
Formulated to be compatible with the skin's natural microbiome, this is designed to increase the amount of beneficial bacteria on skin while reducing that of harmful bacteria, which in turn regulates sebum production, and prevents pimples and skin inflammation.
20. BEST PRE-SERUM ESSENCE
First Care Activating Serum, $118, Sulwhasoo
Set to awaken your skin's natural potential, this bestselling antiageing serum is anchored by the fifth-generation JAUM Activator, a breakthrough technology that promotes skin cell renewal and works on strengthening the skin barrier for a soft, radiant look.
21. BEST PRE-SERUM ESSENCE
Facial Treatment Essence, $220, SK-II
This Pitera-rich elixir has won countless awards—and rightfully so. Boasting a watery texture that absorbs quickly into skin, it promises a crystal-clear complexion with an all-around improvement in texture, tone, clarity and radiance.
22. BEST SOOTHING TONER
Dr. Andrew Weil for Origins Mega-Mushroom Relief & Resilience Soothing Treatment Lotion, $63, Origins
Targeting redness and inflammation, this alcohol-free toner has a concoction of mushrooms to soothe skin and help build up its resilience, rapidly neutralising and calming irritation.
23. BEST TONER FOR SENSITIVE SKIN
Skin Defence Essential Toner, $155.65, Kew Organics
Sensitive skin is usually considered more delicate in part because of a thinner, weakened or damaged skin barrier. Shore up your skin's defence with an antioxidant-rich toner like this one, which protects against damaging free radicals while working to reduce inflammation and accelerate healing.
The body's largest organ, skin responds to your natural environment, which can cause it undue stress. Calm irritation and protect skin from external stressors with potent formulas
SERUMS
24. BEST ANTIOXIDANT SERUM
C E Ferulic, $248, SkinCeuticals
An optimal blend of L-ascorbic acid (a vitamin C derivative), vitamin E and ferulic acid helps skin defend itself against environmental stressors. It also stimulates collagen and elastin production for a wrinkle-plumping effect and "bounce-back" elasticity.
25. BEST ANTI-WRINKLE SERUM
PRO Strength Retinoid Peptide Serum, $169, Peter Thomas Roth
Boasting a breakthrough formula, this supercharged anti-ageing serum has 10 percent Granactive Retinoid and 5 percent Hexapeptide Complex to reportedly reduce wrinkle depth visibly, while supporting collagen synthesis. Meanwhile, squalene, ceramide NP and a Super Lipid Complex keep skin moisturised and help minimise irritation.
26. BEST BRIGHTENING SERUM
Charlotte's Magic Serum Crystal Elixir, $170, Charlotte Tilbury
As its name suggests, this water-based serum comes infused with a complex of crystals known for their potent skin-brightening properties. Vitamin C and niacinamide promise further visible improvement in overall tone and radiance, with hydrating polyglutamic acid helping to prevent moisture loss for a plump, luminous complexion.
27. BEST CLARIFYING SERUM
Lumiclar Mandelic Renewal Serum, $59.90, Derma Lab
Experience the skin-clearing power of mandelic acid with this serum, which gently rids skin of the debris that clogs pores and dulls its surface. It also accelerates skin cell renewal, promotes healing, reportedly strengthens the skin's barrier and replenishes its moisture levels.
28. BEST HYDRATING SERUM
Moisture Liposome, $157, Decorté
Parched skin lies at the root of many skin issues, including pigmentation, dullness and wrinkles. Quench dehydrated skin with this lightweight serum, which has a time-release formula that gradually releases nano-sized, multi-layered liposomes into the skin to ensure all-day hydration.
29. BEST LIFTING/FIRMING/CONTOURING SERUM
MT Essential Serum, $270, MT Metatron
Meet Japan's best-kept anti-ageing secret, which has DMAE (dimethylaminoethanol) to tone facial muscles for a contoured visage; the antioxidant carnosine to help protect against free-radical, collagen and elastin damage; and alpha-lipoic acid to stimulate collagen production for a firming and plumping effect.
30. BEST MULTIACTION ANTI-AGEING SERUM
Advanced Night Repair, $175, Estée Lauder
Supporting the skin's natural reparative process, which is strongest at night, this cult classic utilises the brand's exclusive Chronolux Power Signal Technology to awaken micro-signalling molecules in skin to boost skin cell renewal as well as promote healing and collagen production to help reset the look and feel of skin while you snooze.
31. BEST NATURAL SERUM
Drops of Youth Youth Concentrate, $80, The Body Shop
Made with 99 percent natural ingredients, this serum is enriched with moringa seed oil, and stem cells from the edelweiss, criste marine and sea holly plants to help firm, repair and hydrate skin. It also reportedly prevents collagen degradation as well as premature skin ageing caused by oxidative stress and external aggressors.
32. BEST SERUM FOR SENSITIVE SKIN 
Dr. Belmeur Cica Peptide Ampoule, $61, THEFACESHOP
Acting like an energising booster shot for skin, this serum is enriched with the antioxidant-rich cica, whose soothing, healing, anti-inflammatory and antibacterial properties make it the go-to ingredient for those with sensitive skin. It is also formulated with peptides to reportedly strengthen the skin barrier for an overall healthier look and feel.
33. BEST SKIN-REFINING SERUM 
Vital Skin-Strengthening Super Serum, $79, Kiehl's
Environmental aggressors, ageing and stress can worsen existing skin issues and introduce new ones. Gather strength from this serum, whose blend of adaptogenic herbs—red ginseng root, holy bail and schisandra berry—and micronised hyaluronic acid works to improve skin's resilience, protect against skin-ageing stressors, boost radiance and revitalise skin texture.
34. BEST SOOTHING SERUM
Rose de Vie Serum, about $189.54, Dr. Sebagh
Bothered by red, inflamed skin? This restorative concoction is your go-to. Infused with organic rosehip oil, which is rich in vitamin E and anthocyanin, it works wonders in calming and soothing irritation. The lovely rose scent gives the added benefit of relaxing the mind. 
MOISTURISERS
35. BEST BRIGHTENING MOISTURISER
Radian-C Cream, $68, LANEIGE
Dark spots and dullness are no match for this lightweight cream, which is designed to combat both visible and non-visible pigmentation with the brand's proprietary brightening active Radian-C Super Blend: A potent mix of 8.5 percent vitamin C derivative; parent company AmorePacific's patented Melasolv, which works on inhibiting melanin production; and hyperpigmentation-reducing vitamin E.
36. BEST HYDRATING MOISTURISER
Moisture Surge 72-Hour Auto-Replenishing Hydrator, $75, Clinique
Promising to leave skin plump and glowy, this powerhouse gel-cream helps replenish the skin's water reserves with moisture-enhancing hyaluronic acid and hydrating activated aloe water. Cellular energy is optimised with caffeine, which also helps to counteract dryness and keep things conditioned, radiant and looking fresh for up to 72 hours.
37. BEST LIFTING/FIRMING/CONTOURING MOISTURISER
DÈLUXE Firming Cream, $340, Gaylia Kristensen
Want an instant boost you can see and feel? This rich cream vows to give just that. Driven by a Hexapeptide Youth Complex composed of seven actives—including Hexapeptide-10, said to aid in skin restructuring as well as improve firmness; and Tripeptide-10 Citrulline, which binds to collagen fibres for a skin-plumping effect—it works on restoring the tautness and toned contours of youthful skin even as it acts on other concerns such as dryness and dullness.
38. BEST SKINSMOOTHING MOISTURISER
De-Crease, $120, TWO L(I)PS
Free radicals can cause a host of skin issues, not least dryness and other signs of ageing such as wrinkles. Double up on antioxidants with this cream moisturiser, which counters oxidative stress while striving to maintain collagen levels for plumper, smoother skin.
39. BEST MOISTURISER FOR OILY SKIN
Matte & Moist Moisturiser, $28, Yours
Make the hit-and-miss of off-the-shelf skincare a thing of the past with this moisturiser—which is only recommended to you after you've completed the brand's online skin assessment to determine its suitability. Specially formulated to regulate sebum production while bumping up moisture levels, this keeps skin looking fresh, healthy and well hydrated. 
40. BEST MULTI-ACTION ANTI-AGEING MOISTURISER
PREVAGE Anti-Aging Moisture Cream SPF 30 PA++, $262, Elizabeth Arden 
Formulated with Idebenone and thiotaine, this harnesses the power of antioxidants to minimise visible signs of ageing and sun damage (wrinkles, patchy discoloration, dryness and the like) while helping to boost skin's resilience. An SPF rating of 30 and PA++ means it also offers broad-spectrum UV protection for an all-around revitalised look.
41. BEST NATURAL MOISTURISER
Hydration Drops, $52, Mellow Naturals
Proving that good things come in small packages, this face oil delivers sustainable hydration with a winning combo of a squalene base and skin-loving oils derived from nature. Antioxidant-rich oils such as strawberry seed, argan and rosehip work on regulating sebum production, balancing skin and promoting collagen production as they hydrate, while squalene helps boost efficacy and lock in moisture.
42. BEST MOISTURISER FOR SENSITIVE SKIN
Balance Care Emulsion, $46.90, d program
Keep your skin barrier in top condition—so important for those with sensitive skin, which is more prone to irritation, redness, inflammation and breakouts compared to other skin types—with this lightweight moisturiser. It gives a protective and hydrating boost with an anti-acne bacterium as well as glycyrrhizinate and cork tree bark extract, both skin conditioners with antioxidant, anti-inflammatory and antibacterial properties.
43. BEST SOOTHING MOISTURISER
Moisture Boost, $144, IDS Skincare
Juiced up with low-molecular-weight hyaluronic acid, emollients and ceramides, this creamy formulation deeply hydrates and offers immediate relief for symptoms such as skin tightness, redness and roughness while working to strengthen the skin's barrier for better overall skin health. Niacinamide provides additional brightening benefits and protection against environmental stressors. 
44. MOST LUXURIOUS FACE CREAM
La Crème, $1,200, Clé de Peau Beauté 
The epitome of luxurious skincare, this world-famous anti-ageing cream is enriched with CeraFerment Extract to help enhance skin's natural renewal abilities, and boasts the brand's exclusive Skin-Empowering Illuminator, Retinol ACE and brightening ingredient 4MSK for optimal radiance. The sumptuous texture itself makes for a pampering treat that's neither heavy nor sticky on skin.
45. MOST NOURISHING FACE OIL
Relieving Oil, $126, MTM Skincare
Looking for a nutritive hydrator? Reach for this face oil powered by sugar-cane-derived squalane and fullerene. The first reportedly helps skin retain moisture and nutrients while reinforcing its barrier and countering oxidative stress; the second further acts on neutralising free-radical damage and reducing visible signs of ageing. Working in tandem for an all-around improvement in tone and texture are other extracts custom-blended to address your skin's unique needs.
TARGETED TREATMENTS

46. BEST ANTI-AGEING TREATMENT
LiftActiv Peptide-C Anti-Aging Ampoules, $52, Vichy 
Billed to tackle wrinkle formation as well as other signs of ageing, this 30-day programme is supercharged with anti-ageing bio-peptides; hyaluronic acid; 10 percent pure vitamin C to promote collagen synthesis and skin cell renewal; and the brand's Mineralizing Water, rich in antioxidants and minerals essential to skin health.
47. BEST ANTI-BLEMISH TREATMENT
PurClear Anti-Acne Serum, $152, ést.lab
Keep skin clear and balanced with this serum that features two time-release ingredients: Skin-refining salicylic acid to clean out clogged pores without the usual sting or irritation, and the proprietary Water Shuttle Technology to keep skin continually hydrated for up to 12 hours. Helping things along are tea tree leaf oil and alpine willowherb extract, which work on regulating sebum production while reducing the look of enlarged pores.
48. BEST DARK SPOT TREATMENT
Potent-C Targeted Spot Brightener, $94, Peter Thomas Roth 
Pull ahead in the brightening game by upgrading your vitamin C. Eschewing L-ascorbic acid for the more stable tetrahexyldecyl ascorbate, this high-strength spot treatment delivers brightening benefits while keeping to a minimum the tingling, irritation and redness typically associated with potent doses of vitamin C. There's also Vitamin E and ferulic acid, which help lighten pigmentation and reduce acne scars.
49. BEST LASH SERUM
Advanced Eyelash Conditioner, $237, RevitaLash
Keep your lashes thick and strong with this conditioner formulated with a proprietary BioPeptin Complex, ginseng and swertia japonica extracts rich in antioxidants, saw palmetto, amino acids and B vitamins, all of which work together to help improve health, flexibility and shine while minimising fallout and breakage.
50. BEST OVERNIGHT RECOVERY TREATMENT
The Microdelivery Dream Peel, $85, Philosophy
With a blend of acids that gently exfoliate sans dryness or irritation, soothing cica and camomile, and prebiotics and probiotics that help maintain skin's microbiome, this works on skin while you sleep, so you wake to softer, smoother, healthier-looking skin with nary an effort.
51. BEST RESTORATIVE ELIXIR
Losec Summa Elixir Essence Secreta, $268, SU:M37°
Revitalise your look with this elixir anchored by star ingredient Ferm Arishta Gold, comprising extracts from three plants (the Neem tree, phyllanthus emblica and Indian frankincense) known for their anti-inflammatory, detoxifying, moisturising, antioxidant, anti-ageing and healing properties. It is also rich in vitamin C, to shore up the skin's defence against environmental aggressors and aid in collagen synthesis.
52. BEST SKIN SAVER
Restoration Drops, $59, Mellow Naturals
A do-it-all face oil, this is made with natural ingredients chosen for their restorative capabilities. Dull, dry skin visibly affected by age and external aggressors gets a one-two boost from sugar-cane-derived squalane and moringa seed oil, which replenish moisture, reduce redness, and counter and protect against free-radical damage. It also stimulates collagen production and supports a healthy skin barrier. 
EYECARE
53. BEST ANTI-AGEING EYE PRODUCT
Advanced Génifique Yeux Light-Pearl, $120, Lancôme
Don't let your eyes betray your age. Formulated with probiotic fractions and a Trio Lash Complex that reportedly fortify both the skin's barrier and the lashes, this eye serum works with the accompanying pearl applicator to improve microcirculation, reduce the look of fine lines, and de-puff and lift for a more youthful eye area.
54. BEST BRIGHTENING EYE PRODUCT
White Caviar Eye Extraordinaire, $860, La Prairie
Level up your brightening routine with this rich cream designed to tackle all forms of discoloration—red, yellow, brown, grey and purple—as well as shadow-causing hollowness and textural issues for a truly illuminated under-eye area. Its active ingredient Lumidose inhibits tyrosinase activity to prevent the formation of melanin, while Golden Caviar Extract stimulates collagen production to help restore plumpness and elasticity in the area.
55. BEST EYE MASK 
Rose Gold Illuminating Eye Mask, $150 for a pack of eight patches, 111SKIN
This is the supermodels' secret to runway-ready skin. Used by Candice Swanepoel as part of her runway prep, these hydrogel under-eye patches deliver an instant surge of soothing hydration to the skin, and has ingredients to soothe and take away signs of fatigue—perfect as a quick pick-me-up before you start the day.
56. BEST HYDRATING EYE PRODUCT 
Eye Care Multi-Tasking Power Serum, $139, BSKIN 
Maintain optimal moisture levels in skin with this serum, which is packed with the hydration powerhouses glycosyl trehalose and betaine. Adenosine, peptides, niacinamide, sea daffodil extract and aloe vera further boost moisture while working to soothe, firm and stimulate collagen production to reduce visible signs of ageing. 
57. BEST SKIN-SMOOTHING EYE PRODUCT 
Smoothing Eye Cream, $106, RE:ERTH
A gem when it comes to smoothening skin in the eye area, this is formulated with Eyeseryl, colostrum, Water-Soluble Vitamin A and turmeric extract to help de-puff and reportedly boost collagen production for a smoother eye contour.
SUNCARE
58. BEST BODY SUNSCREEN
Mineral Body Sunscreen SPF 50, $65, COOLA 
Free of harmful ingredients, this mineral sunscreen provides broad-spectrum protection against both UVA and UVB rays. Antioxidant-rich ingredients offer additional protection from free radicals. It's also reef-safe, making it perfect for your next trip to the beach.
59. BEST FACIAL SUNSCREEN
SunShield SPF 50, $96, ést.lab
Part broad-spectrum sunscreen, part skincare, part makeup, this is packed with actives that reportedly inhibit melanin production, soothe inflammation and even protect against blue light damage. The waterproof formula comes lightly tinted, and minimises the look of pores and blemishes—great for days when you want to skip the foundation.
60. BEST SUNSCREEN FOR FACE AND BODY
The Perfect Protector SPF 50+ PA++++, $65, Shiseido
If ever there was an intelligent sunscreen, this is it. Thanks to its SynchroShield technology, it reacts to water, sweat and excessive heat by strengthening its veil of UV protection. It's also made with more than 50 percent skincare ingredients that work on suppressing melanin production, neutralising oxidative damage, and preventing photoageing and dryness caused by UV exposure.
61. BEST SUNSCREEN FOR SENSITIVE SKIN
Morning Glow Physical Sunscreen, $58, SIGI Skin
Checking all the right boxes, this sunscreen neither irritates skin nor feels heavy or leaves a white cast when applied. It also has gentle ingredients that deliver skincare benefits: Avocado and açaí extracts to keep things looking young, and niacinamide to brighten, moisturise and work on overall skin health.
62. BEST WATERPROOF SUNSCREEN
Sun Shelter – Water Resistant SPF 50+ PA++++, $40, Decorté
A water baby or an outdoor adventure nut? This lightweight sunscreen, which is water-, sweat- and friction-resistant, is your go-to for a lasting veil of protection against UV rays as well as other environmental stressors such as microparticles.
MASKS
63.BEST ANTI-AGEING MASK
Bio Lifting Mask, $273, Chantecaille
Mask the ageing process with this rinse-off formula designed to give skin a youthful boost. Made with a base of soothing and hydrating rose water, it has botanical ingredients that work alongside hexapeptide, pullulan and tocotrienols to improve surface textural and tonal irregularities for a visible plumping, contouring effect.
64. BEST DEEP-CLEANSING MASK
Purifying Herbal Clay Mask, $66, Sulwhasoo 
Clay masks are known for their exceptional ability to clarify skin and refine texture, but this one takes things a step further by throwing in a polyhydroxy acid for gentle exfoliating action and a soothing blend of Oriental herbs with antimicrobial properties to help reduce inflammation and prevent breakouts.
65. BEST HYDRATING MASK
Hydra Beauty Camellia Repair Mask, $102, Chanel
A must-have for parched skin, this helps lock in moisture while replenishing the skin's water reservoir, courtesy of patented white camellia flower extracts, hyaluronic acid, glycerin and camellia wax. Blue ginger PFA and panthenol further work on fortifying the skin's barrier to prevent moisture loss and promote a dewy complexion.
66. BEST ILLUMINATING MASK
Melasleep Brightening Lumi's Key Bio-Cellulose Mask, $63 for a pack of seven sheets, For Beloved One
Rev up the radiance with this cult favourite that brightens dark spots and perks up dull, tired skin with the reparative formula Matrixyl 3000, and an energising blend of vitamins and minerals. Brownie points for the bio-cellulose material, which makes for a no-drip, no-slip application and enhances the absorption of actives.
67. BEST PORE-MINIMISING MASK
Vitamin A Cloud Silk Mask, $19.90 for a pack of three sheets, For Beloved Girl
Minimise the look of enlarged pores with this mask infused with retinyl palmitate, azelaic acid and papain, which keeps pores clear of the gunk (read: dirt, sebum, dead skin cells and other debris) that causes them to dilate. It also helps regulate sebum production and gently exfoliates to visibly refine skin texture. 
68. BEST SLEEPING MASK
Rose Deep Hydration Sleeping Mask, $80, Fresh 
Double the hydrating action with this two-step sleeping mask that promises plumper, smoother skin after just one night. First up: A gel essence mask with hyaluronic acid, rose water and damask rose extract for an instant moisture hit. Next: A water-cream mask that locks in moisture and features a time-release technology for 24-hour hydration.
69. BEST SOOTHING MASK
Farm to Face Green Tea Mask, $29.90 for a pack of seven sheets, FOREO
Two minutes is all you need to reap the skin benefits of green tea—nature's most potent antioxidant. The most high-tech of the bunch, this works together with the brand's UFO device, which utilises cryotherapy, sonic vibrations and LED light therapy, to soothe and hydrate skin.
TOOLS & DEVICES
70. BEST CLEANSING GADGET
Luna 3, $299, FOREO
It's no secret that cleansing devices give a more thorough cleanse than just using your hands alone. Utilising T-Sonic pulsations, this dislodges even the most deep-seated impurities, and gently exfoliates while improving circulation and stimulating the skin at a cellular level. Add to that a silicon brush head that feels so soft on skin and 16 intensity options to choose from, and you've got yourself a keeper.
71. BEST FACE MASSAGER
Bear, $436, FOREO
Fancy a professional facial massage in the comfort of your own home? This device gives you just that by way of microcurrent and T-Sonic pulsations that give facial muscles a good workout to tone and firm. Link it up with the FOREO app for guided sessions or just turn it on and start using it with your favourite water-based serums.
BEAUTYSUPPLEMENTS
72. BEST ANTI-AGEING ORAL SUPPLEMENT
Crystal Tomato Beauty Supplement, $180.83 for a box of 30 capsules, Crystal Tomato
Counteract the skin-ageing impact of environmental stressors with Crystal Tomato Carotenoids, potent antioxidants that combat oxidative stress, and L-Cysteine, said to restore the suppleness of young skin.
73. BEST MULTI-ACTION ORAL SUPPLEMENT
Radiant Effect, $200 for a box of 30 capsules, Lush Laboratory
Forged with antioxidants—including PhytoFLORAL Pure Fine, which is rich in UV-absorbing carotenoids—this is designed to strengthen the skin's resilience. There's also L-Cysteine to inhibit melanin production, and brightening vitamin C to stimulate collagen and elastin production.
74. BEST ORAL SUPPLEMENT FOR SUN PROTECTION
Phytobright, $105, RE:ERTH
Carotenoids derived from patented golden tomatoes absorb UV rays to reduce sun damage, while L-Cystine neutralises free radicals and boosts the production of glutathione, a potent antioxidant. Helping it all along is BioPerine, said to enhance the absorption rate of active ingredients.
MAKE UP
Bring your A game to the table with next-level cosmetics: Think skin-enhancing bases, IRL beauty filters with skincare benefits, intensely hydrating lip colours and more.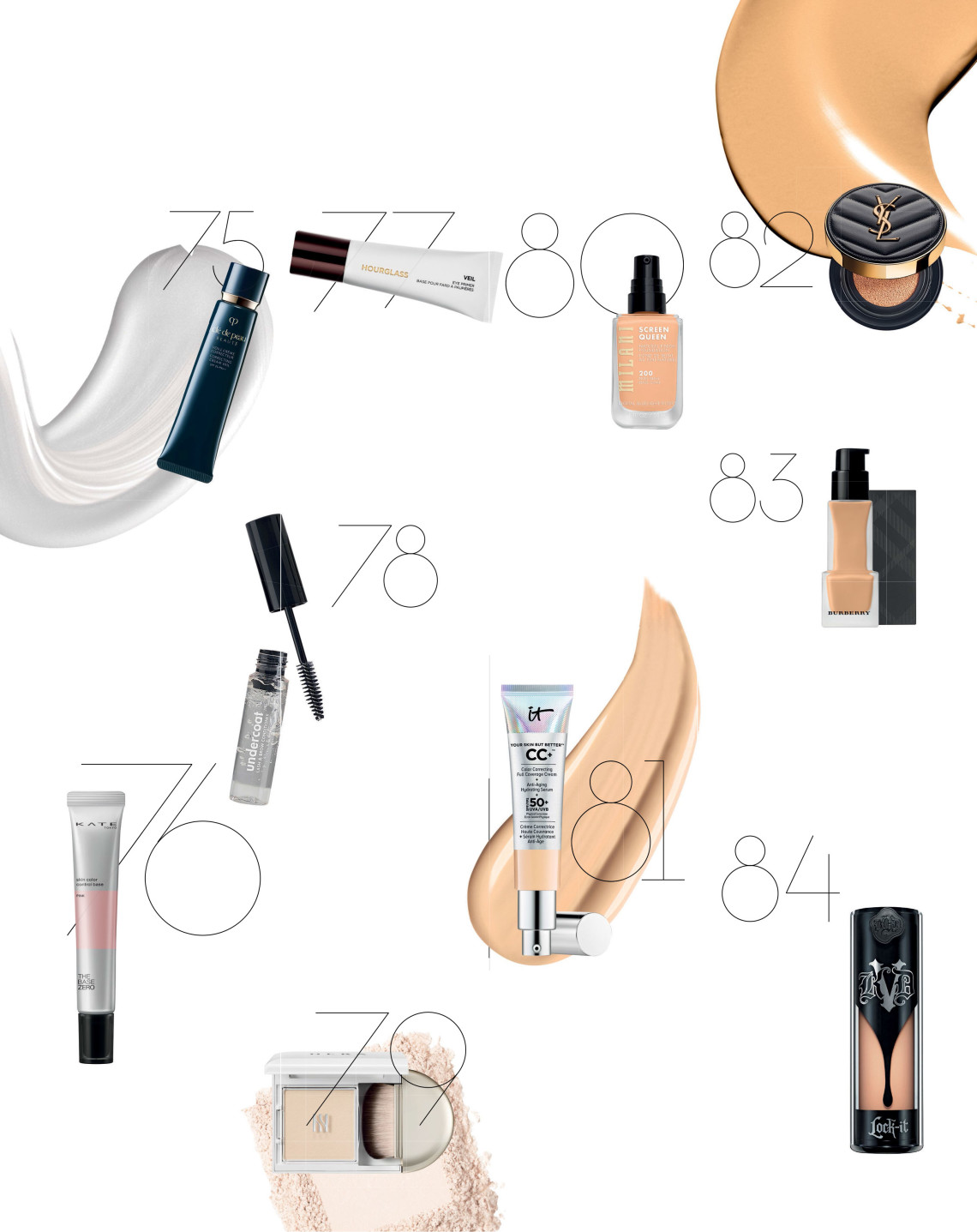 FACE
75. BEST BRIGHTENING PRIMER
Correcting Cream Veil, $100, Clé de Peau Beauté
Never underestimate the power of primer. Correct surface irregularities for a smooth canvas and help makeup stay on for longer with this creamy one. It's also designed to bring out a dewy radiance, thanks to an improved formula boasting the brand's Skin-Empowering Illuminator, a complex said to brighten skin while enhancing its natural reparative and protective abilities. 
76. BEST COLOUR-CORRECTING PRIMER
Skin Colour Control Base, $23, KATE Tokyo
Concealers can only do so much when it comes to masking blemishes. Double down on colour correction with this primer that comes in four hues to tackle every kind of discoloration: Pink, to counteract blue, green or purplish marks; Green, to neutralise redness and hide acne scars; Lavender, to counter yellow spots and sallowness; and Nudy White, for a luminous veil that evens out overall tone.
77. BEST EYE PRIMER
Veil Eye Primer, $48, Hourglass Cosmetics
Lightweight and long-wearing, this helps create the perfect canvas for eyeshadow to go on, while enhancing its longevity and vibrance. Improving the adherence of pigments to eyelids, this reduces fading and creasing, and even has a formula enriched with vitamins E and C to keep skin moisturised and help reduce visible signs of photodamage.
78. BEST LASH PRIMER
Undercoat, $65, Browhaus
Yes, your lashes need a primer too—not only because it gives them a volumising boost, but also because it acts like a base coat that protects against the stress inflicted by curling tools, makeup and even the simple act of rubbing your eyes. This clear primer goes a step further with a moisturising formula composed of silk, collagen and vitamin B5 to help keep lashes strong and healthy.
79. BEST SKIN-SMOOTHING PRIMER
Airy Blur Priming Powder, $72, HERA
A powder base with a twist, this has a unique dough-type texture that blends seamlessly with any type of makeup and forms a luxuriously velvety cover over surface flaws to smooth the look of skin, sans stickiness. The oil-absorbing powder also has moisturising properties to further help keep your complexion looking smooth, fresh and plump.
80. BEST BRIGHTENING FOUNDATION
Screen Queen Foundation, $27.89, Milani Cosmetics
Offering light-to-medium coverage, this liquid foundation not only blurs imperfections and imparts surface luminosity, but also gives your brightening game a boost by way of blue light protection. Formulated with a Digital Bluelight Filter technology, it works on safeguarding skin from the blue light emitted by electronic devices while minimising the visible signs of blue-light damage—such as dullness, pigmentation and photoageing—that put a dent in your skin's radiance.
81. BEST CC CREAM
Your Skin but Better CC+ Cream with SPF 50+, $62, IT Cosmetics
Developed with plastic surgeons, this full-coverage colour corrector does its job with pigments that mask tonal issues and skincare ingredients that work from the inside out to help reduce discoloration (think acne scars, post-inflammatory hyperpigmentation and dark circles). It also boosts hydration, and minimises the look of pores and wrinkles. The deal-sealers: A gentle-on-skin formula and sun-protection properties.
82. BEST CUSHION FOUNDATION
Le Cushion Encre de Peau, $102, YSL Beauté
Cushions deliver the benefits of a liquid and the convenience of a compact. What sets this one apart from its counterparts in a saturated market: A lightweight formula that still packs a punch when it comes to coverage, courtesy of a weightless, ink-like fluidity that forms a buildable, flawless veil over skin and a shine-absorbing matte finish.
83. BEST FOUNDATION FOR OIL CONTROL
Matte Glow Liquid Foundation, $85, Burberry Beauty
Matte doesn't have to mean flat, as this liquid foundation that combines a sebum-control formula with a luminous finish proves. Enriched with what the brand terms "a life-proof technology", it doesn't budge, crease or cake even in hot and humid conditions—making it the perfect match for Singapore's weather.
84. BEST FULL-COVERAGE FOUNDATION
Lock-It Foundation, $59, KVD Vegan Beauty
Don't be fooled by the texture of this liquid number—while it may seem a little heavy when dispensed, it feels weightless on skin. Count on it for all-day full coverage, thanks to skin conditioners and a transfer-resistant formula. Two pea-sized droplets are all you need for the entire face, and with a whopping 44 shades, you can be assured of finding your true match.
It all starts with the base: Correct textural and tonal concerns with primers before applying your foundation 
Top, ANNAKIKI
85. BEST HYDRATING FOUNDATION
Dior Forever Skin Glow, $85, Dior
Promising up to 24 hours of medium-to-full coverage with a radiant finish, this liquid foundation also offers help for those falling short on the aqua end of the water-oil equation. Designed to maintain the perfect water-oil balance for a naturally luminous, shine-free look, it has pansy extract to help improve dryness and antioxidant-rich rosehip extract to give the skin's lipid barrier a reparative boost while refining skin texture.
86. MOST LUXURIOUS FOUNDATION
Shade And Illuminate Soft Radiance Foundation SPF 50, $200, Tom Ford Beauty
Your textbook definition of luxurious, this liquid feels velvety yet light, enveloping skin in an ultra-comfortable, breathable embrace that perfectly masks imperfections big and small. A blend of advanced elastomers and light-diffusing powders optimises radiance, while skincare ingredients such as hyaluronic acid, noni fruit extract and botanical oils work on hydrating and protecting skin.
87. BEST CONCEALER FOR BLEMISHES
Soft Matte Complete Concealer, $46, NARS
Dark spots, under-eye circles, redness, pimples—cover 'em all and make like they were never there with this oil-free matte cream concealer fortified with peptides, hyaluronic acid, and vitamins A and C to support and promote healthy skin. With 30 shades to choose from, colour match is a done deal.
88. BEST UNDER-EYE CONCEALER
Bye Bye Under Eye Full Coverage Anti-Aging Waterproof Concealer, $42, IT Cosmetics
While a good concealer can flawlessly hide issues such as dark circles, redness, broken capillaries and age spots, a better one goes beyond the surface to actually work on them. Cue this aptly named one, which is formulated with the proprietary Expression Proof technology along with peptides, vitamins, antioxidants, hyaluronic acid and hydrolysed collagen to work from within to deliver visible results.
89. BEST CONTOURING PALETTE
Duo Shading in Smog, $35, Make Up Store
The best contouring palette is one with perfectly complementary hues for shading and highlighting—just like this powder duo, which pairs a neutral-to-warm matte medium brown for natural-looking sculpting with a shimmery peach to add instant glow and dimension.
90. BEST CONTOURING PRODUCT
Airbrush Bronzer, $86, Charlotte Tilbury
Pulling double duty as a contouring powder, this bronzer gets you a perfectly sculpted visage and that coveted sun-kissed glow. Infused with hyaluronic acid and finely milled pigments, it acts as a real-life beauty filter that adds depth and definition while blurring the look of pores and smoothening the appearance of skin. Applying with a silky texture, the matte formula means it can also be used on the nose to help you create your dream shape.
91. BEST CREAM BLUSHER
Cheeks Out Freestyle Cream Blush, $33, Fenty Beauty
While the vivid hue in the pan seems daunting, it goes on translucent for colour you can build as you please—giving cheeks everything from the most naturallooking sheen to the prettiest full-on flush. For best results, apply on the fleshy part of the palm and dab on cheeks.
92. BEST FLUID HIGHLIGHTER
LT Pro x Michelle Quan Perfect Glow Liquid Highlighter, $24.50, LT Pro
This one takes home the prize for its versatility in terms of usage. Wear on its own and dab on using fingertips for sky-high cheekbones, or apply under foundation for a more subtle lit-from-within glow. You can also add it to a moisturiser or a makeup base to enhance skin's overall radiance.
93. BEST POWDER BLUSHER
Amazonian Clay 12-Hour Blush, $48, Tarte
This has all the hallmarks of a top-notch blusher and then some. True-colour mineral pigments, a long-wearing formula and a silky texture that blends seamlessly check all the right boxes on the cosmetics end, while Amazonian clay and vitamin E—which moisturises and absorbs excess oil, and hydrates and protects against free-radical damage respectively—bump it into skincare territory.
94. BEST POWDER HIGHLIGHTER
Diamond Shine, $39, Make Up Store
Shine bright like a diamond with this powder that glides on like satin and comes in a universally flattering hue to emphasise the high points of the face. The shimmery quality adds subtle sparkle, making like a glittery veil of diamond dust over skin.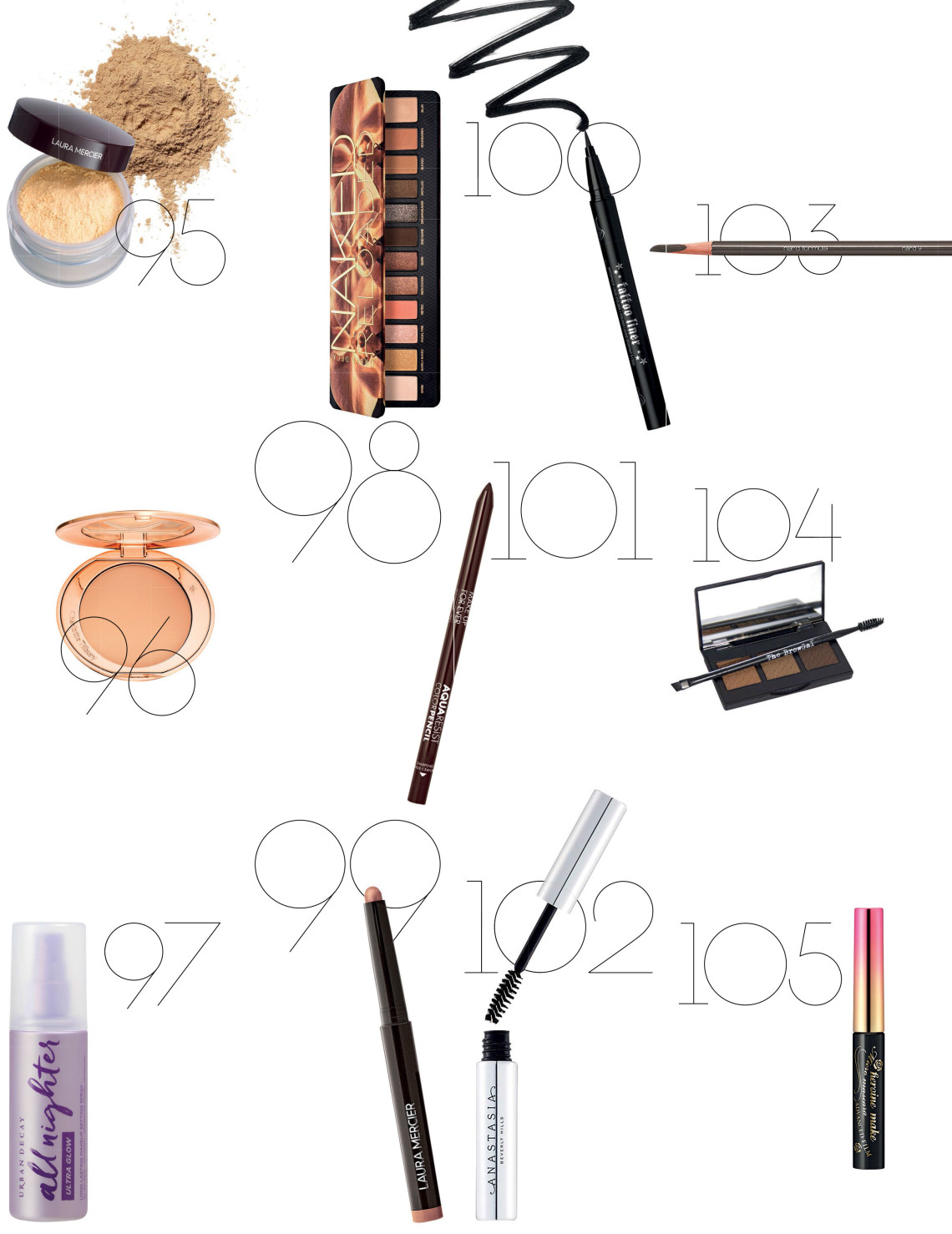 95. BEST LOOSE POWDER 
Translucent Loose Setting Powder in Honey, $70, Laura Mercier
Setting products are a must for helping makeup last longer. This finely milled powder promises to set makeup for 16 hours without added weight, while imparting warmth to skin with the peachy yellow hue. With a no-flashback formula that also creates a soft-focus effect that blurs imperfections, it keeps you looking great in photos.
96. BEST PRESSED POWDER
Airbrush Flawless Finish, $78, Charlotte Tilbury
Giving skin a natural-looking airbrushed look, this finishing powder sets your makeup for longer wear while further perfecting the look of skin, keeping it bright and shine-free with light-reflecting pigments that blur flaws and illuminate, as well as nourishing ingredients such as rose wax and almond oil.
97. BEST SETTING SPRAY
All Nighter Ultra Glow Makeup Setting Spray, $48, Urban Decay
The gold standard in setting sprays, this cult favourite ensures that your makeup never strays. Fortified with hyaluronic acid and agave extract to keep moisture levels up, it helps skin look dewy without risking makeup migration.
EYES

98. BEST EYESHADOW – PALETTE
Naked Reloaded Eyeshadow Palette, $71, Urban Decay
Intended as a replacement for the original, iconic Naked Palette, which was discontinued, this has big shoes to fill—a job it does nicely with a one-two combo of a velvety, high-pigment, ultra-blendable formula and 12 universally flattering neutral hues that give a gorgeous eye look no matter if used alone or paired.
99. BEST EYESHADOW – SINGLE
Caviar Stick Eye Colour, $49, Laura Mercier
This has a creamy texture that blends easily but doesn't crease or budge once set; rich, buildable colour that's great on its own or under powder eyeshadow to enhance its vibrance and staying power; and a range of finishes that allow for ultra-versatile wear. Sign us up stat.
100. BEST LIQUID EYELINER
Tattoo Liner, $32, KVD Vegan Beauty
This waterproof liner once went viral for staying on even after a trip to the A&E, so you can be assured of all-day waterproof wear that's supremely resistant to smudging. The brush tip makes for easy, ultra-precise application that's great for a host of looks— from classic cat's eye to avant-garde graphic trends.
101. BEST WATERPROOF EYELINER
Aqua Resist Colour Pencil, $36, Make Up For Ever
Professional synchronised swimmers lend the Aqua Resist range cred, attesting to the absolute staying power of its eye makeup. This pencil with a gel-like texture gets our stamp of approval for its exceptional waterproof formula that glides on smoothly without tugging on the delicate skin, delivering ultra-pigmented colour that reportedly stays put for 24 hours. An in-built sharpener ensures ultimate precision every single use. 
102. BEST BROW GEL
Clear Brow Gel, $40, Anastasia Beverly Hills
Not just for taming stray hair, this clear gel can also be used as a topcoat over other brow products to set colour and give a polished finish. The weightless formula delivers flexible hold for a natural-looking effect and even has soothing camomile to condition hair.
103. BEST BROW PENCIL
Hard Formula H9, $33, Shu Uemura
If versatility is thy game, this pencil is hands down the best player. Its unique tip—shaped like the blade of a traditional Japanese sword—boasts an edge that delivers hair-thin strokes, side surfaces for bold or natural-looking shading, and a point for filling in fine gaps, making for a versatile tool that can withstand changing brow trends.
104. BEST BROW POWDER
Convertible Brow, $55, The BrowGal
Get soft and fluffy, bold and strong, or lush and natural-looking brows with this unique formula that functions as both a powder and a pomade. Use dry to fill in sparse brows, or wet (simply dampen an angled brow brush) to add precise, hair-like strokes for more definition; a combination gives a natural-looking 3D effect.
105. BEST LENGTHENING MASCARA
Micro Mascara Advanced
Film, $21.90, Heroine Make Take your lashes to greater heights with this lengthening and curling formula that comes with a super-fine wand that catches even the tiniest lashes to coat them evenly from root to tip. While it's resistant to water, sweat and sebum, it comes off easily with warm water, thereby helping to reduce fallout resulting from harsh removal methods.
106. BEST VOLUMISING MASCARA
Mascara L'Obscur, $56, Gucci Beauty
Bolder, thicker, lusher. That's the promise here, made good with an ultra-rich formula that thickens lashes without clumping, flaking or budging once dried. A flexible elastomer brush grips even the smallest lashes for easy root-to-tip application and fans them out to luscious effect.
107. BEST WATERPROOF MASCARA 
Lights, Camera, Splashes, $35, Tarte
This has a lengthening, curling, volumising and conditioning formula that lasts through sweat, rain and tears, plus a 360° magniLASH wand that works on giving the most intense yet natural-looking curl and definition. Need we say more?
LIPS
108. BEST HIGH-SHINE LIPSTICK
Rouge Coco Flash, $52, Chanel 
High shine is the name of the lip game this year and Chanel has come up tops with this range of super-wearable colours, thanks to light-reflecting oils and a butter that transforms into a moisturising oil upon application. Bonus: It boasts the brand's Hydraboost complex, which has mimosa, jojoba and sunflower waxes to reportedly keep lips moisturised for up to eight hours post-application.
109. BEST HIGH-SHINE LIPSTICK
Ecstasy Mirror, $57, Giorgio Armani Beauty
For those who prefer a liquid formula, there's this lacquer that imparts a mirror-like finish sans stickiness, courtesy of ethylcellulose, a cellulose derivative that creates a light-reflecting film over lips. High levels of pigments and dyes keep the colour intense.
110. BEST HYDRATING LIPSTICK
Rouge Dior Ultra Care, $52, Dior
This gets two thumbs up for both colour and skincare impact. Intense colour pay-off aside, it has a hydrating core—fashioned as a Christian Dior logo—composed of nourishing ingredients that work on strengthening the skin barrier and keeping puckers soft, smooth and plump for ultimate kissability. This also ensures that the luminous matte finish doesn't flake or feather for up to 12 hours.
111. BEST LIP BALM
Loubibelle Lip Beauty Oil, $108, Christian Louboutin Beauty
With a formula that includes jojoba oil, this emollient-rich oil envelops lips in a glossy, hydrating layer while softening it. The iconic Louboutin red, which goes on sheer, flatters most skin tones and looks good when worn alone or over other colours.
112. BEST LIP GLOSS
California Kissin' ColorBalm, $36, Benefit Cosmetics
Keep things glossy with this hydrating formula infused with mango butter and hyaluronic acid. One swipe is all it takes to stain lips with highly pigmented, buildable colour and keep them hydrated for up to eight hours.
113. BEST LIQUID LIPSTICK
Lip Maestro Liquid Matte Lipstick, $55, Giorgio Armani Beauty 
This hits the sweet spot between matte and high shine. Unlike most matte lipsticks, which come without even a hint of gloss, this one has a translucent gel base that catches the light while also reflecting it, creating a sort of backlit effect for a matte colour with a seemingly inherent velvety glow.
114. BEST MATTE LIPSTICK
Rouge Hermès Matte Lipstick, $103, Hermès
As expected from a brand as synonymous with luxury as Hermès is, this matte number goes on like second skin, with a sumptuously velvety finish likened to the soft, powdery feel of fine-grain suede. Intense colour pay-off and moisturising benefits are par for the course.
115. BEST SHEER LIPSTICK
Slip Shine Sheer Shiny Lipstick, $36, Fenty Beauty
Offering ultra-comfy wear, this sheer option with a creamy texture has a lightweight formula infused with moisturising and antioxidant-rich pomegranate butter to nourish and protect your pout even as it imparts a delicious pop of diaphanous colour.
NAILS
116. BEST NAIL LACQUER
Rouge Louboutin Nail Colour, $80, Christian Louboutin Beauty
Get maximum attention with this bold, seductive hue from the brand famed for its red-soled heels. The patented triangular brush picks up just the right amount of the highly pigmented, ultra-glossy formula to deliver even, vivid colour and chip-resistant coverage with just one swipe.
BODY CARE AND FRAGRANCES
Luxurious washes, renewing polishes, contouring creams and scents that take you around the world make for a sensorial wind-down routine that'll revitalise body and soul.
CLEANSERS & EXFOLIATORS
117. BEST BODY WASH
Plantation Shower Gel – Garnet, $39, Spa Esprit
A blend of bergamot, clarysage, geranium and cedarwood essential oils relieves stress, promotes calmness, and even fights bloating and flatulence. Use as part of your daily night-time shower routine to relax before bed.
118. BEST BODY WASH FOR SENSITIVE SKIN
White Tea Shower Oil, $47, SABON
Formulated with sensitive skin in mind, this foaming formula has nourishing olive, avocado, jojoba and wheat germ oils to relieve dryness while softening and moisturising. The calming scent—a harmonious blend of fig, lemon, white tea, jasmine and cedarwood—evokes a sense of inner peace.
119. BEST SHOWER OIL
Atoderm Huile de Douche, $39.90, BIODERMA
Leaving skin silky smooth, this rich shower oil has vegetal biolipids, vitamin PP, and coconut and sunflower esters to work on strengthening the skin's protective barrier. It also boasts the patented Skin Barrier Therapy, which keeps irritation to a minimum. Transforming into a creamy wash upon contact with water, it gives a comfortable cleanse that doesn't strip skin of its natural oils.
120. BEST BODY POLISH
Geranium Cedarwood Body Polish, $74, SPARITUAL
Exfoliate, soothe and moisturise with this skin-renewing blend, whose key actives include the antioxidant-rich ginger root extract, anti-inflammatory sunflower oil, and coconut sugar, which acts as both humectant and gentle exfoliator. Use once or twice a week—pay special attention to the elbows and knees—to keep skin looking tip-top. Bonus: The uplifting scent of geranium and cedarwood.
MOISTURISERS
121. BEST ANTI-AGEING BODY MOISTURISER
Firming & Toning Body Lotion, $36, The Herb Farm
This lightweight lotion has a nourishing blend of shea nut butter, avocado oil, horse chestnut and gotu kola extracts, and apple seed oil to reduce the look of cellulite, and stimulate the production of collagen and elastin. Grapefruit and black pepper essential oils boost circulation and combat fluid retention to leave skin looking smoother, suppler and more radiant.
122. BEST BODY MOISTURISER FOR SENSITIVE SKIN
Atoderm PP Baume, $49.90, BIODERMA
Providing 24-hour hydration and relief for sensitive skin, which is prone to dryness, irritation and inflammation, this nutritive balm has essential lipids and moisturising agents to replenish water levels. Fortified with vitamin PP (an anti-irritant), it also stimulates the production of ceramides—the building blocks of a healthy skin barrier that keeps irritants out while locking in moisture.
123. BEST DAILY BODY MOISTURISER 
Sensual Body Lotion – Bourbon Vanilla,$20, Yves Rocher
Harnessing the skin-loving benefits of shea butter to condition, tone and soothe, this leaves skin well moisturised and lightly fragranced with a sensual vanilla bourbon scent that encourages relaxation.
124. MOST LUXURIOUS BODY MOISTURISER
Rose of No Man's Land Body Cream, $122, Byredo
Offering a complete sensorial experience, this body cream—so named as a tribute to the frontline nurses in World War I known as "Roses"—has a high concentration of shea butter for supreme hydration, along with the comforting scent of Turkish roses.
125. BEST HAND CREAM
Rose Hand Cream, $74, Jurlique
Combining the calming and soothing properties of rose with a deeply nourishing blend of macadamia and safflower oils, this leaves your mitts soft and smooth—so they'll never betray your age.
Round off your self-care routine with a spritz of your favourite fragrance for an instant lift in mood—and let your mind wander to another place and time
Top; briefs, VII Studio
TARGETED TREATMENTS
126. BEST BODY-SHAPING PRODUCT
Slimming Action Serum Drosera & Algae, $71, Thermes Marins de Saint-Malo
Get a shapelier silhouette with a little help from this fast-absorbing gel-cream, which has extracts of drosera (the sundew plant) and caffeine to reportedly burn fat, tighten and brighten skin, and reduce the look of cellulite. Spirulina (a type of algae) extract works to further tone skin.
127. BEST CUTICLE TREATMENT
The Unguent – For Nails and Cuticles, $48, Révérence de Bastien
Show your nails and cuticles some love with this nourishing cocktail of argan oil, camellia oil, apricot pit, and vitamins A and E, which tackles dry and peeling cuticles while reportedly strengthening brittle nails. Be sure to massage in until completely absorbed.
128. BEST TREATMENT FOR STRETCH MARKS 
Body Partner Stretch Mark Expert, $98, Clarins
Targeting stretch marks caused by pregnancy and weight fluctuations, this has potent botanical extracts said to promote skin firmness and elasticity, soothing glycyrrhetinic acid, and nourishing hazelnut oil to provide much-needed relief from itch and tightness.
FRAGRANCES
129. BEST AQUATIC SCENT
Aqva Pour Homme Atlantiqve EDT, $155 for 100ml, Bvlgari
Inspired by the strength of the Atlantic Ocean, this fragrance echoes the call of the sea with top notes of bergamot, lemon and what the brand calls "a vital water accord", a "sea amber" heart that evokes the depths of the ocean, and a woody base of vetiver, patchouli, sandalwood and benzoin.
130. BEST CITRUS/FRUITY SCENT
001 Woman EDT, $180 for 100ml, Loewe
Bringing to mind the purity and uncertainty of a blossoming love, this opens with sparkling mandarin, bergamot and pink pepper before exposing a fresh heart of linen, jasmine and sandalwood, and easing into a warm base of amber and vanilla.
131. BEST FLORORAL SCENT
My Burberry Blush EDP, $226 for 90ml, Burberry Beauty
This bouquet takes you on a walk through a London garden with vibrant top notes of pomegranate and lemon, a delicate heart of rose and crisp apple, and a musky-sweet base of jasmine and wisteria.
132. BEST GREEN SCENT 
Eau de Minthé EDP, $223 for 75ml, Diptyque
Come back to nature with the brand's first genderless fougère perfume, which has at its heart the Cascade Mint, which smells greener and earthier than your usual variety. Floral geranium and the sweet-musky patchouli soften and add depth to the aromatic freshness.
133. BEST ORIENTAL SCENT
Signatures of the Sun – Osmanthus EDP, $345 for 100ml, Acqua di Parma 
Explore the outdoors on this side of the world with this oriental scent, with opening notes of tangy mandarin and sweet-floral neroli that segue into a warm heart of peony, pink pepper and ambrette, enriched with an osmanthus and patchouli base.
134. BEST SWEET SCENT
Omnia Pink Sapphire EDT, $149 for 65ml, Bvlgari
Capturing the essence of summer, this sparkling scent starts off with the fresh accords of pink pomelo and pink pepper before settling into a floral heart of frangipani and wild tiare flower. Base notes of wood and white musk round up and help ground the effervescent scent.
135. BEST WOODY SCENT
Nomade Absolu De Parfum, $201 for 75ml, Chloé
Let this woody chypre lead you on a voyage through the desert, with promises of infinite horizons and freedom. The lush sweetness of mirabelle plum paves the way to a fruity-sensual heart of davana and oak moss before drying down to a warm base of musk and sandalwood. 
BEST ANTI-AGEING ORAL SUPPLEMENT
CRYSTAL TOMATO BEAUTY SUPPLEMENT
$169 (before GST) for a box of 30 capsules, Crystal Tomato
Notice fine lines marring your previously flawless complexion? Or a dullness or roughness that no amount of sleep or diligent application of skincare can fix? Skin ageing—premature or otherwise—may be the issue at play here. While we can't stop the ageing process, we can prevent the signs from showing on our skin—with a little help from Crystal Tomato's Beauty Supplement. 
It's no secret that environmental factors such as pollution and UV rays are one of the biggest threats to healthy, radiant skin, not least because they can induce and accelerate extrinsic ageing. This supplement helps counter this with Crystal Tomato Carotenoids, which are extracted from specially cultivated, non-genetically modified crystal tomatoes. These potent antioxidants aid in reducing the damage caused by free radicals, pollutants and the like, and better yet, offer protection against oxidative stress, thereby helping to prolong the longevity of cells and fight premature skin ageing. 
Unlike regular carotenoids, which are usually coloured and can give skin an orange tint when taken in large amounts, Crystal Tomato Carotenoids are colourless and have just as strong an antioxidant effect. Combined with the regular use of a sunscreen, this supplement offers well-rounded protection against sun damage.
Working in tandem is L-Cysteine, an amino acid that promotes collagen and elastin production to plump and firm skin for a more youthful look and feel. It also stimulates the production of glutathione, which lightens pigmentation by converting melanin into a lighter hue.
It's never too early to embark on an anti-ageing regime, and at just one caplet daily, this is an easy first step towards beautiful, radiant skin, no matter your age.
Available only at authorised medical and aesthetic clinics. Visit crystaltomato.com for more information.
BEST MULTI-ACTION ORAL SUPPLEMENT
RADIANT EFFECT
$200 for a box of 30 capsules, Lush Laboratory
Troubled by a host of skin issues such as fine lines, wrinkles and inflammation? Lush Laboratory's Radiant Effect can help tackle all that and more—while brightening your complexion and getting you that natural glow you've always dreamt of.
Made with premium natural ingredients, this oral supplement works on improving overall skin tone and texture. Key active PhytoFLORAL Pure Fine is rich in the colourless carotenoids phytoene and phytofluene, which, as clinical studies have shown, outperform their coloured counterparts when it comes to UVA and UVB absorption, thereby providing more efficient protection against skin-damaging and -ageing UV rays. They also help inhibit melanin production to control pigmentation. 
There's also NutroxSun, an exclusive blend of Mediterranean rosemary and grapefruit extracts that bolsters the skin's sun defence. Clinically proven to offer vital protection against sun-induced damage such as photo-ageing, dullness, dryness and blemishes from the get-go, it promises to deliver visible tonal and textural improvements within weeks. 
Meanwhile, vitamin C derived from acerola berries help fight discoloration while stimulating collagen and elastin production for firmer skin. Working alongside is the amino acid L-Cysteine, a catalyst for the production of glutathione—one of the body's most potent natural antioxidants and detoxifiers.
Formulated by skin and nutrition specialists in the UK, Radiant Effect is a multi-action supplement made with ingredients clinically proven to relieve skin redness in 24 hours, improve skin elasticity in 15 days and even out skin tone in one-and-a-half months—all while delivering daily UV protection. All you need to do to reap these benefits: Take one tablet daily and watch as your skin is transformed from the inside out.
Available only at authorised clinics and hospitals. Visit lush-laboratory.com for more information.
BEST LIFTING/FIRMING/CONTOURING SERUM
MT ESSENTIAL SERUM
$185.10 for 30ml; $270 for 50ml, MT Metatron
Over time, the skin naturally loses its elasticity. Add to that weakening facial muscles and gravity, and you'll find that everything is, quite literally, heading south—with a certain sagginess making a disturbing appearance and a web of wrinkles insidiously making its way across your face.
Pick up the slack and fight those unwanted fine lines with MT Essential Serum, the star in Japanese brand MT Metatron's Firming Care line, which also has a lotion, a cream and a mask. Working to lift, firm and tighten skin for more defined contours while simultaneously visibly reducing the look of wrinkles, it is powered by DMAE (dimethylaminoethanol), a top-grade skincare ingredient that is used in medical injectables to tackle loose skin on the face, neck and décolletage. Naturally produced in the body and also found in fatty fish, it stimulates muscle contraction for supposedly instant visible lifting and toning effects. 
Working alongside DMAE are carnosine and alpha-lipoic acid, which have potent antioxidant properties to help restore your skin to its youthful-looking best. The first is said to protect against tissue damage as well as activate the skin's fibroblasts to boost collagen and elastin production; the second combats free-radical damage while reportedly increasing the body's natural production of glutathione—an antioxidant known for its detoxifying, anti-ageing and anti-inflammatory properties, as well as its ability to inhibit melanin production.
Deeply penetrating, the serum works on all layers of the skin to deliver a face-lifting boost sans surgery. Gentle enough for use on the delicate eye area, it helps tackle even those pesky crow's feet for an all-around smoother, firmer complexion that'll make you look years younger.
Available at Isetan Scotts. Visit metatron-cosme.jp/en for more information or sign up for MT Metatron's WhatsApp membership at 8388 7884.
BEST SKIN-SMOOTHING EYE PRODUCT
SMOOTHING EYE CREAM
$106, RE:ERTH
Are you a frequent smiler who is easily tickled? Or perhaps a habitual squinter or someone who customarily forgets to put on sunscreen before leaving the house? Well, newsflash: All these, coupled with age-related declines in the body's natural production of collagen and elastin, can exacerbate crow's feet and even cause early wrinkling around the eyes.
The good news is RE:ERTH's Smoothing Eye Cream can help tackle the fine lines—and more—that result from both chronological ageing and photoageing. Powered by nature-derived actives, it is designed to work on the cellular level for visible transformation. Formulated in Denmark, the patented Water-Soluble Vitamin A helps realign collagen fibres to restore skin's elasticity and structure while aiding healing and promoting natural moisturising for improved radiance. Eyeseryl, meanwhile, boosts microcirculation to de-puff and brighten.
Then there's colostrum (aka first milk) obtained from Danish cows, which has glycoproteins that are known to improve fibroblast activity and thus, increase collagen levels and speed up skin repair. It is also a rich source of immunoglobulin, which has antibacterial properties, and vitamins B and E—potent antioxidants that help counter and protect against UV-induced oxidative damage.
Working in tandem is turmeric root extract, which has anti-inflammatory, antimicrobial and antioxidant properties. Thanks to the multi-action active ingredients, this cream delivers a host of benefits that range from reducing the look of wrinkles to firming up skin and boosting overall radiance. 
You may not be able to turn back the clock, but with the RE:ERTH Smoothing Eye Cream, you can rediscover a smoother, firmer, more luminous eye contour—so that you have all the more reason to keep smiling.
Available at TANGS at Tang Plaza and online at reerth.com. Visit reerth.com for more information.
Photographer: Zakk Ran Stylist: Pu An
Models: Xu Xinyuan, Yang Shengjie
Makeup: Li Xinyuan
Hair: Sen Sen 
Assistants: Zhao Daguo, Hao Yi