I used to be that girl whose life revolves around her partner.
Checkered raincoat, $480, Maje. Short-sleeved denim jacket, $220, Bimba y Lola. Turtleneck sleveless tee, $229, PH5 from Society A. Denim skirt, $495, Diesel. Hoop earrings, $90, Bimba y Lola. Beaded bracelet, model's own. 
You have to learn to love yourself before someone else can love you 
"I used to be that girl whose life revolves around her partner," says Naomi. She recalls canceling plans at the drop of a hat just to accommodate the schedules of her exes.
"In retrospect, I don't think I really loved those guys. I didn't love myself enough to say 'no, I have my own plans and I'm not going to cancel them for you'. I didn't love myself enough to walk away. I always needed validation, so I kept trying to fill that void with guys who would validate me."
At the end of the day, no matter what [your mum] did, be forgiving and remind yourself of all the hardship she has gone through to nurture you," wrote Naomi in a poignant blog post nine years ago. She was only 14 then. Now 23, the social media star and first-time mum gets introspective about love, life, and her career.
Think before you retaliate
She's known for being a firecracker on Twitter and Facebook in the early stage of her social media career, and was quick to snap back at her detractors. But over the last few years, Naomi has been rethinking this approach. 
She recalls incidents when she reacted without keeping her emotions in check that didn't turn out well. "It's something that I do differently today," she says. 
"I remember the last time someone tried to get me involved in some online drama —I remember typing my response out and was ready to post it, when my then- boyfriend (now my husband) told me to take some time to cool down first. After I had calmed down, I realised I didn't feel like hitting back anymore.
Denim shirt dress with detachable denim skirt, $495, Diesel. Multicoloured shirt, $390, Bimba y Lola. Satin knee-high boots, Off-White C/O Jimmy Choo. Hoop earrings, $90, Bimba y Lola. Gilded necklace, $815, Alessandra Rich Eyewear from On Pedder. Beaded bracelet, model's own.
I'm surprised by how much I've changed
"I used to be fearless. And as a by-product of that, I was impulsive. Although I've made a lot of mistakes because of it, they made me who I am," reflects Naomi. 
"If I could do it all over again, I'd be more careful about what I say. I used to be very vocal without thinking about the consequences or how people might interpret what I say. It was never my intention to cause any harm, but I was rather insensitive," she adds.
"Today, I'm more responsible. I'm still the same person, just that I'm more mindful about the things I say and how I react to situations." 
Never tattoo something you got off Google translate
Before Ariana Grande and her "seven rings" tattoo fiasco (it reads "small barbecue grill" instead), there was Naomi Neo and her "I love my dog" tattoo. She got it on a whim five years ago. 
She's in the process of lasering it off, and the Japanese characters are now nothing more than a muddle of faded pigments on her right forearm.
"It sounds so shallow now," she says with a small chuckle. "I thought, 'oh, let me make it more sophisticated by translating it to Japanese.'"
Cropped leather jacket, $795; and slogan bra top, $100, both Maje. Two-tone denim jeans, $555, Diesel. Checkered boots, Jimmy Choo. Resin earrings, $54.95, H&M. Gilded chain belt, $275, Maje.
You're not alone in a lot of things

Two years back, Naomi started @uaintalone, a more contemplative counterpart to her main Instagram account that encourages her followers to talk about their feelings. On that account, she dishes out advice like "It's OK to take your time to feel hurt and angry" and "Wait for a guy who doesn't mess with your mind and insecurities".
Why?
"It's not a one-way street of me sharing my personal life online. My followers also talk to me about what they're going through, and their stories and experiences inspire me so much. In a way, they're also guiding me and letting me know that there are better things ahead."
While there are other influencers who have leveraged their social media presence to launch product lines or talent agencies, Naomi candidly shares that that's not for her.
"People always ask me what's my end goal. All I know is that I enjoy sharing my experiences, and I want to create a platform for a positive community. I've been wanting to work on something that's a feel-good space—where we can all learn and grow from each other's life experiences."
Leather jacket, $805, Pinko. Rose- print denim jacket, $830; and rose-print denim skirt, $495, both from Kenzo. Checkered boots, Jimmy Choo. Gilded necklace, $815, Alessandra Rich Eyewear from On Pedder. Beaded bracelet, model's own.
My life will never go back to how it was before I had my son Kyzo

"I thought I'd be the cool mum who goes clubbing," says Naomi with a shake of her head. "I'm a huge party animal, and I thought everything would go back to normal. Like, if somebody was helping me to take care of Ky, I could still go clubbing, you know?"
"I did try—though I didn't drink because I'm  breastfeeding—but the whole time I was just like: 'I want to go back and sleep. How is Ky now? I don't want to spend the next day catching up on sleep and miss spending time with my baby,'" she recounts, laughing at her naivety.
"I really enjoyed clubbing," she reiterates. "The fact that I'm willing to give that up so easily is very surprising to me."
"I didn't foresee myself settling down so soon… And I didn't expect myself to be in such a different place, physically, mentally, and spiritually."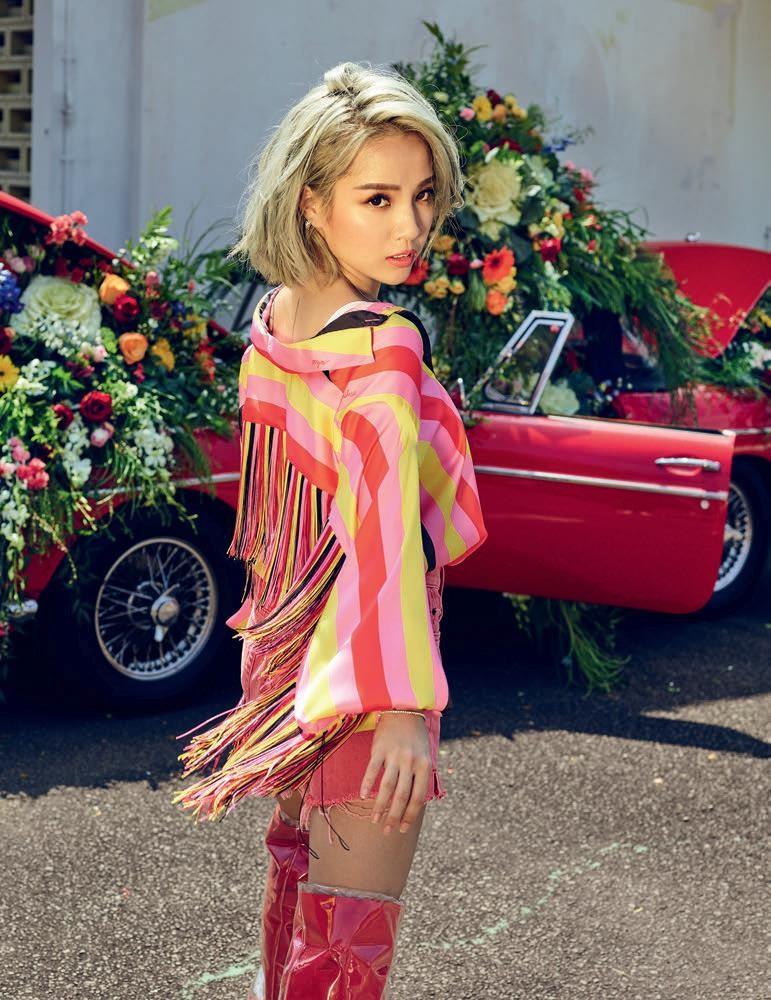 Fringed satin shirt, $860, MSGM. Distressed denim shorts, $390, Denim by Alexander Wang. Satin knee-high boots, Off-White C/O Jimmy Choo. Beaded bracelet, model's own.
I USED TO BE FEARLESS. AND AS A BY-PRODUCT OF THAT, I WAS IMPULSIVE. ALTHOUGH I'VE MADE A LOT OF MISTAKES BECAUSE OF IT, THEY MADE ME WHO I AM.
PHOTOGRAPHY IVANHO HARLIM
FASHION DIRECTION JANICE PIDDUCK
STYLING SIFRA VANIA YULIUS
FASHION ASSISTANT FOONG KAI YU
MAKEUP HONGLING USING NARS
HAIR ASH LOR /SONDER HAIR USING KEUNE HAIRCOSMETICS
VINTAGE CAR KOMBI ROCKS (KOMBIROCKS.COM)
FLOWERS FLOWER STORY (FLOWERSTORY.COM.SG)