Hide under-eye dark circles, shape those arches and draw your eyeliner like a pro – we teach you how to truly enhance the windows to your soul.
"Earrings and dress, both from Bimba Y Lola."
EXCESS BAGGAGE
The tell-tale sign of last night's sleep quality is always apparent under the eyes. This is how you can mask signs of fatigue, without looking like a cakey mess.
STEP 1: Using a fluid concealer, dot the inner and outer corners of the eye. Most of the time, you need less product than you think you do. Avoid swiping concealer on the entire undereye area. This area experiences a lot of movement throughout the day, and that means the concealer would often end up settling into lines or appear patchy at the end of the day.
STEP 2: With your finger, dab (not smear) the concealer along the under-eye area, taking care to blend the concealer so that it disappears into skin.
STEP 3: Set the concealer by sweeping loose powder over it. Go with a light hand and use a fluffy brush. This would help the concealer to last longer.
TRY THESE
Urban Decay Stay Naked Correcting Concealer, $40.
Shu uemura Unlimited Stretchable Lasting Concealer, $46.
Shiseido Synchro Skin Invisible Silk Loose Powder, $70.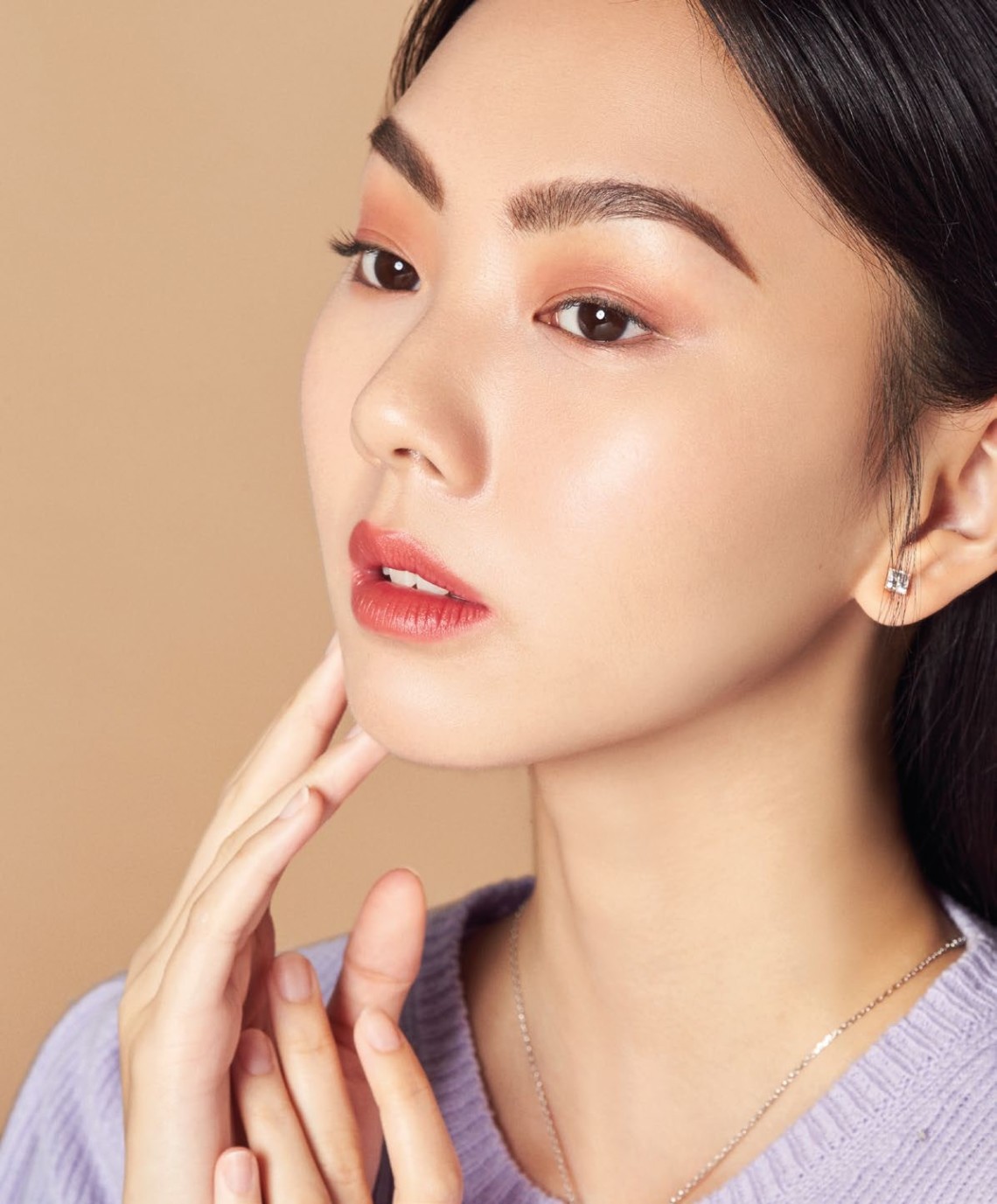 "Earrings and necklace, both from Swarovski. Knit from Maje."
BROW WOW
Well-defined eyebrows not only frames your face, they can make your eyes appear lifted as well. As your natural brow shape often balances out your features, the approach towards brow trends like straight Korean brows should be prudent—it might not suit everyone. For a brow shape that works for you, it is best to enhance your natural brow shape.
STEP 1: With an eyebrow pencil, draw light upward strokes to mimic hair strands. The trick is to follow the direction in which your natural hair grows. If you make any mistakes – don't panic, just brush it out with a spoolie to blend it out.
STEP 2: The ends of eyebrows tend to be a little bit sparse, so use the brow pencil to bring definition back to the eyebrows by drawing along the natural shape, and then filling it in.
STEP 3: Instead of using brow powder or pencil to fill in sparse areas, you can avoid the "coloured in" look (which often appears unnatural) by using a brow mascara to coat existing brow hair to help it appear thicker. Brush against the hair, towards the centre of the face to coat the hair evenly.
STEP 4: After coating the brow strands, brush in the opposite direction to shape and keep stray hair strands in place.
TRY THESE
Benefit Cosmetics Brow Styler $60.
Hourglass Arch Brow Micro Sculpting Pencil, $47.
Urban Decay Brow Endowed, $42.
Anastasia Beverly Hills Tinted Brow Gel in Chocolate, $40.
"Earrings and shirt, both  from Bimba Y Lola."

DRAW THE LINE
The payoff for perfectly-drawn eyeliner is so high, but people are often daunted by how tough it is to line their eyes with a liquid eyeliner. The trick? Nobody actually said you had to do it in one swift stroke.
STEP 1: Start off by using the liquid eyeliner to draw three dashes – along the front, middle and end of your lash line. If you're still stressed out by this step, begin with shorter strokes, or dots.
STEP 2: This step is relatively simple: Join the lines (or dots) to form a uniform line along the lash line.
STEP 3: To further accentuate the eyes, lengthen the ends of the eyeliner further. Don't worry if you mess it up. Practice makes perfect!
TRY THESE
Stila Stay all Day Waterproof Liquid Eye Liner in Intense Black, $32.
Kat Von D Dagger Tattoo Liner Waterproof Liquid Eyeliner, $32.
Heroine Make Smooth Liquid Eyeliner in Jet Black, $18.90.
TEXT: ARISSA HA / PHOTOS: PHYLLICIA WANG / MAKEUP: LARRY YEO, ASSISTED BY LIM HONG LING, USING LAURA MERCIER / HAIR: SAMUEL SIM/HAIRLOOM, USING KEVIN.MURPHY / MODEL: NICOLE L, BASIC  MODELS