Good skin starts with good skincare. With Astalift Jelly Aquarysta, keep your complexion in top form at all times.
Good skin starts with good skincare. With Astalift Jelly Aquarysta, keep your complexion in top form at all times.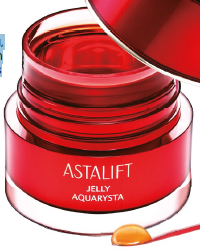 Astalift Jelly Aquarysta, $148 (40 g). Refills are available at $141.
Is your skin dull and sagging under the devastating ravages of time? It is only natural that as we grow older, our skin loses its elasticity, causing those dreaded fi ne lines and wrinkles. This is because as we age, our bodies produce less collagen and elastin – the essential building blocks that keep our skin bouncy and firm. When they are depleted, crinkles and crow's feet begin to appear as a result of the dryness and dehydration.
Avoiding collagen-killers such as smoking, stress, over-exposure to the sun and poor nutrition is vital, but using a preventive anti-ageing skincare product is just as important to keep your skin vibrant and radiant through every season of life.
Intense Hydration
With Astalift's signature product Jelly Aquarysta, you can restore much needed hydration to parched skin while replenishing lost collagen stores. Functioning as an essential skincare base, this renewed jellytype beauty essence contains a potent mix of collagen and hydrating ingredients to give tired complexions a boost.
Packed with three types of collagen which lie in its proprietary double human-type nano-ceramides, Jelly Aquarysta's moisturising actives penetrate better than conventional ceramides, offering much deeper hydration and nourishment.
Dispersed at the world's smallest 20nm-level without the use of oil solutions or emulsifi ers, the newly added human-type nano acyl ceramide crystallises easily and ensures that abundant moisture reaches every corner and crevice of each layer of your epidermis. Your skin will thank you for this enriching nourishment that goes deep beneath the surface.
Light And Refreshing
As refreshing as it is revitalising, this light-textured facial treatment also optimises your skin's moisture-retention capabilities to seal in essential nutrients while strengthening its protection barrier to keep skin supple and firm. At the same time, super-antioxidants nano astaxanthin and nano-lycopene work hand in hand to fight off damaging free radicals while conditioning your skin to absorb subsequent products applied afterwards.
With Jelly Aquarysta, you can stave off the effects of ageing with confidence. Infused with a soothing Damask Rose scent, this intensely hydrating yet lightweight jelly is suitable for all skin types and promises to restore that rosy glow so you can relish in a beautiful complexion every day.
Available at Astalift Boutiques: Wisma Atria #03-30, NEX #01-70 and JEM #01-20. For more information, visit www.astalift.com.sg or check out their Facebook page at Astalift Singapore.