Few things can instantly cheer up a room like a beautiful floral arrangement. Founder of Poppy Flora Studio, Sarah Lim, shares her top tips
Few things can instantly cheer up a room like a beautiful floral arrangement. Founder of Poppy Flora Studio, Sarah Lim, shares her top tips
FLOWER CARE TIP!
Prolong the life of your blooms by changing water every two days, trimming the stem and mixing crystals known as "flower food" into the water.
1. Match the vase to the table. "For a round coffee table, the vase should be taller, while for a long dining table, opt for a shorter vase to avoid blocking guests and the flow of conversations."
2. "Condition" your flowers. "Cut the stem at a 45-degree angle to give the plant more surface area to 'drink' water. Before arranging, place them in water in a cool, air-conditioned room for a couple of hours to prevent them from dehydrating too quickly."
3. Start with the leaves or "spillers". "These give your arrangement texture and direction in terms of shape. I like to use edible herbs like mint and basil for a unique touch! Follow with the big flowers or 'stunners' that make the biggest impact, then layer with smaller filler flowers like ammi majus and scabiosa, also called 'dancers'."
4. Measure the stem against the vase and trim it to the perfect height. "The general rule of thumb is for the flower head to touch the brim of the vase, or around one or two centimetres above it, to prevent the flowers from drooping."
5. Know what's in season. "For March, you can expect lots of spring flowers like hyacinths, tulips, lisianthus, Peruvian lilies and standard roses."
A CLEAN SWEEP (AND MOP!)
Upgrade your home cleaning with this appliance that uses revolutionary bionic cleaning technology. The HIZERO F801 combines sweeping, mopping, vacuuming and drying in one super smart body, and cleverly separates wet and dry particles so you don't have to worry about clogging. At $799, from leading department stores.
FRESHEN UP THE THRONE ROOM
To keep your bathroom smelling fragrant and fresh, place a few drops of your favourite essential oil on the inside of your toilet roll. You can find essential oils at MUJI, Young Living and doTERRA.
3 the Best Wall Organisers
STORAGE HAS NEVER LOOKED SO STYLISH!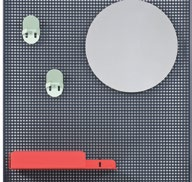 TEXT: ELIZABETH LIEW / PHOTO: LIVING4MEDIA, 123RF.COM