Stay radiant and shine-free throughout any workout with these sweat-proof makeup products.
Stay radiant and shine-free throughout any workout with these sweat-proof makeup products. 
Calling all gym bunnies! Look like a total ace no matter how tough your workout is with these awesome long-lasting makeup products. They'll survive anything from HIIT to yoga so that you'll always have your best face forward – perfect for taking those post-gym #sweatfies. Bonus: This quick, fuss-free look takes less than 10 minutes to do!
CEZANNE MAKE KEEP BASE ($15.90)
Use this as the first step in your routine to ensure your makeup doesn't budge no matter how sweaty you get. Made with active ingredients to control the buildup of sebum, this keeps your complexion shine-free all day. Your skin won't dry out, thanks to the added chamomile extracts and super hyaluronic acid in the formula. Psst, it also comes with an SPF28 and PA++ rating to protect your skin against nasty UV damage during outdoor activities.
CANMAKE CREAMY TOUCH LINER ($14.90)
The last thing you want when you're going hard at your workout? Streaky, panda eyes from smudgy eyeliner. Thankfully, these creamy gel eyeliners boast a waterproof formula that is also resistant to sweat, tears and sebum, so your cat-eye flick will stay on point throughout spin class. Choose from two shades – a jet black that boldly emphasises your peepers or medium brown for a more natural look.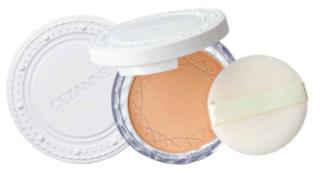 CEZANNE UV CLEAR FACE POWDER ($17.90)
Set your makeup with this translucent powder that gives your complexion a luminous finish. The silky formula helps to absorb excess oil, and also offers SPF28 and PA+++ protection. The best part? The powder contains 10 types of moisturising ingredients so skin won't look cakey or dry.
CANMAKE STAY-ON BALM ROUGE ($14.90) 
Hands up if you love multi- tasking products! We sure do, and this moisturising rouge works perfectly well as both a lip and cheek tint. This offers a non-sticky finish and you can apply it directly to your lips for a sheer wash of colour, or use your fingers to blend it onto the apples of your cheeks for a healthy and dewy glow. The long-wearing formula also means that the tint will stay put throughout any exercise class. Available in nine shades to suit your mood and look of the day.
CANMAKE EYEBROW LIQUID ($13.90)
Score effortlessly sleek brows with this fast-drying formula that's resistant to skin oils and rubbing. The applicator allows for easy control, making it a breeze to draw precise lines and fill in your arches. Layer this on for a stronger look or apply with a light hand for a natural finish.  
KOSE COSMEPORT LACHESCA WIPES ($13.90)
Once you're done with your sweat sesh, prevent nasty post- workout acne by thoroughly cleansing your skin as soon as you can. Reach for one of these handy cleansing sheets that come in three varieties: the Moist wipes are infused with hyaluronic acid to nourish and hydrate, the Oil-in variety contains argan oil to give skin a glow and the Clear sheets have Madonna lily extract to leave your complexion feeling refreshed. Each cleansing wipe is made with ultra-fine and soft fibres to gently lift away dirt, makeup and impurities in seconds. No matter which variety you pick, expect your complexion to be smoother and clearer after. 
*All products are available from Watsons stores islandwide.