Sun protection for your skin doesn't have to harm the environment – all it takes is the simple act of avoiding sunscreens that contain chemicals toxic to coral reefs.
If sustainability is the big buzzword in living a more planet-friendly existence, then you can't ignore the oceans, coral reefs and marine life when buying beauty products. Animal testing, fair trade, water use and carbon footprints have long dominated that conversation, and it's now time to turn your attention to coral bleaching and reef safety.
Why? Because what you use on your skin ends up in the oceans. Scientists have been worried about the impact of sunscreen on marine life for years. As far back as 2008, a study by Environmental Health Perspective, a peer-reviewed journal, estimated that up to 14,000 tonnes of sunscreen are washed into the oceans every year. That's 14 million kg. It also found that 1 3 2 chemicals in sunscreens were linked to viral infections in corals that could lead to bleaching.
More recently, a 2015 study by the Haereticus Environmental Laboratory (a non-profit organisation which aims to conserve and restore environmental habitats under threat) reported that oxybenzone, a chemical commonly used in sunscreens, was toxic to the micro-organisms that live in corals. When they get sick, the reef gets sick too. The result: bleaching.
Hawaii and the island nation of Palau will be some of the first places in the world to ban chemical sunscreens, in January 2021 and January 2020 respectively. Others are following suit.
You can do your part by avoiding chemical sunscreens and opting for physical sunscreens instead, such as those from Soleil Toujours. The luxe brand offers reef-safe sunscreens that are free of chemicals that could harm marine life. It is also one of the few companies that runs with a net zero carbon footprint – part of its commitment to preserve the planet's precious resources. 
What's Killing the Corals
And what to avoid in a sunscreen
• Oxybenzone
• Octinoxate
• Octocrylene
• Triclosan
• Nanosized zinc oxide
• Nanosized titanium oxide
• 4-methylbenzylidene camphor
• Methylparaben
• Propylparaben
• Benzylparaben
• Ethylparaben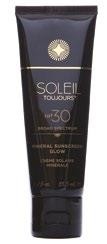 For an Overall Glow: 100% Mineral Sunscreen Glow SPF30, $58
Packed with antioxidants, vitamin E and bisabolol, this tinted sunscreen evens out skin tone and minimises the appearance of imperfections so your complexion looks smooth and radiant. 
For Energised Eye Contours: Perpetual Radiance Eye Glow + Illuminator SPF15, $98
Mild and non-irritating to the delicate eye area, it is easy to blend, and is formulated to protect, hydrate and illuminate the eye area so that you look refreshed and wide awake. 
For On-the-go Touch-ups: Organic Set + Protect Micro Mist SPF30, $55
This 70 percent organic sunscreen sprays out in a clear mist to make reapplication a breeze. It is water-resistant for up to 80min. 
TEXT JOYCE CHEO PHOTO 123RF