Bring out your natural beauty with an arsenal of suitable products regardless of your hair type. Here, hair experts share their tips to help you embrace what makes your hair unique.
Bring out your natural beauty with an arsenal of suitable  products regardless of your hair type. Here, hair experts share their tips to help you embrace what makes your hair unique.
Much like your skin, there is no one-size-fits-all solution when it comes to your crowning glory. We are all born with a multitude of different hair types that require products targeting their individual needs for a full, healthy mane. But while most women are quick to seek professional advice when purchasing skincare products that address their specific concerns, many are content to buy over-the-counter hair products without in-depth research and knowledge. Moreover, while women seldom think twice about investing time and effort on their skincare routines, be it at home or with facialists and dermatologists, that's rarely the case when it comes to hair care. Instead, a typical daily routine for most women involves a quick wash, condition and blow-dry; with hair and scalp treatments regarded as an add-on when colouring their hair at the salon. Be it fine, thick or curly, each hair type and texture has its unique set of characteristics. In order to ensure that you're giving your tresses the TLC that it truly needs, it is crucial to recognise the different challenges associated with your particular hair type. We speak to top industry experts to find out what you need to know about the most common hair types in Singapore, the issues facing each type, and the must-have products for strong, manageable and healthy locks.
THICK HAIR
Who wouldn't want smooth, silky hair that glides through the fingers effortlessly? If you're born with thick hair (which also happens to be the strongest hair type), you might find your resilient locks a challenge to manage. However, according to Gary Chew, Founder and Director of Mi the Salon, smooth, silky tresses are easy to achieve with a little extra effort and care. "It is best to eat foods rich in vitamins A, B, C and D, as well as iron, zinc and protein to improve the silkiness of the hair," he advises, as a lack of essential vitamins can further exacerbate hair conditions. Chew also warns against chlorine damage as the harsh chemical can wreak havoc on thick and coarse hair. For a quick fix, try Kérastase's Discipline Keratine Thermique Smoothing Taming Milk as a hair primer before styling. It contains ceramides and amino acids to rebuild hair from within, soften unruly locks and keep frizz at bay. Or work Kérastase's Elixir Ultime into the lengths and ends of your hair after towelling dry. It is enriched with botanical oils like argan and maize to coax stubborn locks into submission for a softer, smoother finish. Rene Furterer's Lumicia Illuminating Shine Shampoo and Conditioner work in tandem to eliminate traces of impurities, impart a healthy shine and leave hair feeling silky soft, thanks to a unique plant-based formula, including vitamin C-rich acerola. In addition, it is also made with vitamin B5, which penetrates deep into the hair cortex to repair and nourish frazzled locks.
From left: Perfectly Perfecting Wonder Treatment Oil+, $48, Percy & Reed. Elixir Ultime, $62, Kérastase. Lumicia Illuminating Shine Shampoo, $39.90; Lumicia Illuminating Shine Conditioner, $39.90, Rene Furterer. Discipline Keratine Thermique Smoothing Taming Milk, $50, Kérastase
FINE HAIR
Every one love s the transformative powers of a voluminous blow-out, but getting the perfect 'do can get slightly trickier when it comes to fine hair. "Fine hair tends to appear flat and limp. It doesn't hold curls as well, compared to thick or coarse hair types" says PREP Luxe's Hair Director, Den Ng. Thanks to our equatorial climate, humidity also acts as a big dampener on fi ne hair, making it the most limiting of all the hair types to style. "Women tend to be concerned with the lack of volume in their hairstyles. They prefer a fuller look, and volume has a part to play in achieving their ideal style." While backcombing may seem like an easy way to give fine hair more root lift, Ng advises against it. "Pulling, tugging and backcombing your hair adds unnecessary stress to the follicles that will cause breakage," which further escalates the lack of volume in fine-textured hair. In addition, while many women use heating curling tools to give their tresses more body, Ng also points out their potential hazards. "You can't leave it on [fine hair] for too long as it can weaken and break hair strands and result in permanent damage." But there is hope yet. According to Ng, look out for products that contain proteins as they help rebuild hair structure. Ouai's Volume Shampoo and Conditioner are fortified with keratin and amino acids to strengthen fine strands from inside out. Other products like dry shampoos with rootboosting ingredients also offer a volumising alter native. IGK's 30,000 Feet Volume Powder Spray contains bentonite clay for extra density and grip. For extra oomph, try Living Proof's Full Root Lifting Spray, which deposits microscopic particles to thicken hair at the roots without weighing it down.
From left: Got2b Volumaniac Bodifying Mousse, $12.50, Schwarzkopf. Volume Shampoo, $42; Volume Conditioner, $39, Ouai. Phytodensia Fluid Plumping Mask, $85, Phyto. Full Root Lifting Hairspray, $36, Living Proof. 30,000 Feet Volume Powder Spray, $50, IGK
Balancing Act
With a combination of powerful technologies that work in synergy, Porcelain Face Spa will help you regain smoother, brighter, plumper skin in no time 
Healthy, beautiful skin is often defined as clear, plump, smooth and radiant, which explains why women are on an unending quest to find the perfect solutions to banish blemishes, replenish moisture and impart skin with an enviable glow. Designed to meet the needs of modern women who desire fuss-free routines that also promise visible results, Porcelain Face Spa's latest Cryotherapy™ Intensive (For Balancing and Oil Control) Treatment is a one-size-fits-all facial that restores firmness and radiance without any downtime.
To begin, your therapist double cleanses your skin to thoroughly get rid of any makeup, dirt and grime. Next, a gentle exfoliation ensues to deeply cleanse skin and remove dead skin cells to enhance product penetration. With your skin primed to absorb active ingredients, a Cryostamp device is then used to deliver essential nutrients deep within skin's layers via galvanic technology. The device can also be adjusted to stimulate cell activity for visible skin brightening and reduce the appearance of pores and scars.
Next, a custom-blended serum is massaged into the skin depending on your skin type: Those prone to oiliness will receive the Balancing Blend, while those with sensitive skin will be given the Sensitive Blend to restore skin to its optimal state. Finally, your skin is ready for the star feature of this facial, the Cryoprobe. Thanks to an upgrade in the device, the non-invasive Cryoprobe is more powerful than before with amplified benefits including With a combination of powerful technologies that work in synergy, Porcelain Face Spa will help you regain smoother, brighter, plumper skin in no time improved cell metabolism, better microcirculation, accelerated detoxification and more effective skin firming. In addition, the Cryoprobe is also combined with iontophoresis, which emits a micro-current to further aid the penetration of the custom-blended serum into the skin.
Once your skin has absorbed all the goodness of the products, the Porcelain Hydrocare Biocellulose Mask is applied to seal in moisture for smoother, plumper skin. And as it soaks up all the hydration from the mask, enjoy a pampering shoulder massage that melts away tension and aches. As a finishing touch, your skin is treated to a selection of skincare products to protect it from external aggressors like UV rays and pollution, so you emerge with a new-found glow.
Enjoy a 1-for-1 Cryotherapy™ Intensive (For Balancing and Oil Control) Treatment with a complimentary Skin Discovery Analysis when you quote "HARPERSCRYO" and bring along this page from May 1 to August 31, 2018.*
Receive 20 percent off the new Intensive - HA+ Hydrating Serum (U.P: $198 for 30ml) when you quote "HARPERSHA" and bring along this page from May 1 to August 31 , 2018.*
*For new customers only
Porcelain Face Spa is at 15 Cantonment Road, Tel: 6227 9692. Visit www.porcelainfacespa.com for more information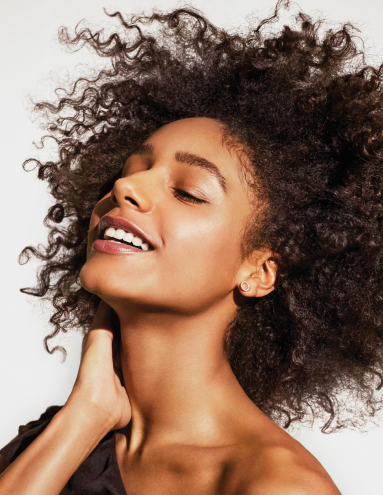 CURLY HAIR
Bouncy curls bring vitality and movement to any hairstyle, so go ahead and celebrate your hair texture with a hairstylist who is able to realise the desired outlook of your hair. As Readen Chia, Associate Salon Director of Chez Vous, explains: "Not all stylists are adequately trained and well-versed with curly hair. Conventional haircut techniques might not be applicable to curly hair, so it's crucial to get a stylist who truly understands your hair texture." She adds that curly hair is also prone to the undoings of Singapore's humidity "because moisture in the air is easily trapped in curly hair, causing it to swell and shift out of place." For bouncy curls sans flyaways, try Phyto's Curl Energizing Cream, which smooths frizz and locks in shine, thanks to all-natural ingredients like acacia collagen, ginseng root and sunflower extracts. "Many women resist their natural curls and resort to flat-ironing their hair daily because of a lack of the appropriate knowledge and skills to manage them," observes Chia. In fact, there are many products that can help curly hair realise its full buoyant potential. Kérastase's Discipline Mousse Curl Idéal, for example, adds definition to curly hair without weighing tresses down for a light and airy effect. Or try Percy & Reed's Perfectly Perfecting Wonder Balm, a multi-tasking styling product that moisturises, keeps out humidity, treats, protects and helps maintain your style so you don't have to worry about a single strand being out of place throughout the day.
From left: Curl Energizing Cream, $45, Phyto. Curl Defining Styling Cream, $39, Living Proof. Curl Shampoo, $42; Curl Conditioner, $39, Ouai. Discipline Mousse Curl Idéal, $50, Kérastase. Perfectly Perfecting Wonder Balm, $40, Percy & Reed
PHOTOGRAPHY: AGATA POSPIESZYNSKA. STYLING: TILLY WHEATING. HAIR: LUKE HERSHESON/JOHN FRIEDA. MAKEUP: ANNA PAYNE. MANICURE: TINU BELLO/ONE REPRESENTS. MODELS: INGA DEZHINA/STORM MANAGEMENT, EDWINA PRESTON/SELECT MODEL MANAGEMENT, DEMI ROX/ELITE LONDON, CHARLIE RUMP/STORM MANAGEMENT.