What you need, what you want, and what really works.
What you need, what you want, and what really works.
Jennie from Blackpink is the face of the brand
BRIGHT BOOST
Creating a vivid matte lippie that 's lightweight and moisturising is no easy feat, but trendsetting K-beauty brand, Hera, has hit the mark with its new Sensual Aqua Lipstick. 
From top: Sensual Aqua Stick in 278, 175 and 193, $43 each, Hera
Their formulation boasts Real Colour Tinting Technology with 40 percent moisture, so you get a thin wax-oil film that glides over your pout, delivering both water- and oil-soluble long-wearing pigments, as well as hyaluronic acid and star fruit extracts that plump and hydrate with a cooling sensation. Best part is you can wear it several ways, from a full coverage lip to a dabbedaway tint, in shades like Delicate Lychee and Candied Orange.
From top: The Dyson Demo Store - Beauty Lab at Funan. Airwrap Complete set, $699, Dyson
HIGH MANE-TENANCE
Singapore's priciest penthouse, owned by billionaire inventor James Dyson, might be out of bounds, but there's a new Dyson destination you'll actually have access to: The brand's new Demo Store – Beauty Lab, in Funan. It offers an immersive retail experience—not only will visitors get to test the devices, they will also be able to enjoy exclusive in-store styling and customisation services. Choose a colourway, or mix and match attachments, like the newly re-engineered diffuser and styling concentrator, for do-it-yourself luscious locks and salon-standard hairdos, without the damage.
Skin Caviar Eye Lift, $740, La Prairie
SHARP VISION
Are your eyes the most expressive part of your face? That is a beautiful thing but also means the 22 muscles in that area and the surrounding delicate skin are under constant stress—conveying your thoughts and feelings as well as blinking up to 28,000 times a day, while being exposed to environmental aggressors. Zooming in on your peepers up to your brows, La Prairie's new Skin Caviar Eye Lift is a lightweight but potent biotechnological innovation enriched with regenerating Exclusive Cellular Complex and anti-ageing extract, Caviar Premier. So expect this to lift contours, reduce crow's feet and under-eye bags, and plump eyelids for a completely refreshed outlook.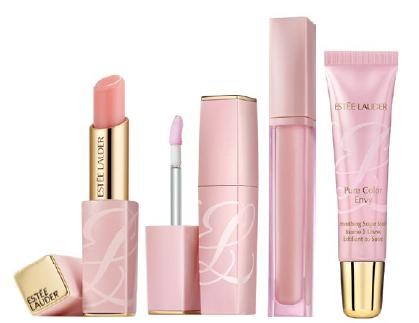 From left: Color Replenish Lip Balm; Lip Volumizer; Lip Repair Potion; Smoothing Sugar Scrub, $48 each, Estée Lauder
THE LIP SPA
Estée Lauder's Pure Color Envy Lip Care Collection is a complete lip spa that will revive and restore your lips to their natural glory. It features a gentle hydrating scrub, a pH-based personalised tint lip balm, a subtle minty-cool volumiser and a powerful overnight lip repair potion in pretty powder-pink and gold packaging. Whether you want to repair or replenish, pamper or plump, this collection has something for everyone—and every pout.
From top: Cristiano Burani fall/winter 2019; The Aesthetic Medical Clinic's Dr Francis Tijang
BABY FACE
It's no secret that healthy skin cell renewal takes 28 days. With age and damage, however, this cycle can extend to 90 days, or even longer. Chemical exfoliators are a common remedy people reach for to restore glow and boost regeneration, but to go beyond the outer layer of skin and into the root of the problem, The Aesthetic Medical Clinic recommends the Tetra 4-in-1 Treatment, which uses a multitude of wavelengths to treat varying depths of the skin, stimulating renewal from deep within. This helps to rejuvenate collagen levels and reduce fine lines and pigmentation over time. Then comes the BB Baby Skin Booster, which delivers highly biocompatible salmon DNA extracts into the basement of skin cells for an intensive but downtime-free boost. Expect improved tone and elasticity on top of smoother, tighter skin that's naturally radiant—just after four sessions.
Gigi Hadid
SMOOTH OPERATOR
Percy & Reed has gone through countless tress tests to create the ultimate SOS spray for sleek hair that stays put no matter the weather.

The Oh-So-Smooth Frizz Fixer has a silicone-free formula that boosts shine and seals the hair cuticle with an ultra-light blend of coconut and moringa oils, while sweet almond seedcake extract forms a humidity-resistant shield around each strand. Keep a full-size can at home for second-day styling and a "handbag hero" version for silky-smooth touch-ups on the go. 
BRIGHT BOOST
Evan's 10% Vitamin C High Potency Topical Serum, $89.85, is a potent elixir that combats fine lines, sun spots, sagging and dullness. It's formulated with dermatological grade pure L-Ascorbic Acid—the only form of vitamin C that can be assimilated by the body, and the only antioxidant proven to increase collagen and elastin production—so you get brighter skin within one skin renewal cycle. And that's less than 28 days.
Luminescent Eye Shade in Lion, $87, Chantecaille
SHINING PURPOSE
Chantecaille's Luminescent Eye Shades go on like butter, blend like a dream, and impart multi-dimensional shimmer in rich earthy tones. But the real beauty of these pearlescent eyeshadows? Part of the proceeds goes to non-profits and the conservation of six African wildlife species, namely the pangolin, lion, elephant, cheetah, giraffe and rhinoceros, which are also the names of the shades.
PHOTOGRAPHY: 123RF.COM; SHOWBIT