Ready. Set. Gogh. Highlight a bold red lip by painting vivid colours on your tresses for some electrifying old-school glamour.
Ready. Set. Gogh. Highlight a bold red lip by painting vivid colours on your tresses for some electrifying old-school glamour. It's all about channelling that Moschinoapproved artistic flair.
"Moschino S/S 2020"
"Max Mara S/S 2020"
PASTEL PASTEL GOTH
Wanna stand out from the typical blushtoned lipstick crowd? Combine springtime innocence with an eerie sense of enigmatic allure as seen on Max Mara's Spring / Summer 2020 runway. Inspired by a Hans Feurer photograph from a '70s Nova magazine, hairstylist Sam McKnight churned out sleek Wednesday Addams twin plaits to harmonise elegance and functionality. Working against the simplicity of the hair is the more experimental pastel twist done on the eyes by make-up artist Tom Pecheux. Lips stamped in a dark, vampy Bordeaux shade complete the look in an oh-so-delicious way. Basic? Max Mara certainly doesn't know her.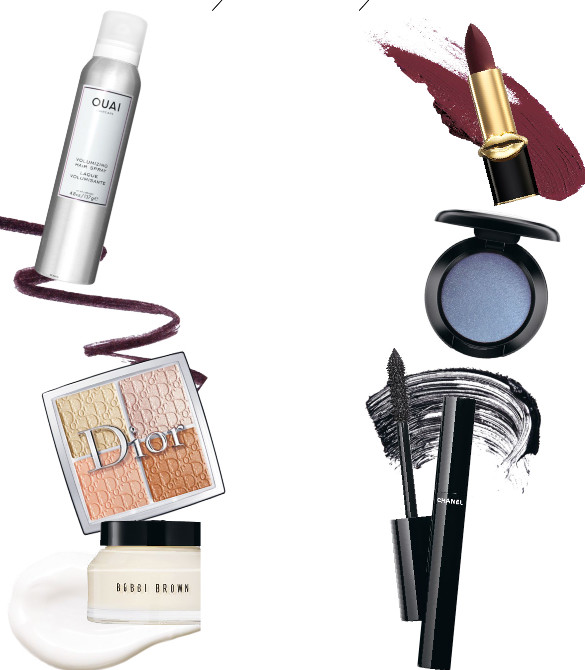 QUICK TIPS
1 For this look, only coat your top lashes with mascara.
2 Match the colour of your pastel eyeshadow with your wardrobe and stand out.
3 Use a fine-toothed comb before braiding for that refined look. Clean up baby hairs with a spoolie if need be!
CLOCKWISE FROM TOP RIGHT: Pat McGrath Labs LuxeTrance Lipstick in 35MM, $59; MAC Cosmetics Eyeshadow in Tint; Chanel Le Volume Ultra-Noir Mascara; Bobbi Brown Vitamin Enriched Face Base, $90; Dior Backstage Glow Face Palette, $77; Marc Jacobs Highliner Liquid Gel Eyeliner, $42; Ouai Volumizing Hair Spray, $39
TEXT MONISHA SIVANESAN PHOTOGRAPHY TPG IMAGES / CLICK PHOTOS 
LITTLE MISS SHIMMER
Who says you can't mix that naturally light, fresh look with hints of colourful bling?
KEISHA RYMAN, 22, GRAPHIC DESIGNER
OMG, a major YES to this face mask! When I used this it was cooling and relaxing on the skin. My skin still felt soft and hydrated the next morning. It is great for sensitive skin because it's gentle, and it gives dry skin the boost of moisture it needs.
Bare for Bare Aromatherapy Sheet Mask in Lavender, $3.71, from hermo.sg
YEONG HUI MIN, 25, SUB-EDITOR
When you know you'll be out and about, this hair mist will save you. A few spritz was all I needed for fresh smelling hair that would last for hours! Love the elegant and uplifting scent that would work for day and night, and it isn't overpowering.
DUCK Mist Independent Hair Mist, $25
Dr Roebucks Byron 2-in-1 Mask + Scrub, $39 
IZZAH AFFANDY, 21, STUDENT
It's probably the most gentle face exfoliator I've tried so far — my face feels much softer and smoother than before. Also, I definitely loved the minty sensation. This is a must-have for travels!
innisfree Twinkle Balm, $14
TEVNA NAIDU, 22, STUDENT
Wow, let's just say that the colour payoff was amazing! It was pretty easy to blend and I love trying anything sparkly so this was another fun discovery that I'm pleased with. It made my melanin pop which invited some lovely compliments.
LINA ESA, 34, EDITOR
Thankfully I don't have as many breakouts as before, but I always keep tea tree on standby in case of an emergency. The texture of this is light and the scent is very comforting. It's not overdrying, and yet kept some congestion around my hairline at bay. essenHerb Tea Tree Cream, $41.21, from hermo.sg
COMPILED BY MONISHA SIVANESAN
TEXT MONISHA SIVANESAN PHOTOGRAPHY TPG IMAGES