DESPITE THE EASING OF DRESS CODES AROUND THE WORLD, LOOKING SPIFFY NEVER GOES OUT OF STYLE.
DESPITE THE EASING OF DRESS CODES AROUND THE WORLD, LOOKING SPIFFY NEVER GOES OUT OF STYLE. WE CALL UPON THREE PROS FROM THE GROWING LOCAL SHOE SCENE TO GIVE YOU THE LOWDOWN ON HOW TO FANCY UP YOUR FOOTWEAR ACT RIGHT NOW.
A PERFECT FIT
How to get the most out of the bespoke shoemaking experience.
BE PATIENT
As Josh Leong is a one-man show when it comes to his bespoke line, the waiting time for a pair of his bespoke footwear is one to one-anda-half years. The process includes the making of a unique wooden last (a mould of one's foot) and (on average) two pairs of leather fitting shoes, which serve as prototypes before he makes the final product. Leong explains: "During each fitting, I usually cut the fitting shoe open to see the customer's foot inside the shoe, so I can make the necessary adjustments. I'll ask the customer to try the shoes on and walk around in the shop, and get him to describe areas that he likes and doesn't like."
KNOW IF BESPOKE SHOES ARE TRULY WHAT YOU WANT
It's not just about the cost (Leong's bespoke shoes start at $4,900). If you have "very normal" feet that can comfortably wear shoes of standard sizing, but want aesthetic options, a made-to-order shoe would be for you, too. Says Leong: "There are two main types of bespoke customers – those with very normal feet who want something aesthetically unique, and those who don't really care about the design but can't find anything that fits them comfortably off  the rack." Common foot issues: bunions, and very high or low insteps.
SPEAK FRANKLY
"Be very open about your daily habits when it comes to how you wear your shoes. Some customers are reserved and don't share much, which doesn't give me enough information to make a pair of shoes that they are going to like. For example, if your job requires you to walk or travel a lot, I would make your shoes a little less tight, to account for foot expansion when you're walking or travelling on a plane."
AIM BEYOND 'SLEEK AND SUAVE'
"Understand what toe shape works for you," advises Leong. "The most common request I get is, 'I want to look sleek and suave.' But sometimes, a very sleek shape might not suit you, depending on your body, your height, and the way you dress. For shorter customers, I advise not taking something that's too long because it tends to make them look shorter. But I also don't do designs that are too pointed. Some customers ask, 'Can you do something that's very pointy and almost cowboy-style?' I tell them 'no' – firstly, it's not comfortable and secondly, it just doesn't look nice." 
Expert
Josh Leong, 33, Florencetrained bespoke shoemaker who has offered bespoke and made-to-order services under his eponymous line since 2015.
SIGNS OF A QUALITY BESPOKE SHOE FEWER (OR NO) SEAMS
Less is more when it comes to the seams on dress shoes. A wholecut shoe is made from a single piece of leather and finished with one seam or – even tougher – none at all. This means it requires more leather and more skill to make.
HAND-WELTED FINISH
Hand-welted construction is "the RollsRoyce of shoe construction", says Leong. "It's all done by hand. First, we stitch the welt, which is a strip of leather that goes around the shoe, to the shoe through the insole. Then, we stitch the welt to the outsole. There're two rounds of stitching in a hand-welted shoe; that's why they're virtually indestructible."
STITCHES PER INCH
When shoemakers talk about SPI, they're referring to the stitches per inch on a shoe's outsole – more stitches equal a finer finishing. Says Leong: "I do 11, sometimes 12. An industrial brand might do six to eight. But some shoemakers out there can do 14 or 16 stitches per inch, which is phenomenal." 
A GLORIOUS SHINE
How you – or a pro – can keep your shoes in tiptop condition.
WHAT ARE THE STEPS FOR A GOOD POLISH?
"Part one involves cleaning and preparing the shoe for polishing. The next step is creaming, which helps to moisturise the shoe and provide nutrients for the leather. The third part involves waxing to give the shoe a shiny appearance. The last few steps involve detailing – for example, for older shoes, the edges tend to be a bit worn, so we can use ink or putty to touch it up."
HOW OFTEN SHOULD PEOPLE POLISH THEIR SHOES?
"We usually go by the two-foureight timeline. Every two weeks, lightly dust your shoes. Every four weeks, put on a bit of wax to, say, touch up the shine. Just easy maintenance. Then every eight weeks or so, try to remove everything. You want to remove all the dirt and residual products on the shoes, and give them a new coat of cream and wax."
WHY SHOULD SHOE OWNERS BRING THEIR SHOES TO YOU?
"We actually encourage our customers to do it themselves. We do shoeshine workshops every month to encourage people to learn how to polish their shoes and understand the process better. The reason they pay for our services is that they can't do it as well as we can (laughs). They can shine their shoes but, often, they cannot achieve that high shine that they want. The second thing is time. It might take them an hour to do what we can do in 20 minutes, because we have been doing it for a long time."
WHAT'S YOUR SECRET TO GETTING THAT MIRROR-SHINE ON TOECAPS?
"The ratio of wax to water is important, but the tricky thing is that there are no fixed proportions. When wax and water are applied to a shoe, you get that friction you experience when cleaning windows with newspaper. If you use too much water and the leather gets too damp, it can't hold any more wax. If you use too much wax, the shoe gets caked with wax, and you won't be able to bring out the shine. We also use some rubbing alcohol to spread the wax more easily, and create a cleaner finish. The procedure is to apply a bit of wax, water, wax, alcohol – and repeat these steps about 40 to 50 times. Many people do it twice, then they get sian (bored), and bring their shoes to us."
Expert
John Chung, 27, founder of Mason and Smith, Singapore's first artisanal shoeshine and leather care bar; and winner of the World Championships in Shoe Shining 2018 
THE MUST-HAVES IN EVERY SHOE LOVER'S KIT
01 SHOE TREE
It keeps shoes in shape when they're in storage. Keeping it in a shoe during cleaning makes it easier to apply products evenly.
02 WAX
Use it to get that mirror shine. It helps to protect leather to a certain extent.
03 & 05 HORSEHAIR BRUSHES
The smaller applicator brush can be used to apply shoe cream, especially in harder-to-reach corners, such as where the upper and sole meet. After applying cream or wax, use the larger brush to remove any excess, and to push the cream or wax into the pores of the leather.
04 CLEANING LOTION
Helps to remove dirt and stains. Dab some solution on a clean cloth, and wipe the shoe using circular motions.
06 CLOTH
Chung uses a cotton-flannel cloth that does not have coarse fibres that can leave streaks, but any microfibre cloth would work.
07 CREAM
Moisturises leather. Ideally, match the colour of your creams or waxes to that of the shoe, but if you can't find certain shades, a neutral will do.
08 LAVENDER SACHET
To keep your shoe cabinet smelling fresh.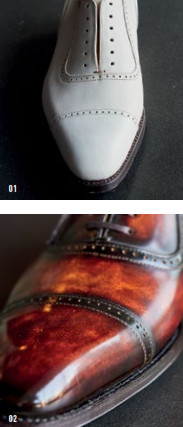 HUES TO DYE FOR
Patination, the art of creating an antique look with colours, is looking fresher than ever.
01 TOOLS OF THE TRADE
At Septieme Largeur, the patination process starts with shoes made from undyed French calf full-grain leather, which in this semi-treated form is called crust leather. The crust leather and dyes are sourced by the brand's French founders. The first step is applying the base coat – the foundational colour – that takes 24 hours to set. The base coat is then partially stripped to allow for the creation of varying tonalities. Different colours are then worked in to create subtle colour differences. After the colours set, the shoes are polished. Not including the time taken to apply the base coat and let it set, Septieme Largeur patina artists can finish a maximum of four pairs of shoes per day.
02 DIFFERENT STROKES
Septieme Largeur offers marbled and non-marbled patina finishes. A marbled finish (pictured) has a more swirly and abstract feel. The non-marbled treatments include an antique finish, which has more black overlays, as well as streaky finishes with neat brush strokes. What technique is used often depends on the shoe. Says Tan: "We recommend the marbled finish on shoes with fewer details, because it's quite freeform, and things can get messy if it's done on a shoe with many details."
03 FOR (ALMOST) ALL OCCASIONS
When it comes to how dressy you want a pair of patina shoes to be, here's a simple rule of thumb: "Generally, the darker the colour the more formal," says Tan. Of course, it also depends on the style. The store's two most popular models sit on opposite ends of the formality spectrum: wholecut Oxfords and penny loafers. And the most versatile colour? This "mustard brown", which includes shades of cognac, green and yellow, and which pairs beautifully with trousers or suits in different shades of blues and greys.
Expert
Jessica Tan, 30, general manager of Septieme Largeur (Singapore), and one of the store's two in-house patina artists 
THREE THINGS TO KNOW ABOUT PATINA COLOURS
I) YOUR FEET AREN'T DISPLAY SHELVES
First-time customers can get carried away – a friend of the Septieme Largeur (Singapore) owners once asked for a patina with five vividly contrasting hues. "I think he wore them once," says Tan, with a laugh. "We usually advise clients to think about how a colour can match things they typically wear, rather than go for crazy colours that might look nice on display but aren't practical to wear."
II) NOT ALL COLOURS AGE EQUALLY
For those who are lazy about shoe maintenance, note that darker browns tend to age exceptionally well, while lighter tones can get more muted as they age and look almost worn. Not to worry, though, the brand can touch up the colours for you.
III) TREAT THEM RIGHT
Says Tan: "We advise our clients to use coloured waxes that are as close to the tone of the shoes as possible, because the fundamental idea behind polishing shoes is to fill up the leather pores with pigments that are the same as, or close to, that of the base leather. We also recommend using waxes rather than creams because they are easier to control." 
TEXT LYNETTE KOH PHOTOGRAPHY VERNON WONG  ART DIRECTION FAZLIE HASHIM