The fashion industry is one of the biggest contributors to landfi lls. Shop these brands to make a more positive impact
Most of us love clothes, whether it's a nice pair of jeans or new sports apparel. But it doesn't need to come at the expense of the environment. While thrifting, flea markets and clothes swaps are easy options, most of us aren't big on stretched out secondhand sports gear. For fresh new pieces to get moving in while treading lightly on the planet, check out these sustainable activewear labels.
ALO YOGA

The brand first shot to fame because of the beautiful clothes. They are also well- loved because of their mission to be 100% sweatshop-free and eco-aware. They use low-water dyes and their Los Angeles fl agship store and head offi  ce are powered by solar energy. They have an aggressive recycling program that has reduced the offi  ce's daily waste to that of a single household. 
Alo Yoga is platinum-certifi ed by the Waste & Resources Action Programme, a globally recognised and independent third-party organisation that promotes ethical, humane, and lawful conditions for manufacturing facilities. And with free shipping to multiple countries (including Singapore), there's extra reason to go shopping.  
WHAT TO BUY Leggings and bras 
(from $71)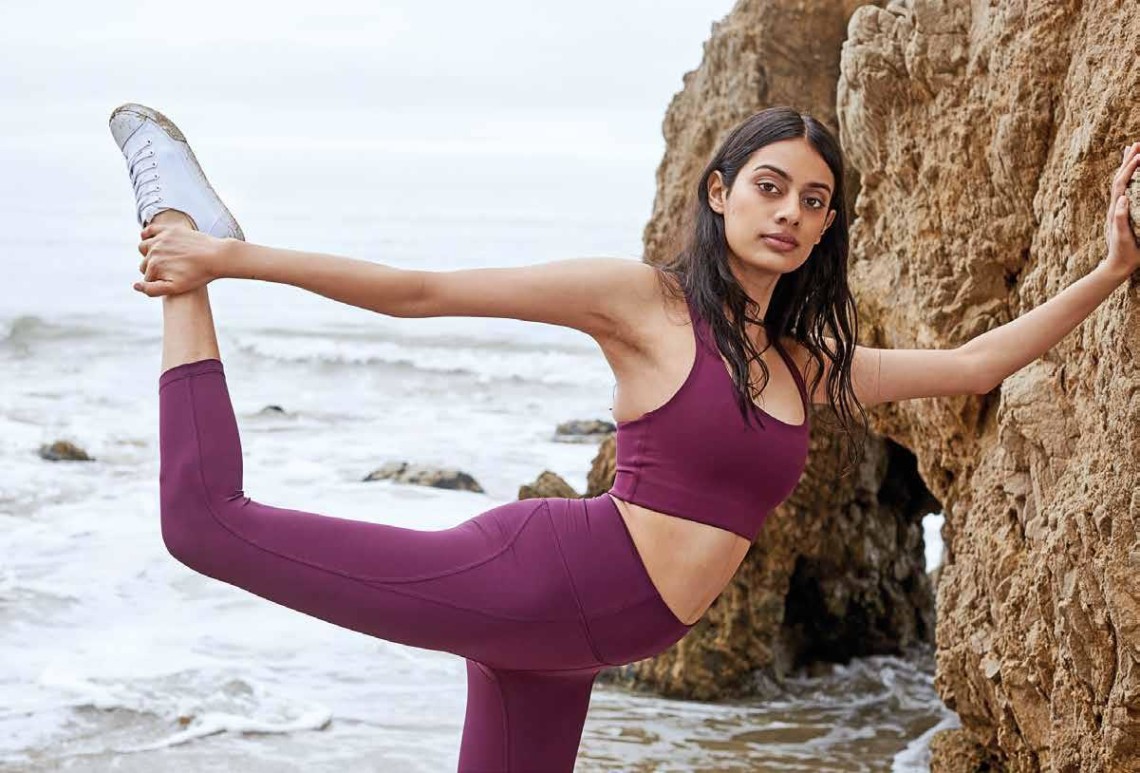 GIRLFRIEND 
Looking cute has never been easier on our conscience. Here, you can find minimalist activewear that is made of recycled fishing nets and recycled nylon from trash found in the ocean. The cotton used is biodegradable, and products come in a reusable pouch wrapped in recyclable packaging. 
Plus, their skin-like leggings are functional and beautiful; and their outfits are also come in a wide range of sizes. A percentage from every Lite leggings sale goes to Healthy Seas to help clean our oceans and preserve marine life. 
WHAT TO BUY Lite leggings (about $107) 
ALLBIRDS 
Inspired by the sheep in New Zealand, founder Tim Brown created a line of footwear using natural merino wool. These shoes are not just comfortable, but they regulate temperature, wick sweat away and are super breathable. They are fl exible and supportive so you can wear them on hard concrete or on soft mountains. The insoles are padded for support so you can run around comfortably. 
Even the laces are green, each pair created using one plastic bottle. They come in 20 colours so you're bound to fi nd a colour you like. 
WHAT TO BUY Women's Wool Runners (about $130) 
PATAGONIA 
This brand advocates for a whole bunch of great things – living wage and fair trade, protecting migrant workers, working with fair factories, as well as careful resource, material, and technology use. Their mission says it all "Build the best product, cause no unnecessary harm, use business to inspire and implement solutions to the environmental crisis." You'll be able to find stylish sports clothes and casual graphic tees that last on your body, not landfills. 
The brand also has a washing bag that helps you protect the environment, even if you don't wear Patagonia apparel. The Guppyfriend Washing Bag (about $41) reduces the number of microfibres that may enter the water after washing. WHAT TO BUY Outdoor base layers (from $81)