GUCCI'S SUSTAINABLE CAPSULE IS ITS FIRST WAVE IN A COMING SEA OF CHANGE.
With the unveiling of the Gucci Off The Grid capsule, Alessandro Michele kicks off the Gucci Circular Lines project—the brand's initiative to move towards increased sustainability and circular production. The collection is made with recycled, organic, bio-based or sustainably sourced materials, with a key component being ECONYL, a regenerated nylon made from nylon offcuts, discarded fishing nets and old carpets. Essentially, consumer waste that would have otherwise ended up clogging landfills and marine ecosystems. Other materials include leathers tanned using metal-free techniques; recycled polyester, brass and gold; and solvent-free adhesives.
The genderless collection comprises ready-to-wear, accessories, footwear and luggage, and combines sporty functionality with a sense of fun through its high-vis palette. To bring the pieces to life, Michele brought together a diverse cast of personalities that included Lil Nas X and King Princess, two musicians who have fearlessly embraced the queerness and fluidity of their identities; actress and climate activist Jane Fonda; and environmentalist and explorer David de Rothschild.
The campaign was shot in a wooden tree house overgrown with greenery, set against a contrasting metropolis of concrete and glass. The set's raw, rustic vibes symbolise a return to nature as well as evoke the ideas of play, innocence and childlike fantasies—all concepts that Michele also explored in his fall/winter 2020 menswear collection. This return to simpler times and a move towards more conscious living have been increasingly occupying the designer's recent thoughts.
The launch of the Off The Grid capsule is only one in a series of steps that Gucci—along with parent company, Kering—is taking towards mindfulness and a reduction of its environmental footprint. The brand is cutting down the number of collections it shows on the runway each year from five to two seasonless chapters, while Kering recently recruited Emma Watson—fierce advocate of environmental awareness and sustainable consumption—to its board of directors. Like he has consistently done since 2015 when he took the top job at Gucci, Michele is poised to shake up the fashion scene once again.
From top: Lil Nas X in the Gucci Off The Grid campaign. Gucci Off The Grid track jacket, $1,750; messenger bag, $1,530; trousers, $1,400; backpack, $2,890; sneaker, $1,060, Gucci 
"Fendi pre-fall 2020"
CANDY CRUSH
NOTHING PROJECTS CONFIDENCE MORE THAN A MAN IN TOUCH WITH HIS SORBET SWEET SIDE 
1 Life looks better through rose-tinted lenses
Sunglasses, Fendi
2 What's up, buttercup?
Shirt, Bianca Saunders at MatchesFashion.com 
3 Beat the blues with clear-sky hues
Belt, $490, Dior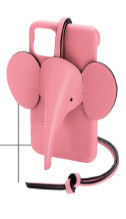 4 Phone it in with powder pink
iPhone case, $750, Loewe
5 Jazz things up with a Shawn Stussy remix
Sneaker, $1,650, Dior 
6 Kick off a chain reaction
Necklace, about $240, Miansai at MatchesFashion.com 
7 Softly does it in sweet lilac
Sweater, Jacquemus at MR PORTER
8 Good jeans are half the battle won
Jeans, Gucci 
9 Sweet dreams are made of this
California Dream EDP, $410, Louis Vuitton 
BY JEFFREY YAN