To her fans, Chitose Abe can do no wrong.
To her fans, Chitose Abe can do no wrong. The Japanese designer is noted for her incredible knack of deconstructing wardrobe staples and piecing them into modern combinations at Sacai, the brand she founded. Hybrids have since infiltrated every nook and cranny of the fashion world, and  yet  Abe manages to keep pushing boundaries. For spring/ 2019,  Abe's econfigured trench coats, fishermen vests decorated with lace, vintage floral prints inspired by Henri Kvasnevski and knife-pleated skirts contrasted feminine elegance with masculine utility.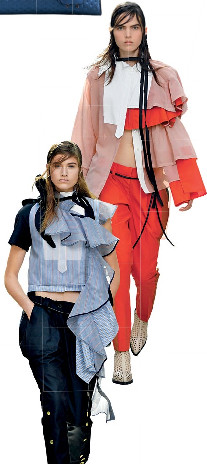 Abe also worked her magic on deconstructing ruffles, which she later added Abe also worked her magic on deconstructing  to her range of to hybrid pieces 
CARRY ON CARCAR
Fabio Panzeri's newest collection for Braun Büffel combines traditional codes of craftsmanship with a retro-futuristic perspective. The Creative Director served up an eclectic mélange of metallic and geometric patterns for a dose of chic. Structured, multicoloured bags with interchangeable handles and straps provide an elegant sense of functionality, while statement studs exude a rebellious attitude.
Colour blocks in eye-catching combinations bring the bags to infinity and beyond
PARADISE FOUND
Thomas Sabo is embracing the exuberance of spring with a collection that captures the enigmatic beauty of a hidden wonderland. It is a universe where whimsical floral forms meet mystical animal symbolism. From delicate rings to necklaces full of impact, each piece glistens with the promise of new beginnings.
From left; Layer an assortment of charms for more impact. Ring, $179; earrings, $369; ring; $479, Thomas Sabo 
"The graphic rendering of a beachfront added panache to the collection"
QUEEN OF HEARTS
Dainty, feminine but full of spunk, REDValentino's spring/summer 2019 collection exemplifies the brand's ethos of outfitting women in ways that express their strengths and individuality. Taking his cues from Mexican war heroines, Pierpaolo Piccioli and his team delivered a range of delicate tulle dresses and skirts, bright tropical prints and breezy cotton robes complete with kimono sleeves.
BY CHANDREYEE RAY AND RACHEL HO. PHOTOGRAPHY: SHOWBIT