Special edition street-inspired collab? There's one in here.
Luxury watches so exquisite, you'll want a close-up? We've got a couple. Fashion that looks like wearable pieces of art? Daahling please, of course. Not everyone scores a front row seat at Fashion Week, but there's nothing stopping you from looking the part – especially when we've singled out the latest must-haves that'll help you do so in the 30 pages ahead. – IJ 
A (discreetly) made-over crowd favourite
In the history of horology, Chanel's J12 is a VIP (Very Important Product) for making sporty ceramic timepieces a very big thing in the 2000s. It might explain why its first major facelift since debuting 19 years ago is obvious probably only to loyalists, even though 70 per cent of its design has been refined. The bezel now sports more and smaller grooves, while the crown is a third slimmer. The curves of the case have been accentuated just so, while the bracelet is flatter and made up of longer links to add comfort and – more subtly – sophistication. Noticing the updates, introduced to seven variations including all-monochrome and all-diamond, calls for a close-up look and insider knowledge – two things every front-row goer shouldn't be short on. 
PHOTOGRAPHY TAN WEI TE STYLING IMRAN JALAL
For added refinement, the numerals on the J12 have been upgraded to ceramic, while the words "Swiss Made" that used to sit on the dial have been integrated into the flange. Hour indicators have also been added to the inner dial to make it easier to read. J12 ceramic watch (above) and with diamonds (opposite) on matching bracelet, wool and mohair tweed jacket, and metal chandelier earrings with glass pearls and crystals. All watches, Chanel Fine Jewellery. All clothes and accessories, Chanel 
The most impressive tweaks to Chanel's J12 are even less obvious: The back of the case is now made of see-through sapphire crystal, not steel, to show off the watch's new automatic movement. The latter offers 70-hour power reserve – up from 42 – so that your watch will still be running come Monday, even if you forget to wind it during the weekend. J12 ceramic watch (opposite) and with diamonds (above) on matching bracelet, and wool-blend sheath dress. 
STYLING ASSISTANT KARIN LEW HAIR JUNZ LOKE, USING KEVIN, MURPHY MAKEUP WEE MING, USING CHANEL NAILS ZI/AUUM THE HONEST NAIL SPA MODEL FAITH D/MANNEQUIN LOCATION SIRI HOUSE.
The latest fashion x graffiti collab 
Partnerships between luxury labels and street artists are the hype-iest of art and fashion collabs (watch the street style photographers come). Fendi's Selleria Roma/Amor collection is one that'll get even the intellectual set wanting a closer look. Its guest artist is Pref, a Brit whose saturated, typography-based murals are more akin to complex graphic design created on a computer than scrawls, and boast a trippy 3D effect. Now, his hand has been applied in bold fluoros to denim, trendy outers and dresses (think reversible windbreakers and a toga mini), and the brand's signature bags in Roman calf leather or monogram jacquard. The result is a capsule that's '90s cyber punk grown up. That alone makes it worth a double take. 
The comeback of an industry darling 
Her name alone piques the interest of industry insiders. Now imagine when she's the unexpected new artistic director of watches and jewellery at one of the world's most closely watched French luxury maisons. Together with Louis Vuitton, Female zooms in on why Francesca Amfitheatrof's debut collection for the house is the new It jewellery for the confident and fashionably adventurous woman. 
PHOTOGRAPHY ZANTZ HAN STYLING IMRAN JALAL
B.Blossom earring; necklaces with onyx (worn as body jewellery and bracelet); (on finger, from top) ring with onyx, ring with white agate, and ring; and charm bracelet with onyx and mother-of-pearl. Printed silk sheath dress. All clothes and jewellery, Louis Vuitton unless stated, with all jewellery in 18K yellow or pink gold with diamonds and 18K white gold. Nose ring, model's own and used throughout 
You can call Francesca Amfitheatrof an insider's designer – and not because she hails from the usually rarefied world of fine jewellery. For all the precious materials that she works with, the Tokyo-born, Rome/Moscow/London/NYC-raised daughter of a former Time bureau chief has always injected her pieces with a substantial dose of practicality and clever novelty.
The ones she created at her last major stint remain bestsellers, even though she exited more than two years ago. Her designs generally aren't geared towards the typical glamour-obsessed luxury customer, yet the fact that she can still command widespread popularity only underscores her Midas touch.
Now, the elegant 51-year-old is bringing her brand of cool to Louis Vuitton, where she was appointed artistic director of watches and jewellery last April. Named B.Blossom, her debut collection seems to put an irreverent street spin on high-end cocktail baubles – all while paying tribute to the label's heritage and fashion department.
The main motif is the Blossom: a star-shaped monogram flower designed by Georges-Louis Vuitton in 1896. Under Amfitheatrof's modern eye, the emblem – swathed in tiny diamonds – turns up as a relief on sculptural charms crafted out of solid blocks of gold, onyx, malachite or agate. Yeah, they're pretty, but also anything but delicate.
Made from 18K yellow or pink gold, each design in the over 20-piece line possesses the same tough-girl-gone-sophisticated appeal. There are chain link drop earrings and bracelets inspired by the metal strap of the brand's Twist shoulder bag; and signet rings or slim bands topped with graphic cabochons. The thinnest necklace would still stand out visibly against a plain T-shirt – it's anchored by a marble-sized charm.
True to Amfitheatrof's MO, everything is designed to be stacked, with the only rule to wearing them being that there shouldn't be any rules. There's no official word on what the "B" in B.Blossom stands for, but we'd like to think that it starts with "bad" and ends with "s". 
B.Blossom drop earring, charm bracelet with mother-of-pearl and opal (worn as choker), necklace (second from top), necklace with onyx, and rings. Wool coat 
B.Blossom drop earrings; charm bracelets with mother-of-pearl and opal (worn as chokers); and rings with or without opal. Wool and leather gilet 
B.Blossom necklace with onyx, and charm bracelet with mother-of-pearl and opal (worn as belt); (on left hand) charm bracelet with onyx and mother-of-pearl, and rings with (from left) onyx, malachite and white agate; (on right hand) charm bracelet with opal and mother-of-pearl, and rings with or without opal. Striped cotton shirt and wool pants 
PHOTOGRAPHY ASSISTANTS JARON TAY & MD HALID STYLING ASSISTANT KARIN LEW HAIR & MAKEUP SHA SHAMSI, ASSISTED BY NADZ K NAILS KARTINI/AUUM THE HONEST NAIL SPA MODEL LIZA V / LOOQUE 
Something classically cool made new 

There's always been something very French chic/Emmanuelle Alt-ish about Rolex's Oyster Perpetual Datejust 31. The second smallest model of the brand's flagship waterproof timepiece, it still boasts enough heft to channel gamine cool. And for all its understated, elegant curves, one can always count on the brand to add some fashionable colour (literally) with the dial. The latest iteration combines, for the first time, a sunray-finished dial in intellectual olive green with the Rolesor – or gold and Oystersteel – bracelet, and Roman indexes with pave diamonds on the six o'clock marker. Now, Queen Alt is set to last till after-party hour. 
PHOTOGRAPHY TAN WEI TE STYLING ADELINE ENG 
A wearable piece of art
Consider it the most democratic way for anyone to look fashionably intellectual. Here, four of the season's most collectible, complete with artwork titles that we made up (you know, just because). 
PHOTOGRAPHY DARREN CHANG STYLING ADELINE ENG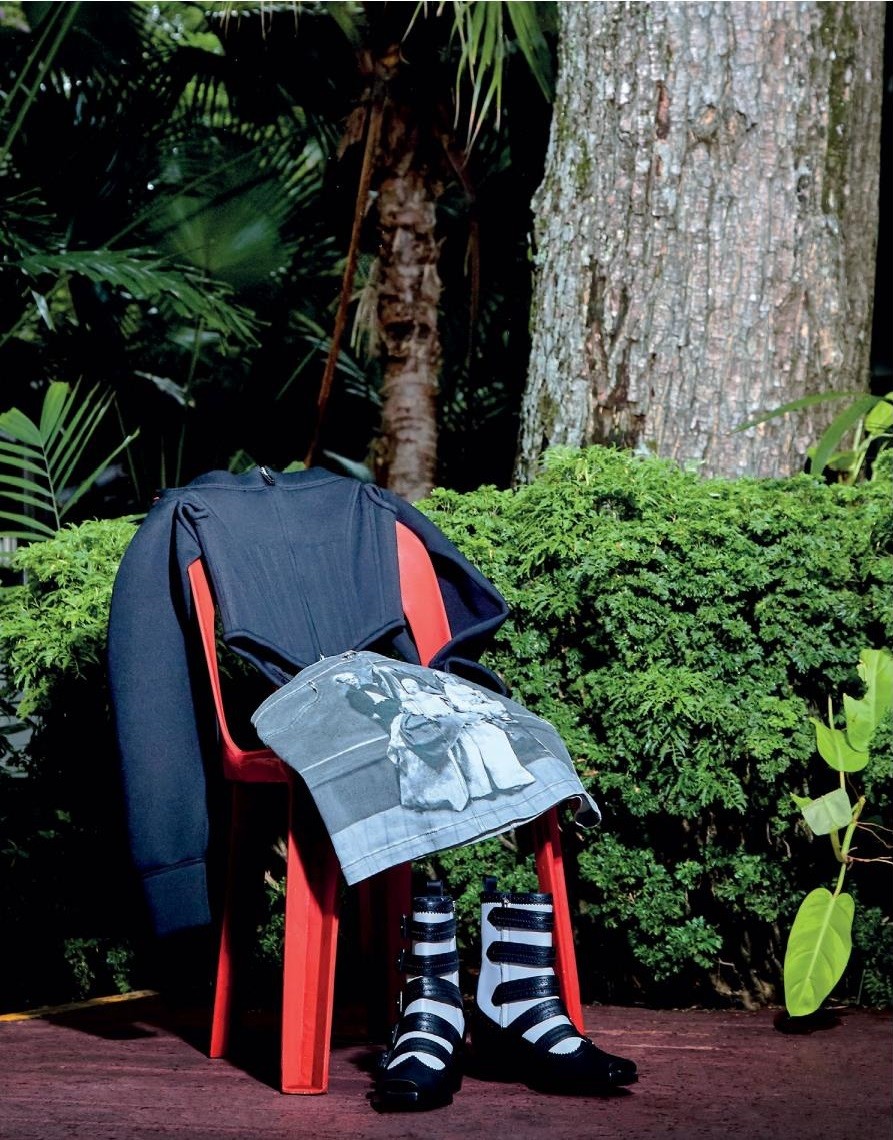 RICCARDO TISCI, THE HIDDEN VICTORIAN MOTHER, PRE-FALVL 2019,
DENIM SKIRT, BURBERRY
Reflecting the unexpected way Tisci continues to draw from British heritage, the haunting photo print captures the irreverent way mums from the era got their children to sit for portraits. To match: an updated corseted bustier and buckled boots reminiscent of styles from the time for an effect that's surprisingly punk. 
MARIA GRAZIA CHIURI, CHANNELLING SONIA DELAUNAY, PRE-FALL 2019, CASHMERE SWEATER, DIOR
A pioneer of the Orphism art movement, Delaunay had collaborated in 1968 with the maison's then-designer Marc Bohan on a dress, and the abstract motif here riffs on the geometric paintings she was known for. 
JW ANDERSON, MARILYN, PRE-FALL 2019, SILK SHIRT WITH
CRYSTALS, LOEWE
The art-loving Spanish fashion house goes splashy, unadulterated pop with its tribute to old Hollywood glamour this season, and who better to symbolise the concept than the magnetic blonde bombshell? 
KARL LAGERFELD, HIERO-GRAFFITI, METIERS D'ART 2019, LEATHER BOOTS, CHANEL
The frenetic pattern is a nod to ancient Egypt and New York city street culture, combining ancient hieroglyphs with doodles of house motifs like the camellia and double "C" logo, all stencilled on by hand. 
A "show" bag
PHOTOGRAPHY TAN WEI TE & DARREN CHANG STYLING IMRAN JALAL
Mystic leather top-handle bag and cotton-blend trench coat, Givenchy. Leather boots, Chloe.
Celine by Hedi Slimane 16 calfskin top-handle bag and wool jacket, Celine. Cotton poplin top, Chloe. 
Zumi snakeskin top-handle bag, viscose-blend suit, and matching tunic, Gucci. Canvas and rubber sneakers, Converse. 
Aby deerskin and calfskin to-handle bag, Chloe. Wool-blend and leather coat, Loewe. Leather belt, Prada. Calfskin boots, Givenchy.
Sharp patent leather top-handle bag, wool-blend coat, metal chandelier earrings, and calfskin boots, Balenciaga.
The Marie suede top-handle bag, wool jacket, and acrylic-blend top, Bottega Veneta. Skirt, stylist's own. 
Boxyz leather and wool top-handle bag, Salvatore Ferragamo. Wool bustier, Prada. Nylon parka, Chloe. Cotton socks and leather derby shoes, Valentino. 
V Ring leather top-handle bag, wool-blend coat, cotton socks, and leather derby shoes, Valentino.
STYLING ASSISTANT KARIN LEW HAIR LEONG LIM / HAIR ILLUSTRATED MAKEUP SHA SHAMSI, ASSISTED BY NAZ K MODELS LIZA V/LOOQUE & VIVIEN P/MANNEQUIN 
The longer drop in the handle makes it easy to dangle on the arm for that Phil Oh moment. Everything else about the latest top-handle totes – from the size to finish – is practical because, hey, if you're truly stylish, why should you have to try so hard? 
A killer stare
How to tell a Fashion Week front row noob apart from a veteran: the latter doesn't quite smile for photos. Instead, they let their eyes do the talking ("I'm tired/aloof/nonplussed, but still want you to think that I'm attractive"). Now unless you're Anna Wintour though, wearing sunglasses indoor are a faux pas.
Banking on the sea plant crithmum that's said to work like retinoic acid, Dior's Capture Youth Age-Delay Advanced Eye Treatment smooths skin and boosts its density to optimise the way it reflects light (read: no more eye bags when the flash goes off). The antioxidant iris florentina further stimulates skin's natural defence system to fight oxidation. Meanwhile, Lancome has upgraded its Advanced Genifique Light Pearl serum to not only make eyes appear younger and brighter, but also nourish lashes with a special complex said to make them more lush with time.
For the same sexy '60s doll eyes as 2019 front row newcomer Lucy Boynton, Chanel's Le Volume Revolution de Chanel promises extreme volume with even distribution and zero clumps, thanks to its 3D-printed brush. Said to be an industry first, the latter's designed with a granular texture and micro-cavities to absorb and deliver just the right amount of formula in one stroke.
Of course, having a flawless complexion helps. Three new foundations to try in order of coverage? La Mer's nourishing Miracle Broth-infused Soft Moisture Foundation hydrates adequately and feels nearly weightless despite its powder formula; Hera's Black Cover Fit Foundation offers the same semi-matte full coverage as the brand's best-selling cushion that lasts a reported 24 hours; and Nars' equally full Natural Radiant Longwear Cushion Foundation SPF50/PA+++ is perfect for outdoor affairs – its Powerful Protection Complex shields skin from UV rays and urban pollution.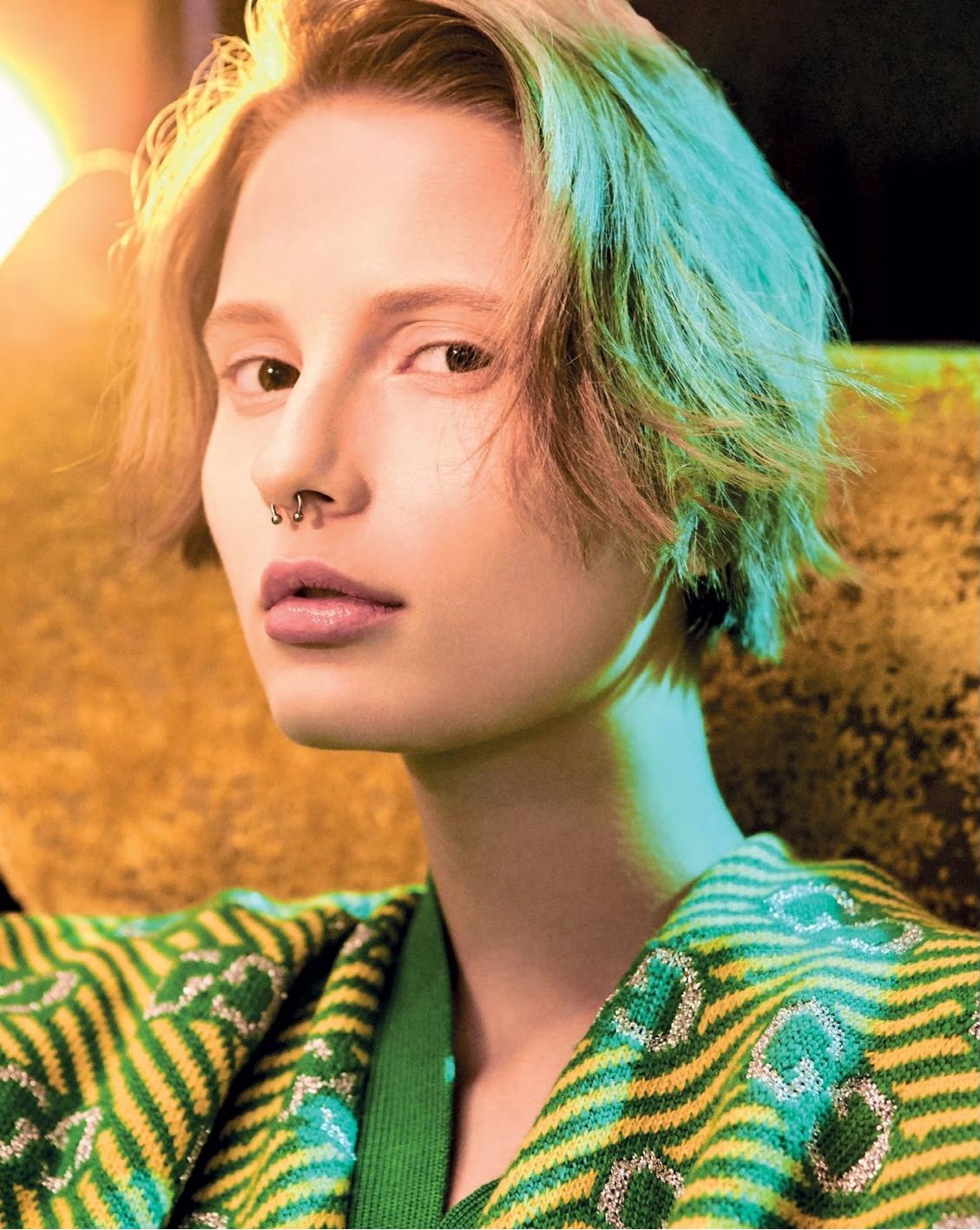 Wool poncho, Gucci. Nose piercing, model's own
PHOTOGRAPHY TAN WEI TE STYLING IMRAN JALAL, ASSISTED BY KARIN
LEW HAIR JUNZ LOKE, USING KEVIN.MURPHY MAKEUP WEE MING, USING CHANEL NAILS ZI/AUUM
THE HONEST NAIL SPA MODEL FAITH D / MANNEQUIN LOCATION SIRIHOUSE
SAVINA CHAI – UNFILTERED
Meet a different side of the fast-rising style star:
devil-may-care, barely made up, and the embodiment of Louis Vuitton's
individualistic and effortlessly cool pre-fall 2019 collection. Together with the
French Maison, female puts her in the hot seat for some refreshingly honest
insights on front row culture at fashion week.
PHOTOGRAPHY VEE CHIN STYLING IMRAN JALAL  HAIR MIU HARIT/NOOW MANAGEMENT MAKEUP NOO WALLAYA/NOOW MANAGEMENT
LOCATION THE LOFT & THE CHAMPAGNE BAR/ WALDORF ASTORIA BANGKOK
Wool gilet, wool-blend pullover, cotton-blend pants, Petite Boite Chapeau leather handbag, B.Blossom 18K pink and white gold bracelet with opal and mother-of-pearl, and canvas and leather boots. All clothes, accessories and jewellery, Louis Vuitton unless stated.
AN INFLUENCER'S FOLLOWING MATTERS – SOMEWHAT "Besides one's profile, many factors determine one's access to a show, including the size of the venue and the market that one is from. A country like Singapore can be allocated as few as three seats. To be able to attend the show alone – whatever the row you're in – is something to be grateful for."
Wool pullover silk midi skirt, B.Blossom 18K yellow and white gold earring with diamonds, Petite Malle patent leather clutch, and patent leather boots. Wrap skirt, Chai's own. 
Wool jacket, silk midi skirt, and leather pants.
FRONT ROW SEAT = VIP (VERY INSTAGRAM-WORTHY PICTURES) "Being in the front row does connote status, and I've always associated it first with the fashion critics and magazine editors whom I've followed since I was young. For an influencer to sit front row is the fashion equivalent of winning gold at the Olympics – you get an unblocked view of the outfits coming down the runway from head to toe, and you know what that means: great photos!"
Silk dress, B.Blossom 18K yellow and white gold ring with malachite, and patent leather boots. Top, Chai's own. 
Wool gilet, technical fabric biker shorts, B.Blossom 18K yellow and white gold bracelet with onyx and mother-of-pearl, and patent leather boots. Top, Chai's own.
PHOTOGRAPHY TAN WEI TE STYLING ADELINE ENG