Given how much our work spaces (and hours!) have changed, maybe it's time for us to re-think the concept of workwear, says Fashion Editor Cheryl Chan.
As a fashion editor working in a creative industry, I've never had to worry about an office dress code. Unlike most business professionals, to me, looking office-appropriate just meant no (skimpy) shorts… aaaannd that's about it. I didn't know what the rules of dressing appropriately were because they've never once applied to me.
But even so, when the world embraced athleisure, I, along with the rest of the fashion industry (one of the last few strongholds to even regard wearing ridiculous heels to work as a thing) threw my hands in the air and traded in my Miu Miu platforms for a pair of Vans checkerboard slip-ons. Comfort was the new black, and it seemed like everyone wanted in. 
NEW OFFICE, NEW RULES
And as I observed my friends in different industries struggle to get their respective office dress codes right, it made me wonder—why do we follow such archaic rules anymore? And who continues to enforce them? It made sense in the past, where people were able to have a much more separatist attitude (and the closets to go with it) towards what was considered working hours and personal time. But now that the lines have been blurred for so many of us, so have our wardrobe choices.
Unlike the previous generations, our workspaces have also changed drastically. Many companies eschew the confines of a cubicle and a corner office in favour of open plan concepts and co-working spaces that mimic our social environments. And with the rise of the gig economy, hot-desking and video conferencing, there are less opportunities for you to even physically meet your colleagues, bosses and clients, let alone interact with them.
My question is this: if the culture of how we work is evolving, why shouldn't our attire be affected as well? What does dressing for success even look like anymore, when success is a tech billionaire in a hoodie or a venture capitalist in jeans? 
BE COMFORTABLE, BUT NOT TOO COMFORTABLE
While there are firms and professions that still find it necessary to uphold the formal dress code to this day (like banks and law firms), the margin has significantly dipped. Just take a look at the Shenton Way crowd —the pinnacle of corporate Singapore.
According to the team at local street style site Shentonista, who've been photographing people in the CBD for close to a decade, they've noticed that trends like structural, fitted pieces are being phased out in favour of softer and looser silhouettes.
"We're starting to see more people incorporating casual elements such as sneakers, streetwear and even 'resort-wear' looks into their outfits and moving away from a standard corporate dress code," they tell us. "However, we notice this more towards the end of the week as compared to the start of the week."
But on the flip side, so much of first impressions come from non-verbal communication, and that includes what you wear. The Shentonista team points out that clothing plays a big part in projecting to the world who you are as a person, whether you intentionally mean it or not.
"Ultimately, employees reflect the company, and if your company is all about building a professional and respectable image, a corporate dress code would still be relevant. No matter what space you work in, first impressions still matter," they share. 
POWER DRESSING, REDEFINED 
At the end of the day, relaxing the dress code is fine if it helps with your productivity. Your clothes should reflect the demands of your life, but also properly define what comfort means in the confines of your office and profession.
Don't just slum in to work in a hoodie just because you can—you're not Mark Zuckerberg. Would you be comfortable if your lawyer represented you in a crop top and slippers?
What you put on in the morning before heading to work should empower you. But unlike what fashion magazines have been peddling for years (us included, guilty as charged— but we know better now!), empowerment doesn't only come in the form of a structured, boxy blazer pantsuit combo.
It comes in the form of whatever makes you feel like the best, professional version of yourself—and that will reflect in your work performance as well. And if the comfort of a T-shirt, jeans and sneakers allows you to be the most boss version of you, then by all means, work the hell out of the look. Now you just have to convince your boss of the same. 
 WHAT IS THE SHENTON WAY CROWD WEARING? 
We find out from street style site Shentonista.
 What counts as office-appropriate these days? 
An office dress code doesn't have to mean the death of your style—here's how you can zhuzh up your look. 
 THEN 
We shudder at the thought of only shopping at a workwear specialty store. It did the job, but your style would be devoid of all personality. 
THE SHOE
HEELED PUMPS
If you've ever had to take a business module in school, you'll remember wearing (and hating) these for presentations. 
THE LOOK 
UNFLATTERING SUITS
Back in the '80s, the only way women could assert their power in the workforce was if they hid their femininity. It's 2019, let's put an end to this. 
THE BAG
TOP-HANDLE BAG
Success used to mean a top-handle designer purse. But unless you can afford it, you really don't need a boxy purse that costs a month's salary. 
THE ACCESSORY 
DAINTY NECKLACE
In the past, accessorising would consist of just one dainty little necklace. Kick it up a notch by layering a few instead. 
 NOW ( FOR THE SUITS) 
Convey your professionalism at first glance with these corporate staples that will ensure you mean business all the time. 
THE SHOE
BLOCK HEELS
Need the height but hate hobbling in your heels during morning rush hour? Trade in that six-incher for a tiny one-incher instead. Because it's not always about size, right?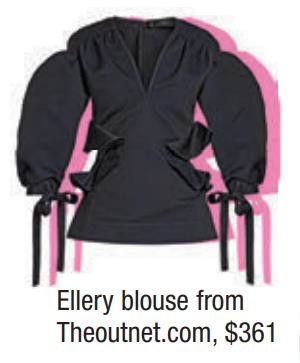 THE LOOK 
POWER SLEEVES
You've met the power blazer, can we now introduce to you the power sleeve? 
THE BAG
CROSS-BODY BAG
If you have the luxury of not bringing a laptop to-and fro, a mid-sized cross-body bag lends a casual edge to a corporate outfit. 
THE ACCESSORY
BOLD JEWELLERY
Pearls, but make it fashion. This edgy take on pearl jewellery is great for days when you're just over your corporate dress code. 
 NOW (FOR THE CREATIVES) 
So, you're allowed to wear anything to the office—lucky you. Showcase your personal style with these fun, fresh pieces. 
THE SHOE
UNCONVENTIONAL SNEAKERS
Wearing sneakers to work won't be an issue for you, so spice up your sneaker game with a pair of colourblock sock sneakers. 
THE LOOK 
CREATIVE LAYERING
Take advantage of the flexible dress code (and office air-conditioning) with interesting textures and pieces. Your colleagues see a walkway to the office cooler, we see a runway instead. 
THE BAG
BELT BAG
Who doesn't love a 2-in-1 accessory? You won't even need to bring a purse to lunch. Just chuck in some change and a tissue pack and you're good to go. 
THE ACCESSORY
OVERSIZED HEAD BAND
Try a puffed up velvet headband, especially for those bad hair days. And you're in good company too—Kate Middleton wore her own version recently. 
IMAGES
SHOWBIT
.
COM
, TPG/CLICK PHOTOS, SHENTONISTA.SG.
SOME PRICES UNAVAILABLE AT PRESS TIME.
 THE LUNCH BUNCH 
These mini bags won't just fit all your lunch time essentials, but can also be used to signal that the seat is taken, tyvm.