What Charlotte Tsuei, founder of athleisure and lifestyle store Caelum Greene, brings on her escapes.
What Charlotte Tsuei, founder of athleisure and lifestyle store Caelum Greene, brings on her escapes.
ABOUT ME
CT : Minimalistic, smart and at times, quirky.
WHAT TO WEAR
CT : For tropical getaways, I always pack a clean crisp white cotton shirt with denim shorts, a couple of light silk dresses, bikinis, sandals, workout gear (from Caelum Greene, of course) and a light shawl or sweater for chilly nights.
THE ESSENTIALS
CT : Manduka travel yoga mat, organic sunscreen and sunglasses.
MAKING WAVES
CT : A pair of killer white sneakers from Veja that doesn't kill the environment.
SMELLS LIKE…
CT: Chloé Eau de Parfum.
BEAUTY MEANS
CT : A good diet! I start my morning with a cup of hot water with lemon to flush the digestive system and rehydrate the body.
PERSONAL SPACE
CT : As much as I love bodywork, I'm not a big spa girl. 'Me' time is simply downtime alone at home with some candles and music playing in the background. I'm either doing a yoga practice, reading or cooking.
TRAVEL
CT : It is the ultimate experiential learning. I learn something new about myself after every trip.
MEMORABLE STAY
CT : Amanpulo in Palawan. My husband and I stayed there a few months ago and our villa was right on the beach. In the morning, we'd walk onto this stunning white sand beach, go for a quick dip and snorkel with sea turtles. As it's a private island, there's no light pollution and perfect for stargazing at night and learning about the constellations.  The service at the resort is impeccable. I love that you get your own golf buggy. Finally, Elmer, the resident trainer certainly knows what he's doing. I felt toned just from training with him every day for a week!
DESTINATION PICK
CT : Bali is my all-time favourite, but right now, I'm very much looking forward to my expedition to Raja Ampat early next year.
LAST MEAL
CT : La Plage Keller in Antibes. It's a chic little restaurant on a private beach along the French Riviera. Every time I go, I have to get the bouillabaisse. The seafood broth is rich and flavourful, yet light enough for summer evenings.
DESERT ISLAND PICK
CT : A flying carpet.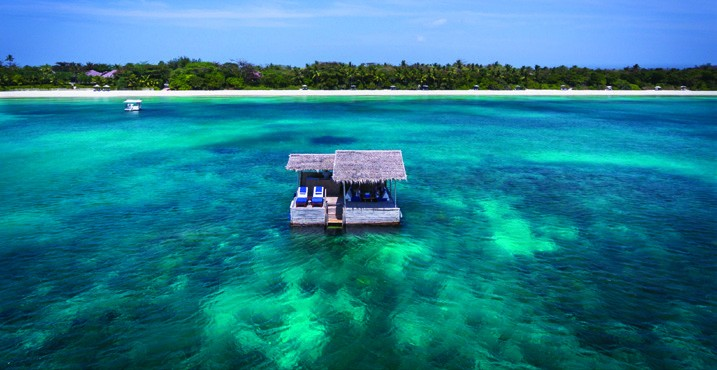 Clockwise from left: Amanpulo is Tsuei's favourite stay; sneakers by Veja; Chloé Eau de Parfum; Charlotte Tsuei
WATERFALL IN DEEP FOREST OF CROATIA AND WOOD PIER/THINKSTOCK