For Edgardo Osorio, founder and creative director of Aquazzura, remaining aesthetically relevant means never sitting still.
For Edgardo Osorio, founder and creative director of Aquazzura, remaining aesthetically relevant means never sitting still.
Writer Emily McCabe
Lungarno Corsini, Florence, Italy, the former home of the Medici and Machiavelli families, and possibly one of the world's most beautiful destinations, is now the home and headquarters of Italian luxury shoe label Aquazzura. The view is breathtaking and distracting all at once. A cobbled stone's throw away from the iconic Ponte Vecchio, it sits quietly amongst centuries of old architecture with the echoes of the modern Florentine glitterati pounding the pavement below, in 'on point' but impractical footwear given the notoriously uneven streets.
UPWARDS CLIMB
Edgardo Osorio is founder and creative director of Aquazzura. Born in Colombia and raised between Miami and Europe, he has a sentimental connection with Italy, and Florence in particular. "It's all about passion here," he says of the fashion epicentre of Italy and international luxury brands, the place he now calls home and where he decided to open his flagship store.
A self-professed dreamer with an infallible work ethic, Osorio says, "Initially I was interested in architecture and anything that was beautiful." He explored various avenues in design, which only magnified his interest in fashion, and more specifically luxury footwear. "Once I discovered it, I became completely obsessed. My mother and her five sisters were shoe crazy! I guess that was an influence. I knew by the time I was 14-years-old that my life would be in this industry, even though my parents did other things and I really had no connection to the industry at all."
After attending the London College of Fashion and Central Saint Martins, Osorio's foray into the footwear world involved working for some of the industry's most prestigious names: Roberto Cavalli, Salvatore Ferragamo and Rene Caovilla. Maturing as a designer with a drive to make his own mark, he launched Aquazzura in 2011, expanding his brand and working towards his dream. Collaborating with influencers Naty Abascal, Poppy Delevingne and Olivia Palermo along the way, in 2015 he collaborated with Salvatore Ferragamo and created Edgardo Osorio X Salvatore Ferragamo for the first time, which was also a debut capsule collection for the Ferragamo house.
ART FIRST
Blurring lines and using different mediums, Osorio recently partnered with eclectic wallpaper and interiors company De Gournay, known for their handcrafted Chinoiserie and beautiful contrasting colours. Osorio suggested 19th-century botanical illustration and a painting by Argentinean artist Juan Gatti, for their unique collaboration. The final result was an eyecatching tropical motif portraying animals and plants, which was used for a five-piece capsule collection, and now dresses the walls of the brand's headquarters in Milan.
Florence also continues to provide design inspiration throughout the generations.  With his penchant for things well made, Osorio says, "Italy has, to this day, a rich tradition of supporting the independent artisanal craftsman. Most of the luxury goods in the world from all the famous fashion houses are still made here. It's a country that keeps the flame alive and works purely for passion."
Of shoe-obsessed Italians, Osorio says, "They should be retired but can never stop making shoes – it's bigger than them. You are learning from these people who have 30, 40 sometimes 50 years experience. It's wonderful." He also understands that timehonoured techniques and workmanship are necessary for a pair of impeccably made shoes. He says, "As a designer you can design all you want, but if you don't have the artisan to translate your dreams into reality, then you have nothing."
An avid traveller, Osorio appreciates the rich culture and workmanship of heritage-steeped methods that continue to thrive today. "China's history is a perfect example of luxury found within traditional disciplines that can take a lifetime to learn. These are things you will never learn at school." His own take on the industry is "Real luxury is now more layered, it's about creating a dream, or having something difficult to obtain. For me, the biggest luxury is time to enjoy the things I love in life, which is sometimes impossible."
WORLDLY INFLUENCE
Attributing success to a clear vision from the beginning, Osorio says, "I had already imagined what the interiors of my stores would look like. I had designed all of the details, the shopping bags, everything. I really believe you can make anything happen if you are clear with your vision from the beginning and you work hard enough." His flagship store interior oozes seductive allure, and an authentic reflection of his lifestyle, with a plush restoration of the 17th-century ceiling frescoes, opulent velvet furnishings and monochromatic marble.
"I want my customer to feel as though they are sitting in my living room. A lot of young designers today are missing that," says Osorio. His admiration for the most noteworthy fashion houses echoes the experience he hopes to offer. "In terms of vision, achievement and aesthetic created, I have always admired Valentino, Tom Ford and Ralph Lauren. They created a world. To be successful in fashion, it can't just be about the product – people need to imagine a lifestyle, a story".
A voracious traveller to exotic destinations for nine months of the year, Osorio is always in search of inspiration. When it comes to designing a collection, he doesn't follow a particular process, but they usually tend to evolve from one of his trips. He says, "It's really up to you when you are the only designer and I work very organically. For me it's always about a feeling."
An eclectic mix of locales spark Osorio's interest. He says, "I recently rediscovered LA, there are so many hidden gems there. Istanbul is the most fascinating city. And after spending a lot of time in India, I think it is one of my favourite places to visit. I love to mix cultural influences." His new collection is inspired by the latter, featuring elaborate decoration, intricate details and fine workmanship. "The fabric and colours were incredible, I just couldn't get enough," he says of his exploration into embroidery and embellishments.
Since its 2011 launch, Aquazzura has evolved to become an esteemed and influential force, coveted by fashion insiders internationally from European royalty to Hollywood celebrities like Julianne Moore, Jennifer Lawrence, Gwyneth Paltrow and Nicole Kidman. To keep on top of his game, Osorio highlights the importance of keeping moving. He says, "I have to travel, I have to explore, I need to see. As a designer you should be aware of what is happening, to give people what they want before they want it. I need to be aware of what's going on in the art world, in architecture, in music and in politics. Fashion is a reflection of our time, our culture." www.aquazzura.com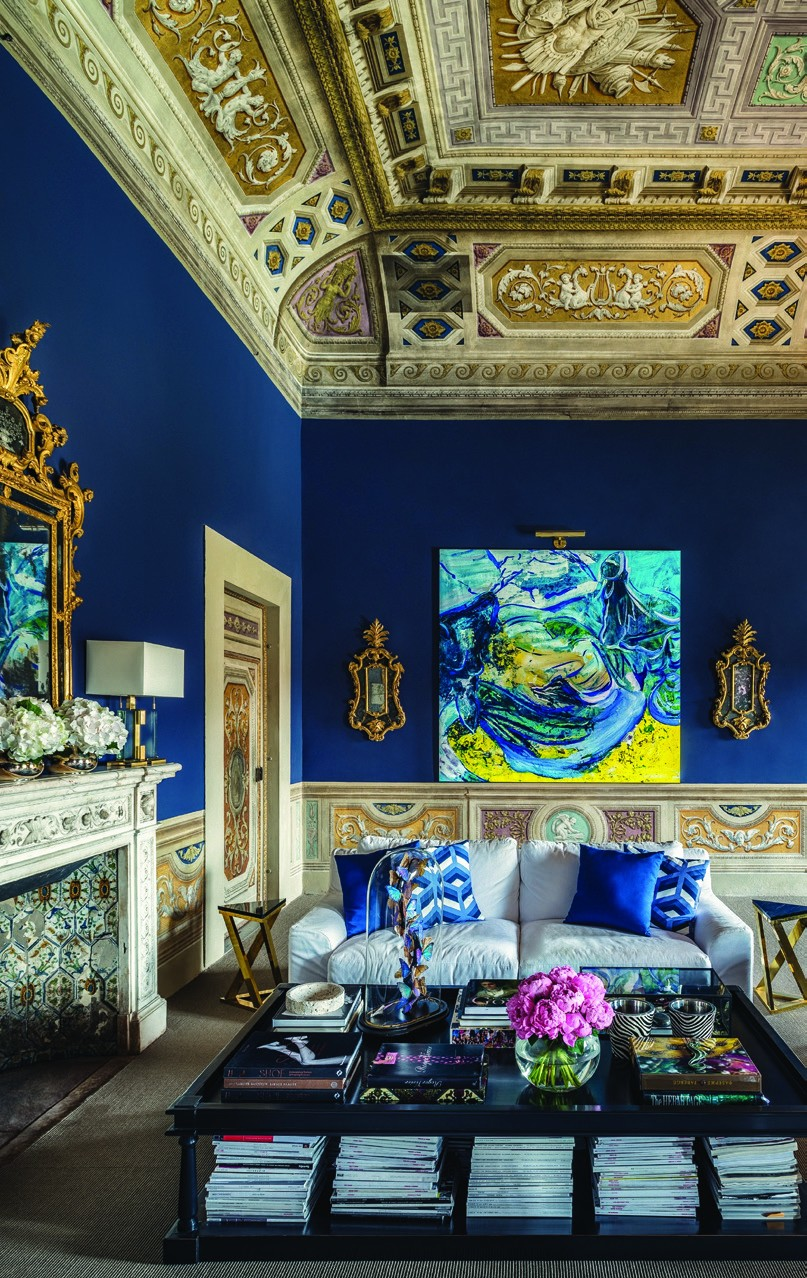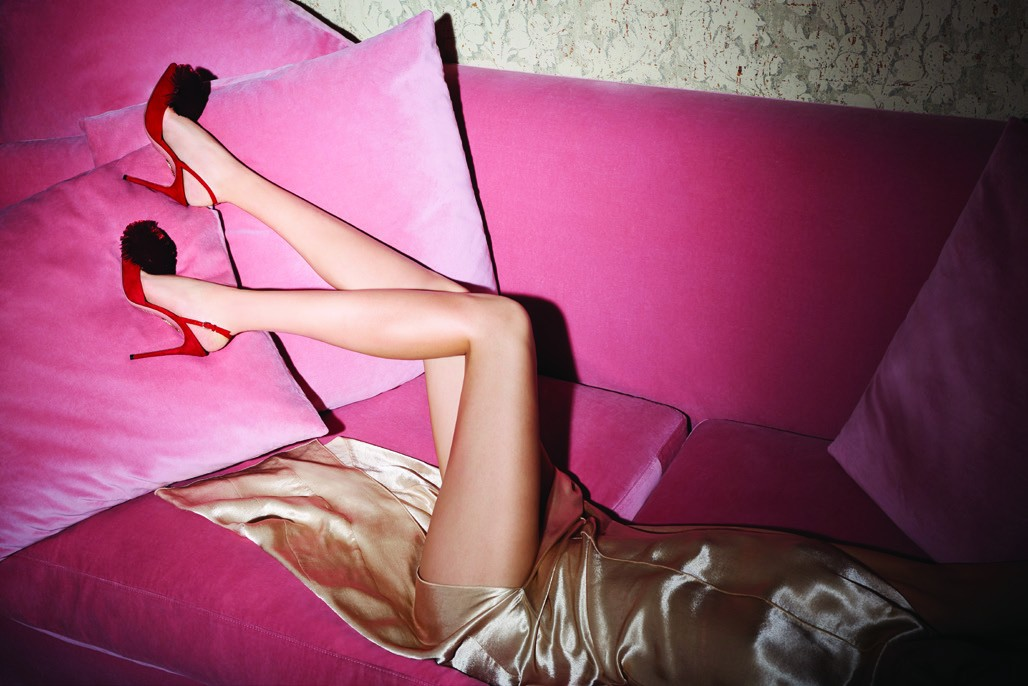 THIS PAGE: Aquazzura's footwears balance modern design and comfort with a luxury touch. OPPOSITE PAGE: Edgardo Osorio, founder of Aquazzura
FROM LEFT TO RIGHT: The Harlow Pearls Plateau sandals are stylish and sexy; from the beginning Osorio already envisioned what his stores woud look like – with 17thcentury ceiling frescoes, opulent furnishings and marble; the Red Room in Aquazzura's flagship store