A little butter goes a long way, especially if you are on a ketogenic diet.
Ditch the carbs and fuel the body with healthy fats: That's the mantra of the ketogenic diet. Eating calculated amounts of fat, protein and carbs is said to push the body into a fat-burning mode (ketosis), allowing it to use carbs for energy. So think weight loss, more lean muscle and energy. The best part is that butter figures high on the list of healthy fats, especially one of a premium quality such as SCS butter:
 Made from milk drawn from grass-fed cows, SCS Butter is rich in vitamins A, D, E and K.
 Made with an extra churn, SCS Butter is creamier, softer and smoother, and uses 100 per cent pure ingredients.
 Made with lactic acid, SCS Unsalted Butter is more fl avourful. There are enough reasons to incorporate SCS Butter into your plan for a healthier, fitter lifestyle. 
TIP: Add SCS Butter into your next cup of coffee – it helps suppress hunger and will not induce sugar spikes. 
COMPLEMENTARY PRODUCTS 
Irresistible Taste 
SCS Butter Portion
Packed in convenient 10 g handy portions, take SCS Portion Butter with you on the road for on-the-go satisfaction. Available as a pack of 12.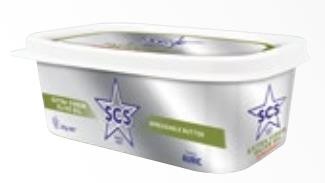 SCS Spreadable Butter
Healthier than margarine, this delicious butter goes well on toast, crackers or muffins. Even top chefs and bakers use it. 
SCS Butter can be found at all major supermarkets. Find out more at scsdairy.com