Mezza9 has long been a standardbearer for champagne brunch and it continues to do so with Perrier-Jouet Grand Brut Champagne served by the bottle – or so it promises. During our visit, we don't find our champagne bucket sitting tableside, but it doesn't bother us as our glasses are vigilantly refilled. Our waiter, it seems, has made it his personal mission to ensure that no one leaves thirsty. Not once do we see the bottom of our vessel.
Mezza9 has long been a standardbearer for champagne brunch and it continues to do so with Perrier-Jouet Grand Brut Champagne served by the bottle – or so it promises. During our visit, we don't find our champagne bucket sitting tableside, but it doesn't bother us as our glasses are vigilantly refilled. Our waiter, it seems, has made it his personal mission to ensure that no one leaves thirsty. Not once do we see the bottom of our vessel.
Award of Excellence
MEZZA9
Mezzanine Level, Grand Hyatt Singapore, S(228211). T 6732-1234
To call it a champagne brunch is a bit of a misnomer as the quality of alcoholic beverages available forces you to make some tough decisions. Do you follow the lead of the happy diner shuttling multiple glasses of martinis from the legendary Martini Bar or drink your way through nine gin and tonics, each a showcase of small-batch gins – try the Kokoro, an English gin brightened with Japanese sansho berries – and artisanal tonics? (Note: Mezza9's new "party room" has a bar that offers 40 kinds of artisanal and bespoke gins).
Over at the Japanese food station, sake sits alongside a selection of fresh sashimi and nigiri sushi. After watching two French men swirl, sip and approve of a 2015 Pinot Noir from Burgundian producer Albert Bichot, I swipe a glass too, and its fruity aromas of redcurrant and plum pair exceedingly well with the slow-roasted Cape Grim ribeye coming off the grill station.
While those seeking a boozefuelled afternoon will find themselves well watered, diners who're here for the spread won't be disappointed either. A spread of sustainably sourced seafood on ice includes sweet Maine lobster and freshly-shucked oysters while the riff on sustainability continues with an organic salad bar touting cage-free eggs and meaty vine-ripened tomatoes. Over at the Asian food station, a simple beef and onion stir-fry is elevated with the use of Black Angus beef, and masterfully balanced Thai salads, seafood and meats shine the spotlight on the chef's deft use of herbs and spices.
If you're a group of four or more, opt for the newly-launched Personalised/VIP Sunday Brunch experience. For an additional fee of $90 per person, this experience offers Ruinart Blanc de Blanc (yes, a bottle is placed tableside and replenished when it's finished). Plus, with your personal butler bringing beautifully-assembled platters of food from the nine different stations (you can let him know which ones you prefer), you'll get to enjoy the most luxurious champagne brunch this side of town.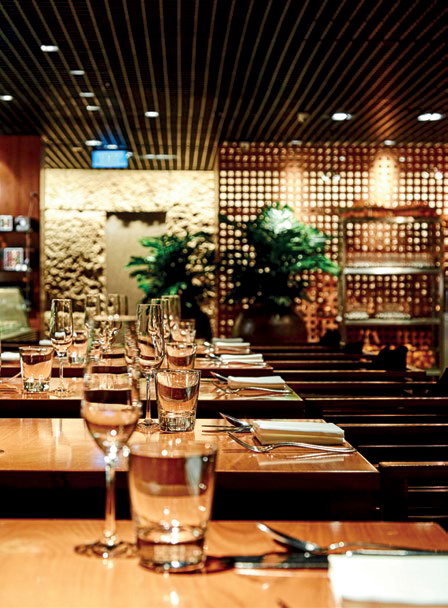 TEXT DENISE KOK PHOTOGRAPHY VERNON WONG
(clockwise from left)
Chargrilled meats marinated in Asian spices mirror the hearty fare of Thailand's street food; the main dining hall at Mezza9; fresh lyshucked oysters from sustainable sources; a selection of nigiri sushi.
Award of Excellence
MELT CAFE
Level 4, Mandarin Oriental Singapore, S(039797) T 6885-3500
Many diners have enthused about the breadth and quality of dishes at Melt Cafe's Sunday champagne brunch buffet. Joining the flow of guests streaming into the expansive space at noon, we are promptly seated and proffered glasses of "R" de Ruinart Brut champagne and complimentary cocktails. As it has a seating capacity of 340, you might think that those dining alfresco won't see the best of the restaurant's drinks service, but we never have to ask for a refill from the savvy staff . Presented on marble counters – like stages – the different cuisines are generously spaced. Being able to take your time to ponder your choices without being jostled by other diners is a plus point.
Front and centre is the seafood section, where an array of shucked oysters, Boston lobsters, spanner crabs and more glisten on ice. We zero in on the lobster, and are not disappointed by its springy, creamy flesh.
Fresh seafood is clearly a highlight here. At the Japanese counter, you can have thick slices of sashimi with chilled soba noodles and dipping sauce. Beyond the oceanic smorgasbord, we also tucked into beautifully panseared morsels of foie gras, cooked to order and laced with the smoothness and complexity of fine French butter.
Also noteworthy is the North Indian section, where steam plumes from pots of thick, robust curries loaded with chunks of mutton or chicken. Continue your carnivorous streak at the carving station, where a whole roasted lamb, marbled and crisp with fat, awaits. And at the outdoor barbecue station, you can order steaks and ribs.
Skipping the Asian section, we find ourselves before the queen of desserts – the Valrhona chocolate fountain. Velvety sauce drizzled over freshly made waffles, plus bitter-sweet pralines, all washed down with more wine make the perfect end a decadent meal.
(top) Mandarin Oriental's popular Melt Cafe offers a smorgasbord of robust Indian fare.
(above left) An interactive dessert station.
(above right) Fresh lobsters on ice yield springy, creamy flesh.
TEXT CARA YAP
Award of Excellence
META
9 Keong Saik Road, S(089117). T 6513-0898
G Restaurant Awards newcomer Meta has worked itself to the bone to be on this list; on the night of our visit, its staff, headed by chefowner Sun Kim, are getting ready to open its sister restaurant, Kimme. They have been working overtime, and are visibly tired. Despite the circumstances, Meta delivers.
Three floor staff handle a full room of 35 diners. Service might be lagging, but the manager, Pierre, is all smiles every time he comes around to our table.
We opt to go all-in with the winter-themed seven-course, along with the non-seasonal supplementary dishes of farmed Irish oyster with lemon, ginger and gochujang, and the bossam (Iberico pork slices served with endive and oyster leaves). To take the smaller menu of five courses would mean missing out on the Korean abalone porridge with century egg and seaweed as well as a dessert. But the latter – a green apple calvados with fennel and parmesan – turns out to be rather incohesive.
Fortunately, everything else is more coherent: each dish has an assortment of colours, and most have an element of mystery and playfulness about them. Take the Korean abalone porridge, for example – underneath the pale slices of abalone is a congregation of comforting flavours. It's a little smoky and salty, with plenty of umami. This, and the butternut squash with roast corn, prawn and kaffir lime, show Kim's expertise with seafood and vegetables. The squash becomes the main feature, almost relegating the hidden prawn to a texture- and volume-filler.
It could be the expansive plates that make Meta seem conservative with its portions, but what it misses the mark on, it makes up for with might in flavour, and effort: a small cocktail programme, fine wines, and steadfast staff . These things add up.
TEXT CELINE ASRIL
(above) Savour Meta's plump Irish oyster spiked with ginger and spicy gochujang.
(right) Chef-owner Sun Kim runs the open-concept kitchen at Keong Saik Road.
Award of Excellence
MITZO RESTAURANT & BAR
Level 4, Grand Park Orchard, S(238857) T 6603-8855
Mitzo at Grand Park Orchard has been under the radar for some time now, but this doesn't stop us from thoroughly enjoying its modern Cantonese creations.
Dim sum is always a joy here. The Premium Steamed Dim Sum Platter offers plump parcels of har gow crowned with caviar, pork and shrimp siew mai luxed up with baby abalone, and Mitzo's version of xiao long bao filled with double-boiled duck soup instead of the typical pork stock. The menu also offers deep-fried and vegetarian platters.
Executive head chef Nicky Ng is undoubtedly a genius when it comes to roast meats. His succulent roast duck with perfectly crisp skin is served with truffle sauce, whose subtle taste doesn't overwhelm the meat. The highlight for us, and we believe for most diners, is the char siew. The juicy barbecued meat has a beautifully caramelised crust with a light crunch from the sugar. We couldn't get enough of the pork belly with crisp crackling too. Dab some sweet mustard before munching on the succulent meat.
Mitzo's carb selection is rather extensive with a variety of fried and poached rice, and noodles ranging from udon and hand-pulled noodles to vermicelli. For something decadent, opt for fried rice with live lobster meat in XO sauce or braised live lobster with hand-pulled noodles.
The desserts show great creativity and visual flair. We marvel at the chilled pumpkin puree with sago and yam ice cream topped with a "mysterious" egg pudding – which is actually coconut pudding and mango jelly fashioned as an egg with a golden yolk. The aged red wine jelly with lychee sorbet is a refreshing end to a well-executed lunch.
Throughout the meal, we experience excellent service from the personable waitresses. They are pleasant, attentive, and conversant in English (unlike many other Chinese restaurants in town).
The dramatic setting with coloured glass panels may seem kitsch for some, but this is an ideal place for business lunches as the tables are set far apart enough to allow private conversations.
TEXT AMY VAN
(below right) Mitzo's quiet ambience is ideal for business lunches away from the crowds.
(below left) Feast on chef Nicky Ng's modern Cantonese creations.
Award of Excellence
OSTERIA MOZZA
#B1-42 to 46, Galleria Level, The Shoppes at Marina Bay Sands, S(018956) T 6688-8522
What differentiates a very good restaurant from the rest is what its staff offer during the "gap" moments of a meal. We're glad this Italian-American import fills in these gaps expertly.
Service is on point from the moment we step over the threshold into Osteria Mozza's transplanted interior full of dark wood decor. "Your dining companion has just stepped away", the server takes care to inform me. Noticing the lack of sleeves on my outfit, she adds: "If you're feeling chilly, I can bring you a scarf." And as the chair is pulled out, she asks: "Can I offer you a drink while you're waiting? Let me bring you the [Aperitivi] menu." While I busy myself with the half-A4-sized cocktail menu, Regina – our stellar server – returns with a scarf and a bag hook, and checks if we have any allergies she should take note of.
This detail-oriented service continues throughout the meal. Despite the restaurant being at full capacity, the service staff of 13 makes sure warm breads (most of them made at La Brea Bakery in Los Angeles and flown over twice weekly) are constantly offered to each of the 72 guests, and water glasses are never empty. They also set down two extra side plates once our starters touch the table.
We start off with the seasonal negroni – a delicate riff on the classic, this one is made with fennel pollen-infused gin. The meal then kicks into gear with the texturerich chargrilled octopus, served on potatoes and a sharply dressed salad – "We recommend you have them all in one bite," Regina adds. Once the celery root cappellacci is served (thoughtfully split into two by the kitchen), restaurant manager Mimi stops by to chat about the dish. We notice that she manages to visit almost every table in the restaurant.
Conversations initiated by the staff are always timely and smooth. These and other little touches elevate our experience of the food, so that savouring the petite hat-shaped pasta – all 16 pieces of it – becomes a more personal, treasured experience.
Interactions aside, the commanding bone marrow pie shows that Osteria Mozza is capable of pulling out all the stops off and on the plate: the rich pastry for two ravenous souls comes with a hunk of bone marrow in the middle, dramatically spiked with a long metal spoon.
By the end of the meal, we are pleasantly full on interactions, conversation, food and drink. That's exactly the state restaurants – Italian ones, especially – should leave us in.
TEXT CELINE ASRIL
(above) The hearty celery root cappellacci.
(right) The richly flavoured bone marrow pie.